Thank you RingCentral for sponsoring this post. While this was a sponsored opportunity from RingCentral through CJ Affiliate's VIP Content Service, all content and opinions expressed here are those of Jeremy Marsan and Fit Small Business.

If you're a small business owner, you know the importance of having a professional phone system. Call routing and transfers makes an office all the more efficient, and features like an auto attendant leave a strong impression on customers.
Traditionally, a 4-line phone system has been the only way for a small business to get these features. As a landline system, however, 4-line phones can be expensive to install and come with their share of limitations.
Internet-based phone service (VoIP), on the other hand, tends to be less expensive and more effective (i.e. you're never limited to just 4 phone calls). Improvements in bandwidth and audio over the years has also made VoIP easily rival the quality of a landline phone.
In this guide, we'll explain why now's the time to ditch your 4-line phone system and instead consider a VoIP provider such as RingCentral.
What is a 4-Line Phone System?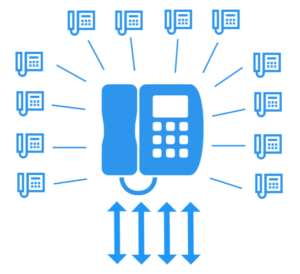 A 4-line phone system allows a small office to share 4 analog (landline) phone lines. Most 4-line phone systems include a base unit that connects to 8 or 16 additional phones, so a small office could give each employee a handset with a unique extension.
4-Line phone systems became popular, in part, because it's more economical than giving each phone a unique service line. On the flipside, it limits you to only 4 concurrent phone calls at one time. If all the phone lines are being used at once, no additional calls can be made or received – not even to voicemail.
A 4-line phone system costs around $100-$200  for the base unit + an additional sum for each handset. Along with service, setup & maintenance costs, this makes 4-line phone systems roughly 68% more expensive than VoIP.
What is a PBX?
A PBX (private branch exchange) is a type of landline phone system that can support a large number of phone lines – typically 8 to 32 lines or higher. This has traditionally been the go-to system for larger companies who need a professional phone system. A PBX box costs between $300 and several thousand dollars, depending on the number of lines.
Like a 4-line phone system, each employee gets a unique extension and "shares" the available phone lines. If you reach your capacity, no additional calls can be made or answered.
What is a VoIP System?
VoIP (voice over IP) is an internet-based phone system. Like a landline system, each employee gets a handset and a unique number or extension. Rather than go through the landline, however, calls are routed over the internet.
A major advantage to VoIP is that it can support an unlimited number of phone lines. A landline system is physically limited to the number you have connected: To add more, you need to install more phone lines AND upgrade your hardware. With VoIP, you use 1 internet connection for everything. This drastically reduces the setup and maintenance costs. To learn more about VoIP service providers visit our Buyer's Guide here.
For the rest of this guide, we'll compare VoIP to a 4-Line phone system, using RingCentral and Verizon as examples, respectively.
How Much More Affordable is VoIP?
VoIP (RingCentral)
4-Line Phone System (Verizon)
Cost of Phone Service (4 lines, unlimited nationwide calling, with taxes & fees)
$170.84/mo
(1-year contract)

$214.60
(month-to-month)
$252.85/mo
(2-year contract)

$389.34/mo
(month-to-month)
Hardware Costs
$50 - $250 for each handset
$100 - $200 base unit

$50 - $250 for each handset
Cost of Installation
none
$250+ (depending on amount of wiring needed)
Cost of Maintenance
none
$11.99/mo (for service protection plan - basic)
Across the board, VoIP tends to be more affordable. This includes the cost of phone service, cost of setup/installation, and the cost of hardware, since VoIP does not require anything beyond the physical phones.
VoIP also gives small business owners more flexibility: You can generally sign-up for month-to-month service without paying too much more. Because landline phones have a much longer setup process, month-to-month payments typically aren't an option. Or, in the case of Verizon, it's offered at a much higher rate. Verizon quoted $389/month for 4 lines vs. $215/month for RingCentral.
Long Distance and International Calling
It's worth noting that Verizon does have cheaper rates if you just needed it for local dialing (about $30/mo per line with a 2 year contract, or $60 per line month-to-month). This can make it cheaper than RingCentral. But note that you will need to pay extra for long distance calls outside your area code or metropolitan area.
VoIP tends to provide unlimited nationwide calling (US & Canada) since they are not bound to a local phone network. For this same reason, you can often get cheaper international rates by purchasing an international phone number. RingCentral, for example, offers international numbers for over 60 countries.
What About Call Features?
For a landline phone, features vary depending on the hardware you buy. To make a comparison, we'll look specifically at a popular AT&T 4-line phone model.
For RingCentral, we'll use the Polycom VVX-500. However, keep in mind, you get the same features with RingCentral regardless of the type of handset.

VoIP (RingCentral)

4-Line Phone System (AT&T SB67138)
In-Call Features
Transfers
Voice Prompts
Hold (with music)
Conferencing (up to 1,000 participants)
Call Recording
Call Queueing
Transfers
Voice Prompts
Hold (with music)
Conferencing (up to 3 participants)
Call Recording
Voicemail Features
Voicemail for each extension
Play voicemail online / deliver to email inbox
Voicemail-to-text transcription
Voicemail for each extension
Other Features
Auto Attendant
Caller ID
Call Scheduling
Find Me / Follow Me
Online Fax
Integration with CRM
Mobile App
Auto Attendant
Caller ID
Both phone systems give you the essential business phone features, including transfers, auto attendant and voicemail.
With a VoIP system, however, you get much more sophisticated call routing. For example, you can setup a recurring schedule in which calls are routed to your cell phone on evenings and weekends. Using RingCentral's mobile app, you can even make outbound calls from your cell phone using your business number.
Voicemail is also much more sophisticated with VoIP. You can set up voicemail messages to be delivered to your email inbox. This can be in audio form, or transcribed to text. Click here for more on how to customize your voicemail with RingCentral.
Last but not least, VoIP can typically be integrated with other business software. RingCentral, for example, can integrate with CRMs Salesforce and Zoho. Doing so allows you to make calls directly from your CRM using a RingCentral softphone. Also, when a call comes in, your CRM will automatically scan for the number, and show you any relevant data you have associated with them.
The Bottom Line
VoIP has been around for well over a decade. In that time, improvements in broadband internet have made VoIP a stronger and stronger option. Although audio was tightly compressed in the early days, which lowered the quality, VoIP can now support high-definition voice streams.
Furthermore, businesses that once struggled to maintain the bandwidth for VoIP are now finding it a breeze. A typical broadband connection of 10 Mbps can easily support over 20 VoIP phone lines – and that's even with heavy internet browsing activity at the same time. To test your own connection, check out our VoIP Speed Test.
Finally, providers like RingCentral have grown in scale. With multiple data centers to relieve the network strain, VoIP is an increasingly reliable option. Visit RingCentral to find a plan that suits your business, and get started with a free 30 day trial.