THE SALES PITCH
It's the age-old technique of convincing you that the thing you need is the thing they're selling. Expertly conducted, it can even convince you of needs you didn't know you had.
At Fit Small Business we speak with hundreds of salespeople a month about small business software and services and, needless to say, have learned a thing or two about their techniques. In particular, we can smell bullsh*t from a mile away. If you've heard any one of these 5 sales lines, or read them online, there's a good chance you're being duped:
Before we dive into the details on this topic, we also suggest you check out Insightly, our recommended small business CRM. Visit Insightly to learn more.
#1: "That feature will be added this summer"
In the B2B software world, "coming this June" means this August, "coming this summer" means winter and "coming 2016" means 2018. If your decision hinges on some feature or integration that's "coming soon," you're best off waiting until it's actually released.
I've read countless reviews of customers who were promised a certain feature when they signed up, but then spend months waiting, and paying, without actually using the product. This includes accounting subscribers that were waiting for payroll support in their state, or CRM subscribers that were waiting for a certain integration. The problem's not always that salespeople lie or exaggerate, but sometimes there just isn't great communication between developers and salespeople, especially at larger companies.
---
#2: "Pricing is only $19.99/month (with an annual contract)"
They keyword here is "annual contract." Companies that share pricing online often display the cheaper annual rates when you first click on the page. To view the rates for month-to-month contracts, you often have to click a tab (pictured below) or read the fine print below.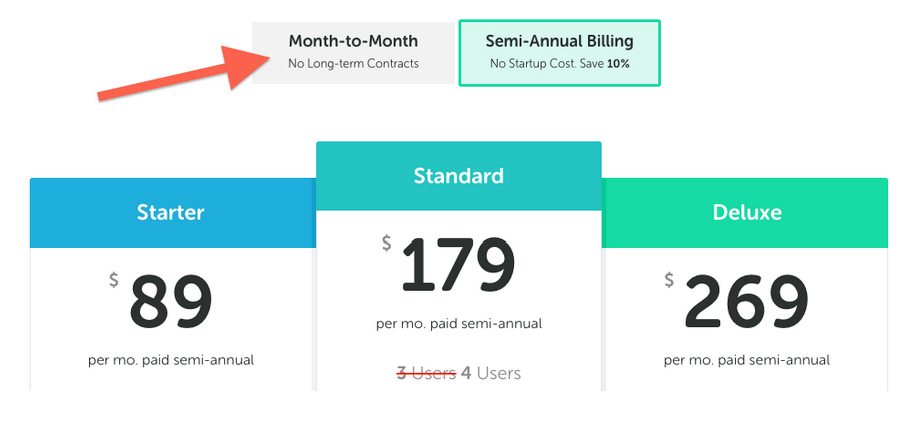 Month-to-month payment means you aren't locked in an annual contract – you can cancel at any time. As a result, however, you typically have to pay 10 to 40 percent more. It's almost always the annual rates that get displayed online, in advertisements, in reviews, or stated by salespeople on the phone, so you may need to dig around to find the month-to-month rates.
In some industries, like VoIP phone systems, it's common to charge less per user if you have a lot of users. Just like with annual contracts, many of these providers will display their cheapest rates first, which could be for 100+ users. Only after reading the fine print do you find out it's 20 or 30% more if you have just a few users.
---
#3: "Check out our 5 star rating on Random-Review-Site.com"
B2B companies know that customer reviews can make or break a deal, so many of them control what gets posted. One common way of "curating" reviews is to send their most loyal clients an email survey, then post the results directly to a lesser-known review website. Depending on the policy of that website, they may also be able to withhold or delete negative ratings.
If a company has tons of 5 star ratings on one website, but zero ratings on Yelp, Google+, Angie's List, or anywhere else, then it's probably too good to be true. You should only trust a high rating if it can be backed up on multiple sources. Yelp and Google+ are stricter and don't allow companies to post survey results, so they're usually more reliable than the others.
---
#4: "We have a combination of US and non US-based customer support"
What this actually means is US-based support is reserved for higher-paying clients. It's a well known strategy to save money by outsourcing customer service overseas and this can be frustrating for clients when there's a language gap. While some companies will tell you they have both US and non-US based support, this usually means US-based support is reserved for larger clients or only available to those who pay an additional fee.
In a similar vein, keep an eye open for the words "priority support" listed under pricier packages. What this means is higher-paying clients get an access code that puts them ahead of smaller clients on the support line. If they have a well-staffed support team, this may not make a big difference. But for some companies, it could mean a lot more waiting on the phone.
---
#5: "Our pricing isn't standard, but varies depending on the needs of the client"
If you hear this from a salesperson, 99% of the time it means they just don't want to share their pricing. Almost every single business in the world that isn't operating out of a garage has some standard pricing model. It might be a little complicated if there's a lot of add-ons or if it's volume-based, but there's nothing that can't be explained over the phone or sent via email.
With the full pricing model in your hands, you can not only compare them better to competitors, but you can figure out which features and worthwhile and which aren't. You can avoid any surprises if you add or cancel features down the road. It's especially important to note any one-time setup or cancellation fees. These usually aren't explained right away on the phone, and if you're sent a pricing sheet, they're usually shown in smaller text.
---
The Bottom Line
When researching a new product or service, always go at your own pace. It's the salesperson's job to move things along, which is why they'll ask to take your contact information, schedule a demo, send you a price quote, etc. It's your job to counteract this and ask as many questions as possible. In my experience, the best companies are those with patient salespeople. When the product's good, they don't need to string you along.
Want to manage 1000's of leads, save time, and get organized? Click Here to get our FREE CRM guide and find out how.