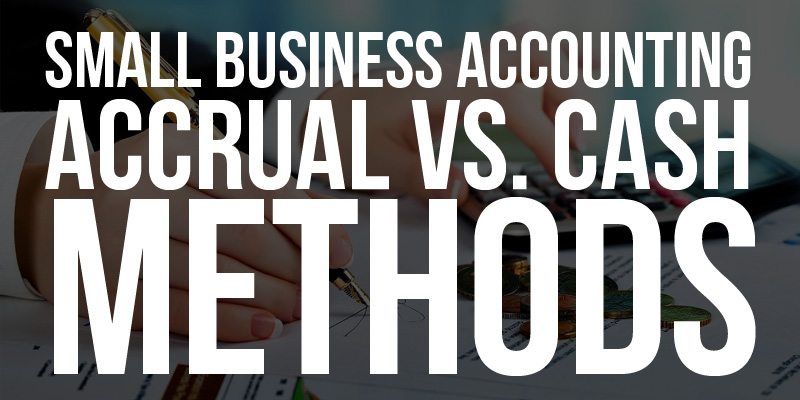 When recording transactions, small business and solo entrepreneurs have to decide between Accrual and Cash-based accounting.
Cash based accounting is the simplest method and used by the large majority of small businesses.  With cash based accounting, revenues and expenses are accounted for on the date the money is paid out or received. This makes your small business accounting much easier because all you have to do is record cash transactions.
With accrual based accounting, revenues and expenses are accounted for when they are earned or billed, even if no actual cash has changed hands. This makes accounting more complicated, because you have to keep track of transactions where the cash exchange may not yet have taken place.
Before we dive into the details on this topic, we also suggest you check out Quickbooks, our recommended accounting software. Visit Quickbooks to learn more.
Accrual vs. Cash Accounting: Examples
First, just to make things clear, let's go over some examples of the two types of accounting. If you already understand the differences feel free to skip ahead.
Example 1:
Let's say you own a laundromat and had to hire somebody to service your machine. The bill was $2000 and it has to be paid in 2 months. With accrual accounting, you would log the expense as soon as the job is done. With cash-based accounting, you would log it in 2 months when you actually pay the bill.
Example 2:
In this example your laundromat receives a 6 month contract to wash the uniforms of a local restaurant. The restaurant pays you upfront $6000 for the contract.  Under the cash based method, you would record all $6000 as soon as it was received.  Under the accrual based method you would record $1000 each month for the next 6 months.
The Advantages of Cash Accounting
So what are the advantages of using one method vs. the other?
Cash-based accounting, first and foremost, is much easier because you only have to look at your bank statements to figure things out. There's no dealing with anticipated revenue or expenses – just the cash that comes in and out of your business.
This has a second advantage in that you know exactly the amount of cash you have on hand. With accrual accounting, you can estimate profits in the long term, but this doesn't necessarily tell you how much cash you have at that moment. This can lead to the problem of running into a cash shortage, even for a profitable business.  This is also why businesses that use accrual based accounting should pay special attention to their cash flow statement.
Thirdly, cash-based accounting gives you more flexibility when filing your taxes. Because you only count transactions when payment is sent or received, you could prepay expenses during a profitable year or defer payments during a bad year.
The Advantages of Accrual Accounting
So given all the drawbacks, you might be wondering why even use accrual accounting? The answer is that many businesses need accrual accounting to get an accurate portrait of their business. This is especially true if you have a lot of contracts where you agree to send or receive payment at a later date.
For example, let's say you're a remodeler and you pick up 6 new contracts in January. The clients all pay upfront, even though the work will not completed until the summer. With the cash-based method, your statement would show soaring profits for January, even though you haven't finished any work yet. An accrual statement, on the other hand, would gradually add profits as you finish projects, giving you a much better analysis your financial situation.
The accrual method can also help you figure out which products or services are more profitable than others. Let's say you need to buy new equipment and supplies to finish the 6 new remodeling projects. With the cash method, you would log all those expenses at the time you purchase them. With accrual accounting, however, you could link them to their relevant project and log them at the time you finish the project. Again, this gives you a more accurate picture of how and why you're spending money.
When To Use Accrual Accounting
It's safe to say that when choosing which small business accounting method to use, most small businesses will use the cash-based method when they start out. The question then becomes when, if ever, do I switch to accrual? To answer that, here's 3 scenarios to look out for:
If your annual revenue is passing $5 million:
Once a business passes $5,000,000 in annual revenue they are required by the IRS to use the accrual method when filing taxes.
If your business has an inventory of products for sale:
If you're a retailer who keeps an inventory of products, then you'll probably want to use the accrual method in order to properly calculate the cost of goods sold (COGS).
As a retailer, each time you sell a product, you earn a net profit: The price tag minus the cost you paid for the product. The amount you paid for that product, or "cost of goods sold," is a business expense, so it's tax deductible. The catch is, this only counts for the products you actually sell. You can't deduct inventory you haven't sold.
To properly calculate the cost of goods sold, you need to use the accrual method. Rather than count the cost of goods the moment you fill your inventory, as you would with the cash-based method, you want to count them one-by-one, each time you make a sale. Otherwise, you would have no way of knowing the cost of goods sold for a particular time period. You would count your entire inventory and that would give you an inaccurate deduction.
The IRS actually requires retailers with gross annual receipts over $1 million to use the accrual system. Prior to that, you'll still probably want to use accrual accounting if a lot of your revenue comes from inventory sold.
If you have a lot of payables or receivables:
Accounts payable and receivable are accounting terms for money you owe to others and money that's owed to you. It's different from revenue and expenses in that cash has not yet been sent or received, although everything else about the transaction has been "finalized."
Depending on the nature of your business, you may have a lot of payables/receivables, a few of them, or none at all. For example, a tech consultant who signs annual contracts with their clients would probably have a lot more receivables than a plumber who bills clients on the spot. Likewise, a restaurant owner who signs annual contracts with their suppliers will have more payables than an owner who purchases supplies on the spot.
If you find that a lot of your transactions are scheduled in the future or drawn out over time you may want to switch to the accrual method, as it will likely give you a better snapshot of your financial situation than the cash method.
Conclusion
So, as a quick recap, the 3 main scenarios in which you'd want to use accrual accounting are:
If your annual profits are surpassing $5 million
If you're a retailer who sells products from an inventory
If you have a lot of payables/receivables
If none of these apply to your business, then you're probably safe sticking with the cash method. It'll save you a lot of time and continue to give you a realistic measure of your cash on hand. The only downside is if you do have any payables or receivables, you'll have to keep track these in your head.