Payroll providers take out headaches of payroll and payroll taxes for small business owners. While ADP and Paychex are traditionally two of the largest payroll services, Gusto is rapidly becoming a worthy competitor. Read on for our comparison and review of these three options, as well as our recommendation:
Best Payroll Provider for Small Businesses: Gusto
For a price that's a fraction of their competitors, Gusto gives you nearly the same level of service. They'll manage all payroll taxes on your behalf, issue payments via direct deposit, generate year-end W-2s and 1099s, help you find workers comp insurance, and more.
Gusto vs. ADP vs. Paychex Comparison
Price (for 10 employees, biweekly payroll)
$1188 per year (1st month free makes it $1089)
$3079.10 per year*

$25 Setup Fee
$3364.50 per year*
Ease of Setup
Easy
Average
Average
Do they issue W2s & 1099s (10 employees)?
Yes, at no extra cost
Yes, for an additional $101 per year
Yes, for an additional $122.50 per year
Do they manage taxes on your behalf?
Yes
Yes
Yes
Direct deposit?
Yes
Yes
Yes
Do they include workplace posters?
No
Yes
Yes
Can I add benefits?
Yes - Benefits is an add-on option to Gusto's platform; no PEO option
Yes - ADP Benefits & HR Solutions products available; also has PEO platform
Yes- Paychex Flex & Benefits products available; also has PEO platform
Customer Support
Phone and Email Support Mon-Fri, 9am-8pm EST
24/7 Phone and Email Support
24/7 Phone and Email Support
*Discounts or promotions are not included in our pricing.
Best Payroll Provider for Small Businesses: Gusto

When it comes to payroll software, Gusto, ADP, and Paychex have many identical features: they all manage employee onboarding and payroll taxes. They can get you setup with workers comp insurance and pay employees via direct deposit. Gusto, however, comes out to a fraction of the price. It's two thirds the price of Paychex and almost half as much as ADP. Not to mention, they do not lock you into an annual contract.
Gusto has a stronger customer support team (that receives a lot of praise from users) and a newer online software that's super easy to use. Since the limitations of Gusto are pretty minimal compared to the benefits and the lower price tag, Gusto comes ahead as the clear winner. Gusto also recently launched benefits offerings, which could make them a good solution as your company grows.
However, there are a few features offered by ADP and Paychex that you won't get from Gusto. For one, ADP and Paychex provide poster compliance services, which means they'll send the posters you need to hang in your workplace to stay compliant with labor laws. They also have a check mailing service, in case you or your employees prefer not to use direct deposit.
Granted, you can print your own checks using Gusto, and labor posters are also available from several online resources, including this one here.
The One Situation When ADP or Paychex Makes More Sense
The one time I could really advocate using ADP or Paychex as a small business owner is simple: Did you use the software before at a prior business and know your way around it like an expert? Then perhaps the added pricing is worth it for you since then you would not need training, and you would understand all of the processes and setup procedures.
However, in the end, because of price, ease of setup, and its clean interface, Gusto makes more sense for the small business owner or HR manager.
Payroll Software vs Payroll Service
ADP, Paychex, and Gusto offer a variety of payroll and HR services. On one end of the spectrum, they act as an outsourced HR department – managing all of your payroll, benefits, onboarding, and providing an HR advisor to contact. On the other end, they give you software to run payroll yourself.
The majority of small businesses just use the second option, software, for a number of reasons.
Reason 1: It's much cheaper (outsourcing HR can cost as much as 3-6% of your total payroll, such as with a Professional Employer Organization or PEO, whereas payroll software costs $50 -$150 a month).
Reason 2: Payroll software has advanced to a point where much of the hassle of payroll is taken care of for you. For example, new hire reports are automatically filed electronically, and payroll taxes are calculated and submitted on your behalf.
Reason 3 and beyond: Tax penalties alone cost $5 billion in 2014 from payroll errors and mis-filings! Payroll software reduces the likelihood of these errors by automating things for you.
For these reasons, we'll focus on payroll software in this article. While Gusto, Paychex, and ADP do have more comprehensive payroll & HR services available, their payroll software packages are what most small businesses need and use.
Price
The prices in the table above and below were from quotes from Gusto and Paychex in January 2017, and the ADP pricing is from February 2016. They reflect a business with 10 employees running bi-weekly payroll:
| | | | |
| --- | --- | --- | --- |
| Price for 1 year (without discounts) | $1188.00 | $3079.10 | $3364.50 |
Comparing price is a little tricky, as both ADP and Paychex usually offer discounts once you get on the phone with a sales rep. Paychex offered me a 40% discount (although it was unclear how long I would lock in this discount) and was willing to waive the setup fee; ADP did not want to talk to me once they figured out I was writing an article so my research on them is from other sources. Discounts are usually time-sensitive though in order for them to lock you in. Note that Gusto does not offer discounts (although your first month is free) but still beats both of them on price.
Also, ADP and Paychex charge per pay period, while Gusto charges per month regardless of your pay schedule. This is important if you pay people more than once per month because then you will pay more if you use ADP or Paychex.
Payroll Features
ADP, Paychex, and Gusto payroll programs have very similar features. Here's what all three of them offer:
Run payroll online
Pay employees via direct deposit
Automatically submit new hire reports
Pay FICA, FUTA & SUTA taxes automatically
Employee login to manage account information
Print payroll reports
Additionally, all three companies can help you setup benefits, such as retirement funds or health insurance. With Gusto, you can do this all from the same interface you use to run payroll.
Here's the additional features offered by each company:
Ease of Setup
I cannot emphasize enough how much easier Gusto is to set up than ADP and Paychex. First of all, you can create your own account and walk through it easily on your own (as we show in this article) and as I have also done in my personal consulting business. As an HR person who loathes payroll (seriously–worst part of the HR job), the fact that I like Gusto's setup says something!
I appreciated that when I created my account with Gusto, I got a welcome email and a message about what time worked for me to talk to them if I needed help. With ADP and Paychex, I had reps calling me every few hours to get me on the phone…and then constantly trying to upsell me (they work on HEAVY commission). With Gusto, no one annoyed me and it felt more like they actually wanted to set me up on the system versus make money off me.
Here is a screenshot of the Gusto dashboard. The intuitive menu is visible on the left hand side: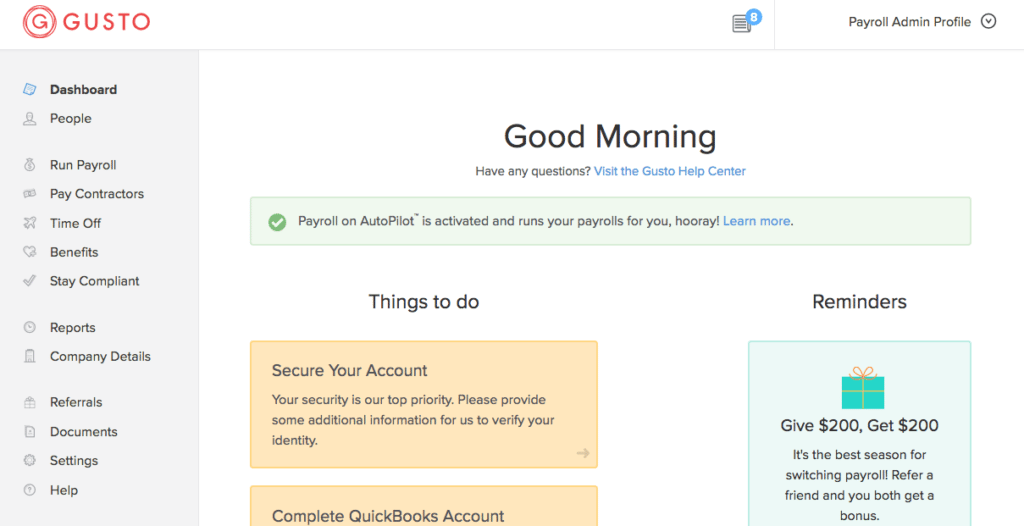 The unfortunate part is you actually need to talk to sales reps in order to set up your ADP and Paychex accounts–you can't just set up one and go like you can with Gusto. I have a hunch that this is for the sell, but the reality is that I think their technology probably hasn't caught up to Gusto's system and ability to process your company's information through the web service (versus a rep typing it into their own software, like at ADP and Paychex).
Customer Support
ADP and Paychex offer 24/7 phone and email support while Gusto is only offered email and phone support 9am-8pm EST, Monday-Friday. Users tend to speak much more highly of Gusto's customer service, however, than ADP or Paychex.
The Bottom Line
The lower price tag makes Gusto an immediately-attractive choice for small businesses. When you also consider that they have nearly all the same features as ADP and Paychex, with newer online software AND stronger customer support, the choice is pretty clear when thinking about ADP vs. Paychex vs. Gusto. While Gusto does have some drawbacks (no 24/7 support, no poster compliance, and no check mailing service), these cons are pretty minimal compared to the pros.