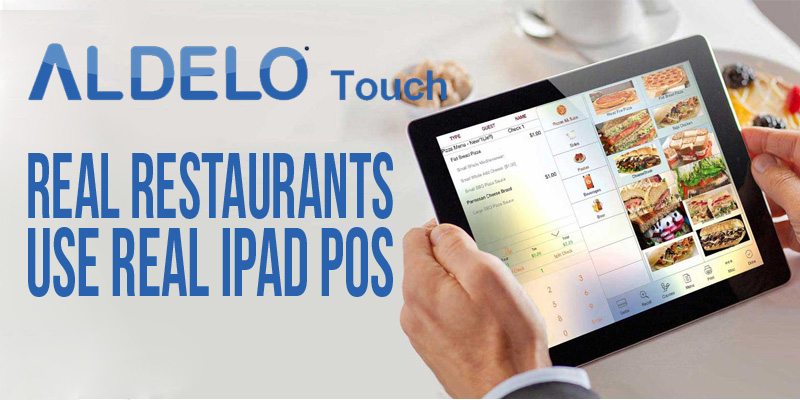 What is it?
Aldelo Touch Restaurant Point of Sale System (POS)
Click Here to get our FREE Google advertising guide and discover the 6 steps you can use to show up #1 in Google search
Popularity?
Over 100,000 users (all Aldelo systems)
What it allows you to do?
Have a tablet-based restaurant POS solution with many of the features of a traditional restaurant POS system at a fraction of the cost. Also, supports multi-lingual applications right out-of-the box, including Spanish, Chinese, Russian, and Vietnamese.
What it does not allow you to do?
In-depth inventory tracking, purchase ordering, customer resource management, and advanced appointment booking/reservations (currently available in desktop version, will be available in tablet version this year)
Who it works well for?
Full-service restaurants, quick service restaurants
Who

it does not work well for?
Non-restaurant businesses
Free Trial?
Demo version available for download at app store (register), but no free-trial for back office.
Cost Compared to Competitors?
Cheap (especially if annual plan is purchased)
Hardware Included?
No
Type of Solution?
Cloud based
Merchant Account Included?
No, but seamlessly integrates with a variety of major payment processing services (See Credit Card Processing section for more info)
O.S. Platform?
iPad Air or above recommended (technically works on iPad 2 and 3, but reportedly slow) Also have traditional PC based restaurant software that is very well-rated.
Similar Products?
Revel, Micros, AmburApp, Breadcrumb
US Based?
Yes. Headquarters and Customer Support in California
User Reviews?
Good.
How it Works
Aldelo has a little different story then many of its competitors, like AmburApp, TouchBistro, and others. Instead of developing an iPad POS from scratch, Aldelo has just adapted its traditional restaurant POS into an iPad app, including a fully functioning back office where all administrative work is done. The advantage here, is that Aldelo did not have to reinvent the wheel, they simply adapted their already proven and well-rated POS to another platform. As a result, they are able to offer a fully-featured, powerful, and time-tested restaurant POS for a very reasonable cost.
When it comes to the actual working of the system, it is very similar to other tablet based POS systems. Your iPad is the workhorse hardware of the system, controlling all payment processing and other hardware, such as cash drawers, receipt printers, kitchen printers, and more. Waiters/Waitresses can even take iPad's around to tables and input orders into the system without having to go back upfront. All devices are synced onto the same system for a cohesive and connected solution. If a waiter/waitress updates a table to "ready to be cleared" mode on their iPad, the hostess can see that change on his/her device, send someone to clear the table, and have another customer seated in half the time.
If you are looking for a PC based system, Aldelo also has traditional restaurant POS options that run on PC's and are very well rated, Aldelo Restaurant Pro POS, POS Lite, and Xera POS. Basically, Aldelo's PC based systems (Pro, Lite, Xera) have features for every area of the store, from purchase ordering to reservations, while Aldelo Touch has all the front-end features but lacks in-depth reservation, customer resource, and ingredient level tracking in the back-end.
Pricing
Aldelo's Touch POS pricing is pretty straightforward. It is $49/month/device if you are paying monthly. If you pay annually, it is only $10/month/device, which is a heck of a deal for the features you get (3 iPad minimum). This gives you all Touch features and a full cloud backoffice (see primary features section below).
Aldelo's PC based systems will cost you a one-time software fee of $300-$700 per user/device license.
Hardware
For a basic cash register, receipt printer, and remote kitchen/bar receipt printer, you are looking at around $600-$700. If you add an Aldelo stand, it is going to be more like $900. One nice thing about Aldelo, is you do not need a barcode scanner, because it has that capability built-in using the iPad's camera.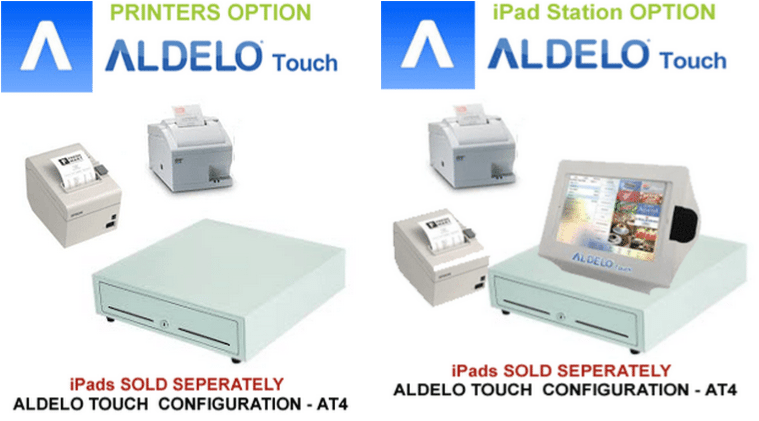 Where to Buy
Aldelo does a lot of its sales through resellers. Plug and Play POS is Aldelo's #1 reseller and they have lots of helpful add-ons that they offer (ongoing monthly support, etc). When researching sales and prices, I talked with Nurol POS, which sells a variety of Aldelo Software, including Aldelo Touch. I talked with Daniel, one of their representatives, for around 30 minutes. He was very helpful, non-pushy, and knowledgeable about Aldelo systems. If you decide to go with an Aldelo system, Nurol would be a good option to purchase from. They also sell compatible hardware which they can send to you already preconfigured to work together, and have menu design and Aldelo training services available also (additional cost).
Credit Card Processing Fees
Aldelo has partnerships with a variety of different processors, including Mercury, Sterling, WorldPay, Merchant Warehouse, PaymentTech, and more. Aldelo actually has developed their own payment software, called Aldelo EDC, which is fully PCI compliant. It costs a one-time fee of around $750 for the software. But, if you open a merchant account with certain preferred processors, such as Sterling, Mercury, PPI, or Cayan, then the license fee is waived. Even if you would end up paying the $750, you are still only paying around $50/device/month over a two year period (see pricing section above).
It is important to note that Aldelo's EDC is PC software. So, in order to accept credit card payments, you are going to have a PC connected into your network. When I talked to an Aldelo rep, he mentioned that most users that don't already have a PC just buy a cheap one that they keep in their office and run solely for payment processing, which is actually more secure anyway. All payment info is routed from the iPad's to the PC and then processed via an internet connection.
Ease of use
All in all, for the features and functionality it provides, Aldelo Touch is pretty easy to use. The front-end device interface (cashier, hostess, waiter/server) is very intuitive and simple to use. The back-office, where you manage employees, menu, seating, layout, etc, is a little more complicated, due to its more advanced feature set.
Software Download/Setup:Moderate
I put moderate here, mostly because the process to actually get your Aldelo license up-and-running is a little involved. You have to purchase the license, usually through a reseller (see where to buy section below), and fill out several documents relating to your store information. You can only pay using ACH, which is a pain, but understandable as it is a cheaper and easier setup for recurring/long-term payments.
Actually getting the app is a piece of cake, you simply download it off of the Apple store for free. It also includes a demo version, which is super nice, as you can get used to the front-end system while you are waiting on your license to be processed.
Restaurant Setup: Moderate
Setting up your restaurant is not too difficult, but it is involved. Getting your menu setup, your employees all added into the system, and your store layout configured just takes time. This is all done through your back-office, which can be accessed and edited through any device with an internet connection.
Here's what the homepage of the back office looks like:
As you can see, you have your tabs along the top, each of which have a variety of functions. You can also access these areas through the shortcuts tab on the right side of the screen.
Here's what the main screen looks like when you are adding an item.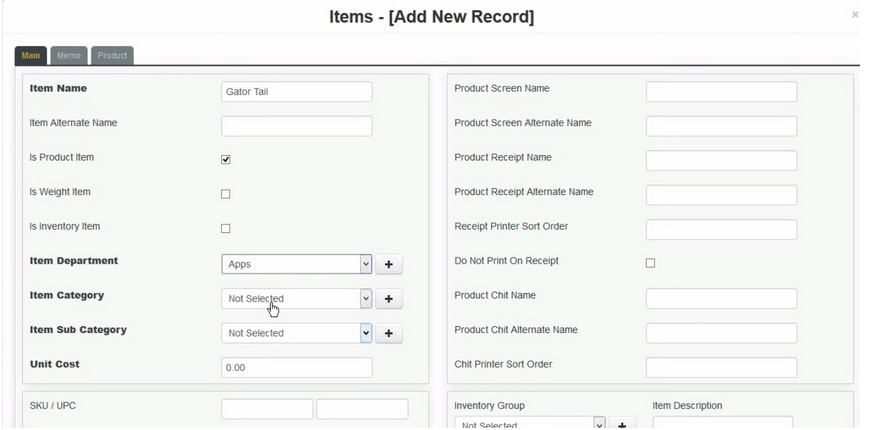 As you can see, it is not too complicated, you just plug-in information. You can add unit cost, an item's recipe name, configure how it rings up on a receipt, and more. The other product screen is pictured below, which allows you to add list price, minimum markup, and other more technical information.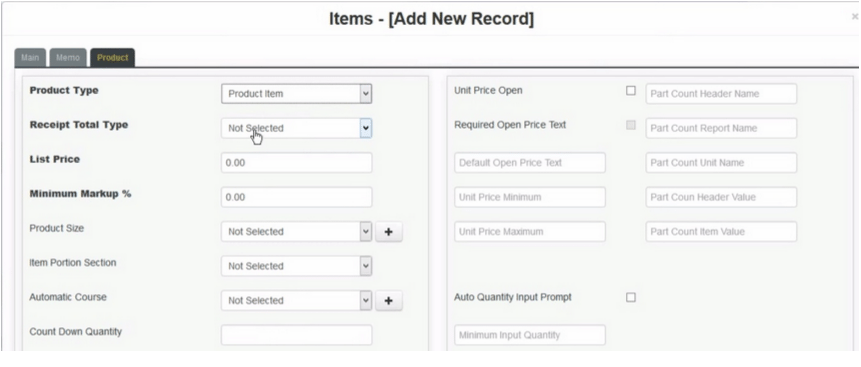 Register/Cashier/Hostess Use: Easy
Aldelo's front-end interface is pretty intuitive to use. Although there are quite a few options, I felt pretty comfortable with the system after 30-40 minutes of trying out the demo. First, your employees will get a screen where they enter their PIN to clock/sign-in. Once they have completed that step, they will get the main screen, which looks like this.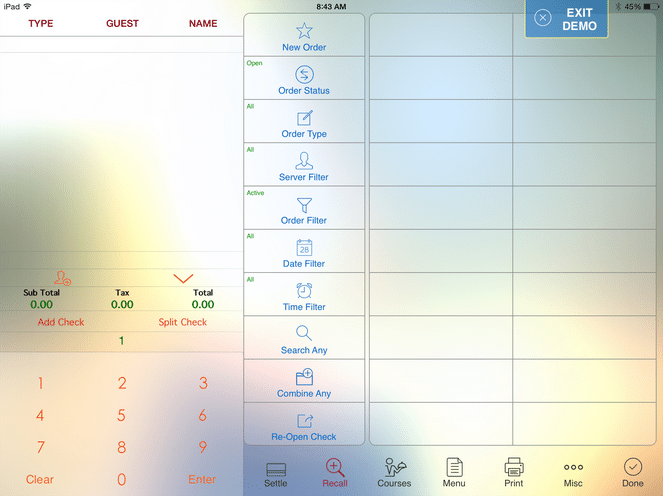 You then click on the menu tab at the bottom of the screen, click on the applicable menu, and then the items in that menu pop-up so you can add applicable ones to the check.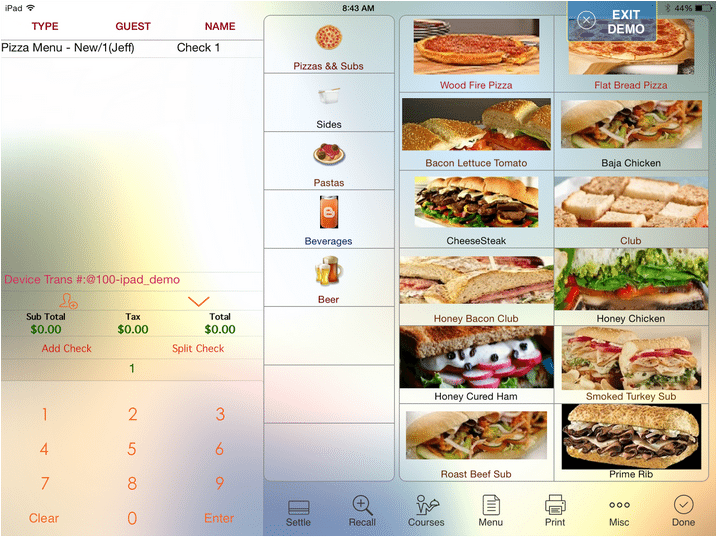 Once you click on a item, it is added to the menu, after you have clarified any modifiers and hit complete. This is automatically populated under "guest 1." To add guests, you click the little person with the plus sign, in the middle left-hand side of the screen. To change items between guests, you simply tap the item, and then tap the corresponding guest.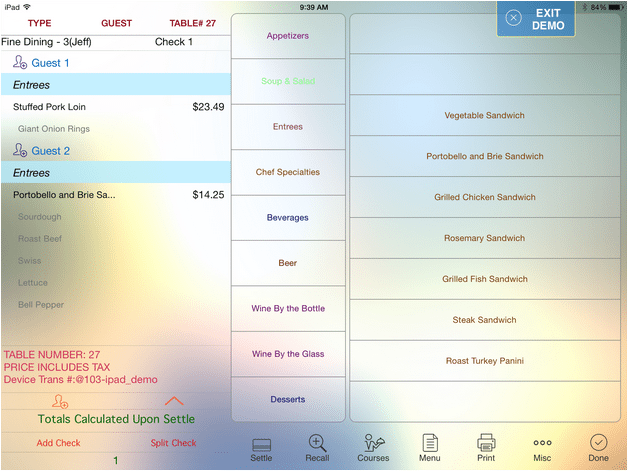 To check a customer out, you simply hit settle at the bottom of the screen. You have the option of printing a physical receipt or sending a digital one to the customer's email.
Features
| Features Included | Features Not Included |
| --- | --- |
| Payment Processing (Credit Card, cash, check, gift card) | Online ordering (supposed to be in development) |
| Accept Tips | Delivery Mode (coming soon) |
| Merge Checks | Appointment Booking/Reservations |
| In-depth Split Check options (by seat, by guest, equally by number) | |
| In-depth table management (table progress/status, table layout, transfer check, merge/split tables, etc) | |
| Sort checks by seat number/guest | |
| Kitchen/bar printing | |
| Employee management tools | |
| Basic Inventory management tools | |
| Unique bulk-item pricing options with accurate reporting (dozen, baker's dozen, half-dozen, etc) | |
| Multi-Lingual compatibility (Spanish, English, Chinese, Vietnamese, Russian, and more) | |
| Barcode scanning via built-in tablet camera | |
| Open bar tab simply by swiping credit card | |
| Conversion/change support for foreign currencies | |
| Ability to hold/fire individual items based on customer wishes (ie send appetizer but not entree to kitchen) | |
Integrations
Being a POS system for such a specific industry, Aldelo programs most features you might need into its POS, limiting the need for integrations. However, Aldelo does have some important integrations. QuickBooks integration is always crucial, and is available for a one-time fee of $500-$700. Aldelo also integrates with a variety of payment processors, for credit card processing and gift-card services.
| Integrations | Non-Integrations |
| --- | --- |
| Variety of Payment Processors (Sterling, Mercury, WorldPay, PayPros, etc) | |
| QuickBooks (one-time $500-$750 software license fee) | |
| Aldelo's Xera POS | |
Detailed Overview:
Aldelo Touch is relatively new to the iPad restaurant POS scene, making its debut in early 2014. But, its functionality and features are impressive, especially in important areas, such as table management, employee management, and menu creation/management. Also, Aldelo has good 24/7 support, has a history of listening to and responding to customer needs, and is even now working on a variety of new features/functionalities for the Aldelo Touch system.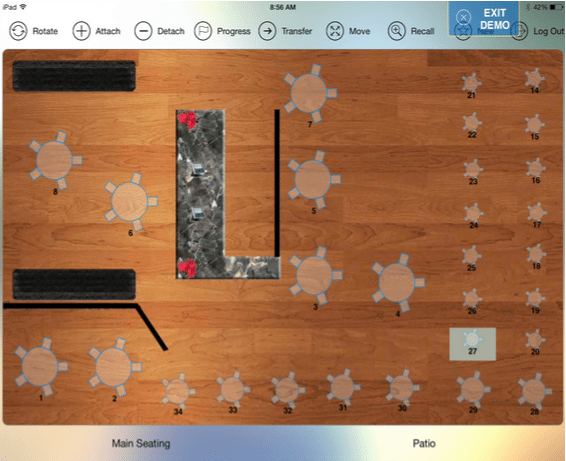 Aldelo's table management options are the most advanced I have seen in a tablet-based POS system. Aldelo has a top-of-the-line restaurant layout screen, complete with tables, bars, patios, and more. You can transfer any check to any table, combine table's right in your layout mode to keep up with real-time layout changes, and even drag-and-drop tables in real-time to anywhere in your restaurant.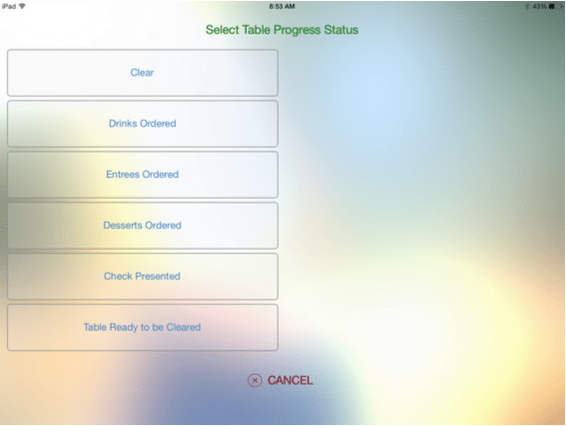 Also, you have an unlimited amount of progress statuses you can set up to keep on-top of what's happening at each table (ie drinks ordered, entrees ordered, check presented, etc), allowing your hostess to know exactly what's going on and get tables cleared off quicker and more effectively.
Aldelo's employee management and menu management tools are just as impressive. You can create employee schedules, track employee availability, calculate labor costs, track employee hours via the clock-in/clock-out feature, and more. When it comes to menu/item management, you have lots of variety. You can assign different sizes, cooking preferences, portion sizes, categories, sub categories, menus, and much more for each item, giving you full control over how your menu is categorized and presented.
The front-end features are great as well. You have a variety of split-check options (evenly, by seat number, etc). Items can be switched between seat numbers simply by clicking on the guest check. You can open a bar tab simply by swiping a credit-card, and even set it so that Aldelo checks to make sure the card account is authentic and has money before running up a big bar tab (pre-authorization). You can also hold certain items (until you update it or for a specified time) on a check while sending others to the kitchen/bar.
Aldelo Touch does have some limitations, specifically with its appointment booking/reservation, purchase ordering (can't do purchase orders), and customer resource management features. However, these are all areas Aldelo is working on, and considering the importance of these features, there is a good chance they will be improved in future updates.
Features
1. Inventory Management
Aldelo Touch's inventory management features are great when it comes to menu and individual item management. They have a menu-builder that is included in the back-office. The menu modifiers are great, allowing you to add sizes, cooking preference (ie medium rare), product category, product group, subcategory's, menu, portions, and more. You can also put in lots of details about each item and calculate cost, profit, and margin.
When it comes to actually tracking stock and inventory, Aldelo Touch is not quite assophisticated. You can track item/inventory counts and get alerts when you are running low, but ingredient level tracking is not quite as sophisticated.
2. Employee Management
What Aldelo lacks in Inventory management features, it makes up for in employee management tools. Via Aldelo's back office, you can create schedules, track labor cost, and manage permissions/ hours of individual employees. You can also check staff availability for shifts that come open and of course there is clock-in and clock-out time tracking as well.
3. Customer Relationship Management (CRM)
At this point, Aldelo Touch does not have any CRM features, which is a negative. But, Aldelo's PC based software has some great customer loyalty/management options and the iPad version is currently in-production.
4. Always-on mode (accept payments even when offline)
Aldelo will always remain fully-functional from an operations standpoint, even if you lose your internet connection. You can still use all of your table management, ordering, and other front-end features. You can also accept cash and checks while offline. Basically, the only thing you lose, is the ability to accept credit cards, which requires an internet connection.
5. Barcode creation/scanning
Considering this is a restaurant pos system, you probably will not be needing to create too many barcodes. But, if you do, Aldelo gives you that option, and you can scan items using your iPad's camera. Each inventory item can be given its own Barcode/SKU as well.
6. Label creation/printing
You can create and print off labels with compatible printers using Aldelo.
7. Gift Card/Discount Options
Aldelo handles gift card options via its payment processors. So, your gift card capabilities and pricing will vary depending on which processor you use.
8. Ecommerce/online storefront option
Aldelo has a pretty robust online ordering system add-on that they have created. Although not yet available for iPad, this integration is in-production. This add-on provides you with hosting and a custom site with your menu, allows you to accept unlimited orders online, and automatically prints them to your kitchen/bar printer (or sends them to your KDS). Of course, it costs you a one-time fee of $695 and then an ongoing fee of $59/month for site hosting and maintenance.
9. Purchase Order management
Aldelo Touch does not currently support purchase order management features.
However, considering Aldelo's low monthly cost, you can get a sophisticated inventory management third-party application like PeachWorks (Purchase ordering, in-depth inventory mangement, recipe lists and management, and more) for $150/month, which if you have 5 iPads will still keep your per device cost below most other solutions in the industry.
10. Reporting
Aldelo's reporting is top of the line. You can generate reports based on a variety of criteria. Of course, sales reports are important, and you can generate those based on hour, day, month, specified dates/hours, item, category, menu, and more. One of the things that Aldelo Touch has that no other iPad system I have reviewed does, are labor budgeting and labor cost analysis reports, which is a great feature.
11. Appointment Booking/Reservations
Aldelo Touch's lack of appointment booking/reservation features is one of its downsides. You can set specific reservation events, which is nice, but you don't have the high-powered reservation/waiting list management options you do with Aldelo's Restaurant Pro desktop software. However, each new Aldelo touch release has meant a significant increase in features. So, it is pretty likely this will be improved in some of the newer versions.
12. Payroll
You cannot actually run payroll via Aldelo's back office. But, it gives you all the tools and integrations necessary to make payroll easy. You can keep track of employee hours, via an employee time clock feature, and then import that data into QuickBooks via the Financial integrator, which will then allow you to run payroll.
13. Restaurant Tools
Aldelo is a restaurant pos, and it has the tools to handle complex restaurant needs. See detailed summary in feature section above for specifics.
14. Grocery Store Tools
Aldelo is specifically designed for restaurant POS applications and does not work for grocery stores.
15. Retail Store Tools
Aldelo allows you to sell merchandise, in case your restaurant wants to sell some memorabilia, gum, etc. But, Aldelo is not designed to be used primarily for retail applications.
Customer Service
24 hours?
Yes
US Based or Not?
Yes. Customer support headquarters in California
Phone, Email, Live Chat?
Aldelo has 24/7 phone support. They also have email and remote access support(log into your system remotely to diagnose problem). They offer remote software training and menu programming services as well. Aldelo has very positive ratings from its customers and its customer service reputation is no exception.
Click Here to get our FREE Google advertising guide and discover the 6 steps you can use to show up #1 in Google search
Conclusion
If you are looking for top-of-the line menu, table management, and employee features, then Aldelo is a great option for your restaurant. Considering the fact that Aldelo has more features than most iPad based systems, costs as little as $10/month/device, and has well-rated 24/7 customer service, they are hard to beat when it comes to iPad POS solutions. But, if you require in-depth inventory management, customer resource management, or sophisticated reservation tools, then you might have to find a third-party service or another POS solution.