America and independence go together like Mom, apple pie, and baseball – it's just something you think of when you think "America."  The growing number of Americans who identify themselves as independent workers continues to rise. The third annual MBO Partners State of Independence report, published in 2013, indicates that more and more people are choosing to work independently.  According to this report, 17.7 million Americans considered themselves independent workers in 2013. By 2020, MBO Partners predicts that at least half of all Americans will at one point in their working lives have served as independent workers.
Independent workers are temps, consultants, and small business owners.  They are also job creators, with 1 out of 4 independent workers hiring another person, either as a subcontractor or as an employee.  This translates into 2.3 million people employed by independent workers through contract hiring.
Before we dive into the details on this topic, we also suggest you check out Quickbooks, our recommended accounting software. Visit Quickbooks to learn more.
The chart below lists key statistics from this report regarding America's independent, self-employed workforce: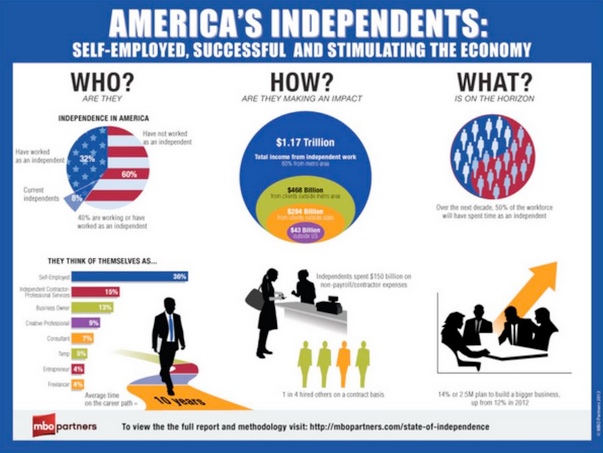 Who are America's Independent Workers?
They are both male and female, with the pool of independent workers split almost evenly between the genders. The survey considered only those who work 15 or more hours per week as independents. Most independent workers own a business offering consulting, freelance services, solopreneurs or microbusiness of some type, and have 3 or fewer workers on staff.
They are truly the "smaller" small businesses, yet provide considerable income to the overall economy. In 2013, independent workers contributed approximately $1.2 trillion dollars in total income to the national economy, an increase of 20% over the previous year. Productive, creative, and providing vital, necessary services, independent workers are no longer thought of as a stopgap measure until the economy picks up. If these trends continue, independent workers ARE the trend of the future.
Key Take-Aways for Small Businesses
Hiring independent workers offers numerous advantages for small business owners. Flexibility, greater accountability, lower overhead and access to workers with broader and deeper experience are just a few of the benefits of hiring independent workers to complete specific projects for your firm.
Make sure that you maintain your independent worker's status as a worker, contractor or freelancer, not as an employee, by keeping a clear distinction between the two worker types. An independent contractor or worker should maintain a separate business identity, work on their own to complete the assigned project, and invoice for completed work, among other things.  Employees work under direct supervision with specific hours. Keep the two roles clear, separate and distinct.
Independent workers compete fiercely for projects. They will work hard to ensure your business is satisfied with the results, and often go the extra mile to ensure you're happy. This offers your small business greater accountability when you work with independents.
If politics, past history or other issues are stumbling blocks to fixing a problem within your small business, hiring an independent to come up with a solution may be the key to getting over the issue and moving on.  A fresh, neutral perspective may be all that's need to help move above and beyond the open issue.
Small business owners who are already independent workers can expand their business and clientele by forging strong business relationships with other independents with complementary skills. An independent consultant who offers business advice may find that a client needs a new website, which in turn may mean partnering with an independent website designer and freelance writer to complete the job.
To learn more about the requirements of hiring independent workers for your firm go here.  For more on how to make a living as a freelancer go here.
Click Here to get our FREE Google advertising guide and discover the 6 steps you can use to show up #1 in Google search