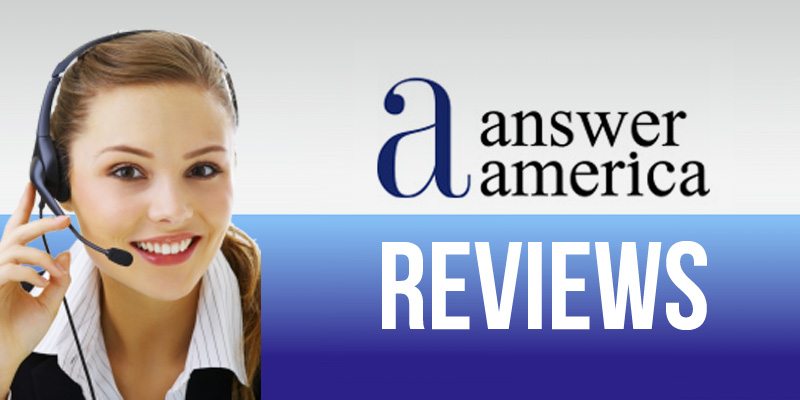 What is it?
How popular is it?
Answer America is owned by AnswerNet, a mid-sized company with over 200 employees.
Similar Services?
VoiceNation (messaging package)
What does it do well?
Answer America is a very simple and low-cost messaging service.
What does it not do well?
You can save messages from callers, but that's it. There's no forwarding calls, answering FAQs, taking orders or scheduling appointments.
Who does it work well for?
Businesses that want to replace their answering machine with a live receptionist.
Who does it not work well for?
Businesses that want their receptionist to do more than copy messages, such as transfer calls to your company or schedule appointments.
US based?

Yes
Available 24/7?
Yes
Excluded Industries?
None
Free Trial?
No
Cost Compared to Competitors?
Low
What Receptionists Can Do
Answer America is a very basic service. When you get a call, one of the agents at the call center will read your custom greeting and take your caller's name, phone number and message. Receptionists can also relay basic information, like your business hours and location.
What Receptionists Cannot Do
There's no call forwarding. If a client needs to speak with you or another employee, receptionists cannot transfer the call – they can only take a message. They cannot answer FAQs besides very basic information about your business. There's also no filling out web forms, appointment scheduling or outbound calling.
Price
Answer America is pay-as-you-go: it's $1/call with no set-up fees or monthly service charges. You have to spend a minimum a $1/month and spend at least $20 in call credit when you first sign up. Credit will roll over from month to month.
Reputation – Poor
As a budget service, you get what you paid for. Of all the services we reviewed, Answer America had the most complaints from users.
The 2 reviews on Yelp were both negative, with one user noting difficulty getting in touch with customer service after receptionists were (inaccurately) telling callers their business was closed. We also spoke with a customer that noted long ring times (30 seconds or more) before receptionists pick up. They also mentioned how after receptionists pick up, callers can be placed on hold even longer. Despite these drawbacks, the customer was still satisfied with the service, given the low rates and no monthly fee.
 Features:
| Features it has | Features it does not have |
| --- | --- |
| Dedicated Receptionist | Find Me/Follow Me |
| Call Recording | Voicemail-To-Text Transcription |
| Text/Email Alerts | Call Logs |
| | Mobile App |
Setup
Setup all happens online. It happens pretty fast, given how simple the service is. All you need to do is add basic business information, a 1 sentence script for your greeting and forwarding instructions for up to 5 users.
Features:
1. Messages & Voicemaill
Answer America can take messages from callers and forward them to up to 5 different employees at your business. Messages can be sent via text or email. Answer America does not take voicemail – all messages are copied down by the receptionist and sent to you in text form.
2. Find Me/ Follow Me

Answer America does not transfer calls, so there's no find me/follow me feature.
3. Online Dashboard/Mobile App
Unlike most answering services, there's no online dashboard to view call logs or messages. You can log in, however, to manage your account and change settings such as forwarding instructions.
Answer America records all calls and stores the audio for 14 days. If you want to listen to a particular call, you can reach support and ask them to send an audio file.
Customer Service
24 hours?
Yes
US Based or Not?
Yes
Phone, Email & Live Chat?
There's no immediate phone or email support. You first have to login and fill out a support ticket, then somebody from customer service contact you. Users have mixed experiences with the support team. At least 1 user noted difficulty getting in touch.
Answer America also has a list of FAQs and a set of videos that explain all the key aspects of setting up your account.
The Bottom Line
At $1/call with no additional fees, Answer America is by far the least expensive answering service. It's also the most basic. You get a live receptionist to copy messages, but that's it. There's no transferring calls, answering questions for callers, scheduling appointments, filling out web forms, etc. Also, on the user end, there's no dashboard to login and view messages or call logs.