What is it?
A small business answering service for medium and large businesses.
How popular is it?
AnswerConnect is a medium-sized business with over 200 employees.
Similar Services?
VoiceNation, Map Communications
What does it do well?
It's a fully featured service – receptionists can schedule appointments, take orders, fill out web forms, live chat with customers, transfer calls and more.
What does it not do well?
While the pricing is better than Map Communications, plans start at 150 minutes/month (for $150), so this is not for smaller businesses or startups.
Who does it work well for?
Businesses that want more than a basic answering service and need it to be 24/7. AnswerConnect is the only service we reviewed that will live chat with your clients.
Who does it not work well for?
Businesses that want a dedicated receptionist should check out MoneyPenny. Businesses that want a lower priced service should check out VoiceNation or Map Communications.
US based?

Yes
Available 24/7?
Yes
Excluded Industries?
None, AnswerConnect is HIPAA Compliant so medical practices can use this service.
Free Trial?
No
Cost Compared to Competitors?
Low, assuming you need 150 minutes/month or more.
What Receptionists Can Do
When you sign up with AnswerConnect your calls will be routed to a call center with a large pool of receptionists. While you don't get the personal level of service you get from MoneyPenny, which assigns each client a dedicated receptionist, AnswerConnect can actually do a lot more for your business, the most of any service we reviewed. Their receptionists can answer up to 5 FAQs about your business (i.e. services offered, pricing). They can also schedule appointments using SetMore, a free online appointment calendar, take orders with credit card information using an online eCommerce page and can enter information into your CRM using webforms.
This is also the only services that offers live chat. AnswerConnect provides a live chat box that you can place on your website with custom branding. Receptionists can answer basic questions about your business, though for the most part they'll be asking prospects for contact information and sending it to you.
There's also outbound calling. If you provide a call script and a list of current or prospective customers (no cold calls), AnswerConnect receptionists can reach out on your behalf. You'll be charged/debited minutes at the same rate as the standard answering service.
What Receptionists Cannot Do
Besides a limit of 5 FAQs per business and requirement that web forms are not password protected, AnswerConnect does not have too many formal limitations. For the best results, however, you need to keep your instructions as simple and straightforward as possible. Web forms should be stripped to the essentials and you should avoid overly complicated FAQs.
Receptionists answer for up to 100+ different businesses a day, so keeping your instructions simple will prevent errors or awkward pauses on the phone.
Price
AnswerConnect has 4 small business packages that include the full set of features but vary in the number of minutes you get per month. Each call or live chat counts against your minutes, including the time it takes to transfer the call to your phone. Once the call has been transferred, however, minutes will stop being charged.
Clients are billed month to month, although you'll need to pay the first 3 months up front. There's also a $50 one-time setup fee no matter which plan you choose.
150 minutes for $150 (+97 cents / additional minute)
250 minutes for $200 (+95 cents / additional minute)
500 minutes for $400 (+93 cents / additional minute)
800 minutes for $630 (+93 cents / additional minute)
There's also a few optional add-ons available. For $10/month you can have messages faxed instead of emailed or sent as a text message. For $30/month, receptionists will call you and verbally relay messages as soon as they've been left.
Reputation – Neutral
Compared to the other services we reviewed, AnswerConnect has a moderate-leaning-poor reputation.
AnswerConnect does not have many reviews on the web, however, we were able to speak with a former customer. After using the scheduling service for about 9 months, they left due to inconsistent quality: about 20% of appointments were made for the wrong time zone. The customer also heard occasional comments from clients about how the "person answering the phone was not very good."
A sole employee review on Glassdoor corroborates this. They write how receptionists are well-trained, but given a very tiresome volume of calls each day. It sounds likely that the wide variety of services offered by AnswerConnect spreads them a little thin. As a client, you'll probably have the best luck if you have simple instructions and don't need too many advanced services, like web forms.
 Features:
| Features it has | Features it does not have |
| --- | --- |
| Call Recording | Dedicated Receptionist |
| Text/Email Alerts | Voicemail-To-Text Transcription |
| Find Me/Follow Me | |
| Call Logs | |
| Mobile App | |
Setup
Initial setup happens online. After entering your basic businesses and billing information, AnswerConnect will call within 30 minutes to setup your account. At this point, through phone or email, you'll provide call scripts and other instructions on how receptionists should handle your calls.Your service will be up and running within 2 days.
Features:
1. Messages & Voicemaill
If a caller wants to leave a message for you, the receptionist will copy it down and send it via text or email. You can also login to the web portal to view all your messages. AnswerConnect does not take voicemail – all messages are copied down by the receptionist and sent to you in text form.
2. Find Me/ Follow Me

You can set up whatever routing instructions you like. For example, in some emergency situations, you may need a call to be immediately answered by somebody at your business. AnswerConnect can go through a list of numbers until somebody picks up.
3. Online Dashboard/Mobile App
AnswerConnect has an online dashboard where you can view call logs, read messages, view live chat logs, change billing information and more. There's also mobile apps for iOS and Android that let you access the dashboard on the go.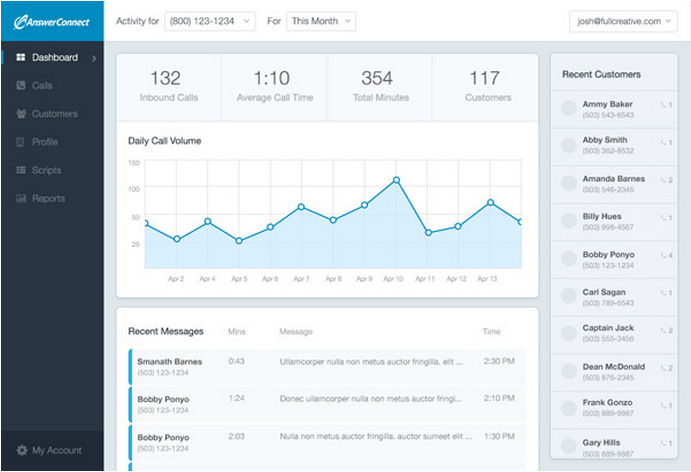 Customer Service
24 hours?
No, 5am to 6pm PST
US Based or Not?
Yes
Phone, Email & Live Chat?
Phone and email support is available during extended business hours. You do not get a dedicated account rep, but can speak with the support team for any issues. I did not find any complaints about the phone support team.
AnswerConnect records all calls that come through the system (where legal) so if you want to review any calls made to or from your clients, you can contact support and ask them to send an audio file.
The Bottom Line
AnswerConnect has some impressive features: The live chat feature is unique, as is the ability to make outgoing calls. Unfortunately the user reviews we found and customers we spoke with all had concerns. At worst they found the service unreliable, at best they were happy with it, but admitted that a took a lot of work and trial & error to set up correctly. For this reason, we recommend Map Communications if you're looking for a service similar to AnswerConnect.