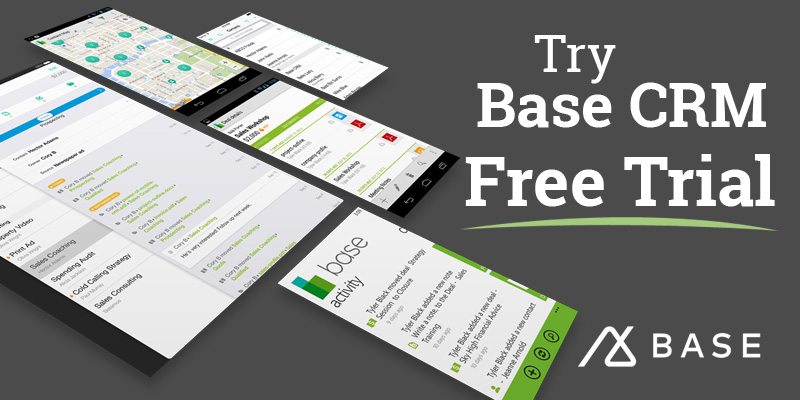 What is it?
A user-friendly CRM for salespeople..
Want to manage 1000's of leads, save time, and get organized? Click Here to get our FREE CRM guide and find out how.
How popular is it?
Base CRM has more than 6,500 customers worldwide, as of September 2015. They are a mid-sized company with around 100 employees.
What does it do well?
Base is extremely user friendly. It also has an advanced VoIP system built into the CRM and an excellent mobile app with Google Maps integration.
What does it not do well?
For the price, the CRM tools are pretty limited. There's no advanced reporting, marketing automation, invoicing or customer service tools.
Who does it work well for?
Businesses who just need basic sales tracking, contact management and task management. It's also good for sales teams who want to make calls directly from their CRM (thanks to their Twilio-powered VoIP service) and mobile businesses who want to take advantage of their killer mobile app.
Who does it not work well for?
It might be too basic for some businesses (automation is pretty limited and there's no customer service management or marketing automation.) For others it might be too expensive – you can get similar tools from Insightly or Zoho for much cheaper.
Free Edition?
No
Price Compared to Competitors?
High
Type of Solution:
Desktop & Mobile
Similar products?
Pipedrive, Capsule CRM
US Based?
Yes, Company & Customer Service
Customer Reviews?
Excellent (view reviews)
 Click a Button For More Info
Base CRM Pricing
Base CRM is available in 3 editions. Each "tier" gives you additional features and document storage. Unlike other CRMs, all editions let you store unlimited records (contacts, leads, deals & tasks).
Starter
$25/user/month

Professional
$75/user/month

Enterprise
$125/user/month

Limited to
up to 5 users

Basic CRM,
email & VoIP
integration

2GB storage
per user

Adds the document
library, sales
forecasting and
workflow automation
and lifts the limit
how many user
you can add

5 GB storage
per user

Adds Professional
features + advanced
VoIP tools, such as
call scripts and call
analytics as well as
team and user-based
permissions

10 GB storage
per user
Note: Base is not clear if these rates are paid month-to-month or annually.
Ease of use
Setup – Easy.
Base CRM begins with short interactive tour that explains all the key features. You can import contacts from many different sources, including Google Contacts, Outlook, Yahoo, LinkedIn, other CRMs or a .CSV spreadsheet file.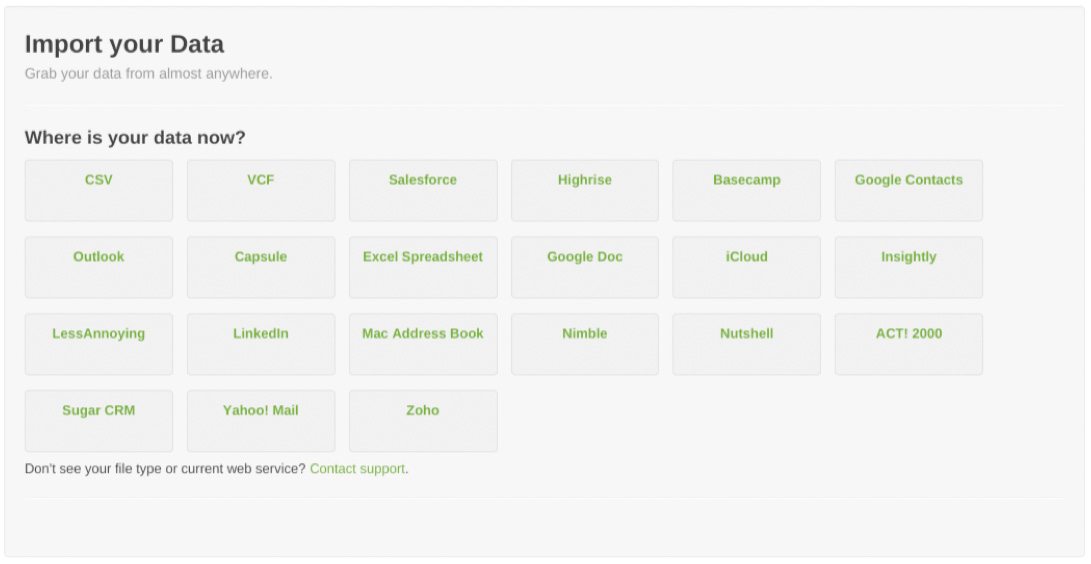 Administration – Easy.
To add users you just need to enter their name and email address. Base has a unique, graphical interface to manage access privileges, where you can click and drag to create hierarchies. Adding custom fields is also breeze (pictured below). Unlike other CRMs that throw hundreds of customizations at you, Base keeps things simple, while still giving you strong customization options.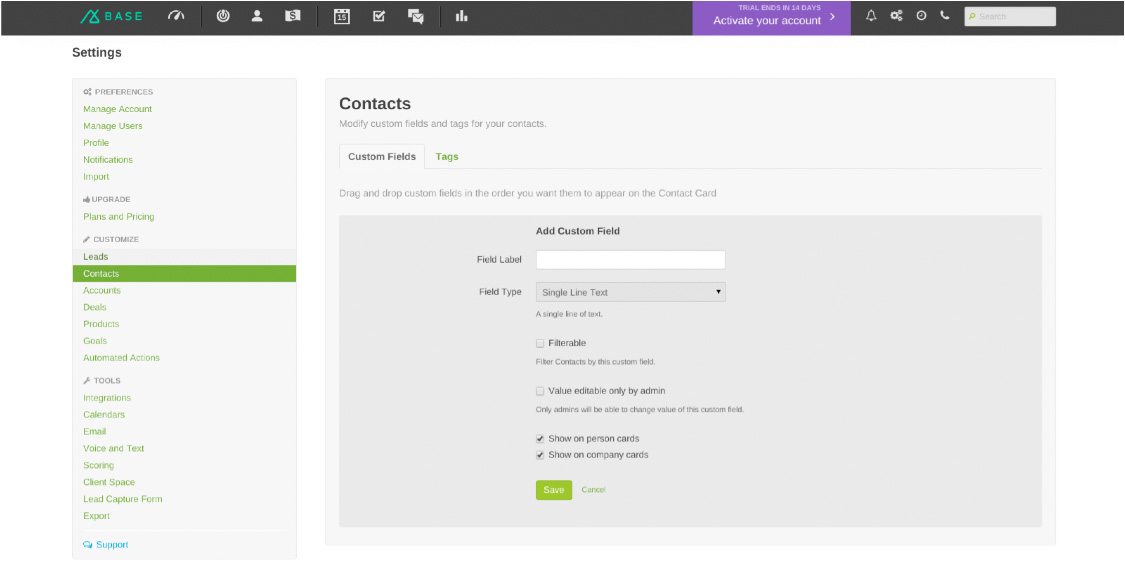 End User – Easy.
I found everything in Base CRM to be very straightforward. The layout is detailed, yet clean and uncluttered. All the actions I tried (adding contacts, tasks and deals, updating stages) were easy to accomplish.
Help – Easy 
Base has free phone and web support and a help center with over 150 articles. I didn't have trouble finding the answers to any of my questions.
Primary features:
Features It Has

Features It Does Not Have

Contact Management

Advanced Reporting

Sales Pipeline

Accounting

Task Management

Project Management

Workflow Automation

Social Media Monitoring

Basic Reporting

Invoicing

Lead Management

HelpDesk

Calendar


Territory Management
(Enterprise Edition only)


Web Form Integration
Primary Integrations:
| Integrations Supported | Integrations Not Supported |
| --- | --- |
| Social Media (Facebook, LinkedIn) | Evernote* |
| Google Apps | Quickbooks* |
| Dropbox | Freshbooks* |
| Mailchimp | Shopify* |
| Zapier | |
| Phone/VoIP | |
*Integrations supported through Zapier, a service that lets you send data between Base CRM and other applications
Detailed Overview
Intro / Product Summary
Base is all about getting work done fast. You can email or call clients straight from their contact page and add notes or tasks in a single click. To attach documents you can drag and drop straight into the browser. Adjusting workflow automation and user permissions, likewise, is done on an intuitive drag and drop menu.
The user friendliness is top notch. The downside of Base CRM, however, is the lack of advanced features and cost. For $75/user/month, there's still no advanced reporting, marketing automation, customer service tools (HelpDesk) social media monitoring, project management or invoicing. It's a lot to pay for basic sales tools.
Features:
Contact Management
Base has an advanced contact management system. Unlike other CRMs, contacts and companies are not separated. While you can create unique entries for companies and contacts you work with and link them together, both appear on the same list. I could not find any way to filter the contact book to show only contacts or only companies, which was a little frustrating.
Besides that, the contact book was easy to work with. Clicking on a name brings up a profile with lots of detail. You can view an activity stream of all the notes, emails calls, messages and completed tasks related to the client. You can quickly add a note or send an email straight from the contact page. To the right, you can view ongoing deals and tasks related to the client, or click to create a new one.
Sales Pipeline
Base also has "leads," which are unqualified contacts saved on a separate menu. When a lead expresses in becoming a customer, you click "convert" and create a new contact and deal.
Deals are a separate menu in which you track your sales opportunities. Each deal has a unique dashboard where can view an activity stream of notes, emails and calls related to the deal and track its progress by updating the deal stage. You can also apply workflow automation to your deals. When a new deal stage is reached, for example, you can set a workflow rule to automatically fire off tasks to certain employees (i.e. "Reach out to client to schedule a demo.")

Tracking sale values and probabilities enables you to forecast your earnings. You can read more about sales forecasting here.
Task Management
You can create tasks on sales contacts or leads. For example, if you want to give yourself a reminder to call a client, you can create a task right on their contact page. All tasks, however, will show up on the tasks menu, where you can view them as a list and sort/filter them by many different metrics. You can view tasks for just you or everybody in your company.
Reporting
Base has 31 standard reports, covering topics such as sales pipeline, sales performance, marketing effectiveness and VoIP call reports. You can adjust the appearance and time range of the reports, but I did not find any way to customize data sources beyond the limited options they give you. Check out the video below for an overview of reporting in Base CRM:
Base Reporting from Base on Vimeo.
Email Marketing
Base CRM has basic email marketing tools. You can send mass emails to contacts and track the click-through rate of that message. (see more) You cannot set up drip campaigns, however, nor can you automatically send emails when a "trigger" is activated, as you can with Zoho CRM.
Territory Management
If you have Enterprise Level account ($125/user/month) you can set up sales teams and hierarchies using Base's graphical permissions tool (pictured below). You can adjust the visibility of contacts, leads or deals on the individual or team level. (explained here)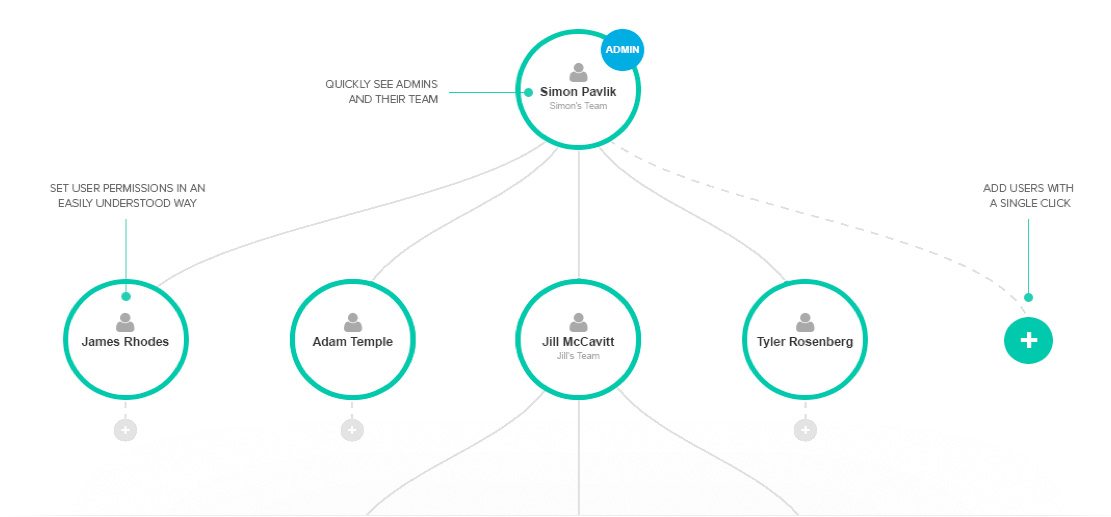 Document Library
Files can be attached to contact, lead or deal by dragging and dropping the document onto the window. The file will then appear under "documents" on the right hand side. You can also upload files to your "Document Repository," where your team can search through documents, preview them and upload new versions. Unfortunately, documents you upload to a contact, lead or deal will not automatically be added to the repository. (Read more about the Document Repository here.)
Project Management
There's no project management feature.
Automation
Automation in Base is somewhat basic. Some of things you can do are assign tasks automatically when deal moves stages, or when a new contacted is added. (see more here) You can also setup automated email alerts for when different actions occur in the CRM – like a task or a file being added to a lead.
What you won't find are lead assignment rules, email automation (emails sent to clients automatically when a "trigger" is activated) and follow-up reminders.
Calendar
All of your upcoming tasks appear on a calendar, which you can adjust to day, week or month. To create an appointment, just click on a date and a window will appear. You can add attendees and link it to a deal. One cool feature is that if you make any changes to the event – like changing the start time or dragging it to a different date – attendees will automatically be notified of the change in schedule.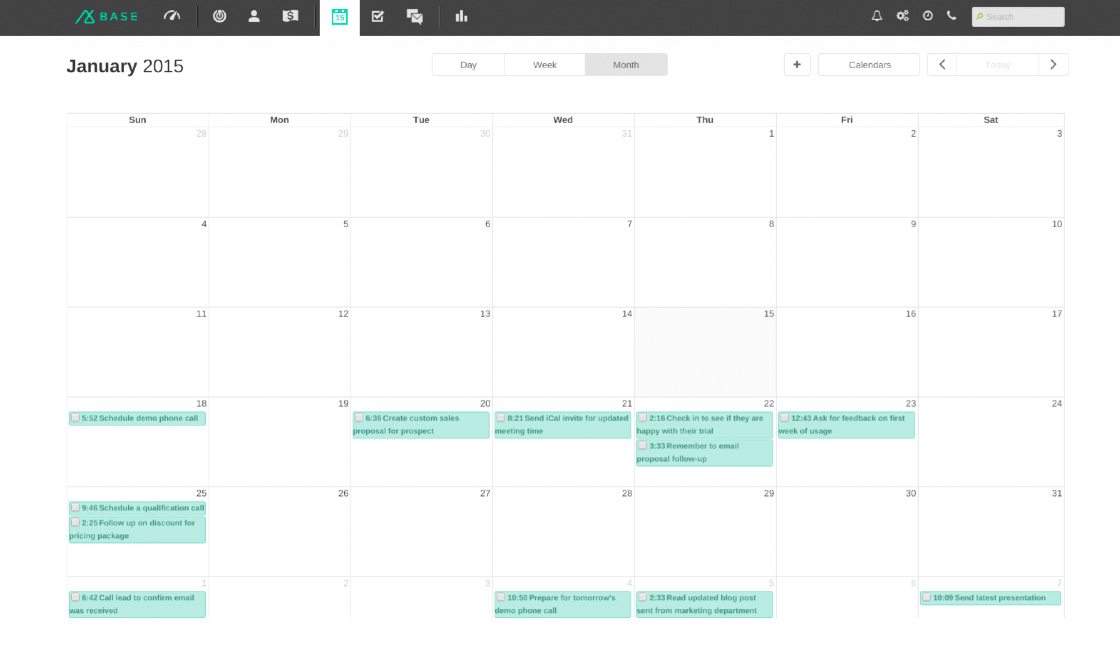 Invoicing / Accounting
Base does not have native invoicing or accounting tools. However, you can integrate Xero to create invoices in Base. (explained here)
Desktop/Server Based/Mobile/Offline Access
Base CRM is cloud hosted, so you don't need to install any software on your computer. You can access Base CRM through your web browser or a mobile device. It does not support offline access, however, so you do have to be connected to the internet to use Base CRM. The exception is the mobile app, which supports offline access.
Map
Base has excellent mobile apps for Android and iOS. You can access the full CRM, including reports (which is rare for a mobile app.) It can also work offline by backing up data onto your smartphone's memory card. All of your activity gets updated and synced as soon as you are connected to the internet again.
Like the desktop version, the mobile app is very user friendly. They do a lot of little things right – like ask if you want to log a conversation or add notes after you get off a call. For traveling salespeople, there's also a handy google map integration enables you to view your clients on an interactive map.
Integrations:
Base integrates with several other business applications, including Google Apps, Dropbox, Xero, Mailchimp, Harvest, Yesware, Outlook, Quoteroller and Zapier. (see them all here) Through Zapier, a 3rd party integration service, you can link with hundreds of more programs: including Freshbooks, ZenDesk, Quickbooks Online, Trello, Basecamp and more. Just note that Zapier is a subscription service that may require a monthly fee, depending on how many programs you need to link.
Base has light social media integration – you can import contacts from Facebook and LinkedIn (explained here.) But there's no social media monitoring that I could find.
You can link your email address with Base to use their in-browser email service. Most clients are supported, including Gmail, iCloud, Yahoo, Hotmail, Office 365 and more. You can enable Base to scan your incoming messages, so anytime you receive an email from a contact it will be attached to that contact's profile. (More information here)
Base also has VoIP features (Provided by Twilio) that are designed for sales teams. With any level account, you can dial and receive calls directly from the CRM. You can also record conversations and log them in the system. With an Enterprise account ($125/user/month), you can also pull up a call script and take notes. You get a unique phone number for free, but have to pay a small fee per call – $0.015 for domestic numbers.
Check out the video below for an overview of Base CRM's VoIP features:
Base has light social media integration – you can import contacts from Facebook and LinkedIn (explained here.)  It also integrates with several 3rd party applications, including Google Apps, Dropbox, Xero, Mailchimp, Harvest, Yesware, Outlook, Quoteroller and Zapier.
Customer Service
24 hours?
No
US Based or Not?
Yes
What's The Method of Delivery?
Base scores better than most CRMs at customer service. They have free phone and web support during regular business hours and users spoke highly of their support team. They also have a help center with over 150 articles. Unlike the knowledgebase for SugarCRM and Salesforce, which can get very cluttered, I found Base's to be very helpful and intuitive.
The Bottom Line
Base is one of the most pain-free and user-friendly CRMs on the market. It's intuitive for a first-time user, whether you're a salesperson or administrator. Even more seasoned CRM users will enjoy how "fast" it is, with actions like emailing clients and uploading documents being streamlined. Base also has one of the top CRM mobile apps thanks, in part, to it's offline capabilities, geolocation feature and call logging.
The downside is the lack of advanced features and the high cost. Ultimately, you're paying a premium for user-friendliness and giving up customizability and advanced features like custom reporting, marketing automation, invoicing and customer service tools.
Want to manage 1000's of leads, save time, and get organized? Click Here to get our FREE CRM guide and find out how.