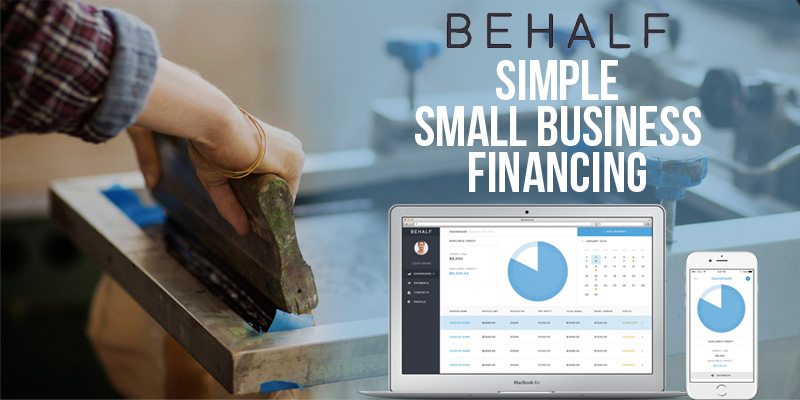 What are They?
A lender of very short term (up to 4 months) loans to small businesses that pays vendors on your behalf.
How popular is it?
Behalf has thousands of small business customers. They partner with hundreds of popular vendors, such as Walmart and Home Depot, and many local vendors.
Similar Companies?
Who will qualify for a loan?

Any registered US business with a US bank account and social security number may qualify. About 40 % of companies that apply are approved for a loan.
Who are they right for?
Businesses that need to make immediate purchases (up to $50,000) from vendors who have agreed to be paid in installments by Behalf.
Ineligible Industries?
None.
Personal Guarantee required?
No.
Collateral Required?
No.
Time to get money?
Payment goes instantly to your vendor once you're approved (it may take 1-3 days to pay new vendors that aren't yet in Behalf's system).
Where do they lend?
All 50 states.
How much do they lend?
$300 to $50,000*. It's a credit line, so you can get access to more capital as you pay back what you borrow.
How much can I qualify for?
The amount depends on the data that Behalf can find about your business on the web.
For how long?
1 – 6 Months.
Cost/Interest rate of loan?
Around 33 % Annual Percentage Rate (see cost section for more details).
How do payments work?
You work with Behalf to choose a weekly, monthly, or one-time repayment plan. Behalf automatically deducts the payment from your bank account.
Paperwork/Documentation required?
No physical paperwork and no tax/financial statements required. You only need to provide 3 pieces of business data for the online application: your name and personal address, business name and address, and social security number.
Customer Reviews?
Very Good.
*Behalf's website has not yet been updated to reflect these loan amounts. The company is in the midst of updating its website.
Detailed Overview
Behalf makes it easy for businesses to purchase goods and services for their day to day operations. You can finance purchases of inventory, supplies, equipment, and business services of up to $50,000 on short notice, and Behalf funding is available almost instantly.
Two things make Behalf different from other lenders. First, in addition to credit score, Behalf also looks at other data, such as social media and financial data, to determine your credit risk. Second, Behalf pays vendors directly on your business' behalf, so there's no need to negotiate financing with vendors. If your vendor is a local shop that hasn't worked with Behalf before, Behalf will contact them for you and get them signed up for a Behalf vendor account.
Although the loan amount is limited to $50,000, it works like a line of credit. As you repay what you borrow, you get access to more credit. Whether this will work for your business depends on whether you need to buy several large dollar items at once, or can stagger your purchases. The maximum term of the loan is 6 months, so those looking for long-term loans should consider a different lender.
The APR on Behalf loans is approximately 33 %. This is higher than the interest charged by banks and SBA lenders, but it's lower than what is charged by alternative short-term lenders like OnDeck, Kabbage, and CAN Capital.
Minimum Qualifications
Personal Credit Score: No minimum specified (check your credit score here for free)
Years in Business: Any
Revenues: Any
Industry Exclusions: None.
Other Qualifications:

US-based business with US bank account.
You must have a social security number.

Collateral Required? No.
Does the loan require a personal guarantee – From who? No.
Fees
Upfront Fees: None.
Servicing Fees: None.
Other Fees:
Payment fee – Behalf charges a payment fee of approximately 1 % to 3 %  of your loan amount for every 30 days you borrow. If you take out a $1000 loan for 1 month, you will pay $10 to $30 in fees.  If you take 2 months to pay back the same loan, you will pay $20 to $60 in fees.
Are interest rates variable? N/A.
How Loan Costs Work With Behalf
There are 2 things that make up your repayment when you borrow from Behalf:
Principal. This is the amount of money that you borrowed (the amount that Behalf paid to the vendor).
Payment fee charged by Behalf. Behalf charges a fee equal to 1 % to 3 % of the loan amount for every 30 days you borrow. You will save money on fees by paying back a Behalf loan as early as possible. The fee also changes based on the repayment schedule you select. You can choose weekly repayment, monthly repayment, or one-time repayment at the end of the loan term. If you choose to pay back the loan on a weekly basis, you save 10 % on the fee. If you choose to pay back on a monthly basis, you save 5 % on the fee.
The payment fee charged by Behalf makes it easy to calculate the dollar cost of the loan, but it doesn't make it easy to compare Behalf to other lenders. For comparison purposes, we converted the cost of a Behalf loan into an Annual Percentage Rate (APR). The APR takes fees and your repayment schedule into account to give you the total cost of the loan over one year, expressed as a percentage.
Here is what the APR would be for a Behalf loan based on a 2 % fee. The corresponding dollar amount of the fee is shown in parentheses:
APR for $10,000 4-month Behalf loan with 2 % fee and weekly repayment: 40.75 % ($720 fee)
APR for $10,000 4-month Behalf loan with 2 % fee and monthly repayment: 35.95 % ($760 fee)
APR for $10,000 4-month Behalf loan with 2 % fee and one-time repayment: 23.31 % ($800 fee)
As you can see, the average APR for a Behalf loan is around 33 %. This is less than the APR charged by OnDeck, CAN Capital, and Kabbage, the set of alternative short-term lenders that we reviewed. However, it is higher than what's charged by non-profit and P2P lenders. Ultimately, Behalf is a good mid-priced option for businesses that need fast financing and small amounts of capital.
You might have noticed in the example above that the APR associated with weekly repayment is highest even though the amount you pay in fees is lowest for weekly repayment.  For example, you pay only $720 in fees on a Behalf loan when you choose weekly repayment, compared to $800 when you choose one-time repayment. Yet, the APR for weekly repayment is 40.75 %, compared to 23.31 % for one-time repayment.
This seems counter intuitive, but there's a logical explanation. The APR is higher for the weekly repayment because you are regularly paying down principal each week, effectively borrowing less money over time. Weekly repayment carries a small discount, but it's not enough to overcome the fact that you're borrowing significantly less money each time you make a payment. As a result, you end up with a high APR. This is in contrast to the one-time repayment option. In this case, you do not pay down any principal until the end (i.e. the amount of money you've borrowed from Behalf stays the same over the entire term of the loan), but you're charged just slightly higher interest. This results in a lower APR.
Application Process:
Behalf, along with Fundbox, has the fastest application process of all the lenders we reviewed. All you have to do is create a Behalf.com account and answer 3 questions (name and personal address, business name and address, SSN), and you can instantly see what credit line you qualify for.
Behalf uses a special algorithm to instantly evaluate your credit risk. Although the algorithm is proprietary, Behalf's terms of service show that it may check for personal and commercial credit history, information about your business that's online, and financial information about previous bankruptcies or liens.
Once you qualify, you can use the online dashboard to tell Behalf which vendors you want to purchase from and how much the item(s) cost. Behalf will then send the payments on your behalf, giving you access to the goods and services your business needs.
What documents need to be provided? No physical paperwork is required, and no tax or financial statements are required. You only need to input your name and personal address, business name and address and SSN.
Your vendor must agree to accept payments via Behalf by signing up for a vendor account on Behalf.com. If your vendor doesn't yet have a Behalf account, it can take 1-3 days for Behalf to verify and pay them. Behalf works with Home Depot, Walmart, and other national and local vendors.
Do they need online access to any systems – Quickbooks, PayPal, bank accounts? No
Is there a credit report pull?  If so at what point in the process?  Yes. They do a soft credit pull (a soft credit pull won't harm your credit score). Behalf also searches other available data about your business, such as financial information and social media data, to determine your credit risk.
Does Behalf report to the credit bureaus? Behalf reports timely and untimely payments to the business credit bureaus. The company does not disclose whether they also report to the personal credit bureaus.
If so – What credit reporting service do they use? Dun & Bradstreet and all other business credit bureaus.
Invoicing Sizes and Terms
What is the minimum / maximum time I can borrow capital? The minimum term is 1 month, and the maximum term is 6 months.
What is the minimum / maximum amount of available capital? The minimum you can borrow is $300, and the maximum is $50,000.
Payment Methods & Schedule
Schedule of Payments: Weekly, two installments, or one-time payment (your choice).
Payment Initiation: Behalf automatically deducts the payment from your bank account.
Method of Payment: ACH
Penalties for Missing Payments: Handled on case-by-case basis.
What Happens on Pre-Payment? You can save money on fees by paying off your loan as soon as possible because fees are charged monthly. There is no pre-payment penalty.
Here is what your Behalf.com payments dashboard will look like: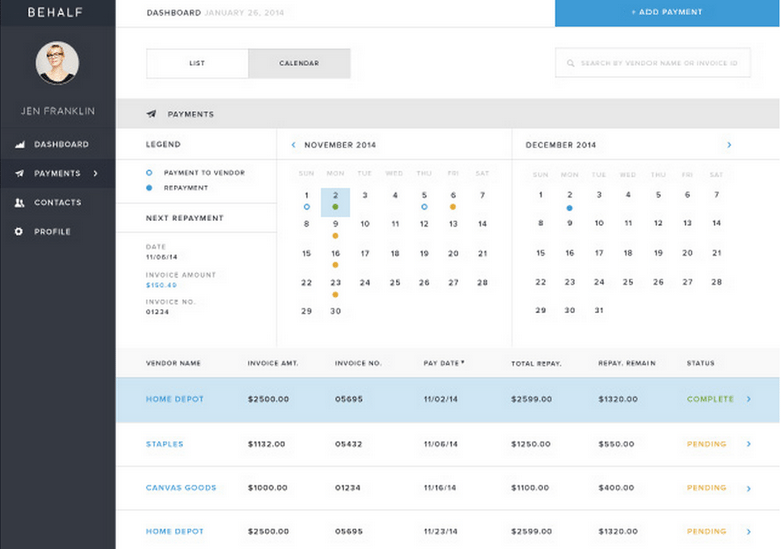 Customer Service
Behalf has phone support, email support, and an FAQ page.
US-based or International? Both. Customer support is handled from Behalf's New York City and Israel offices.
Support hours:  Monday – Friday 9 AM – 5 PM EST.
Other Lending Products
Behalf doesn't have any other lending products.
The Bottom Line
Behalf finances purchases up to $50,000 for small businesses at a pretty affordable cost. Although credit check is part of the application process, Behalf uses a special underwriting algorithm that looks at many types of data about your business. Small businesses without a credit history or years of profit can still qualify for a Behalf loan (about 40 % of businesses are approved for a loan). If you qualify, Behalf will pay the vendor for you, eliminating the need to negotiate financing with the seller.
Although you can only apply for $50,000 at a time, Behalf will extend you a line of credit. As you repay what you borrow, you can borrow more. This will work well for businesses that can stagger their purchases. Also, the maximum term of a Behalf loan is 6 months. If need longer to pay off the loan or need to finance larger purchases, then you're better off going with an alternative lender like OnDeck or CAN Capital. However, those are going to cost you more as well.