Though there's a lot more laptops on the market today, desktops are still a great choice for businesses, given their stronger performance at a lower cost. We scoured the web to find the best business desktop and monitor for different business needs, considering price, features, performance and customer satisfaction. See our main recommendation below along with a detailed comparison:
Still deciding between a desktop and a laptop? Check out our guides to the Best Business Laptop and Best Business Chromebook.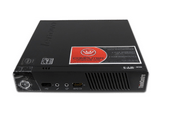 With 8GB of RAM, a 2.4 GHz processor and a 120GB SSD, The Lenovo ThinkCentre packs a lot of power into a tiny box. It has a low price yet strong customer reviews, which makes this desktop a steal.
Buy the Lenovo ThinkCentre M53
Lenovo
ThinkCentre
M53

Dell
Inspiron
i3053

Dell
Inspiron
5348

Apple iMac

Price

$299.99

$399.00

$599.00

$1,289.00

Pros

Great general
purpose business
desktop

All-in-one
design, touchscreen
monitor.

High-end
desktop, much
cheaper than
Apple iMac

High-end
desktop with
top-notch
graphics

Cons

No monitor,
but it does
include a
keyboard & mouse

For the price,
performance is
not as strong
as the Lenovo

It can get
expensive (but
still cheaper
than iMac)

Very expensive
compared to Dell

Operating
System

Windows 7
(Free Windows 8
Upgrade)

Windows 8.1

Windows 8
(other models
include Windows 8.1
and free upgrade
to Windows 10)

OS X 10.10

Screen Size

Not Included

19.5"
Touchscreen

23"

21.5"
(upgradable)

RAM

8GB

4GB

6GB
(upgradable)

8GB

Storage

120GB SSD
(upgradable)

500GB HDD

1TB HDD

1TB HDD

Processor

2.4 GHz
Dual Core

2.16 GHz
Dual Core

3.50 GHz
Dual Core
(upgradable)

2.7 GHz
Quad Core
(upgradable)

Amazon Rating

Other:

Includes
Keyboard &
Mouse (no
monitor)

Touchscreen
Monitor

SD Reader
Optical Drive

SD Reader
What Do These Terms Mean?
RAM

or Random Access Memory indicates how quickly and how many web pages and/or applications you can run at once. 4GB is suitable for most business use. However, if you anticipate running multiple programs at once, spring for 6 or 8GB.

The Processor

is like the brain of the computer. There's a lot of factors in its performance, but roughly speaking, higher GHz means a faster computer. Dual Core is the standard these days, although Quad Core is better for running more intensive programs like graphics editors.

Storage

is the memory capacity of the computer. Hard disk drives (HDDs) are traditional type of storage while solid state drives (SSDs) are newer. Solid state drives are faster (your computer can boot up in seconds vs. minutes) and more secure. They don't have any moving parts so they tend to hold up better over time. As such, they tend to be more expensive so a 120GB SSD sells for about the same as a 1TB HDD.

Operating System

for desktops is either Windows 7, Windows 8, Windows 8.1, Windows 10 or Mac OS X. The main difference between the Windows operating systems is that Windows 8 uses a tablet-style desktop design, in which all of your files and programs are sorted in a grid. Windows 7 and Windows 10 use the classic desktop design with a start menu. Windows 8.1 lets you choose one or the other.
Best Business Desktop for General Purposes: Lenovo ThinkCentre M35 & Dell Inspiron i3053
Measuring just 7" x 7" x 1.4", the Lenovo ThinkCentre M53 is a tiny box that packs in a ton of high-powered features. Despite its size and low cost, it has an impressive 8GB of RAM, 120GB SSD and 2.4 GHz processor. This makes it well equipped to handle heavy internet use as well most business programs. It has a solid state drive, which means it loads files much more quickly than a hard disk drive. Impressively, it also features 5 USB ports, 2 monitor outputs, WiFi and built-in speakers. A USB mouse and keyboard are included, but no monitor.
I only read positive things from customers about this desktop computer, including the fact that you can customize your order to get the amount of memory you need. It starts at $250 for a 500GB HDD and 4GB RAM. You can go all the way up to a 2TB drive, and that can be either a hard disk drive (HDD) or a solid state drive (SSD). For most small business needs, this will be the best business desktop for the price.
The Dell Inspiron i3053 is also a good choice for general business use. Although the specs are a little lower than the Lenovo, it comes with a touchscreen monitor built into the computer. This makes it great for employees who spend a lot of time on their feet and need something they can access without having to sit down at a keyboard.
This model is mid-level Dell. It's a step up from their "economy" Inspirons, which are cheaper but get a lot of negative reviews. It's also step below their top-of-the-line products, and thus it still gets some complaints about quality. Some users note that the touchscreen is not quite as responsive as a tablet, others had issues with the keyboard breaking over time. By-and-large, users are very happy with this model, but it is a little more prone to errors than the next models we'll describe:
Best High-Powered Desktops: Dell Inspiron 5348 & Apple iMac
The Apple iMac and Dell Inspiron 5348 are very similar products. They not only have a similar product design, but their specs are very comparable. The Dell starts at just $600 for 6GB of RAM and a 3.50 GHz dual core processor, but this can be upgraded all the way up to 12GB of RAM and to a 3.60 GHz quad core processor (Intel Core i7). The iMac, likewise, has 8GB of RAM and a 2.7 GHz quad core processor, but this can be upgraded all the way up to 3.4 GHz.
Thanks to the high amount of RAM and quad core processors, these machines can handle intensive programs like video and graphics editors with a breeze. As for which one is better, the Dell, without a doubt, gives you more performance for less money (roughly $500 less). It also features an optical disk drive, which is something you have to purchase separately with an iMac.
The iMac boasts stronger graphics and a clearer display – and,  of course, Mac OS X, which many people swear by over Windows. But if you don't need any of these features, the Dell is the obvious choice.
Best Monitors For Desktop Computers
Although many desktops today include or are built-into a monitor, there are some (like the Lenovo ThinkCentre M53) that still require an external hookup. Fortunately there's many high-quality monitors in a very affordable price range:
Acer
G226HQL

ASUS
VS207D-P

Sceptre
E205

ViewSonic
VA2265smh

Price

$99.99

$85.99

$79.88

$119.99

Screen Size

21.5"

19.5"

20"

22"

Resolution

1920 x 1080

1600 x 900

1600 x 900

1920 x 1080

Inputs

VGA
DVI-D

VGA

VGA
DVI-D
HDMI

VGA
HDMI

Built-in
Speakers?

No

No

Yes

Yes

Amazon
Rating
VGA vs. HDMI vs. VGA
New computer monitors start at around $80. Pretty much all have a wide, flat screen design, with a resolution of either 1920 x 1080 (full HD) or 1600 x 900, which is a step below. All of them have traditional VGA inputs, and most of them have digital inputs as well (either HDMI or DVI-D).
Without getting too much into the differences, HDMI and DVI-D will give you a crisper image than VGA. If you're mostly just crunching numbers or editing word documents, then there won't be too much of a difference. If you work with graphics, however, or just work with a lot of different tabs/windows open at once, then the extra detail can be a huge help.
Do You Need Built-In Speakers?
If not, then you'll want either the Acer G226HQL or the ASUS VS207D-P. The Acer is larger, has a stronger resolution and has a digital input (DVI-D). For the extra $15, I think it's definitely worth it. If your computer doesn't have a digital output, however, and you just want to buy something on the cheap, then the ASUS is the way to go. Both have great user reviews. ASUS has a slightly lower rating, but that's just because some users were expecting an HDMI port.
If you do want built-in speakers, then you'll want to check out the Sceptre E205 and ViewSonic VA2265smh. The major difference here is size and resolution (ViewSonic is full HD, Spectre is not). However, because they both offer digital inputs, the difference is not as extreme as the Acer vs. ASUS, provided you hook it up with an HDMI or DVI-D cable.
Both have great reviews, although the ViewSonic is more popular and a bit higher quality. As of this writing, the Spectre has only 4 customer reviews. One user noticed a dead pixel and another said the stand was a little flimsy. All of them were happy with the purchase, however, despite these issues. I guess the price is just tough to beat.
Adapters
As a quick aside, if you buy our recommended desktop, the Lenovo ThinkCentre, then you'll need an adapter to hook it up digitally. The Lenovo has two display outputs: VGA (analog) and DisplayPort (digital). If you go with VGA you can plug it in directly. If you want a crisper digital signal, however, you'll have to convert displayport to DVI or HDMI.
Here's the products you'll need: For the Acer, Spectre or ViewSonic, you can use this DisplayPort to DVI cable. For the Spectre and ViewSonic, you can also use a HDMI adapter. There isn't too much of a difference, although HDMI is a little more versatile since you could also use it to hook your computer up to an HDTV.
The Bottom Line
Desktops may not be portable, but they do give you a stronger performance at a lower price than laptops. They also tend to hold up better in the long run: For a laptop, a broken key, trackpad or dead pixel means the whole computer needs to be repaired. With a desktop, you can just replace the component and move on with your day.
Click Here to get our FREE Google advertising guide and discover the 6 steps you can use to show up #1 in Google search