When shopping for a new business laptop, you want to make sure you get the right specs for the price. We scoured the web and found the five best models for various situations in terms of price, features, performance and customer satisfaction. See our top small business laptop below along with a detailed comparison:
You can also check out our guides to the Best Business Laptop and Best Business Chromebook.
Click Here to get our FREE Google advertising guide and discover the 6 steps you can use to show up #1 in Google search
Best Business Laptop: Lenovo G50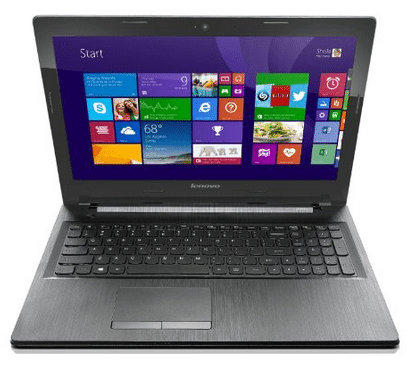 For the affordable price, its high-powered specs and top-notch customer reviews make the Lenovo G50 a great general purpose business laptop.
Price

$374.99

$449.99

$1,229.99

$914.75

$179.00

Pros

Good general
purpose business
laptop

Good for more
high powered
business programs

A high-powered
and portable
laptop. Top
notch display

A high-powered
and portable
laptop. Top
notch display

Very portable
and low-cost
laptop

Cons

A little bulky,
but still portable

A little bulky,
but still portable

For the price,
it's performance is
only slightly better
than the ASUS

Performance is not
nearly as strong
as other laptops

Small screen and
low RAM isn't
suitable for
day-to-day
office use

Operating
System

Windows 8.1

Windows 8 (Free
Windows 10
upgrade)

OS X 10.10

OS X 10.10

Windows 8

Screen
Size

15.6"

15.6"

13.3"

13.3"

11.6"
(upgradable)

RAM

6GB

8GB

8GB

4GB

2GB

Storage

500GB HDD

1TB HDD

128GB SSD

128GB SSD

32GB SSD

Processor

2.00 GHz
Quad Core

2.5 GHz
Quad Core

2.7 GHz
Dual Core

1.6 GHz
Dual Core

2.16 GHz
Dual Core

Weight

4.6 lbs

5.1 lbs

3.5 lbs

3 lbs

2.82 lbs

Battery Life

6 Hours

4 Hours

10 Hours

12 Hours

8.25 Hours

Warranty*

1 Year

1 Year

1 Year

1 Year

1 Year

Amazon
Rating

Other:

Webcam
DVD/CD
Drive

Webcam
DVD/CD
Drive

Webcam
SD Slot

Webcam
SD Slot

Webcam
SD Slot
*Warranty can be shorter if purchased from a reseller on Amazon – even if you buy it brand new. Be sure to lookup your warranty details after purchasing, as you can here from Lenovo.
What Do These Terms Mean?
RAM

or Random Access Memory indicates how quickly and how many web pages and/or applications you can run at once. 4GB is suitable for most business use. However, if you anticipate running multiple programs at once, spring for 6 or 8GB.

The Processor

is like the brain of the computer. There's a lot of factors in its performance, but roughly speaking, higher GHz means a faster computer. Dual Core is the standard these days, although Quad Core is better for running more intensive programs like graphics editors.

Storage

is the memory capacity of the computer. As more and more businesses use cloud applications and storage, this number becomes less important. Unless you're working with large data files like video, graphics or audio, you probably won't need more than 100GB. Hard disk drives (HDDs) are traditional type of storage while solid state drives (SSDs) are newer and faster.

Operating System

for laptops  is either Windows 8, Windows 8.1, Windows 10 or Mac OS X. The main difference between the Windows operating systems is that Windows 8 uses a tablet-style desktop design, in which all of your files and programs are sorted in a grid. Windows 10 uses the classic desktop design with a start menu. Windows 8.1 lets you choose one or the other.
Best Laptops For The Office: Lenovo G50 and ASUS X550ZA
The Lenovo G50 is a good general purpose business laptop. With 6GB of RAM, it can easily handle intensive internet browsing with multiple tabs. Plus, the large 15.6" screen gives you a lot of room to juggle multiple programs and pages. With a quad core processor, you're also better equipped to run more high powered programs.
Most laptops in this price range have dual core processors and only 4GB of RAM, so the Lenovo G50 is something of a steal. That said, it doesn't skimp on quality: While the laptop is made of plastic (and therefore doesn't give you quite the same elegance of a MacBook), it holds up nicely with time. I found barely any customer complaints, which places it's reliability score much higher than similar models. One of the more common complaints was it comes with pre-installed adware you'll have to remove for optimal performance.
For just $75 more, the ASUS X550ZA gives you a big upgrade in terms of RAM, processor speed and storage. This makes it ideal for businesses looking to run more intensive programs, like graphics editing software. Like the Lenovo G50, it also had top-notch customer reviews. The one downside is it has a shorter battery life (and of course, the higher price) so if you don't need the extra juice, you might as well go with the leaner model.
Best Portable Laptops: HP Stream & MacBook Air
One potential downside to the Lenovo and ASUS is their sizes: weighing around 5 lbs and measuring about 15" long, they may be somewhat cumbersome, especially for mobile business users. Their battery life also ranks on the lower end, at 6 hours and 4 hours, respectively.
That's where the HP Stream comes in. Measuring less than 12" across and weighing only 2.8 lbs, it's much easier to slip into a bag or purse. Not only that, but you can't really beat the price for a fully functional Windows 8.1 laptop.
It's specs are hit or miss. The 2.16 GHz processor is surprisingly strong, although the 2GB of RAM is less-than-spectacular. It should be plenty to browse the internet, play videos and run lighter programs like Microsoft Office, but not if you want to do all of them at once. Likewise, the 32GB disk drive won't fit your movie collection, but it will be plenty for those who just need to store images, word documents, PDFs, and the like.
If you want a computer that's higher-powered, yet measures and weighs in at similar stats, then the MacBook is the way to go. The MacBook Air is especially portable, measuring just 0.68" thick and weighing only 3 lbs. it's performance, however, is somewhat weaker than the standard MacBook Pro, as it has just a 1.6 GHz processor.
The Lenovo and ASUS can give you a similar performance in terms of speed and memory for much less money. Whether or not it's worth the extra $500 to $600 for a MacBook is up to the business owner. Besides the fact that you're running OS X instead of Windows, what you're ultimately paying more for is extra portability, stronger graphics, a faster memory drive, slightly longer battery life and, of course, the Apple name.
For more inexpensive lightweight options, you might also consider buying a Chromebook. These lightweight computers are ideal for internet use, and can be especially handy if you use a number of cloud-based business apps.
The Bottom Line
When it comes to choosing a business laptop, you probably want a device that can browse the internet quickly and run business programs smoothly. For the price, the Lenovo G50 can do both of these the best. It also has great customer ratings and additional perks like a wider screen, longer battery life and a DVD optical drive.
Click Here to get our FREE Google advertising guide and discover the 6 steps you can use to show up #1 in Google search