Insightly, Zoho and Salesforce represent the full range of what's available from a CRM program. Whether you're looking for a simple, straightforward option, or an advanced system with thousands of features and integrations, this guide has you covered.
Best CRM for Small Business Owners: Insightly
We recommend Insightly because it's low cost, easy to use, and gives you advanced features like project management and custom reports. It's also the system we use and love at Fit Small Business.
Best CRM for Small Business Summary Table
Best For

Easiest, Best Features for Price

Super Customizable and Automated

Extremely Customizable - 1000s of Integrations

Pricing



Learn More

$12/user per month

Free for 2 users (limited functionality)

$20/user per month

Free for 10 users (limited functionality)

$150/user per month fully featured

$75/month no workflow automation

Ease of Use


Learn More

Easiest

Moderate

Difficult

Key Features



Learn More

Manage leads, sales & projects. Great reporting.

Setup automation like lead assignment rules, email alerts, etc. There's also a wide range of Zoho add-on features.

Massive collection of add-ons & integrations can be seamlessly built-into your system.

Integration with Other Systems



Learn More

Mailchimp, Evernote, Outlook, Gmail and more. Plus, hundreds more through

Zapier

.

Also integrates with many Zoho products.

Nearly 3,000 integrations & add-ons, including Mailchimp, Quickbooks, Xero, DocuSign and many more

Support

Email Support

Help center with videos and support articles.


Phone and email support available 24 hrs, Monday to Friday

Web conference demo, user guides, videos, webinars, blogs and forums.

Phone and email support available 8am to 8pm.

Help center with articles, guides and user-submitted FAQs

Mobile Functionality



Learn More

iOS & Android

View & edit records, but limited admin tools.

iOS & Android

Includes most CRM features and works offline.

iOS & Android

Includes most CRM features and works offline
Why We Chose Insightly as the Best CRM for Small Business Owners
The most powerful feature a CRM can give you is usability. Having intuitive menus, quick loading times, and simple admin tools helps ensure you and your employees actually use the system. Without getting the basics right, even the most feature-loaded system won't do you much good.

This is why we chose Insightly as the best small business CRM. From the way its menus are laid out to its back panel controls, Insightly is designed for simplicity. It takes minimal training to get started, and can easily suit a small team of 1 – 20 employees without too much oversight.
At the same time, Insightly offers a lot of advanced tools once you're ready for them. At Fit Small Business, we started using Insightly simply for contacts and project management. As our business grew, however, we also found it incredibly useful for importing leads, sending sales emails with templates and generating custom productivity reports.
Integrations with Gmail, Outlook, Mailchimp, Xero, Quickbooks Online and Wufoo, likewise, offer Insightly users surprisingly vast potential.
If there's any downside to Insightly, it's the lack of features for larger teams (20+ employees). There's no hierarchical territory management, which can be helpful for organizing larger sales teams. There's also minimal automation. As we'll explain more below, "trigger" rules can be helpful to streamline work amongst a larger team.
When to use Zoho, a customizable CRM 

Zoho requires a little more time to set up and learn how to use, but it includes many features you won't find in the other CRMs. There's customer service case management, invoicing, territory management and website visitor tracking, to name a few.
Their robust automation tools also enable you to create features of your own. For example, you could auto-assign leads to different sales teams depending on the their location. You can setup alerts for managers when a sale reaches the final stage, or surpasses a certain dollar value. For suppliers or retailers, you could automatically send customers a followup email 1 week after delivery. The possibilities go on…
The downside of all these great features it that things can get complicated. As we'll show below, Zoho is not exactly ready out-of-the-box. Also, at $20 for the "Standard" edition and $35 for the "Enterprise" edition, Zoho is a bit more expensive than Insightly. It is far cheaper than Salesforce, however, which is the next-closest CRM.
When to use Salesforce, for add-ons & integrations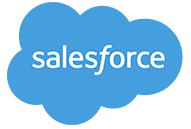 Salesforce and Zoho are very similar in terms of features and automation. The main advantages to Salesforce is the AppExchange, where you can browse through thousands of business programs and add-ons to integrate. As we'll describe in more detail further down, adding other programs to your workflow automation – be it accounting, document mgmt, marketing, etc. – allows you to do some very powerful stuff.
The downside to Salesforce is its high price tag ($150/user per month if you want the real deal). It also takes a lot of work to administer. There's a huge array of backend tools that will require training to use.
Insightly vs. Nimble vs. Zoho In-Depth Review
Pricing
Cost for Recommended Edition

$12/user/month

$20/user/month

$75/user/month

Features of Recommended Edition

Fully featured

Save up to 2,500 records (contacts, opportunities, tasks, etc.)

Has most features except territory mgmt

Save unlimited records (contacts, potentials, tasks)

All main CRM tools, but no workflow automation or territory mgmt

Cost of Premium Edition

$29/user/month "Plus" edition

$35/user/month "Enterprise" edition

$150/user/month "Enterprise" edition

Features of Premium Edition

Save up to 100k records, priority email support, and more

Adds territory management, custom modules and more

Adds workflow automation, which lets create "trigger" rules

Free Version?

Yes for up to 2 users.

You get most features but limited storage and no integrations.

Yes, for up to 10 users.

Basic CRM with no mass emails, custom reports or sales forecasting

No, but there's a $25/month starter edition with very limited features
Insightly and Zoho have very similar pricing. Both start at $12/user per month, although we focused on the $20/month edition of Zoho since this adds most of its advanced tools.
Salesforce is considerably higher at $75/user per month for the "Professional" edition. This edition gives you most CRM tools, including access to the Salesforce App exchange.
To truly get the most out of Salesforce, however, you may consider the Enterprise edition ($150/month) which gives you workflow automation. This features allows you to automatically complete actions (like assigning tasks, filling out an invoice, or sending an email) when certain "trigger" events take place. In our opinion, it's the key strength to using an advanced system like Salesforce.
---
Ease of Use
A CRM is easy to use when it loads quickly, avoids excessive buttons/options and gives you handy editing tools, like drag-and-drop or click-to-edit. A CRM is complicated when you have to jump through hoops and/or learn jargon to finish simple tasks.
In a nutshell, all 3 are easy enough from a user end. But Insightly is by far the easiest for both users and administrators.
To illustrate how these 3 CRMs compare on a simple task, I attached screenshots of how to add a contact: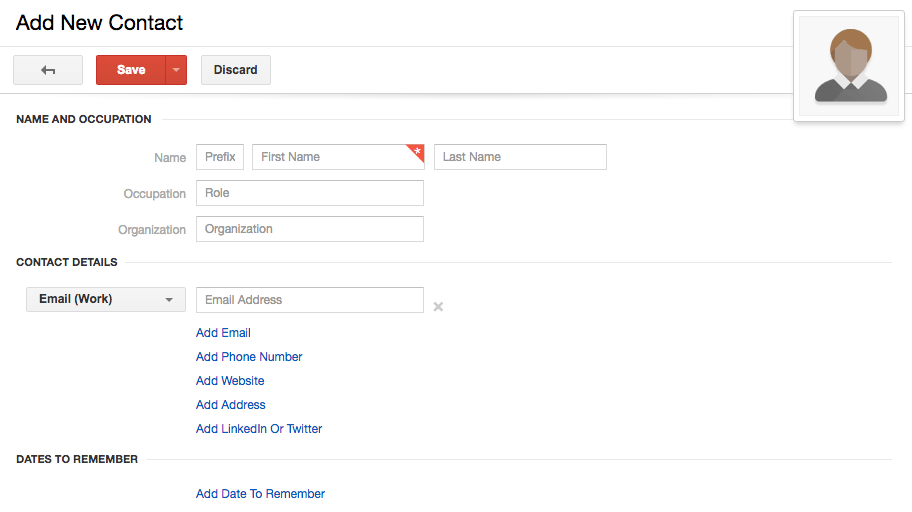 Insightly is straightforward, even for a first time user. When you go to a menu like adding a contact, it keeps things simple. You're just asked for the essential information:
If you want to add more, however, you can create custom fields under "system settings." I found this, along with the rest of the control panel, to be very straightforward. You don't have to learn any jargon or take a crash course. You can add new users, for example, just by entering their email addresses. Manage their permission levels, likewise, by clicking icons to grant different access privileges.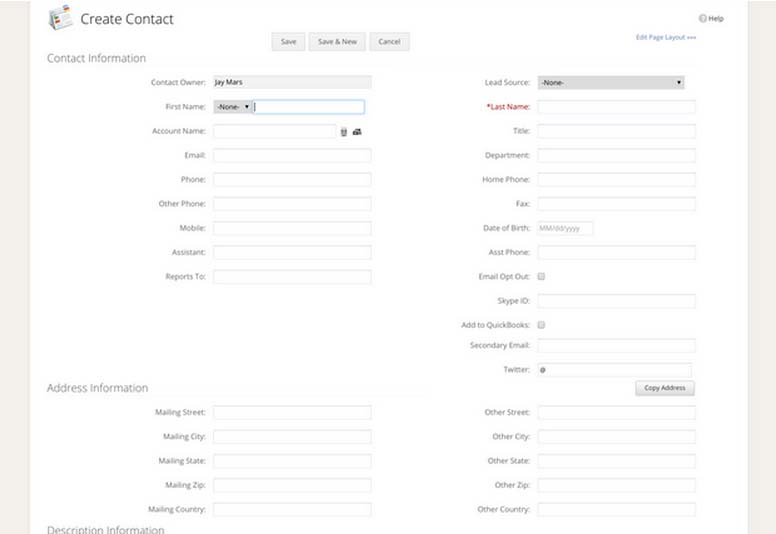 Out of the box, Zoho is a little bit more complicated. As you can tell from the "add contact" menu pictured below, there's a lot more options:
This is something you can slim down under "system settings." But by default, Zoho comes loaded with a lot of tools and options. The main menu bar, for example, has 25 different pages – including "Contacts," "Leads," "Quotes," "Purchase Orders," "Vendors," and more.
On the user end, I still found Zoho to be easy enough. Pages like contact profiles are well-organized and feature simple click-to-edit tools. Like Insightly, it also runs very quickly (compared to Salesforce, which can be laggy).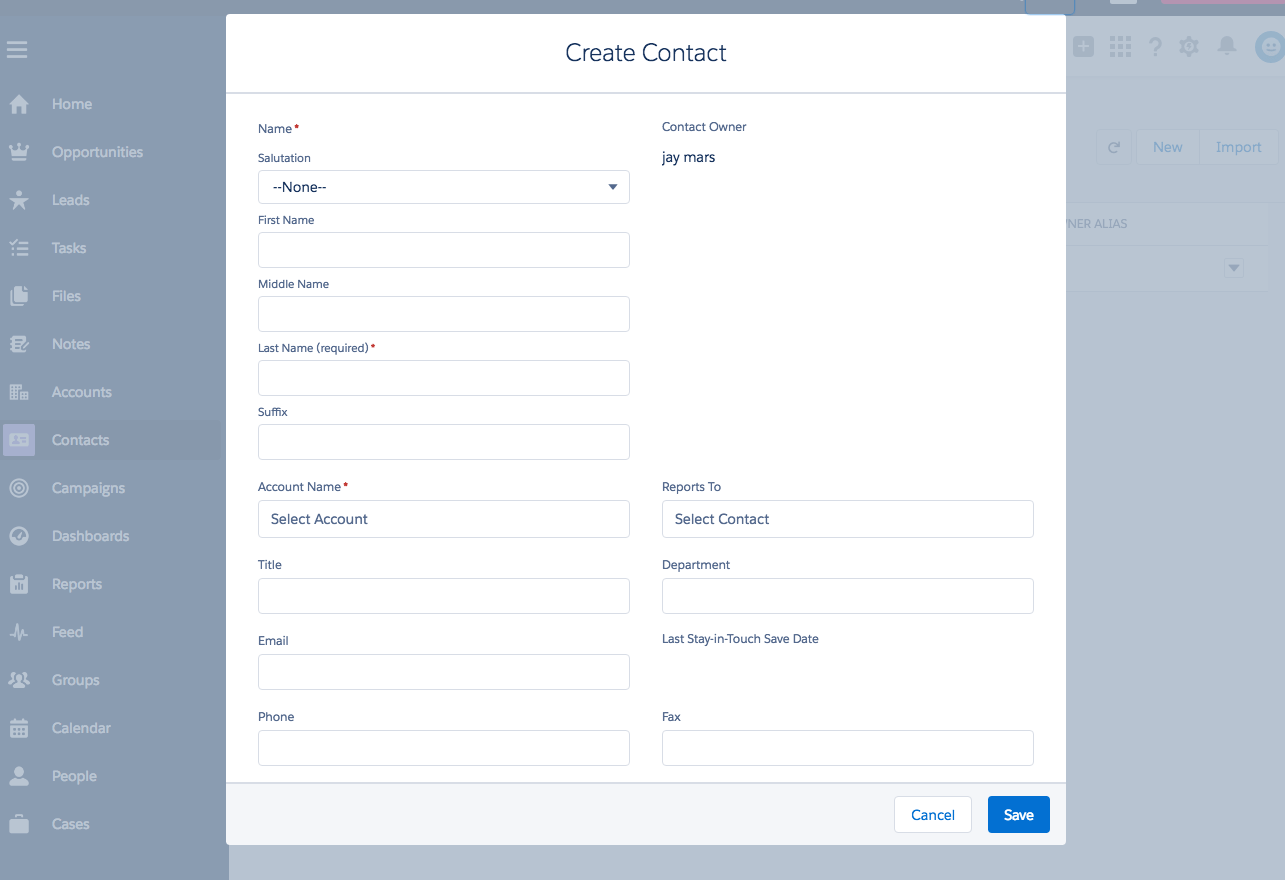 Though Salesforce can be difficult for administrators, I actually found it very pleasant on the user-end. The new Salesforce interface (as of 2016) is minimal and user-friendly. Adding a contact is almost as easy as Insightly:
A major downside, however, was the slow loading speed. On my iMac, it ran quickly enough. At the most, it took 1 – 2 seconds to load a page. On my Chromebook, however, it took 5 to 7 seconds to load even a simple contact page.
The other downside to Salesforce is the complicated backend. For example, adding users and managing their role/permission levels requires you to juggle a few different menus ("Roles," "Permission Sets," "Profiles," and "Queues"). Likewise, the "Object Manager," which is where you need to go to create custom fields, is a complex menu with a lot of different options.
---
Key Features
All 3 programs have similar tools for managing your pipeline. You can import leads from a spreadsheet (or directly from your website or Facebook), then assign them to your team along with tasks.
When the lead becomes qualified, you "convert" it to a contact and opportunity. Tracking opportunities allows you to visualize your sales funnel and forecast your earnings.
The main differences between the programs are the additional tools they offer: Insightly has simple but effective email integration, workflow automation and project management. Zoho and Salesforce have advanced automation that includes integrations with other programs:
---
Integrations
Depending on the programs you use, it can sometimes be beneficial to link your CRM with other business software, such as accounting, invoicing, project management or help desk.
By "linking" systems, you can automatically transfer data between the two programs (such as your contact list). Or, in other instances you can actually use the program within your CRM. For example, Salesforce lets you sign contracts using DocuSign within the CRM. Zoho lets you make VoIP phone calls within your CRM by integrating RingCentral.
There are two primary types of integrations available: Official integrations that are supported through the CRM company (Zoho, Salesforce, Insightly) and 3rd party integrationssupported through an alternative service, like Zapier.
All three CRMs work with Zapier, which connects them with over 450 other programs, including Freshbooks, Quickbooks, Xero, Freshdesk, Basecamp, Shopify and many more. These integrations are fairly basic – they usually just involve syncing data between the two programs. You might also need to pay a fee through Zapier depending on how many integrations you setup.
Salesforce offers the most "official" integrations. As far as "official" integrations, Salesforce offers the most. Through the AppExchange, you can browse through nearly 3,000 different add-ons and integrations. Many of them are fairly robust, giving you additional tools you can add to Salesforce.
---
Mobile App
Each of these CRMs include mobile apps, which can give you some additional tools to take with you on the go. Here's what they offer:
---
All CRM Options
Insightly, Zoho and Salesforce represent the range of CRMs out there. In our opinion, they're also the best in each class (low, medium, and high-end, respectively).
There are some scenarios, however, where you may be better served by a niche-CRM. We looked at many different systems when writing this guide, and found some systems that offer unique features. Nimble, for example, is great for businesses who prospect on social media. Hatchbuck is great for eCommerce stories that are interested in email marketing.
Here's the full list of CRMs that we reviewed:
Best For

Description

Solo and Small Teams

Insightly is the easiest "advanced" CRM. It's ideal for solo entrepreneurs and small teams who want a powerful CRM ready to go out-of-the-box.

Customization

Zoho's layout and features can be modified in many different ways. If you want a specialized, automated CRM that perfectly matches your workflow, Zoho is your best bet.

Integrations

Salesforce is highly customizable and automated, like Zoho. However, 3,000 add-ons and integrations make Salesforce unbeatable for 3rd party integrations.

Mobile Users

Base is one of the most user-friendly CRMs on the market, thanks to its intuitive design, drag-and-drop features and top-notch customer support. It also has a highly-rated mobile app, that is unique in that you can access all the main CRM features (contacts, deals, tasks, emails, reports etc.)


Social Media Users

Nimble brings together all of your social media accounts into one unified contact book and inbox. The goal is to keep you organized across multiple platforms, and help you mine those networks for new customers.

Inbound Marketing

Hatchbuck is a sales and marketing automation platform that drives more leads, nurtures prospects and upsells customers for your small business. It does this using smart email marketing and other unique features.

Offline Access

If you use other Microsoft business applications, like SharePoint, Outlook and

Office 365

, this CRM will fit nicely into your workflow. Through an integration with Outlook, you can even use some of the CRM tools offline.

Open Source Customization

SugarCRM is one of the few companies that gives you full access to their source code. This means total customization capabilities.

Remote Teams

Bitrix24 is a CRM loaded with collaboration tools like project management, web/video chat, document sharing and more. While the CRM is not the most user friendly.
---
The Bottom Line
Since most small businesses only need a CRM to track their leads/sales and manage follow-up, we feel that Insightly is the best choice. By sticking to this basic tools, Insightly is much easier to setup and learn. When you consider how many CRM rollouts fail because users are unable to learn the tool, you can see how simplicity is a major advantage.
That said, it's not quite right to call Insightly a "basic" CRM. With workflow automation, project management and webform-to-lead integration, available, you can do some powerful stuff once you're ready for it.