At some point, many businesses look to upgrade from PowerPoint. Although the slide presentation program is a mainstay, it lacks advanced animation and templates to create engaging presentations without the nitty-gritty work.
In this guide, we compare the more graphically-advanced Emaze and Prezi to PowerPoint, comparing their features, price and ease of use.
Best Presentation Software: Emaze
We recommend Emaze because A. they have slick, modern animation and graphics and B. it works similar to PowerPoint so there's no learning curve to get started.
Emaze

Prezi

PowerPoint

Cost

$9/month

$13.25/month

$4.92/month
basic edition
- online only

$12.50/month

Includes full
Office 365 Suite
(Excel, Word &
Business Email)

Free Version?

Yes, online only
and your presentations are public

Yes, online only and your presentations are public

Yes, online
only with
limited features

Ease of Use

Easiest

Moderate

Easy

Templates

Over 40
free templates

High-end designs
with modern animation
and pre-filled slides
for business presentations

Over 90
free templates

Very high-end
designs with
modern animation

Hundreds of
free templates

Designs are fairly
basic, although there
are some helpful
resource templates,
like brochures,
checklists, calendars

Supported Media

Embed YouTube videos,
Flash, Google Maps
or any object
with HTML code

Add photos,
videos, audio

Import PowerPoint
slides (.PPTX)

Embed
YouTube Videos

Add photos, videos,
audio, PDFs

Import PowerPoint
slides (.PPT or .PPTX)

Embed
YouTube Videos

Add photos. Add
videos and audio
in desktop version,
but not online version

Does it work Offline?

Yes, there's an
offline version
for paid users

Yes, there's an
offline version
for "Pro" users
($13.25/mo)

Yes, there's an
offline version
for paying Office
365 users

Support

Knowledge Base

(for Office 365,

not specifically for

PowerPoint), Community

forum
Why We Recommend Emaze as the Best Presentation Software for Small Business Owners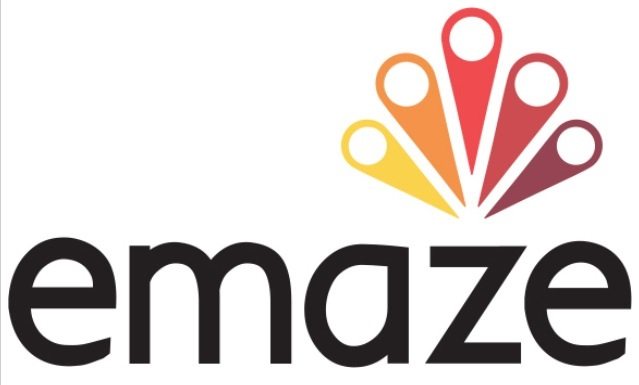 Presentations have long evolved from static images and text. To impress in today's tech-heavy climate, you need strong graphics – ones that don't just display your data, but tell a story from it.
Emaze is one of leading tools in this field, offering infographic-style charts and animated templates that are advanced enough to be used as product demo videos. What I liked best about Emaze, however, is that it isn't a far cry from PowerPoint. It has the same general format and tools, which makes it an easy transition for PowerPoint users.
Emaze doesn't have the most templates, but they do have a business focus. Templates "Infographic," "Marketing Strategy," "Sales Pitch" and "Product Demo" include full pre-written slides (pictured below) that you can customize with your specific information and data. Template Store. What's more is you can use a free version of Emaze with all the main tools – you just can't save presentations privately.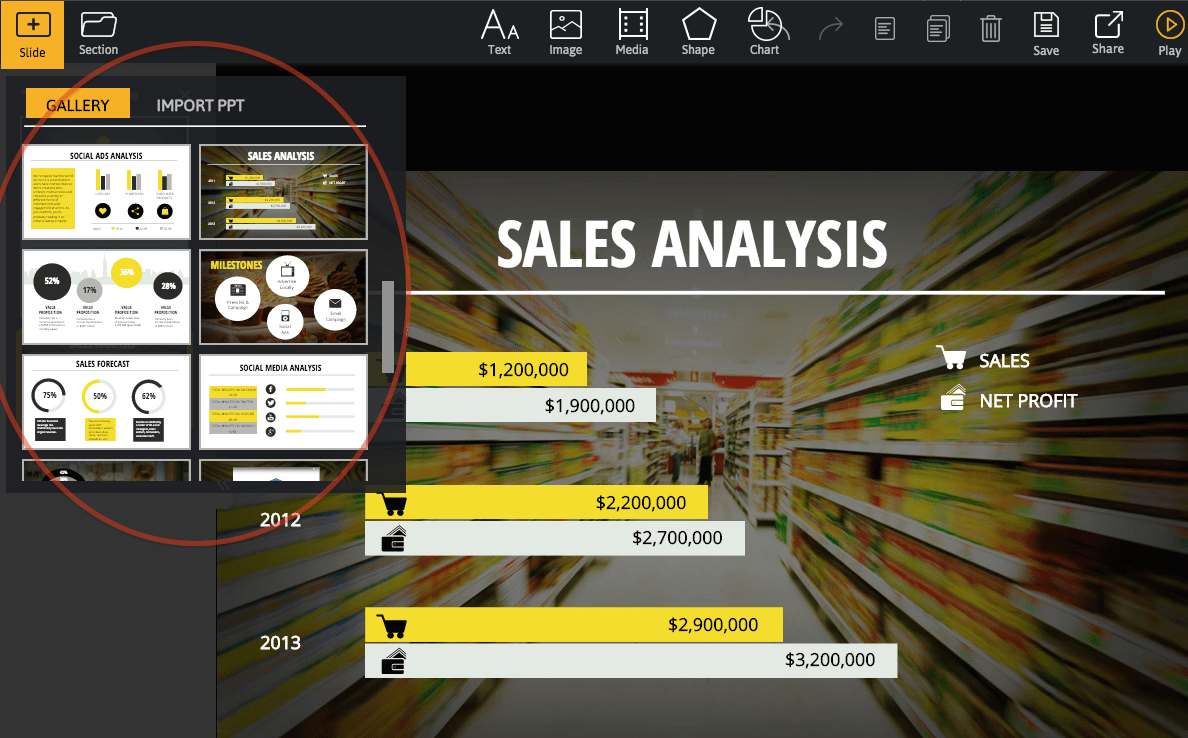 When to Use Prezi: For Animated Presentations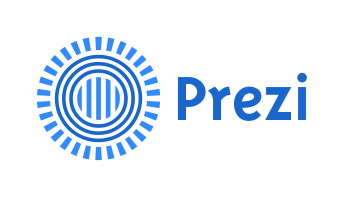 Prezi breaks the mold of a typical slideshow. Rather than move from one slide to the next in sequence, Prezi uses a large "whiteboard," where all your slides are connected like a diagram. When you present your slideshow, it zooms from one area of the diagram (or one "slide") to the next. This enables you to create much more visually stimulating presentations, as viewers can see the connection between slides.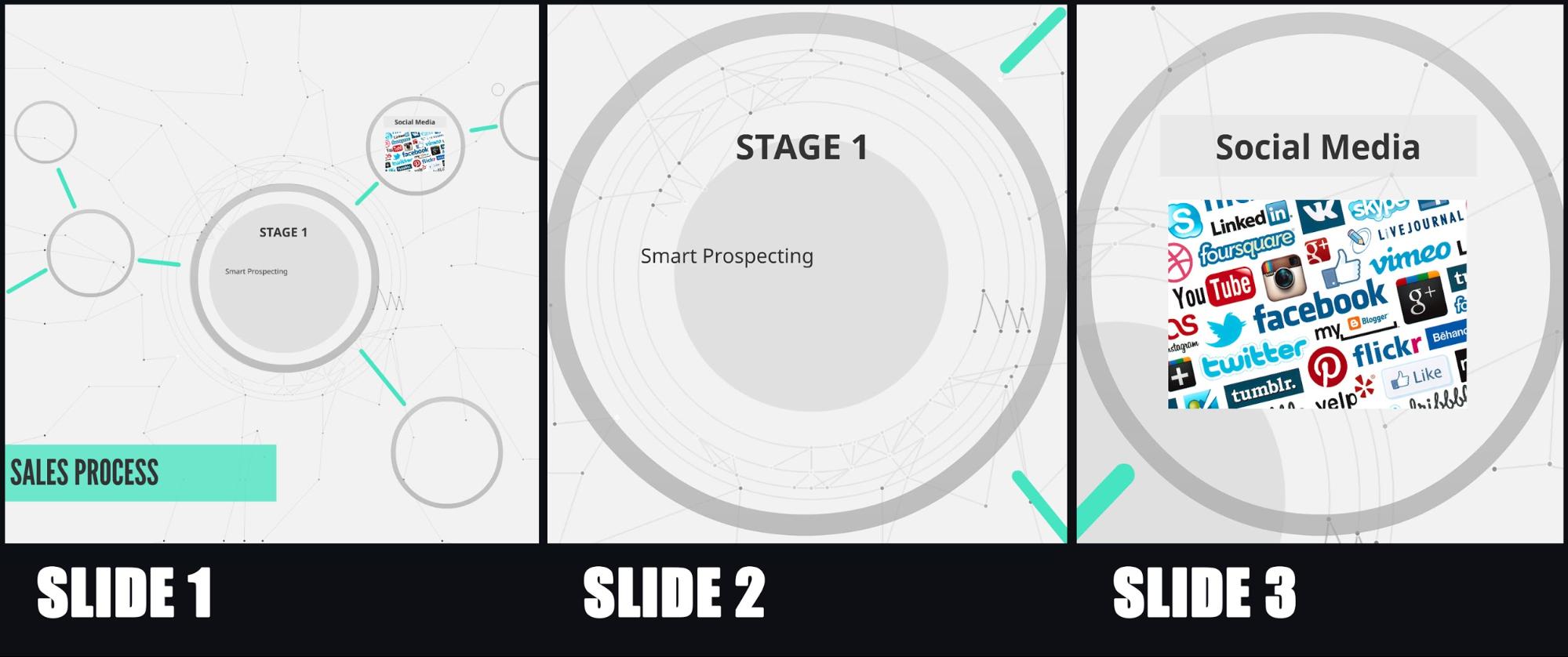 This makes Prezi great for businesses who want more highly visual presentations – ones that could almost pass for proper videos. Because Prezi strays from the traditional "slide" method, however, it does take a little more training to use.
When to Use PowerPoint: For Basic Presentations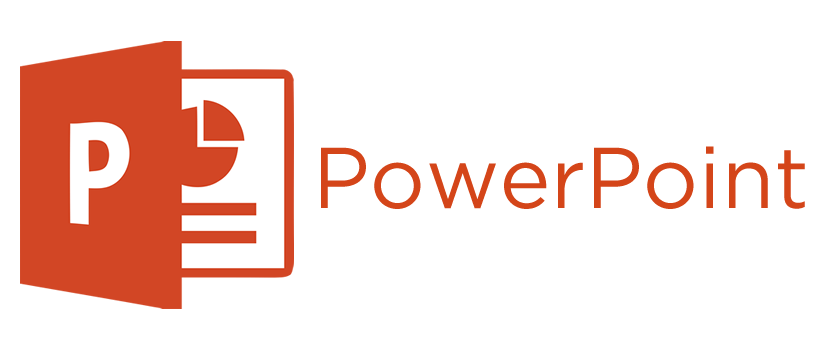 PowerPoint remains the classic slide presentation program. For a basic image-based presentation, PowerPoint is one of the best (and cheapest) options – You can use an online version of PowerPoint for free. When it comes to animation and graphics, however, PowerPoint falls behind.  It's not nearly as captivating or modern as Prezi or Emaze. That said, PowerPoint does have lots of templates – including user-submitted ones – that are great for small business owners.
Visit Microsoft Office - PowerPoint
Templates
---
Supported Media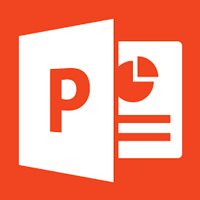 PowerPoint: You can add photos to your slides and embed YouTube videos. You can also add videos and audio files, but only using the desktop version (not the online version). Like Prezi, PowerPoint has an image search you can use directly on the interface (from Bing images)
---
Ease of Use
---
The Bottom Line
If you're making your first upgrade from PowerPoint, Emaze is a great choice. It has killer templates, advanced graphics & charts, and support for HTML objects. At the same time, it doesn't stray too far from PowerPoint's editing style, so most users should be able to plug and play. Even for those new to slide presentation software, Emaze is intuitive enough to get going without trouble.