If you're like most realtors you're probably already using Zillow Premier Agent to generate hot real estate leads (if you're not you should be).
In this article we'll talk specifically about lead generation services. These businesses give you a website for visitors to search for properties (known as IDX) and promote that website with per per click ads (PPC) on search engines like Google. Lastly, they give you marketing tools and analytics to convert your leads into clients.
Although the premise is the same, these services vary a lot in price as well as the exact features they give you. In order to figure out who is the best, we looked closely at 6 of the top real estate lead generation services and compared all the critical factors. See our comparison of the top 3 services below (Zurple, Real Geeks, BoomTown) along with even more services further down (Market Leader, Kunversion, Tiger Leads).
Best Real Estate Lead Generation Service: Zurple
Zurple is great for their low, flexible pricing and their completely automated email marketing which saves you the trouble of setup and maintenance.
Price for full Lead Gen Service*

$579/month

$1500/month


$2,750/month

Price for Website Only

$329/month

$169-239/month

$1500/month

Price per
Lead (approx.)

$5 - $15

$4 - $20

n/a

Do they Manage
pay per click
(PPC) ads for you?

Yes

Yes

Yes

Email
Marketing

"Smart" Drip
Campaigns

Sends personalized
emails based on
lead's browsing
activity.

Drip Campaigns

"Smart" Drip
Campaigns

Optimizes best
time to send
emails

How is the
IDX Website?

Basic

Advanced

Advanced
*Approximation. The actual amount you'll spend depends on your pay-per-click advertising (PPC) budget
How Do These Systems Work?
As any realtor knows, there's many different ways to generate leads. There's the old fashioned methods of print ads and postcards, as well as popular listings websites like Zillow and Trulia. While all of these methods should be used to some degree, they're sometimes not enough to get the stream of leads you need.
Enter lead generation services. These businesses all help connect you with prospective buyers in the same way: they draw traffic to your website with pay per click search engine advertising.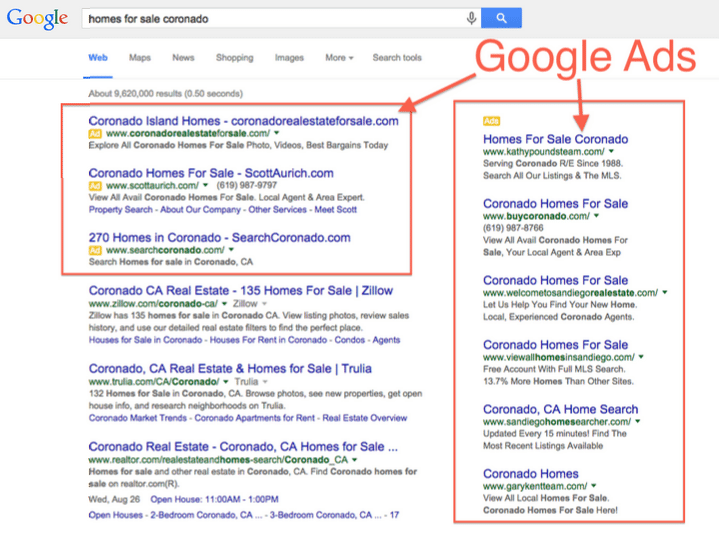 If you don't have a website, they'll also build one for you. If you do have a website, they'll provide an IDX tool for visitors to search your local MLS. By having prospective buyers and sellers search for properties on your website, you get to track their behavior – Learn what properties they're interested in, what amenities they need, etc.
The final piece of the puzzle is marketing tools. Each of these services give you a CRM to view your leads and reach out to them with emails and direct mail. Most of them include drip campaigns as well, which are automated emails you can send out over a period of time. This enables you to not only draw in new leads, but nurture your existing leads with automated messages. Sometimes months (or even years) later, a dormant lead will spring to life.
Without further adieu, here's our comparison of the top 6 lead generation services, starting with our recommended provider Zurple:
The two things that make Zurple stand out is there low pricing (relatively speaking) and their advanced email marketing system. Zurple starts at just $329/month for 1 landing page (i.e. 1 city or neighborhood you want to promote yourself in) and up to 50 leads a month. Like most of the other services, they promote your website through pay per click ads on search engines like Google, which is something you have to pay for separately. You can set the budget however you like, but it will probably be an additional $100 – $200.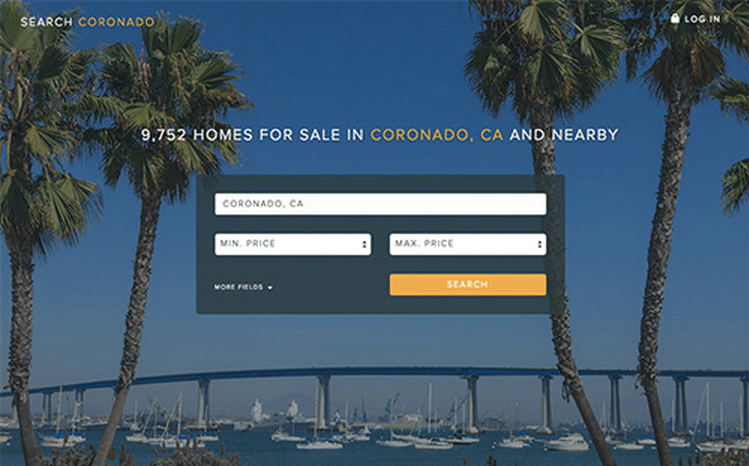 The Zurple websites (example pictured above) are intended to draw traffic and get people searching for properties. They're relatively bare and not ideal to be used as your main website. What they do a great job of, however, is track browsing behavior and use it to send highly personalized emails.
Here's an example: Say a user named Suzi visits your website, fills out a form with her email and starts looking at homes. The system send a message akin to "Hi Suzi, I know you are looking for a home greater than 1500 square feet and prefer 924 5th Street. Would you like to see it in person?"
Now added to your CRM as a new lead, the system will continue emailing them 1 to 3 times a month with personalized messages. Being completely automated, there's no work that has to be done on your behalf. As soon as the lead responds, however, you'll get an alert and can take over manually.
What's Missing? The Zurple marketing emails are not customizable. What they say and how often they're sent is determined by the system, which is continually tested and optimized by their marketing analytics team. This will be an issue for those who want control over their email marketing, but also a huge benefit for those who don't have to time to set it up and manage it themselves.
The other downside to Zurple is their website. As a stripped-down site, it's great for users who want a clean browsing experience, but it's not ideal to be used as your main website. Zurple also doesn't put too much effort in ranking highly in search engine results (SEO), instead focusing generating traffic through pay per click ads. As some users pointed out, however, you don't own the site or the domain you're given, so you wouldn't want to invest too much time into SEO anyway.
Real Geeks is a similar lead generation service whose specialty is in the IDX websites they design for their clients. Their websites are incredibly fast and detailed, full of features like a map tool for prospective buyers and sellers to search for homes.
Also, unlike the other services, they include a home valuation tool to attract buyers. Prospects can enter their home address to generate a valuation report. The report is highly detailed, including estimated rent values and nearby homes that were recently sold. Before they can view the report, however, prospects are asked to enter their email address, which is what gets them added to your system as a lead.
If you just want to setup a Real Geeks website, the price is relatively low (just $150/month). The marketing service, however, costs an additional $550/month minimum. That doesn't nclude your PPC campaigns, which they estimate as an additional $800/month. This makes the total price around $1,500/month: Much higher than Zurple, although still lower than Boomtown.
What's Missing? Besides the high price, the main downside to Real Geeks is their lack of automation. The CRM has a lot of helpful tools, including drip campaigns and a filtering option in which you can source all your leads who have viewed a certain property. What they don't have, however, are messages that are generated for you (like they are with Zurple). You have to take a look at the browsing analytics yourself and come up with messages yourself.
What immediately stands out about BoomTown is their high price: $2750 – $3750/month, depending on your PPC budget. (It's $1500/month for the IDX website, $250/month for the CRM and then a recommended $1,000 – $2,000 for PPC.) The high price is justified, however, when you learn that you also get 25 different user accounts. For a small-to-medium sized real estate company, Boomtown may actually be the best value.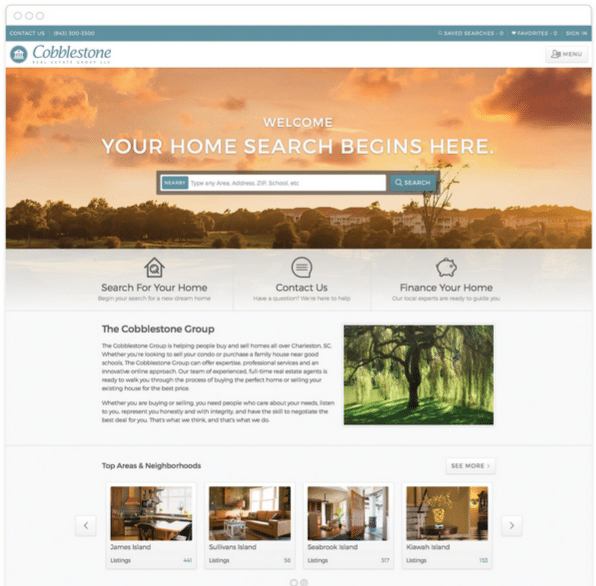 Like Kunversion, the website you get is a bit more solid. It's customizable, featuring a blog and other pages where you can add company information. Plus, the search function has lots of detail about properties, including local content like nearby amenities.
What's Missing? Compared to the other programs, BoomTown is a bit stronger in the backend. You get a lot of tools for managing your leads, including "smart" drip campaigns that predict when users will be browsing your website and email them at that exact moment. The messages still are not quite as personalized as Zurple, however. From what I could tell you still have to draw up email templates – the system can't automatically generate messages by looking at a user's browsing behavior, as it can with Zurple.
More Lead Generation Services
We also looked at 3 other well known real estate lead generation services: Market Leader, Kunversion and Tiger Leads. Overall, we were not as impressed with these services, although they do have some unique features. In particular, Market Leader can be good for solo realtors with a smaller budget and Kunversion has some unique website features like a chat box.
Price for full Lead Gen Service*

$699/month
(30 leads)

$799/month

$1,500/month

Price for Website Only*

$99/month

$499/month

n/a

Price per
Lead (approx.)

$20 - $30

n/a

$30

Do they Manage
pay per click
(PPC) ads for you?

Yes

No, they give
you software to
manage it yourself

Yes

Email Marketing

Drip Campaigns

Drip Campaigns

None

How is the
IDX Website?

Basic

Advanced

Basic
*Approximation. The actual amount you'll spend depends on your pay-per-click advertising (PPC) budget, or for Market Leader, your volume of leads
At just $99/month for an IDX website and CRM, Market Leader is one of the most affordable real estate marketing services. Unlike the other companies who let you set your own budget for pay per click (PPC) campaigns, Market Leader charges you a flat rate per lead: $20 – $30 depending on the market.
This makes them great if you just want a handful of leads a month. The cost can add up very quickly, however. 30 leads at $20 each comes out to $600, and that's not including the $99 for the website. This is more money than Zurple, although on the plus side it's less of a risk since you do get a guaranteed number of leads.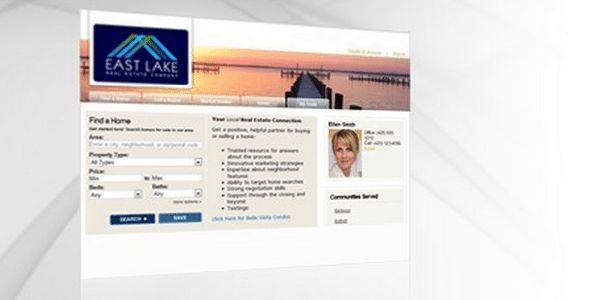 What's Missing? Like Real Geeks, Market Leader doesn't have much automation besides drip campaigns. You can log into the backend to view your leads and send messages, but you'll have to check out the analytics yourself if you want to send more personalized emails.
All of the services mentioned so far give you fairly basic websites. Real Geeks is praised for its home searching features, but it's still not a "proper" website – i.e. one that has an "about me" page, blog posts, etc.
That's where Kunversion comes in. Like the other services, there's an IDX search tool for buyers to browse for homes. But you can also customize the website and do things like add blog posts to help boost your pagerank. They even give you a unique chat box that's operated 18 hours a day, 7 days a week by Kunversion staff. so customers can chat for help directly on your website without pestering you.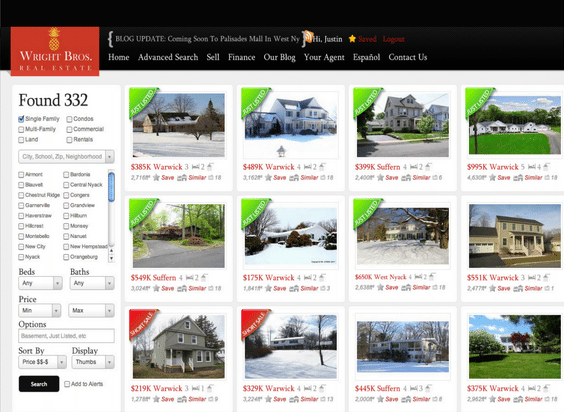 What's Missing? The main disadvantage of Kunversion is they don't manage pay per click (PPC) campaigns for you. They give you software that helps you manage it, but you have to write ads and optimize bids yourself. On the plus side, their costs are fairly low ($499/month, not including PPC budget). If you're considering Kunversion and want help running PPC ads, you can check out our guide to Google Advertising.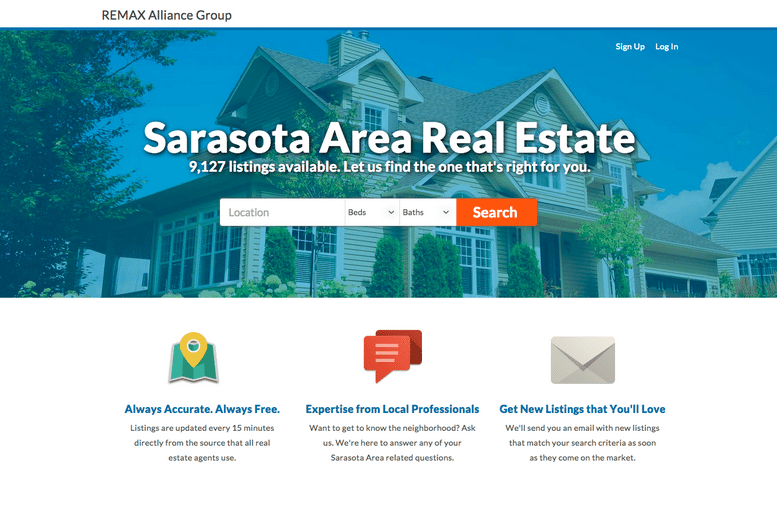 Tiger Leads is a bit more expensive than the other services. When I inquired, I was quoted at $1,500/month. Since this included all pay-per-click fees, their cost was actually identical to Real Geeks. One difference, however, is that Tiger Leads gives you a set number of leads per month (for me it was 50, or $30 each).
This makes Tiger Leads less of a value, since Zurple and Real Geeks average about $5 – $15 per lead. The benefit, however, is that you're guaranteed a certain number of leads per month. With Zurple and Real Geeks, you're not.
What's Missing? As with the other services, you can log into the CRM to view analytics and message your leads. One key downside, however, is that there's no drip campaigns at all. While most services let you set up auto-email campaigns or at least save email templates, Tiger Leads has neither of these features.
The Bottom Line
Generating leads is only half the picture. The other half is converting leads, which depends entirely on how quickly you follow up and how well you nurture leads over time. This is why we recommend Zurple: They can not only generate leads at a lower cost than the competition, but their smart, behavior-based emails are fast and highly personalized. Not to mention they're completely automated, so you never have to worry about missing a follow up opportunity.