A real estate practice exam helps you prepare for the state licensing test. In this guide, we compare three of the best online practice tests. Although our focus is specifically for real estate agents (or salespeople) one of our recommended programs, Kaplan, also offers training for brokers.
We recommend Real Estate Exam Scholar because you get a huge amount of state-specific practice exam materials (including 1,000 exam questions, a glossary and online flashcards) for about half the price of other leading services.
Visit Real Estate Exam Scholar
Best Practice Exam For Audio Lessons & Webinars: Kaplan
If you prefer to learn by audio, or live lectures and are willing to spend a little more money, Kaplan is the way to go.
| | | | |
| --- | --- | --- | --- |
| Price | $29 | $59 to $199, depending on state and package | $0.99 |
| State-specific editions? | Yes, for all 50 states | Yes, for 20 states | No |
| Number of Questions | 1,000 | Varies | 100 |
| Additional Materials | Flashcards, glossary, printable reference guides | Flashcards, Audio CD study guide, Live lectures | None |
| Money Back Guarantee? | Yes | No | No |
| | | | |
Real estate exams vary from state to state. That's why, first and foremost, it's important to choose a practice exam that's designed specifically for your state. Real Estate Exam Scholar has editions for all 50 states, which is rare for it's low price tag of $29.

Real Estate Exam Scholar gives you 1,000 multiple choice practice questions. The questions are broken up into smaller online quizzes, sorted into different categories. This means you can practice at your own pace and focus more intensely on the areas you need the most improvement. When you finish a quiz, Exam Scholar scores it and provides a 2-3 sentence explanation for each answer.
In addition to practice questions, Exam Scholar gives you online flashcards to practice definitions, as well as a glossary and printable reference guides. It's also one of the few exam prep programs to offer a money-back guarantee: If you don't pass the licensing test, Exam Scholar will refund your payment.
Check out this video for an overview of Real Estate Exam Scholar's online practice materials:
Kaplan: The High-End Option
For those who want a more intensive real estate practice exam, Kaplan offers educational resources you won't find from Exam Scholar. In particular, there's audio lessons (available by CD) and lectures you can participate in online.
As one of the leading online educational platforms, Kaplan also has stronger online practice exam tools. You can take the full practice exam, or build a custom quizzes: Set the number of questions, choose the topics you want to focus on and Kaplan will build you a custom test.
The downsides to Kaplan are A. the higher price tag and B. that it's not available in all 50 states. Kaplan's practice exam training is available in California, Texas, New York, Illinois and 16 other states, but not in Florida, Massachusetts or Maryland.
The Real Estate Exam App from Minute Help Press is a short 100-question practice exam available for Android and iOS users. While it doesn't get nearly as in-depth as Kaplan or Exam Scholar, it's perfect for those who just want to spend a few hours practicing at their own convenience. Available for just $1, it's – by far – the least you can spend on a full-fledged real estate practice exam.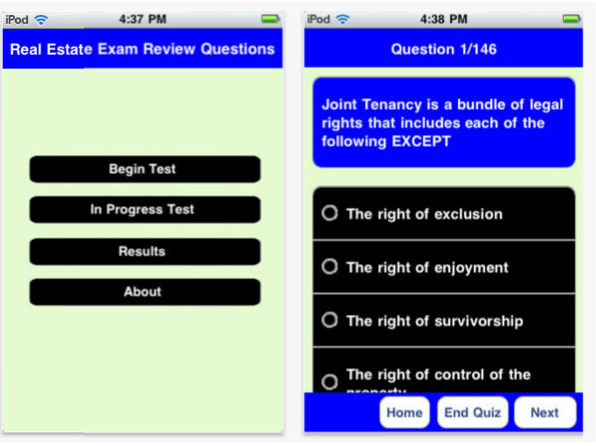 Click here to buy the Android Edition
Click here to buy the iOS (iPhone, iPad) Edition
Real Estate Practice Exams: Free Options
In addition to the above options, there's also a handful of free real estate practice exam materials. Many paid exam prep programs offer free "sample" questions, ranging from 10 to 25 questions. Because these tests are so short, they won't give a full assessment of your real estate knowledge. They will, however, give you a quick idea of how prepared you are:
Tests.com

has a free 21-question practice exam. Each question represents a different "category" of real estate studies, such as Property Rights or Contract Law. At the end of the test your score is graded with an explanation of each answer.

License Professor

was the only program I found that offers a free practice exam for EACH STATE (the others are all general national questions). The practice tests are only 10 questions, however, which is pretty limited.

CRAM

offers 160 user-submitted flashcards you can use to study for the test. You can sift through the flashcards online – by random or in order – and click to "flip" and view the answer.
The Bottom Line
Most real estate tests are between 75 and 150 questions in length and take between 1.5 and 3 hours to complete. The subject matter includes general real estate questions, state-specific laws and real estate-related math. So it's important to study the full range of lessons before going in for the test. Real Estate Exam Scholar is one great way to prep for the test, with a broad set of practice questions and a surprisingly robust set of features for $29.