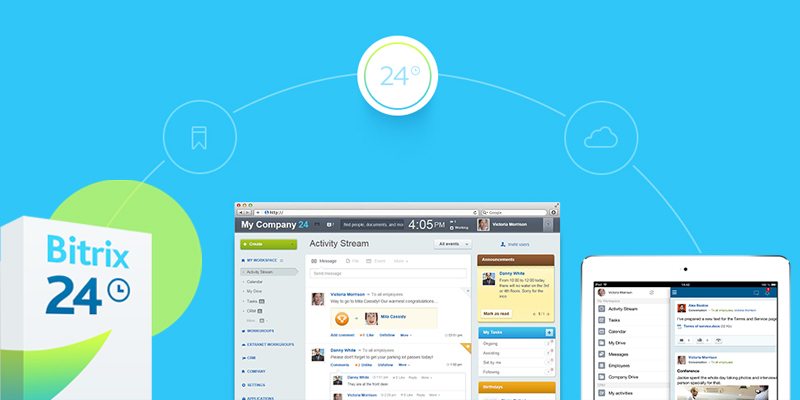 What is it?
A business collaboration tool, with project management and CRM functionality.
Want to manage 1000's of leads, save time, and get organized? Click Here to get our FREE CRM guide and find out how.
How popular is it?
Bitrix24 serves over 500,000 organizations (free & paid) as of September 2015.
What does it do well?
IInternal collaboration. At its core, Bitrix24 is an exclusive social network for your business. Users can share statuses with comments and "likes," communicate via web or video chat, collaborate on documents and more.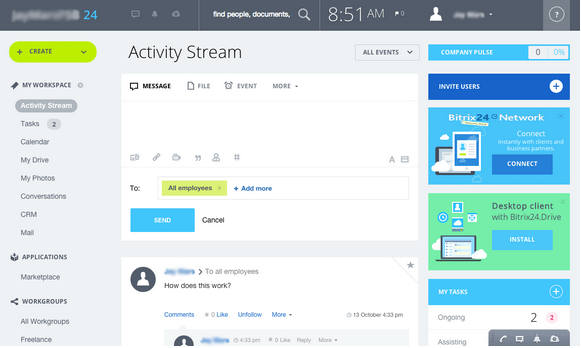 What does it not do well?
The CRM, which seems like it was added as an afterthought, is hard to use and does not have as many features other popular CRMs, such as social media integration. Insightly is a more user-friendly CRM.
Who does it work well for?
Small businesses with remote workers – especially those in project-oriented fields like graphic design, programming, architecture or journalism.
Who does it not work well for?
Self-employed or small businesses who don't need collaborative tools – i.e. real estate agents, restaurants, shops, salons, contractors, medical practices, etc. (Note, the self-hosted version of Bitrix24 is actually compliant with HIPAA security standards, so it could potentially be used by businesses in the medical industry.)
Free Edition?
Yes, Bitrix24 is free for up to 12 users.
Price Compared to Competitors?
Low
Type of Solution:
Cloud, Mobile & Server
Similar products?
Slack, Podio
US Based?
No, Russia
Customer Reviews?
Average (view reviews)
 Click a Button For More Info
Bitrix 24 Pricing
Bitrix24 is notable for offering a free version that supports up to 12 users. The free version doesn't skimp on features either. There's just a few additional tools you get with the paid editions:
Free

Standard
$99/month

Professional
$199/month

Full CRM
features for
up to 12 users

5GB storage

Unlimited users

Adds external user
access (i.e. a
client who wants
to view updates
on their project),
and the ability to
add your own domain

100 GB storage

Unlimited users

Adds Standard features
+ time tracking &
work reports. You
can also customize
Bitrix24 with your
own domain

Unlimited storage
Ease of use – Moderate
Setup – Moderate.
Although Bitrix24 gives you the option to import data from Gmail or Outlook, you can only do so by uploading a .CSV file, which is misleading. As for getting to know the system and personalizing it for your business, you'll have to do some playing around. Upon registering, you're dropped immediately onto the dashboard.
A couple unique features are that you can import data directly from Zoho or Basecamp (see here).
Administration – Easy.
Adding users is as simple as typing in their email addresses. From the same menu you can edit their access level and workgroup. I found the administrative menus to be simple and straightforward.
End User – Difficult.
The initial difficulty of Bitrix24 on the user all depends on how familiar they are with Facebook. The way it's formatted (status bar and activity stream in the center, menu bar along the side) and the way you interact with other users closely resembles Facebook. If users aren't familiar, the layout can be confusing.
Besides that, there were small things that irked me about Bitrix24. It runs a little slower than other CRMs I've used. It takes 1-3 seconds to open a new tab, which wouldn't too big of deal if Bitrix24 didn't require you to open lots of drop-down menus. Saving and organizing records can also be unintuitive, which I describe further down.
Help – Moderate.
Bitrix24 has a handful of articles and videos to get you started. For more specific help, you can search for or ask questions in the user forum. Bitrix24 also has email support for free & paid users, although paid users are prioritized.
Primary features:
| Features It Has | Features It Does Not Have |
| --- | --- |
| Contact Management | Accounting |
| Sales Pipeline | Workflow Automation |
| Task Management | Social Media Monitoring |
| Basic Reporting | Help Desk |
| Advanced Reporting | Territory Management |
| Document Library | Web Form Integration* |
| Invoicing | |
| Project Management | |
| Calendar | |
| Lead Management | |
View the full list of features here.
Primary Integrations:
| Integrations Supported | Integrations Not Supported |
| --- | --- |
| Google Apps (Docs) | Social Media |
| Mailchimp | Dropbox |
| Xero | Evernote |
| | Quickbooks |
| | Freshbooks |
| | Shopify |
| | Phone/VoIP |
| | Zapier |
View the full list of integrations here.
Detailed Overview
Bitrix24 is a company intranet. It's a place where you and your employees can log in and see the latest announcements, your daily/weekly assignments, company documents, private messages from coworkers, updates on a group project and more.
In short, it's loaded with features, which is impressive for a free system. The tradeoff, however, is that basic tools like the CRM get the short end of the stick. I found the CRM to be underdeveloped, buggy and rather unintuitive to use.
Features:
Contact Management
Bitrix24 has a basic contact management system. While it's equipped to handle the needs of most small businesses, I found it to be unintuitive at times. Like most CRMs, there's two contact books: One for individuals and another for companies. You can link an individual to a company and vice versa, but linking one won't automatically link the other – you have to go to the company page and link the individual contacts manually.
Between that and the bulky layout, which required a lot of scrolling, I found the contact book somewhat cumbersome. (Read more about Bitrix24's customer management tools)
Sales Pipeline
Bitrix24 has a separate menu to save your leads. Once a lead becomes a qualified prospect, click "convert" and you can save them as a new contact & deal.
A "deal" is a potential sale. You keep track of these under a separate menu, where you can update the value and probability of each deal. This enables you to view your pipeline (pictured below) and forecast your earnings. Deals can also be linked to a contact and/or company for ease of organization.
 
Task Management
Bitrix24 has a task management system with some collaborative tools. You can create a task with a title, description and deadline and assign it to yourself or others. Users can view the task, add comments and upload files directly on the task menu.
Tasks, however, are not closely connected to the CRM system. Linking a contact or company to a task is something of an ordeal – you have to click "Full task form," scroll to the bottom, click "more," then, "select" next to "CRM Items," which pops up another window where you can add a lead, contact, company or deal.
Reporting
With Bitrix24, you can create both standard and custom reports. There's 21 standard reports, covering your deals, products, leads, invoices, projects and tasks. you can also create and save custom reports, in which you choose your own metrics. One odd thing reports, however, is that there isn't one single menu – There's one for CRM-related data and another exclusively for tasks.
Email Marketing
Bitrix24 has some basic email marketing tools. You can send bulk emails to a group of leads, for example, and address them by their first name. I did not find any email analytics (such as tracking click-through rate) or email automation tools. Bitrix24 does support an integration with Mailchimp, however, which will get you these features.
 
Territory Management
Bitrix24 does not have any territory management tools. You can, however, set up lead assignment rules that helps to delineate sales territories. For example, if a lead is from a particular region or works in a particular industry, you could have them assigned to a particular user.
Document Library
The free version of Bitrix24 has a document library with 5GB of storage (or 100GB in the $99/month edition.) You can upload files for personal access or share them with specific users, teams or the whole company. You can preview files, manage their version history and edit some documents – possible through an integration with Google Docs. You can also set up a desktop folder to synchronize with Bitrix24's file drive, so you can work with files from your desktop / open them offline.
Check out the video below for an overview of Bitrix24's document library:
Project Management
Bitrix24 also has some project management tools. To add a new project, you create a new "workgroup." What this basically does is consolidate all the tasks, files and conversations for a project onto one page. Read more about Bitrix24's project management here.
Automation
Bitrix24 has surprisingly strong automation tools. Using "Business Processes," which you'll find under CRM settings, you can setup rules for assigning leads, assigning tasks or receiving alerts when certain events are "triggered," create workflows for document approvals and more.
I liked how these automation rules could all be setup from an intuitive graphic menu (pictured below), although it's definitely not for the novice user.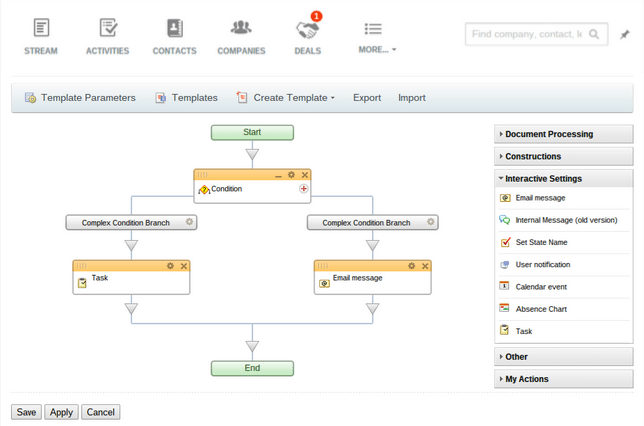 Calendar
You can view a personal calendar with your events/deadlines, or view a calendar for a workgroup (which can be a specific project or company department, etc.) Calendars can be synchronized with Outlook and iCal. Read more about calendars here.
Invoicing / Accounting
Bitrix24 has invoicing, but no accounting tools. You can create an invoice and automatically add client information by clicking the appropriate contact or lead. You can choose products and services from existing items or add new ones. When finished, you can send the invoice directly from your CRM or save it as a PDF.
 
Desktop/Server Based/Mobile/Offline Access
Bitrix24 is cloud hosted, so you don't need to install any software on your computer (there is a self-hosted version available, however, for a one-time fee.) You can access Bitrix24 through your web browser or a mobile device. It does not support offline access, however, so you have to be connected to the internet to use Bitrix24. The only exception is the file drive, which you can sync to a desktop folder in order to open/edit files offline.
Mobile
Bitrix24 has a fully-featured mobile app is available for both iOS and Android. I actually found the mobile app to run smoother than the desktop version. The mobile interface is faster, more condensed and easier to navigate.
You can access just about all the features, including the CRM, calendar, activity stream, workgroups and more. There's just some administrative tools you can't access. Users also noted that you can't upload files or add new projects.
Integrations:
Bitrix24 has a short list of third party apps you can integrate with your platform, including MailChimp and Form Constructor, which lets you import leads or contacts from your website. As far as I could tell, there's no social media integration.
You can use the built-in mailbox if you create a free Bitrix24 email address or attach your own, if you have a custom domain. Bitrix24 also includes an IP telephone service for an extra cost that let's you call directly from the CRM and record the conversation. No additional equipment is required. (read more on telephony here)
Customer Service
24 hours? No
US Based or Not? n/a
What's The Method of Delivery?
Bitrix24 has email support available for free and paid users. Tickets are responded to within 16 hours for paid users and 32 hours for free users (excluding weekends and holidays). There's no live chat or phone support.
Bitrix24 also has a handful of articles and videos that covers some of the basic functions. There's also a searchable user forum where you can ask questions or sift through existing questions answered by community members. I found the forum helpful, although with all the information on there it could take a while to find precise answers.
The Bottom Line
The best thing about Bitrix24 is its free license for 12 users. The next best thing is the collaboration tools – web/video chat, document sharing, statuses and comments – and document library. Further down the list are the CRM and project management tools.
While the CRM does have enough features to suit the needs of a small business, it can be unintuitive, buggy and unreliable. If you can stand patient and work through it's kinks, then Bitrix24 might work for you. Otherwise, you'll probably have to shell out some money for a more polished system.
Want to manage 1000's of leads, save time, and get organized? Click Here to get our FREE CRM guide and find out how.