Many business owners are unaware that their business has a credit rating. Having strong business credit can help you qualify for business financing and get favorable payment terms from suppliers.
In this guide, we explain what business credit is, how to establish business credit, how to get a copy of your business credit report, and how to understand what's in your report as well your numeric score. To help us answer these questions, we interviewed Caton Hanson, Co-Founder and Chief Counsel of credit monitoring service Nav.
Check Your Credit Score For Free
What Is Business Credit, and Why is It Important?
Business credit measures how responsibly your business pays its bills. Your business credit report and score are used by creditors and suppliers to predict whether you will pay back them back on time.
Having strong business credit, apart from your personal credit, can help you get business loans at the lowest interest rates and favorable payment terms from suppliers. A creditworthy business can qualify for business financing based on factors strictly related to the business. That limits the number of checks into your personal credit history and the amount of debt that appears on your personal credit report. Without building business credit, you must rely on your personal credit to get approved for financing.
Dun & Bradstreet (D&B), Experian, and Equifax are the three main business credit reporting agencies. They provide reports that detail your business's payment history with vendors and creditors, as well as other business activity. Each agency also gives your business a score (sometimes multiple scores) measuring how likely it is to meet its financial obligations.
Unlike consumer credit reports, third parties don't need permission to check your business credit. Since it can be checked at any time, it's even more important to understand what's in your report and how your score is calculated.
How To Establish Business Credit
Each credit bureau has its own procedures for establishing business credit.
Dun & Bradstreet:
In order to establish credit with D&B, you must first get a D-U-N-S (Data Universal Numbering System) number. This is a unique 9-digit identification number that is used to create your business credit file, similar to how your social security number is associated with your personal credit reports. You can apply for a D-U-N-S number for free on D&B's website or through a credit monitoring platform such as Nav.
After getting a D-U-N-S number, the next step is provide trade references. Trade references, similar to employment references when you apply for a job, come from suppliers and creditors that you've done business with.  
According to Caton Hanson, at least 3 trade references are needed to establish credit with D&B.You may get trade references by asking vendors with whom you have a positive relationship to report your payment activity to D&B. Alternatively, if you pay extra, D&B will contact trade references for you to verify that you are a customer and have been paying on time. These are some examples of vendors that routinely report to D&B and other business credit bureaus and are probably the easiest trade references to get:
Quill

Uline

Home Depot

Lowes

Staples

UPS
Your references are not legally required to report information about your business or verify that you're a customer. Therefore, if you're a new business focused on establishing your business credit, we recommend choosing vendors that will report to at least 1 major business credit bureau.
Equifax & Experian:
For Equifax and Experian, you don't need to create an account or get trade references. These bureaus continuously comb state records for new business filings and other public records. They can score your business, says Caton Hanson, solely based on demographic information contained in such records.
Understanding Your Business Credit Score
Most people are familiar with the standard consumer credit score model, with scores ranging from 300 to 850. Business credit agencies have different scoring models and sometimes give businesses multiple scores.
It's important to know your business credit score from all 3 agencies because they report on different things, says Caton Hanson, Co-Founder and Chief Counsel of Nav.
Banks and lending institutions tend to use Experian and Equifax because those agencies track both trade history and your history of paying back loans. In contrast, D&B primarily tabulates trade history and looks less at how your business has paid back banks or other lenders. As a result, D&B reports are preferred more by suppliers and less so by lending institutions.
D&B Scores
D&B scores your business in 3 ways:
Paydex Score (1-100 range)

Financial Stress Score (0-5 range, 0 score means open bankruptcy or out of business)

Commercial Credit Score (0-5 range, 0 score means open bankruptcy or out of business)
The Paydex score is the popular 100-point score that most small business owners associate with D&B. The higher your score the better, with 80 being the cutoff for a 'good score.' This score is based on how timely you've been with your bills and financial obligations to vendors that report to D&B.
The Financial Stress Score (FSS) predicts the likelihood of business failure over the next 12 months. In this case, the lower your score the better with the exception of zero which means out of business or bankruptcy. To calculate this score, D&B matches your business to similar businesses in its database and sees how often those businesses cease operations due to default, file for bankruptcy, or otherwise fail in the face of financial troubles. This score is not based on data about your business. It is a comparative measure that helps to predict how your business will fare in the future.
Lastly, the Commercial Credit Score (CCS) predicts a business's likelihood of becoming severely delinquent (more than 90 days overdue) in its payments over the next 12 months. Like the FSS, this score ranges from 1 to 5, with 1 being the best score (zero means bankruptcy or out of business). It is also a comparative measure, analyzing data from other businesses that have similar payment histories to your's and seeing how often they were delinquent.
Experian Scores
Experian may offer the most comprehensive and balanced score among the 3 agencies. While D&B and Equifax primarily use payment histories to calculate your score, Experian takes into account a number of other factors, such as industry codes, time in business, and financial performance of the business.
The Experian Credit Ranking Intelliscore ranges from 0-100. Higher scores are better. Ideally, you want to be in the 80-100 range. A score in that range means you are a low credit risk and will most likely make on-time payments to creditors and vendors.
Curious about your business's Experian credit score? Answer these 10 questions, and estimate your score for free.
Equifax Scores
Equifax occupies a middle ground when it comes to scoring. On the one hand, like D&B, it primarily takes payment histories into account in calculating your score. On the other, like Experian, Equifax takes both trade and lending history into account in scoring your business, making it a popular choice among banks and lenders.
There are 2 Equifax business credit scores:
Business Credit Risk Score (101-992 range)

Business Failure Score (1000-1880 range)
The Business Credit Risk Score (BCRS) evaluates that likelihood of a business being severely delinquent (more than 90 days overdue) on financial obligations. The higher the score the better. Equifax calculates this score by looking at such factors as your available credit, how much credit you've used, how many payments you've missed in the past, and the length of time since your oldest financial account was opened.
The Business Failure Score (BFS) assesses the likelihood of your business going bankrupt or closing down in the next 12 months. This score takes into account the same factors as the BCRS and also looks at your most negative payment transactions in the last year. The higher the score the better it is.
FICO SBSS Score
Fair Isaac Corporation, which creates the leading consumer credit score, also has a popular business score called the LiquidCredit Small Business Scoring Service (SBSS). The SBSS score ranges from 0 to 300, with higher scores being better. Many banks use the SBSS score to approve loans and lines of credit less than $1 million. The SBA uses it as a pre-qualification measure for SBA loans–the minimum score to pass the SBA's pre-screening process is 140.
The score pulls on data from your Experian, D&B, and Equifax reports. If there's not enough business credit data available, the SBSS is calculated based on your personal credit data and business financials.
Your SBSS score is available for purchase from Nav for $49.99. We recommend that you find out your score if you are planning to apply for an SBA loan or for a standard bank loan or line of credit under $1 million.
How To Get A Copy of Your Report
In a survey conducted by Nav, 72 % of small business owners didn't know how to access information about their business credit. The table below provides links where you can get a copy of your report. We recommend reviewing your report at least once per year to make sure you are putting your best foot forward with suppliers and creditors.
Inaccuracies in your report can be disputed directly with the credit bureaus. Unlike the consumer side of things, there's no formal process for disputing errors on a business credit report. Every agency has its own guidelines and timeline for fixing errors. You can submit disputes electronically to D&B and Experian. To disputes items on an Equifax report, log into your account and contact customer service.
Unlike consumer credit reports–which you are entitled to receive for free once per year—you typically have to pay to get a copy of your business credit report.
Here's what it will cost you:
Cost to Get Your Business Credit Report
Agency

Cost

Link to
Get Report

Report Includes
The Following

D&B

$151.99 per report
or $99 per month

Paydex Score;
Financial Stress Score;
Commercial Credit Score;
Liens, bankruptcies,
and collections;
Credit limit
recommendation;
Payment histories;
Industry trends;
Business profile with
industry codes

Experian

$49.95
per report


Credit Ranking Score;
Liens, bankruptcies,
and collections;
Credit limit
recommendation;
Payment histories;
Business profile with
industry codes

Equifax

$99.95 per
per report

Business Credit Risk Score;
Business Failure Score
Liens, bankruptcies,
and collections;
Payment histories;
Business profile with
industry codes
The links in the table above can also be used to pull credit on businesses that you supply to or partner with. It can be just as important to keep tabs on businesses you work with as it can be to keep tabs on your own business.
If you want to check your report occasionally, it's cheapest to get the report directly from the agencies using the links above. However, if you'd like to check your credit score on an ongoing basis, we suggest using a credit monitoring platform like Nav, where you can get your personal credit score and a summary of your Paydex and Experian business credit scores for free.
To get numeric business scores and full credit reports, you must upgrade to Nav's Premium Plan, which costs $29.99 per month. The FICO SBSS score can be viewed with the $49.99 per month Premium Plus plan. It is cheaper to keep tabs on your business credit score by signing up for Nav instead of ordering multiple reports directly from the agencies. Nav will even analyze your score for you, provide score change alerts, and give you tips on improving your credit.
Deciphering Your Business Credit Report
Once you get a copy of your business credit report, you should review it carefully. It contains a lot of information. To help you along, we've listed below the main sections in a business credit report.
To help illustrate each section, we've provided screenshots from a sample Experian report. If you prefer to you use one of the other two agencies, you can also view a sample business credit report from D&B or Equifax.
Business Profile

Your business's legal name, DBA (i.e. trade name), and location(s) will appear on the business credit report. Experian also notes companies that you have a legal affiliation with or responsibility for, such as a parent company or subsidiary.
The report will also show other background information, such as incorporation details (if you are a corporation) and the number of employees. This is designed to give creditors and vendors a better understanding of your business's size and history.
Financial data, such as annual sales, profits, and income statements, may also be included. If you are a publicly held company, the business credit agency will pull such financial data from shareholder reports and annual statements. Small businesses can choose to self report this data to the business credit bureaus.
SIC and NAICS Industry Codes
In the screenshot of the business profile above, you can see the business's SIC and NAICS codes. SIC (Standard Industrial Classification) and NAICS (North American Industrial Classification System) codes describe the primary industry that your business belongs to. It is important to have the correct SIC and NAICS codes on your business credit report. The wrong code can get you declined for credit because different industries have different levels of risk.
For example, I used to work for a business that developed transportation software for use by taxis and private cars. We were wrongly categorized as a transportation company, which is considered to be much higher risk than a software development company. The incorrect categorization made it harder for us to obtain insurance for the business.
The following are the main high-risk SIC classifications:
Real estate investing and other types of investing

Car sales

Adult entertainment

Travel/transportation industry

Money lending/collecting

Restaurants

Dry cleaners
Businesses in one of these industries can avoid being classified as high-risk by diversifying business activities. If you want to invest to real estate, for instance, you can create a business that does marketing, business consulting, or interior design, and then run the real estate investment arm of the business from a separate division.
If you have been misclassified, you can update your business profile on the agency's website or by contacting the agency (you can update your Experian profile at www.businesscreditfacts.com).
NAICS/SIC codes are received through public record data such as responses to Census surveys or administrative records, so make sure you correctly identify your business on such records going forward.
Trade Payment History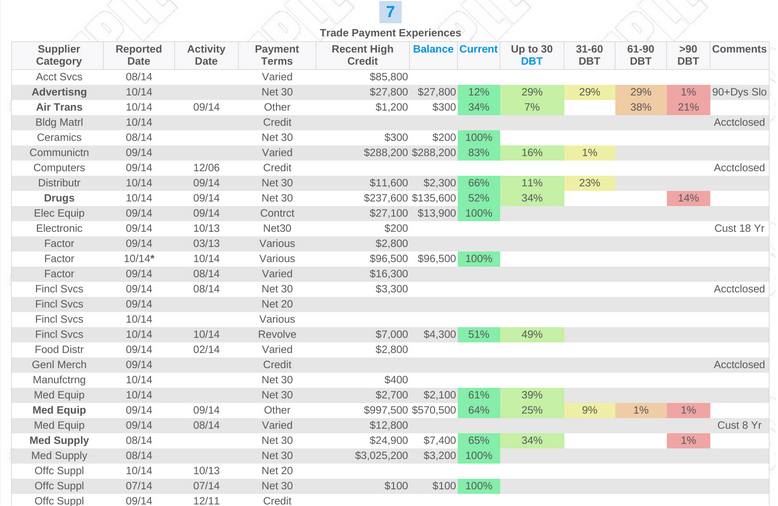 This section shows your payment history, going back up to 3 years, for goods and services that you've purchased from vendors. It contains the last date when the vendor sold goods and services to you, the amount of the sale, payment terms (e.g. payment due in 60 days) extended to your business, and how early or late you paid relative to those terms. Seasonal payment trends are shown as well. Vendors can even leave a note about your business, such as Prompt, Satisfactory, Pays Slow, etc.
By seeing payment activity and direct comments from vendors, future sellers can make an educated decision about whether to work with you and whether to extend credit to your business.
Commercial Financial History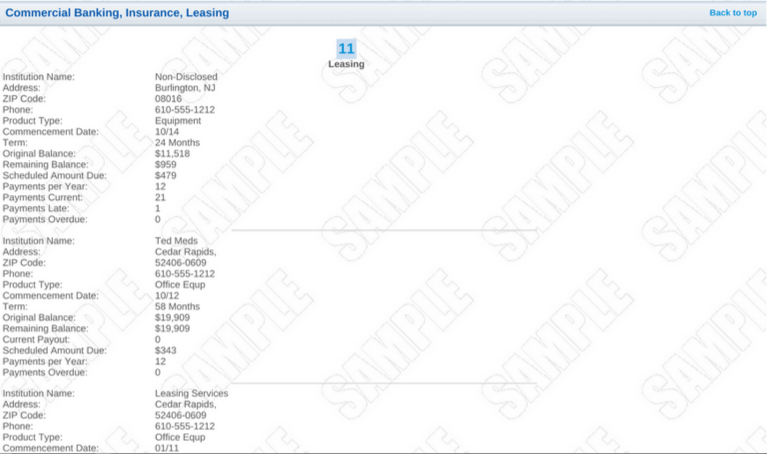 Commercial financial history covers your payment activity on things like insurance policies, business loans (from banks and other institutions), and equipment leases.
This section shows the amount of credit you've received from lenders, the type of financial product (e.g. lease, insurance policy, etc.), the term of the loan or policy, the original balance and remaining balance, and the number of timely and late payments.
When you're on the market for a business loan or insurance policy, providers may rely on this section to predict your payment behavior.
Note: D&B doesn't report on commercial financial history.
Legal Filings, Bankruptcies, & Collections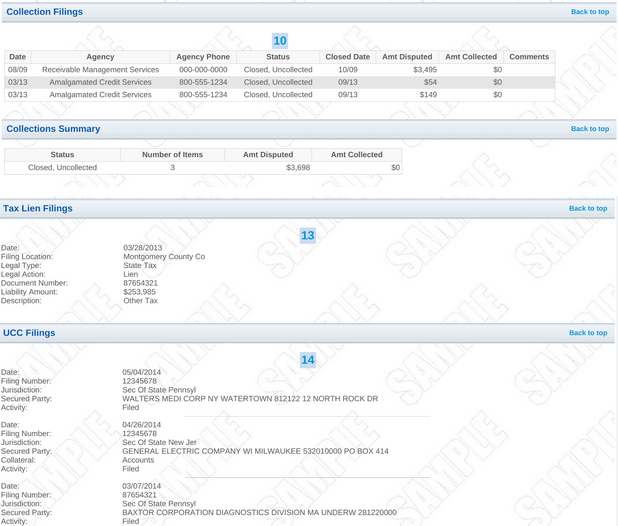 This section on legal filings and delinquencies assesses your business's liquidity and financial health.
The report will note the presence of UCC filings for the past 5 years, which are liens placed on the business's assets to serve as collateral on a loan. Such liens influence whether and when a lender will loan money to you. Say you're a retail shop, and a lender has filed a UCC lien on the fixtures in your retail space. You cannot pledge the fixtures as collateral on another loan until you pay off the first loan.
The credit report will also show other legal filings, such as business bankruptcy judgments and tax liens, and accounts that are so overdue that they have been placed into collections. Having legal judgements against you or overdue accounts can reveal financial distress and make creditors hesitate to work with you.
Numeric Business Credit Score
Based on the information in your report, each business credit agency will issue your business a score that is intended to predict payment behavior. What counts as  "a good score" depends on the bureau that's reporting your credit, as we cover in more detail above.
Bottom Line
After reading our guide, you should now know how to establish business credit, interpret business credit reports and scores, and get a copy of your business credit report. 
Your personal credit score is important for getting business financing, but your business credit is equally so. In fact, small business owners who understand their business credit scores are 41 percent more likely to be approved when they apply for a business loan!
If after checking your credit report you find old or inaccurate information being reported, don't let it hold you back. Read our buyer's guide to credit repair companies or simply set up a consultation with our recommended credit repair company, MyCreditGroup. They have an A+ Better Business Bureau rating and have helped over 10,000 people improve their credit scores.