In this guide, we'll provide you with a free business proposal template to help you write a professional and competitive proposal. We'll walk you through the steps of creating your own proposal and explain how you can add e-signatures and credit card payments, among other perks, using online business proposal software.
Of course, often a business proposal is only as strong as your presentation of it. That's why we recommend eMaze, a next gen presentation software that offers animation and graphics tools that are a step above PowerPoint's. Click here to check it out.
Free Business Proposal Template
If you're looking for a professional business proposal template that you can customize, we have you covered. Our free business proposal template contains the following elements: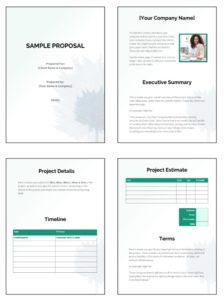 Cover Sheet

Intro

Executive Summary

Timeline

Pricing Table

Terms / Conditions

Conclusion

Signature Page
Click here to open in Google Slides
Open link, click "save a copy"

Edit document right from your browser
Click Here to Download as a Power Point File (.PPX)
How to Use Our Free Business Proposal Template
As you go through each section in the template, we provide instructions and examples of what to write. Depending on the specific kind of proposal you're writing, you may also need to add, remove, or shift around sections.
A catering service, for example, probably won't need to include a timeline (granted, there might be key dates, like when the seat count & meal preferences are due). On the other hand, you will want to attach your menu. You can either type it out in the body, or attach it to the end as an appendix.
Another important consideration is if you want your proposal to be a binding contract – i.e., request a signature at the end. If so, you may need to include more boilerplate legal sections, such as liability and governing law. To write these, we recommend consulting an attorney or legal service. If your projects are similar enough from one to the next, you can ideally write just a single document and reuse it for future proposals.
For help customizing your proposal, be sure to check out our guide How to Write a Business Proposal.
How To Write Even Better Proposals With Business Proposal Software
Our free template is perfect to write a quick, professional proposal.  If you plan on sending more business proposals in the future, however, we recommend checking out software. This is because our template has these key limitations:
No E-Signatures

. To sign your proposal, a business will have to print, sign and scan – or physically return it to you.

No Add-Ons/Upsells.

With a pricing table already written out, your client has minimal ability to customize their order, such as by changing the quantity or adding optional items.
Business proposal software, like our recommended software PandaDoc, gives you these tools and more. It allows you to request your client's e-signature at the end of the document. They can add a legally binding signature simply by typing their name or drawing a signature with their mouse.
Using business proposal software like PandaDoc also gives interactive tools, like a pricing table. Your client can select the exact items and quantities they want, rather than you choosing for them. PandaDoc automatically calculates taxes as they adjust the order. Other options include form submission, where a client can add comments, or select checkboxes. This can boost your order size, as it allows clients to add more items.
These tools are just the tip of the iceberg, however. Here's a few more essential tools PandaDoc offers:
Document Tracking
After you send a proposal, you can receive a notification when your client opens it. You can track how long they spend reading it, and even how much time is spent on each page.

This helps you decide when to follow up with a client. Wait until your client has opened your document and spent a few minutes reading. Then, call them up the following morning and offer to answer any questions.
Document tracking also helps you improve future proposals. As you can learn which sections are engaging your readers, and which are getting skipped, you can optimize your proposals to better hold their attention.
Accept Credit Card Payments
If you're going to request a deposit along with your proposal, you can require your recipient to pay via credit card when they add a signature. The money will automatically get deposited in your account, and the proposal will be marked as signed and paid on your dashboard.
This is far more convenient than sending out an additional invoice right after the proposal gets signed, or waiting for your clients to mail back a check. PandaDoc also integrates with many different CRMs, so you update your records automatically when a proposal gets signed or paid.
CRM Integration
As we just hinted at above, another major perk of using proposal software is that you can integrate your CRM. This allows you to create proposals much faster, as you can automatically copy contact and sales information straight from your CRM.
Using PandaDoc's integration with Insightly, you can even create proposals directly within your CRM. This saves you the hassle of switching between programs and manually copying information.
The Bottom Line
Our free business proposal template is perfect if you need help writing your first proposal and want it to look good. If you send proposals regularly, however, we recommend checking out business proposal software, like PandaDoc. In addition to giving you a lot more neat tools (like interactive tables, e-signatures, credit payments, etc.), PandaDoc helps you manage dozens of proposals at once and streamlines the writing process by integrating with your CRM.
To learn more about PandaDoc, check out our guide Best Business Proposal Software: PandaDoc vs. Proposify vs. BidSketch.