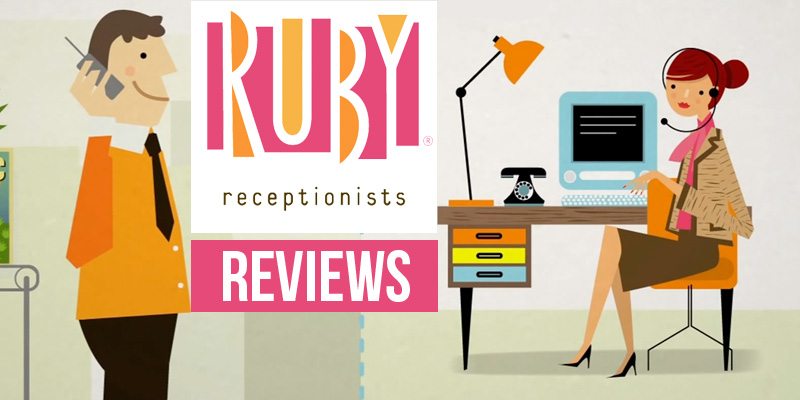 What is it?
A small business answering service
How popular is it?
Ruby Receptionists is a mid-sized company with about 250 employees.
Similar Services?
What does it do well?
It's a standard answering service with a top-notch reputation. Ruby Receptionists are praised for being helpful, enthusiastic and reliable.
What does it not do well?
Receptionists cannot schedule appointments or take orders with credit card information. If you want these advanced features, check out Map Communications.
Who does it work well for?
Those who want a strong front face for their business and don't mind paying extra for it.
Who does it not work well for?
Those who want a less-expensive solution should check out VoiceNation. Those who want more advanced features should check out Map Communications.
US based?

Yes
Available 24/7?
No, Monday to Friday 5am to 6pm PST
Excluded Industries?
None, but Ruby is not HIPAA compliant so some medical practices may be unable to use due to patient confidentiality requirements.
Free Trial?
Yes, 14 days
Cost Compared to Competitors?
High
What Receptionists Can Do
When you sign up with Ruby you'll have a small pool of about 15 receptionists answering your calls. They can relay basic information, take messages and forward calls to you or your co-workers.
During the initial setup you can specify how receptionists should handle various situations. You can supply a list of 4 to 6 frequently asked questions, such as your business hours, services offered or basic price quotes. If a new client calls, you can have their contact info forwarded to you as an alert. Receptionists can also enter information into a webform. So, for example, you could auto-add new leads to your CRM or import customer service cases to your HelpDesk software.
One unique thing about Ruby Receptionists is that they can also make outbound calls on your behalf. Just like a receptionist in your office, you can have your virtual receptionist make a call to gather or relay information, such as an appointment confirmation. Outbound calls cost an additional fee, however, of $1.50/minute or $13 for 15 minutes.
What Receptionists Cannot Do
Ruby does not do scheduling. If a customer calls asking to book an appointment, Ruby receptionists cannot schedule them. However, they can tell the caller your general availability and then forward the call or take a message.
There's also some restrictions on webforms. If you want receptionists to fill out a form to add a new client or customer service case, this must be a publically available link (no login/password required). It most only be 1 page long and have no required fields. Also, while Ruby receptionists can take orders on behalf of your business, they cannot copy credit card information from customers.
Price
Ruby has 3 packages with monthly fees that vary depending on the number of minutes you need and the number of voicemail boxes you wish to set up. There's also a one-time setup fee of $95 for each package.
Plan A ($249/month) gives you 100 receptionist minutes and 1 voicemail box. Additional call time is $2.49/minute.
Plan B ($409/month) gives you 200 receptionist minutes and 2 voicemail boxes. Additional call time is $2.05/minute.
Plan C ($819/month) gives you 500 receptionist minutes and 3 voicemail boxes. Additional call time is $1.64/minute.
Reputation – Positive
Compared to the other answering services we reviewed, Ruby has a top-notch reputation.
Ruby has a perfect 5 star rating on Yelp. Of the 8 users who wrote reviews, many praise the friendliness praise the friendliness and helpfulness of receptionists and note that the company is very upfront and transparent about their pricing and services.
Employee reviews on Glassdoor and Indeed are mixed, but mostly positive. Many receptionists call it a positive and supportive atmosphere. Those who left negative reviews largely complain about the constant need to be "perky" and "willing-to-please" on the phone. As a client, you can interpret that one of two ways: One the one hand it shows there is some employee dissatisfaction. On the other hand, it illustrates Ruby's dedication to having a cheerful and helpful attitude.
 Features:
| Features it has | Features it does not have |
| --- | --- |
| Text/Email Alerts | Dedicated Receptionist |
| Find Me/Follow Me | *Call Recording |
| Call Analytics | Voicemail-To-Text Transcription |
| Outbound calling | |
| Mobile App | |
*Can be set up with a 3rd party service
Setup
The setup process is easy. It happens mostly over the phone and besides the initial account setup, you don't need to fill out any forms.
The first step is to submit an online form with your basic business and account information. Next, you'll receive a call (typically within 30 minutes) from a Ruby representative to set up your call management details. You'll be asked how receptionists should handle certain types of calls and if there's any particular phrases that should be used. Ruby veers away from call scripts to keep conversations natural, but you can still provide guidance for particular scenarios.
Features:
1. Messages & Voicemaill
If a caller has a message for you or an employee, the receptionist will copy it down and immediately forwarded it as an email or text alert. Since Ruby does not operate 24/7, after hours calls will go to voicemail. You can receive voicemail messages via email, or find them in your online user portal where you'll also find regular messages.
2. Find Me/ Follow Me

Each person at your business can set up their own individual call instructions. For example, you can have calls routed to your business number first. Then, if you don't pick up, have it transferred to your cell phone and so on.
If you want your instructions changed – i.e. you're leaving the office and want all calls routed to your cell phone, or if you're about to head into a meeting and want calls held – you can do this very easily by logging into the user portal, mobile app, by email or by phone.
3. Online Dashboard/Mobile App
Ruby "Member Services" is the online portal where you can view real-time call reports, listen to voicemail messages and change account preferences. For example, if you're about to enter a meeting a need all calls to be held, you can specify this in the online portal (or via phone or email). You can view call logs for a particular time frame and them in browser or export them as an excel spreadsheet (read more here).
Ruby has Android and iOS mobile apps that offer this access on the go. You can update your whereabouts to let receptionists know how to reach you. You can also listen to voicemail messages and view caller contact info.
Read more about the Android and iOS mobile apps.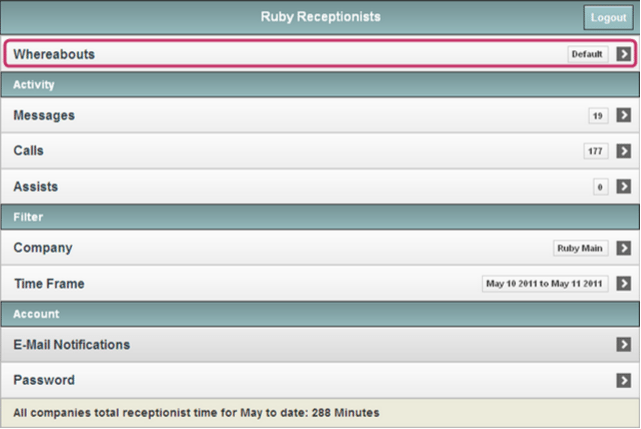 Customer Service
24 hours?
No, Monday to Friday 5am to 6pm PST
US Based or Not?
Yes
Phone, Email & Live Chat?
Ruby has email and phone support available during business hours. While you don't get a dedicated account representative, the support team is highly praised. During my own call I was connected quickly (under 1 minute) and received very knowledgeable responses.
The Bottom Line
Ruby has the best reputation of all the answering services we reviewed. Considering these are services that deal with your clients first-hand, and thus, can make or break your company's reputation, we factored reputation very highly. With Ruby you pay a little extra to know that all calls are handled with quality and care. But still, even at $373/month for 150 minutes, it's much cheaper than hiring a full time receptionist to work in your office.