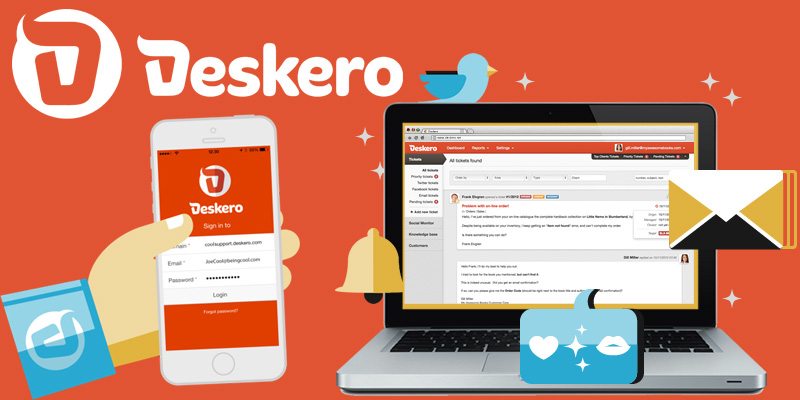 What is it?
An online business help desk tool for small and medium-size businesses.
Want to manage 1000's of leads, save time, and get organized? Click Here to get our FREE CRM guide and find out how.
How popular is it?
Deskero has about 1,000 customers and is more widely used in Europe than the US.
What does it do well?
Provides a help desk for businesses that service clients primarily via social media.
What does it not do well?
Aside from social media and live chat, Deskero doesn't have other integrations, which limits what you can do with it. There is no CRM or phone integration on any Deskero plan.
Who does it work well for?
Small and medium size businesses that get customer traffic through many social media channels and whose primary goal is to centralize that traffic in a single help desk.
Who does it not work well for?
Businesses that do not service their clients via social media.
Free Edition/Trial?
Both. Free "Newbie" edition plus 30 day free trial.
Cost Compared to Competitors?
Expensive.
Type of Solution?
Cloud and Mobile (iPhone and iPad)
Similar products?
US Based?
No. Headquarters and customer service are in London.
User Reviews?
Very Good (see reviews)
Deskero Pricing
| | Price | Includes | Doesn't Include |
| --- | --- | --- | --- |
| Newbie Plan | Free | Canned responses, self-help portal, standard reports, web form. Limited to agent. | Social media support, live chat, chat/email support for Deskero customers |
| Social Plan | $15/agent/mo. | Social media support, live chat on self-help portal, phone/email support for Deskero customers | Canned responses, self-help portal, standard reports |
| Business Plan | $38/agent/mo. | Everything in less costly plans plus workflows and chat widget for your website | Time tracking, merging tickets |
| Power Plan | $78/agent/mo. | Everything in less costly plans plus time tracking, better workflows, multi-brand mgmt, and phone support for Deskero customers | |
Deskero pricing has four tiers.
With most help desks, the pricier the plan, the more features you get. Deskero's somewhat confusing pricing structure doesn't follow this general pattern. The free Newbie plan has features, such as the self-help center and canned responses, that the costlier Social plan lacks. See the table below for what each plan offers.
Read more on Deskero pricing here.
Ease of use
Setup – Easy. As soon as I created a username and password, my Deskero interface appeared. There are two ways to turn your support emails into Deskero tickets: forward support emails from your email client to your help desk or have the help desk import support emails from your email client. Setting up forwarding is easy and more secure. I was able to set up forwarding and begin managing Deskero tickets in a few minutes. A welcome screen popped up to walk me through the other setup steps, such as adding agents.
Administration – Easy. The first thing I noticed was that there were fewer tabs/buttons than with Zendesk or Desk.com, which made it easier to navigate the interface and perform different actions. It was easy to link up social media accounts, use canned responses (called macros), and add notes to a case. When I ran into an issue (for example, I initially couldn't figure out how to add an article to my knowledge base), Deskero's online user guides were very helpful.
End Users – Moderate. Your customer service agents can begin using Deskero's basic features right away, such as replying to emails, using canned responses, and even linking social media accounts. They should take a few minutes to familiarize themselves with the settings dashboard, so they know where all the functions are located. Using advanced features, such social media search and workflows, will likely take more training. The customer can easily respond to Deskero tickets via email.
Help – Moderate. The level of email, chat, and phone support varies based on the the plan that you purchase. Deskero's support website is pretty comprehensive, but as a visual learner, I wish there were more pop-ups on the interface and instructional videos.
Primary Features
These features are in the $38/agent/month "Business" plan. Features vary based on the plan selected.
| Features Included | Features Not Included |
| --- | --- |
| Web Form for Receiving Tickets | Cloning, Splitting, and Forwarding Tickets |
| Canned Responses & Internal Notes | Merging Tickets* |
| Assignment Workflow Rules | Self-Service Community Forums |
| Self-Help Portal w/ Knowledge Base | Embedded Customer Satisfaction Surveys |
| Social Media Monitoring: Facebook, Twitter, and (YouTube by March 2015) | Time Tracking* |
| Reports | Multi-brand/Multi-Product Capacity* |
| Built In Live Chat | Time-based and ticket-based workflows* |
| Supports Multi-lingual Content | |
*Available in Power Plan
Primary Integrations
Beyond social media and live chat integrations, I couldn't find any popular apps that integrate with Deskero. This limits your ability to sync Deskero with other business tools. For instance, you cannot link your CRM, customer survey tools, email marketing tools, or e-commerce site to Deskero. There is also no phone integration, so you cannot accept or make calls from Deskero as you can with other help desks.
If you want greater scope for your help desk, check out Freshdesk or Zendesk, which offer many third party integrations.
Detailed Overview:
Intro/Product Summary:
If you need a help desk to manage your social media channels, Deskero is a great option. It gives you the full extent of Facebook and Twitter integration with a help desk. According to a Deskero rep I spoke with, a YouTube integration is also set for release this year.
Although Deskero offers a free plan, you have to purchase the $15/agent/month Social plan to access the social media features that are at the heart of Deskero. If you want to go beyond social media support and add on other sophisticated features, such as time tracking and workflows, you'll have to buy the even costlier $38/agent/month Business plan. Businesses that want basic (just Facebook and Twitter) social media monitoring plus a range of additional features can get that for cheaper with Zendesk or Freshdesk, our recommended  help desk for small businesses.
In addition to price, another drawback with Deskero is the lack of external integrations. This prevents you from linking other business tools, such as your CRM, to your help desk.
Features
1. Customer Web Form
You can make it easy for your customers to contact you by putting a "contact us" form on your business' website. By default, like other help desks, Deskero converts emails from your customers into a ticket that your agents can reply to.
Deskero lets you build a customer web form into your knowledge base. Customers can then also submit inquiries through this portal, which your agents can respond to through Deskero. Customers can choose whether to submit a request through the portal or initiate a live chat, as shown in the screenshot below.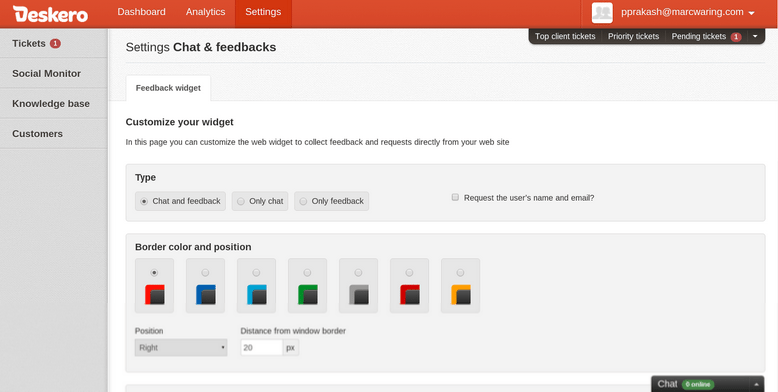 2. Canned Responses & Internal Notes
Canned responses (called "reply macros" on Deskero) let a customer service agent answer FAQs with a single mouse click. You can create macros on any topic in Deskero and easily insert them into individual tickets (but not into multiple tickets at once). Canned responses are different from the self-help portal (more on that below). Canned responses are shortcuts designed to help the agent, while the self-help portal includes answers to FAQs for customers.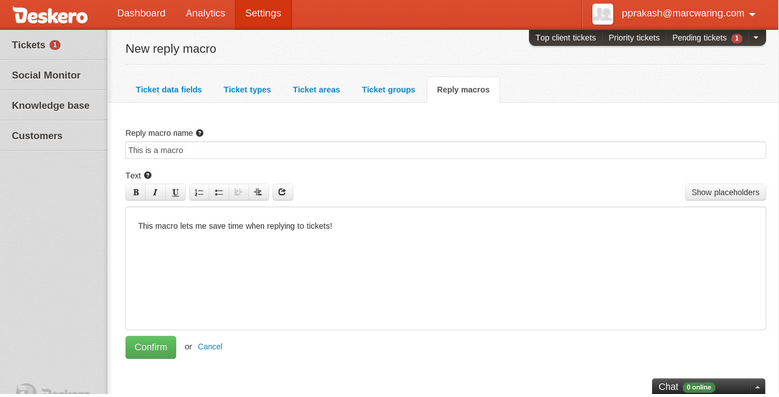 You can also add a private note, visible only to you and other agents, to a case.
3. Workflow Rules
Similar to canned responses, workflows can save your agents the time and effort of manual labor by automating ticket actions. The most advanced help desks come with three types of workflows or custom business rules:
Assignment-related
Time-related
Ticket-related
Deskero's Business plan enables you to create only assignment-related rules. For example, you can automate ticket routing to a particular agent or team of employees (e.g. route all tickets marked as high priority to the sales manager). You cannot route emails based on subject line (e.g. route emails with the subject line "job" to your HR team).
The Power plan lets you create time-related and ticket-related workflows. For instance, you can automatically close tickets if a customer doesn't respond to a question within 48 hours (time-related workflow). You can automatically notify the assigned agent if a ticket's type or priority is changed (ticket-related workflow).
In Deskero, workflows for tickets originating in social media are managed on a different page than workflows for ordinary tickets.
Desk.com and Zendesk offer all three different types of workflows at a lower cost, and Freshdesk offers all three types for free. Automating tickets increases business efficiency, so you may want to choose one of these other help desks for the best value.
4. Self-Help Portal w/ Knowledge Base
A knowledge base lets your customers find answers to common questions on your website, without the need to contact you. This feature is available in all Deskero plans, except the Social plan.
Your customer service team can easily add and edit knowledge base articles from within Deskero. You can also insert knowledge base articles when responding to customer tickets and share knowledge base articles on Facebook and Twitter. If customers can't find the answer to their question on your knowledge base, they can use the customer web form (see discussion above) to contact you.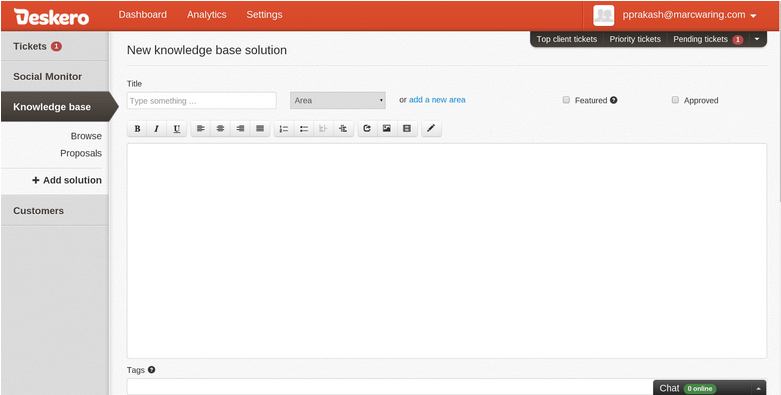 5. Self-Service Community Forums
Community forums, where customers can discuss questions or problems with each other, are another great self-service tool. In Deskero's Business and Power plans, customers can send in proposals and suggested solutions to you, but they cannot discuss questions or issues with each other. For a true community forum, try Desk.com, Zendesk, or Freshdesk.
6. Social Media Monitoring
Deskero excels in engaging your "social" customers. When you buy the "Social" or higher plans, Deskero integrates with Facebook, Twitter, and (soon) YouTube.
Facebook – You can link unlimited Facebook accounts with the Social and higher plans. This converts wall posts, comments, and messages to your business' Facebook account into Deskero tickets (posts/comments/messages about your business on other Facebook pages don't get converted).
When your agent uses Deskero to respond to cases originating from Facebook, the form of the response matches the form of the inquiry. Responses to posts/comments become comments, and responses to messages get added to the message thread.
Twitter – Tweets can really help or really harm your business. Similar to Facebook, you can automatically monitor your business' Twitter feed by converting tweets with your business' @Twitter handle and direct messages into Deskero tickets. You can sync unlimited Twitter accounts with Deskero.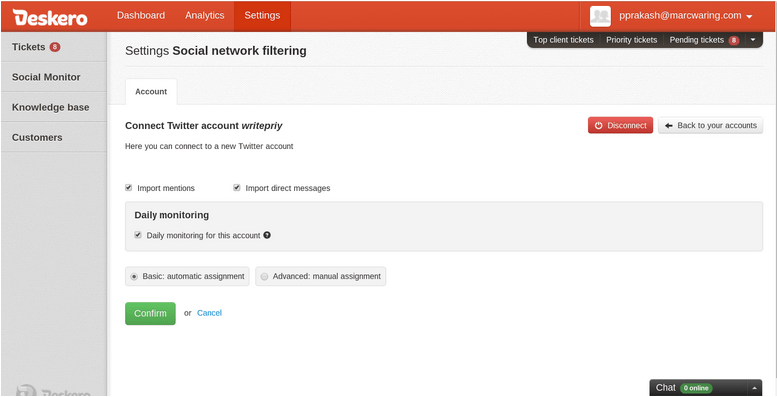 When your agents respond to tickets originating from Twitter, the form of their response mirrors the form of the customer's inquiry.
Agents can also search Twitter traffic for mentions and comments related to your business (e.g. a competitor's new product). You can then turn these results into Deskero tickets.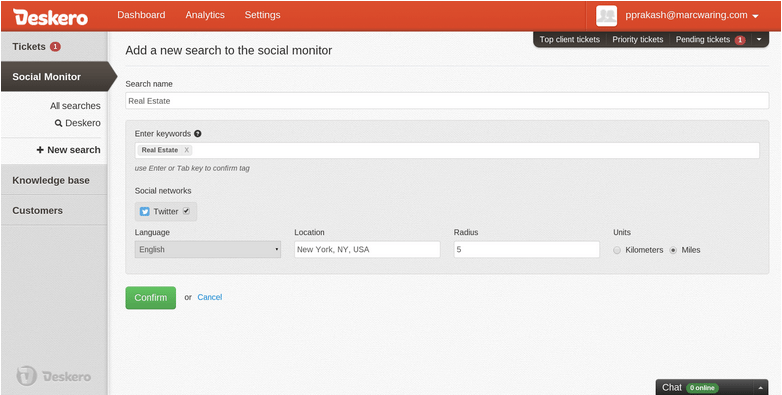 LinkedIn – Deskero was the only help desk to natively integrate with LinkedIn, but after LinkedIn put restrictions on the use of their API in February 2015, they had to disable the integration. If the API becomes available again, I imagine Deskero will bring this back, allowing you to turn comments on a synced LinkedIn account into actionable Deskero tickets.
YouTube – A Deskero rep that I contacted indicated that a YouTube-Deskero integration was scheduled for a March 2015 release. This is an exciting prospect for small businesses that post a lot of demos or other YouTube videos and want to convert the comments associated with those videos into help desk tickets.
7. Live Chat (Built-In and Integrations)
Deskero has a live chat widget that allows you to embed a chat button on your self-service portal (Social and higher plan) or anywhere on your business' website (Business and Power plans only). This allows you to use Deskero as a communication tool to chat with customers while they are browsing and instantly answer their questions. The chats are turned into Deskero tickets that your agents can reference later.
Interestingly, Deskero is also integrated with Zoho SalesIQ for live chat. You can use this integration to convert Zoho SalesIQ live chat sessions into Deskero tickets. We cover Zoho Support, another Zoho product, in our Help Desk Buyer's Guide for small businesses.
8. Phone Integrations
Currently, Deskero does not permit phone integration.
(Phone integration lets you track phone calls in your help desk and convert call records into Help Desk tickets, bringing them under the same umbrella as your other customer communications).
9. Surveys and Email Marketing
Most help desks let you gauge customer satisfaction ("CSat") by giving you the option to embed surveys within tickets or integrate with a survey provider, like Survey Monkey. This feature is not yet available in Deskero. Neither is the option to send email marketing campaigns (through MailChimp for instance) to a set of Deskero customers.
10. Reports, Dashboards, and Time Tracking
Deskero has more than 20 types of reports, included in every plan except the Social plan. Reports for tickets originating from social media (which are included in the Social plan) are displayed separately.
Reports include individual agent performance reports, such as each agent's average time to first reply and average resolution time. There are also overview reports on ticket volume, average time to first reply, and average resolution time. You can view stats related to tickets of a particular priority or from a particular channel.
Time tracking is available only in Deskero's costliest Power plan. Given the simplicity of this feature, I was surprised to see that it wasn't included in the other plans. You can note the amount of time spent on a ticket, but you cannot label time as billable or not billable. For that ability, try Zoho Support or Freshdesk.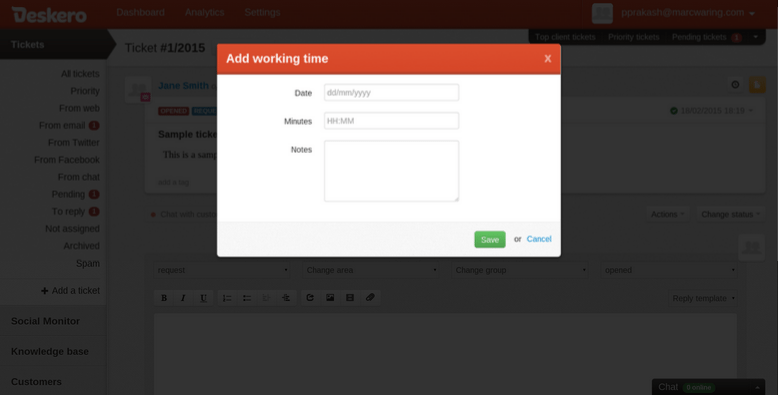 11. CRM Integrations
Deskero cannot be integrated with a CRM system. Some businesses may have both a CRM system to track their sales pipeline and a help desk to answer customer inquiries. Desk.com, Zoho Support, Freshdesk, and other help desks have powerful integrations to help sync information between your CRM and help desk.
12. Ticket-Level Features: Duplicating, Splitting, Merging, Linking, and Forwarding Tickets
Cloning/Splitting Tickets – You cannot duplicate or split tickets in Deskero. Duplicating or splitting a ticket is helpful when multiple agents or departments are needed to handle a customer's inquiry.
Merging/Linking Tickets – Merging tickets is helping when a customer sends multiple emails about the same issue. You can create a single ticket out of two tickets by merging them in Deskero. However, you cannot link or cross-reference tickets while keeping them separate.
Forwarding Tickets – Deskero also does not let you forward an email to a non-agent for resolution.
For better ticket-level functionality, try HappyFox.
13. Mobile Help Desk
Deskero has an iPhone and iPad app to let your agents respond to critical customer service issues on the run. They do not offer an Android mobile app, but the iOS version is pretty advanced. You can reply to tickets, use macros, and even set up workflows and live chat with customers in the mobile versions. More administrative functions, such as linking social media accounts, are reserved for the desktop version.
14. Multi-lingual Support
Deskero is quite good when it comes to multi-lingual support for agents and customers. In any Deskero plan, you can view the agent portal in English, Spanish, Italian, or French. The customer self-help portal is also available in multiple languages.
15. Multi-Brand/Multi-Product Support
Only Deskero's costliest Power plan lets you manage multiple brands by having a separate self-help portal/knowledge base for each brand.
Customer Service
24 hours?
The costliest Deskero Power plan comes with 24×7 chat and email support and 8×5 phone support. The Business plan has 24×7 chat and email support but no phone support. The Social plan has 8×5 chat and email support. The Newbie free plan is self-help only.
US Based or Not?
No. Deskero support is based in London.
Self Help, Phone, Email, Live Chat?
This depends on the plan you purchase (see above).
The Bottom Line
Deskero is a good choice if your business relies heavily on social media and wants to bring social media traffic under a single a help desk. If you want to add on additional features, however, you will end up paying more than you would for competing products. In addition, features that may be essential to some businesses, such as phone integration and community forums, are not available at all on Deskero.
Want to manage 1000's of leads, save time, and get organized? Click Here to get our FREE CRM guide and find out how.