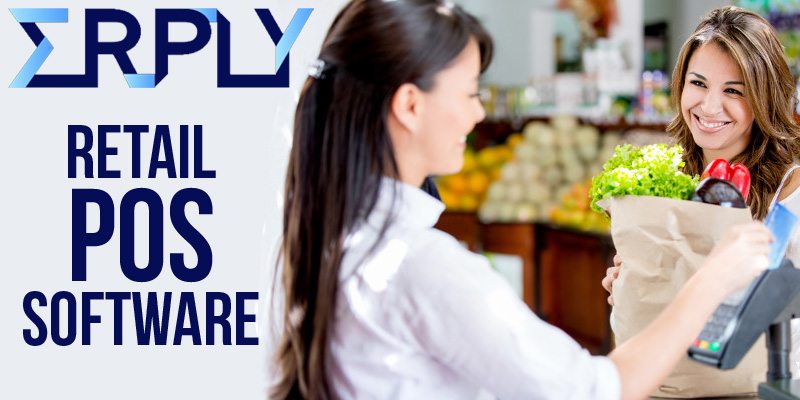 What is it?
POS, inventory management, and enterprise resource planning (ERP) system
Want to Reduce Retail Theft and Better Manage Your Inventory? Click Here to find out how.
Popularity?
Over 120,000 stores using Erply POS
What it allows you to do?
Manage and automate nearly every area of your business, both for an individual store and for chains/franchises (inventory, accounting, reporting, purchase ordering, warehouse, etc)
What it does not allow you to do?
Accept food stamps/EBT, accept offline payments (iPad app), split tickets, table reservations, calculate shrink/waste
Who it works well for?
Retail businesses that want to do accounting, inventory, reporting, purchase ordering, warehouse management, and about everything else using one system. Also very scalable, working well for franchises, multi-store businesses, and businesses that anticipate quick expansion/growth.
Who

it does not work well for?
Retail Businesses that are just looking for a POS system that is cheap and does the basics (payment processing, inventory management, etc) Also not good for Restaurants, Cafes, Grocery Stores, Small Boutiques, Service businesses, businesses with little inventory (focused more on retail).
Free Trial?
14 day free trial
Cost Compared to Competitors?
High
Hardware Included?
None
Type of Solution?
Cloud/Desktop (depending on version)
Merchant Account Included?
No (see Credit Card Processing Section below)
O.S. Platform?
Can be used on any device with a web browser and internet connection, also desktop and iPad versions
Similar Products?
Vend, Lightspeed
US Based?
Not originally, but US branch and customer service now based in NYC
User Reviews?
Good.
How it Works
Erply is a software that transforms any iPad, pc desktop, or device with internet browser into a POS system that can process transactions, manage inventory, and manage many business tasks. The software is downloaded on your main device and connects with receipt printers, cash drawers, credit card swipers, and other hardware, all of which are controlled from your main device.
In addition to normal POS features, such as payment processing, inventory tracking, and employee management, Erply also allows you to generate more than 100 in-depth reports, create/manage/track purchase orders, manage/track customer information and sales history, create promotions/loyalty programs, and more.
Erply Pricing
When talking with various Erply representatives, there was some confusion as to what exactly pricing started at. But, after several email and phone conversations, I think we got it all figured out. What's confusing, is that the online pricing page is close, but not quite right.
Base Price = $200/location/month
Add-ons = $35/additional register/month
$20/additional 10 users/month
These are the advertised rates on Erply's Webpage for a medium retail chain. Yet, during my conversation with the sales rep, the small retail chain pricing was not even mentioned. But, since the small retail chain cost is more expensive, and from what all the reps were telling me, this $200/location/month is the base cost, which includes the following:
All Erply pos and inventory management features:

Accept a variety of payment types (cash, check, card, etc)
Track/manage inventory (multi-store transfers, modifiers, categories, wholesale costs/pricing markups, and much more)
Create/manage/track purchase orders from all vendors
Track employee hours/shifts/commissions
Manage customer information/contact lists/marketing campaigns
And more: click here to see full feature breakdown

1 Hour training session
Data importing (import inventory list, etc, for you)
Data cleanup/conversion (get rid of repeats, switch formats over to Erply system)
Hardware Costs

Erply offers two hardware bundles, one at $615, which includes an iPad enclosure/stand, cash drawer, and receipt printer. The other bundle, costing $940, includes the same hardware as the cheaper bundle, but adds a barcode scanner. You can also buy the hardware piecemeal once you have an Erply paid account.
Credit Card Processing Fees
Erply integrates directly with Mercury Payment Systems and Element Payment Services, two popular merchant account providers, although Erply does not actually provide their own merchant account. Basically, this means you have to apply for a merchant account from one of these two services. If accepted, you can then process credit cards directly on your Erply POS.
Neither of these companies advertise their rates, but from the research I have done, they start around 1.9% per swiped transaction, and have both tiered and interchange plus plan options. To learn more about these terms and processing rates, see our Credit Card processing fees article.
Technically, you can also use any third-party payment processor. But, you have to get a separate device to process the card payment, and then input an authorization code into the Erply system, which seems way too much of a hassle to be at all feasible as a long-term business solution.
Ease of use
Erply's wealth of features is almost dizzying when you get started, the POS can do so much it can be overwhelming. This is why there is quite the initial learning curve. There is a reason it is called Erply, with the ERP standing for enterprise resource planning, referencing business software that manages and automates most of the back-office functioning of a business. If you are looking for a high-powered ERP, then the learning curve and hassle upfront is just part of the process. But, if you just need a more basic POS system, Erply is probably going to be overkill, both in features provided and difficulty of use.
Software Download/Setup: Easy
Downloading and setting up Erply's Software is actually the easiest part of the process. Regardless of whether you are using Erply's iPad or desktop version, you simply go to their website's pos software page and click the appropriate link (iPad, desktop, etc). You have to be clicking from the device you are going to install the software on.
If you are using an iPad, as I did, you can also just go to the app store and download Erply POS there as well (this is where the link on their site routes you too anyway). The important thing, is that you need to be careful to download the app that actually has Erply in the title. Erply has older versions of the app that you want to avoid that will also come up when you search (reference screenshot below).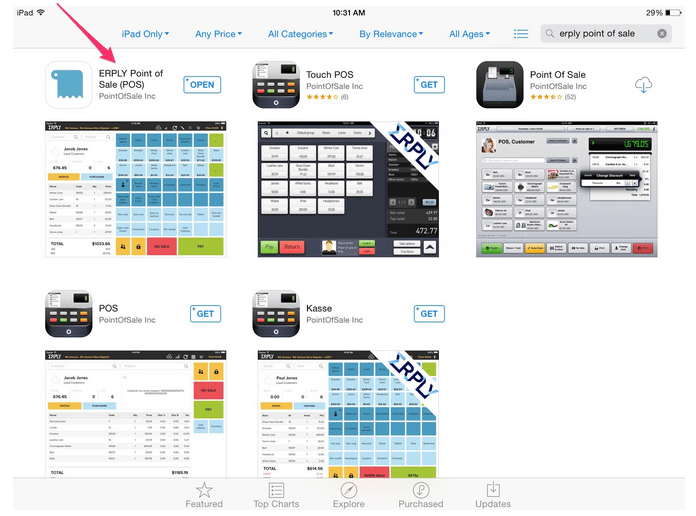 Store Setup: Difficult
Erply has so many different options, that store setup is quite the task. The homepage looks innocent enough, with its various tabs at the top of the screen to access various pages.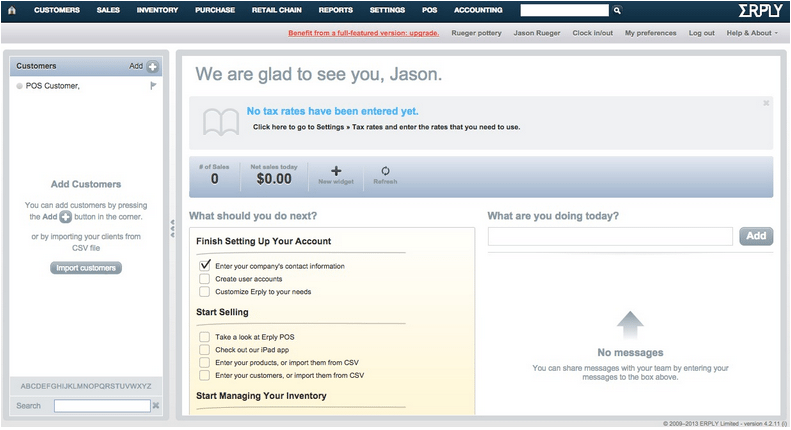 But as soon as you actually click on a tab, you start to see the range of options that take awhile to configure. Let's use the inventory tab as an example.
There are a bunch of options, from product related fields, to locations, to inventory transfers, to stocktaking counts, and more. And things do not get any less complicated when you click on individual tabs. Let's look at the "new product" tab.
You cannot simply add a product. Before you do that, you have to set product group, categories, supplier, priority group, etc. In other words, it is going to take you awhile to set up your POS system. But, once it is set up, it will be able to do much more than a lot of other POS systems.
Register Use: Moderate
The register is not too difficult to use. The only reason I gave it a moderate difficulty rating, is because it has a lot more going on than some POS register interfaces. In other words, it is cluttered enough that there will be some training necessary on your part to get your employees up-to-speed.
Here's the standard register screen.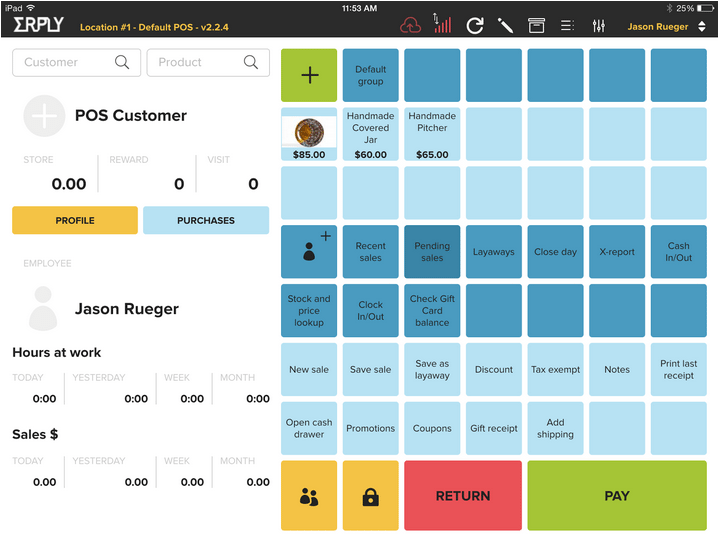 As you can see, there is a quite a bit going on. It has your customer stats on the top left, if they have been a previous customer. It tells the employee the hours they have worked and their sales total on the bottom left. On the top right are your quick-pick item buttons. In the middle and on the bottom are buttons related to various register tasks. Not rocket science, but definitely a bit complicated.
When you add items to the cart, they show up on the left-hand side of the screen.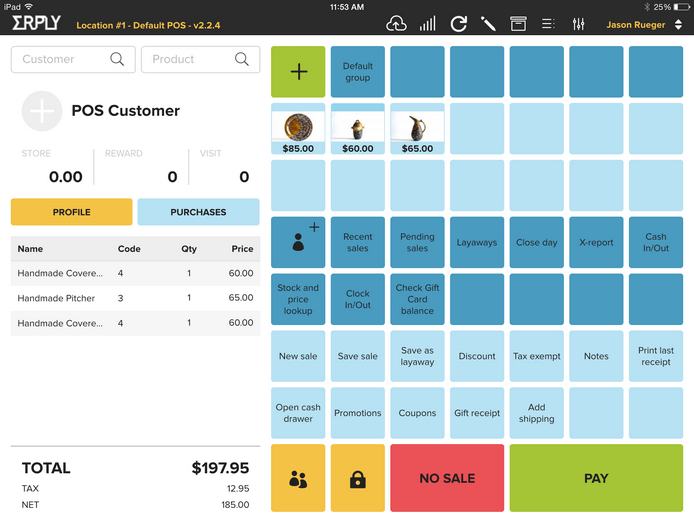 When a customer is ready to check out, then you just hit the "Pay" button and the payment screen will pop up.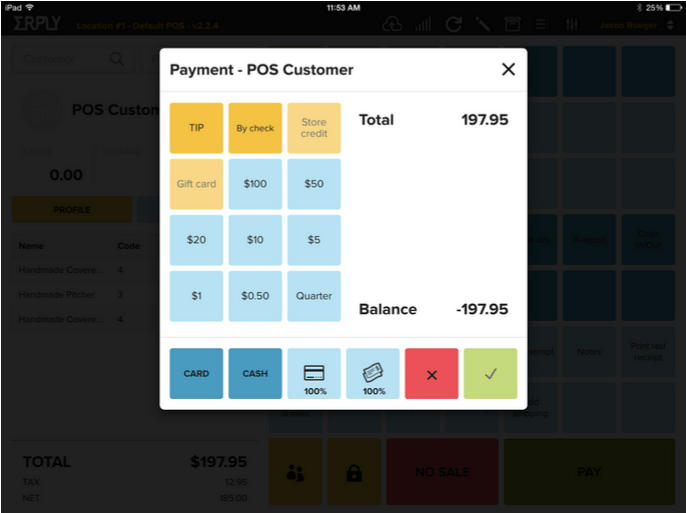 Add in the correct payment information, click the green check mark, and then you will be given change information and asked to choose what, if any, kind of receipt you will provide.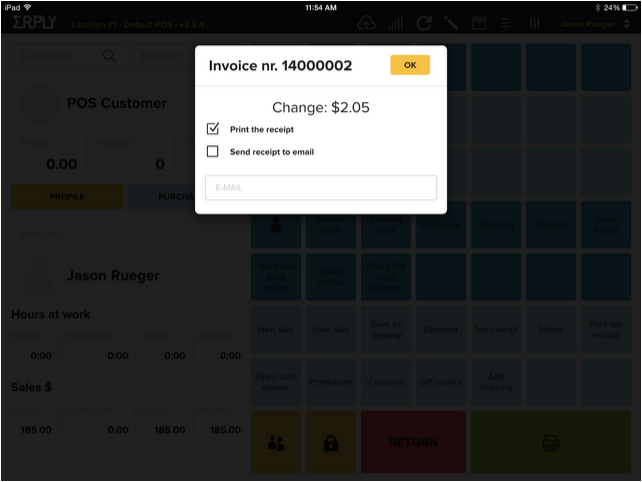 Features
| Features Included | Features Not Included |
| --- | --- |
| Accept many different payment types (cash, check, credit, gift card, etc) | Does not accept food stamps/EBT |
| Over 100 different in-depth reports available (sales,cost of goods sold, employee productivity, and much more) | Does not have a true split check feature (can enter multiple payment types and amounts on same check) |
| A wide-variety of inventory management tools (track item quantity, multiple category and tag options, multi-store inventory tools, etc) | |
| Purchase order creation, management, and tracking | |
| Employee time-tracking | |
| Payroll creation/management | |
| Accounting tools using Erply Books (additional monthly fee) | |
| Add customer information, organize contact lists, launch marketing campaigns (CRM tools) | |
Integrations
Erply's goal is to provide you with an enterprise resource planning solution, meaning they want to be your all-in-one retail management solution. Considering this, they have tried to include most functionalities without having to involve outside integration. This is why all their purchase order/management, inventory management, CRM features and more are all included in their platform. They also integrate seamlessly with their accounting solution, Erply Books, a QuickBooks of sorts (additional monthly fee from $10-$50).
However, Erply realizes that there are certain important integrations that they must have. This is why they do integrate with QuickBooks, despite having their own accounting service. They also play well with Paypal, which is key. Lastly, they integrate with a variety of online shopping carts/ecommerce solutions, which is the one main area of functionality they lack.
| Integrations | Non-Integrations |
| --- | --- |
| QuickBooks | Mailchimp (there is a third-party app but not built by Erply certified partner) |
| Erply Books (accounting) | |
| Excel | |
| PayPal | |
| PrestaShop | |
| Shopify | |
| Magento | |
| WordPress Cart | |
| | |
Detailed Overview:
If you are a retail business, especially one that is growing quickly/has multiple stores, then Erply could be a great fit, because they provide all the tools you need to manage your store/chain of stores, all in one solution.  
If you just need a basic POS for payment processing and general inventory management, then Erply's POS is probably going to be overkill for you. Second, if you are not a retail business, Erply's probably not a great fit.
Also, it is important to understand that Erply's website is pretty confusing. They have all kinds of offerings they seem to provide. But, when actually talking with Erply support staff, it really turns out there is just one system (pos, inventory management, multi-store tools, etc) and product that can be configured a variety of ways to meet your needs. It can also work on any web browser, but has specific software for desktop and iPad applications as well.
With Erply, you can do it all. You can do in-depth inventory management, both in individual stores (item tracking, low-inventory alerts, product categorization, etc) and in-between multiple stores (inventory transfer, multi-store inventory lists, etc). You can create and manage all of your purchase orders and vendors, even setting up automatic triggers to create/send purchase orders and creating/sending multiple purchase orders with just one click. Erply also allows you to manage customers/contacts, track employee hours/commissions, and much more. If you decide to use Erply's accounting solution, Erply Books, you can seamlessly import all your financial data from Erply POS, including employee timesheets to simply Payroll.
Erply does have several negatives. First, it is pretty expensive when compared to lightweight POS systems such as ShopKeep or Vend, costing at minimum $100/per location and normally more (1 register). Second, it is really complicated to set up, due to the extensive features it offers. It could take several days to several weeks to get everything configured, so don't expect to be accepting payments the day after you get your Erply POS software. Third, if you are technologically challenged, this system could be too much for you, even with training, due to the complicated nature of its interconnected parts (categories, products, vendors, etc).
All in all, if you want a scalable and in-depth solution to manage/automate every area of your retail store, then Erply is great. If you want a more basic solution, are technologically challenged, are looking for a cheap deal, or run a business other than retail, you probably want to look elsewhere.
Features
1. Inventory Management
Erply has all the tools you need to conduct in-depth inventory management using your POS system. You can track item quantity, set low-inventory alerts, transfer inventory in-between stores, track costs/markups (wholesale, retail, etc), set a variety of product categories/tags, apply vendors to each item, and much more. If inventory management is your thing, Erply's got you covered.
2. Employee Management
If you want to manage your employees on your POS, Erply can do it for you. You can set various user permissions, set sales commissions, set manager store commissions, set automatic commissions for goals reached, time-track hours worked, and a variety of other tasks. You can also do payroll (see payroll section below for more details)
3. Customer Relationship Management (CRM)
Erply has a variety of in-depth CRM tools. You can add customers as contacts (business or personal), create customer groups, create loyalty/reward programs, assign specific discounts/offers to individual customers, and configure non-profit customers so their purchases are automatically tax free.
4. Always-on/Offline mode (accept payments even when offline)
This is a little tricky. If you have a software version of Erply installed on your windows device, then you have a software/cloud hybrid, which can always accept transactions regardless of internet connection. It just syncs and processes transactions on the whenever internet connection is re-established.
However, Erply's iPad app is completely cloud-based, and currently does not have an offline mode function. So, you either have to go for it and risk losing your ability to accept transactions if your internet goes down, or get a more expensive iPad with cellular 4G.
5. Barcode creation/scanning
Erply has all the features you need to create, scan, and print your own barcodes. You can even accessorize your barcode labels to include your logo, which is pretty cool.
6. Label creation/printing
If you want to create and print your own labels with Erply POS, then you are in luck. You can create, print, and even customize your product labels to fit your business needs.
7. Gift Card/Discount Options
Erply allows to to set whatever discounts (promotions) you want, and gives you in-depth rules so you can set minimum purchase price, date range, dollar or percentage off, discount specific items/categories of items and more.
You can also set up your store to sell and accept giftcard payments. Erply has all the tools you need, from creating gift cards as a store product to tracking outstanding gift card liabilities, to customer's redeeming gift cards at the register.
8. Ecommerce/online storefront option
Although Erply does not provide an ecommerce option, developing solid integrations with some of the main online ecommerce platforms/shopping carts has been a focus of theirs. You can connect your Erply back office to Shopify (most in-depth integration), Magento, PrestaShop, and WordPress cart. Some of the integrations, such as with PrestaShop and Magento are open source/free apps created by Erply. These allow syncing of a variety of inventory management features but have certain limitations. Shopify's app is the best integrated, but can also cost up to $100/month.
9. Mobile payment option
Erply has a mobile-payment integration with Paypal Here, which allows you to accept payments on the go using your mobile phone.
10. Purchase Order management
Erply has powerfully purchase order management tools. You can create purchase orders, manage vendors and send purchase orders to multiple vendors with a single click, set automatic purchase order creation triggered by low-inventory alerts, track purchase order status/shipments, do partial purchase order fulfillment, and write-off damaged goods. Pretty much the works.
11. Reporting
Erply has a wide-variety of in-depth reporting options. You have the ability to run over 100 different reports directly from Erply's "Reports" tab. You can run sales reports based on customer groups, products, types of products, departments, and much more, having them displayed for any time period, from hours to months. You can also generate a variety of reports related to inventory, employee productivity, purchase orders, products, commissions, coupons, Cost of goods sold, and more.
In other words, if you are hoping to streamline your inventory, employee shifts, and general business flow based on hard data, Erply gives you all the tools you need to do it.
12. Appointment Booking/Reservations
Erply does not allow customers to book appointments/reservations for your business using their POS system (Salon and Spa edition allows input of appointments and such, but does not provide a way for customers to set up appointments without having to call in)
13. Payroll
If you are willing to pay the extra (between $10 and $50 per month) to use Erply's accounting solution, Erply Books, then your employee-time tracking can be automatically imported and payroll calculated simply by clicking several buttons.
If you use QuickBooks or some other software, you will have to export your Erply files in the right format, import them into QuickBooks, and then calculate payroll from there. Not super difficult, just several added steps.
14. Restaurant Tools
Erply is not going to be your best choice for restaurants. It does allow you to send receipts to a kitchen printer, keep open checks, and split checks. But, it is lacking  some important restaurant features like table reservation, table layout, and others.
15. Grocery Store Tools
As mentioned previously, Erply is primarily meant to be a retail store solution. Considering this, the system does not work the best for grocery store applications. It does not accept food stamps/EBT or calculate shrink/waste (although you can write-off "damaged inventory"). Even functionally, it is just not really set up to function efficiently grocery store setting.
16. Retail Store Tools
Erply's POS and it's inventory management system is specifically designed for retail is very scalable. You can do in-depth/multi-store inventory management, create/manage/track purchase orders, manage vendors, and much more. If you want a high-powered retail POS system that can do everything, Erply's a good choice.
Customer Service
24 hours?
No (9-5 EST M-F)
US Based or Not?
Yes (New York City)
Phone, Email, Live Chat?
Erply has a pretty in-depth self-help portal which can be found here. They also have email and phone support, M-F from 9-5 EST. From the research I have done, Erply's customer service can be hit or miss. From my experience, both via email and over the phone, they were helpful and polite, but were not necessarily willing to go the extra mile to help me out.
Want to Reduce Retail Theft and Better Manage Your Inventory? Click Here to find out how.
Conclusion
What it really comes down to, is if you are a retail business that wants to run/manage every aspect of your business from your POS system, then Erply is probably a pretty good fit. This is especially true if you have multiple locations and need a centralized online hub for operations.  But, if you just need a low-priced POS system that does basic payment processing and inventory management, then Erply will be over-priced and over-complicated for your business.