As a small business owner, you will most likely hire an independent contractor to do some work for you at some point. When you hire an independent contractor, there are tax reporting requirements that you must meet. If you have employees, then you know that you have to provide them with a W2 form. 1099 reporting is basically the independent contractor's "W2." A 1099 form shows the total payments you have made to a contractor from January through December. This is income to the contractor that they will need to report on their tax returns.
Never Worry About Filing Form 1099 Again: Use Gusto's Payroll Filing Service
For a quicker and easier way of filing Form 1099, you can use a payroll service such as Gusto, which files all payroll tax forms (including form 1099) on your behalf. Gusto is much less expensive than a traditional payroll service. Click here to try it out for free, or find out why we recommend Gusto here.
In this article, we will cover the following most common questions small businesses have when it comes to 1099 reporting:
What is a 1099 Form?
As a small business owner, you will complete Form 1099 Miscellaneous to report any payments of $600 or more made to vendors and contractors during the calendar year. In general, you will report Income, Interest, and Dividend payments made on this form.
It is very important for you to keep track of these payments throughout the year so that you can accurately report this information to both the contractor and the IRS.
The benefit of hiring an independent contractor versus an employee is that you don't have the added cost of payroll taxes and benefits. However, you want to be sure that your independent contractor does not meet the legal definition of an employee or you could face penalties. To learn more about hiring an independent contractor, check out this article published by the Small Business Administration.
When is 1099 Reporting Required?
A 1099 Form is generally required when:
You made payments of $600 or more in a tax year to the contractor during the normal course of your trade or business.
The payments made were for services provided by someone who is not an employee.
The payments were made to a business or individual who is not a corporation or an LLC that is treated like an S corp or C corp for tax purposes.
Below I have provided a couple of situations to help demonstrate when you need to complete Form 1099 and when you do not:
Scenario #1:
Mary is an HR Consultant that you have hired to recruit new employees, provide orientation to all new employees, and manage benefits & payroll for all of your employees. Mary works 40 hours a week and is a remote employee. She is considered an independent contractor and does not receive any employee benefits. You meet with her on a weekly basis via Skype to discuss any pertinent issues. On occasion, Mary will purchase office supplies or attend a seminar and pay out of pocket. She submits an expense report for these purchases and is reimbursed by your company.
For 2016, you paid Mary a total of $50,000. You will need to complete a 1099 Form, and it will show nonemployee compensation of $50,000 in Box 7. However, any reimbursement payments made to Mary are not considered income and therefore do not belong on Form 1099.
Scenario #2:
Chris is a QuickBooks ProAdvisor that you hired to setup QuickBooks and train you on how to use it. While you plan to do the books yourself, you have agreed to have Chris come in every quarter to review your financial statements and make sure that you are doing things correctly.
For 2016, you paid Chris a total of $599. You do not need to complete a 1099 form since the amount paid ($599) is below the $600 threshold set by the IRS.
What You Need to Keep Track of for 1099 Reporting
Here are 4 things that you need to do to successfully track and report 1099 information to the IRS:
Where Can I Get 1099 Forms?
The IRS provides 1099 forms for free of charge. Just click here to visit the website and place your order. Please note that you are limited to a quantity of 1000 forms.
You can also purchase 1099 forms at your local office supply store like Staples or the big discount warehouses like Costco and Sam's. If you use QuickBooks, then you can purchase a 1099 kit directly from Intuit. Later in this article, we will discuss the benefits of using an accounting software program like QuickBooks to prepare your 1099 forms.
How Do I Complete a 1099 Form?
There are a total of 18 boxes on a 1099 Form. In general, you will use Box 7 (Nonemployee compensation) to report payments made to self-employed individuals like bookkeepers, plumbers and website designers. Depending on the type of payment that you are reporting, you may also use a couple of the other boxes. To help you determine which boxes may apply to you, below you will find a brief description of what type of payments you should include in each box on a 1099 Form:
Summary of Each Box on the 1099 Form
Box
What to Include
Box 1 - Rents
Payments made to landlord or property manager for office or warehouse space used for business.

Payments made for machine or equipment rental should also be included in this box. For example, if you rent a copier for your office, then those payments should be reported in this box unless the recipient is a Corporation.
Box 2 - Royalties
Gross royalty payments from intangible property like patents copyrights or trademarks should be reported here.
Box 3 - Other Income
Enter other income of $600 or more that is required to be reported on this form but does not fit in any other box.

Prizes and awards that are not for services performed should be reported here.

Payments made to a deceased employee must be reported in this box. The 1099 should be addressed to the designated beneficiary along with their tax id number.
Box 4 - Federal Income Tax Withheld
Enter backup withholding in this box. For example, if an individual has not provided you with their Federal tax id or SSN, they are subject to withholding on any payments that you have made to them. For more info on backup withholding, click here.
Box 5 - Fishing Boat Proceeds
Enter the individual's share of all proceeds from the sale of a catch. Also report cash payments of up to $100 per trip that are contingent on a minimum catch and paid for other duties performed such as mate, engineer or cook. Do not report any wages that belong on Form W-2.
Box 6 - Medical and Health Care Payments
Enter payments of $600 or more made in the course of business to doctors and other suppliers of medical or health care services. This also includes payments made to medical and health care insurers under health, accident and sickness insurance programs. You are not required to include payments to pharmacies for prescription drugs.

Note: The exemption from issuing a 1099-Misc does not apply to payments for medical or health care services to a Corporation.
Box 7 - Non-Employee Compensation
Payments of $600 or more made to a nonemployee belong here. In general, you will include payments made to independent contractors in this box. This box should include fees, commissions, prizes and awards paid for services performed as a nonemployee. (i.e. independent contractor).
Box 8 - Substitute Payments in Lieu of Dividends or Interest
Include substitute payments in lieu of dividends or tax-exempt interest received by your broker on your behalf as a result of a loan of your securities.
Box 9 - Payer Made Direct Sales of $5,000 or More
Enter an X in this checkbox if you sold $5,000 or more of consumer products to a person on a buy-sell-deposit-commission basis for resale other than in a permanent retail establishment.
Box 10 - Crop Insurance Proceeds
Crop insurance proceeds of $600 or more paid to farmers by insurance companies should be entered in this box, unless the farmer has informed the insurance company that expenses have been capitalized.
Box 13 - Excess Golden Parachute Payments
Enter any excess golden parachute payments in this box. In general, an excess parachute payment is any amount that exceeds the average compensation for services in the individual's gross income over the most recent 5 years.
Box 14 - Gross Proceeds Paid to an Attorney
Enter payments of $600 or more made to an attorney for legal services provided.
Box 15a. - Section 409A Deferrals
In general, you will not have to complete these boxes. For more info, check out 409A Nonqualified Deferrals.
Box 15b. - Section 409A Income
In general, you will not have to complete this box. For more info, check out 409A Nonqualified Deferrals.
Boxes 16-18 - State Information
These boxes need to be completed for those businesses who are required to file paper copies of this form with a state tax department.
When and How Do I File 1099 Forms?
If you made payments to nonemployees and completed Box 7, then all 1099 forms must be postmarked no later than January 31 of the following tax year. This is also the deadline to file Form 1096 (Annual Summary & Transmittal of U.S. Information Returns) with the IRS. Form 1096 is a summary of all 1099 Forms that you are required to prepare and file.
If you completed any of the other boxes on Form 1099 then you've got until February 28th of the following tax year to mail the 1099 forms & file the paper Form 1096 with the IRS. However, if you take advantage of filing electronically then you buy yourself an extra month and you don't have to mail the 1099 forms & file the electronic Form 1096 with the IRS until March 31. Below is a summary table for filing 1099 Forms.
Summary Table of Due Dates for Filing Form 1099 and 1096
| Box | Filing Method | Due Date |
| --- | --- | --- |
| Box 7 - Nonemployee Compensation | Paper or Electronic | January 31 of the following year |
| All Other Boxes | Paper | February 28 of the following year |
| All Other Boxes | Electronic | March 31 of the following year |
In order to file electronically, you must be approved by the IRS. To be approved, you must submit Form 4419, Application for Filing Information Returns Electronically (FIRE). It generally takes 45 days to process an application so be sure to do this way ahead of the deadline. For more information on the requirements to file electronically, refer to IRS Pub 1220.
If you go the snail mail route, refer to the bottom of Form 1096 for the address to where to mail your paper forms. I recommend that you send these documents certified mail with a return receipt. This will give you proof that the IRS received your documents should you ever need it.
You also need to mail the independent contractors a copy of their 1099 Form. If you file your forms electronically with QuickBooks, then you have the option of emailing your independent contractors the 1099 Form as a PDF document. We will discuss this in more detail next.
How Do I Create 1099 Forms in QuickBooks?
If you use an accounting software program like QuickBooks Online, then you can set the program up to keep track of all 1099 payments which will make 1099 reporting a piece of cake. However, if you don't use an accounting software program, then you will have to manually keep track of the payments that you have made so that you can report them on the 1099 Form. To complete the forms, you will need to either write them by hand or find a tax professional who may charge you a fee to print them using tax software (IMPORTANT: You cannot use the PDF form found on the IRS website to create your 1099 forms).
Setting up 1099 tracking in QuickBooks Online can be done in 10 easy steps:
Step 1 – Set Up the Contractor as a Vendor in QuickBooks.
When setting up a new vendor in QuickBooks, it is important to complete both the Tax ID # (or SSN) field and the checkbox underneath that says Track payments for 1099 as indicated in the screenshot below.  To learn how to set up a new vendor in QuickBooks, check out our Setting up a New Vendor tutorial. It has step by step written instructions and a short video to show you how to do it.
Tip: The W9 Form that we discussed previously will have all of the information that you need to complete this setup.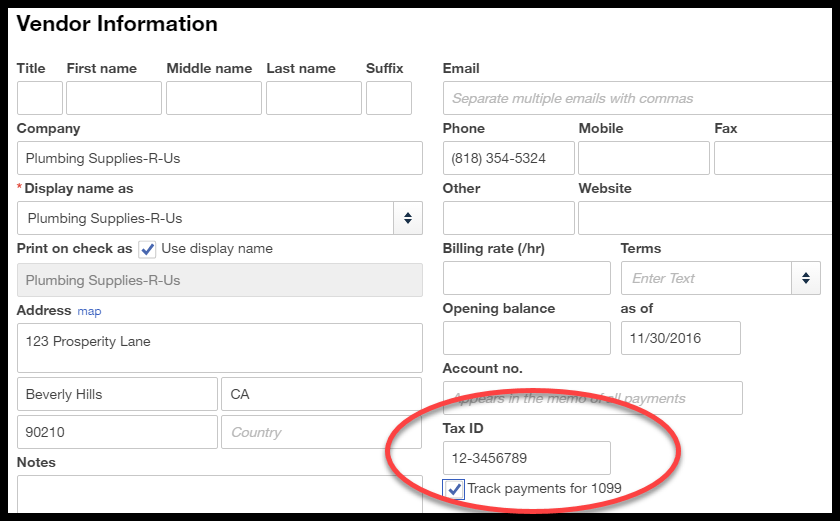 Step 2 – Set Up an Account to Track Vendor Expenses.
To keep things simple, you should set up an account called Contractor Expenses on your Chart of Accounts List. To learn how to do this, check out our Chart of Accounts tutorial. Use this account to categorize all payments that you make to an independent contractor.
Step 3 – Navigate to Vendor Center
From the left-hand menu bar, select Vendors as indicated below.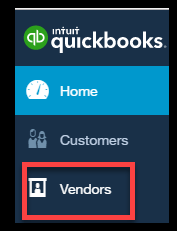 Step 4 – Navigate to 1099 Reporting
At the top of the Vendor screen, click the Prepare 1099s button as indicated below.

Step 5 – Prepare 1099-MISC Forms
From this screen, you can download the PDF document, watch the video, or just get started with preparing your 1099 Forms.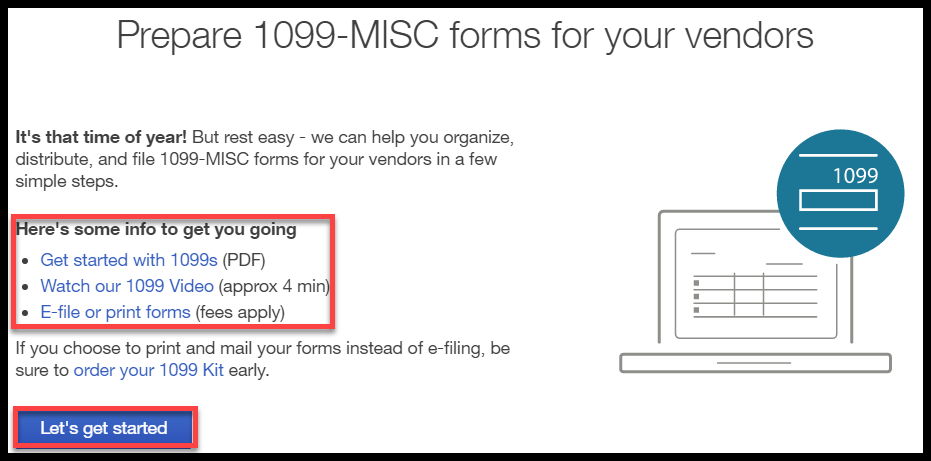 Step 6 – Review your Company Details
From this screen, verify that your company information is correct. This information will print in the Recipient portion of the 1099 Form so you want to make sure that it is accurate.

Step 7 – Assign your Vendor Payments to 1099 Categories
From this screen, you want to put a checkmark next to each box that you will be reporting 1099 payments. Most small businesses will be using Box 7 (Nonemployee compensation). However, refer to the How Do I Complete a 1099 Form? section of this article to see if any of the other boxes apply.
Once you select the appropriate boxes, you need to select the account that was used to categorize these payments (i.e. subcontractors expense) as indicated below.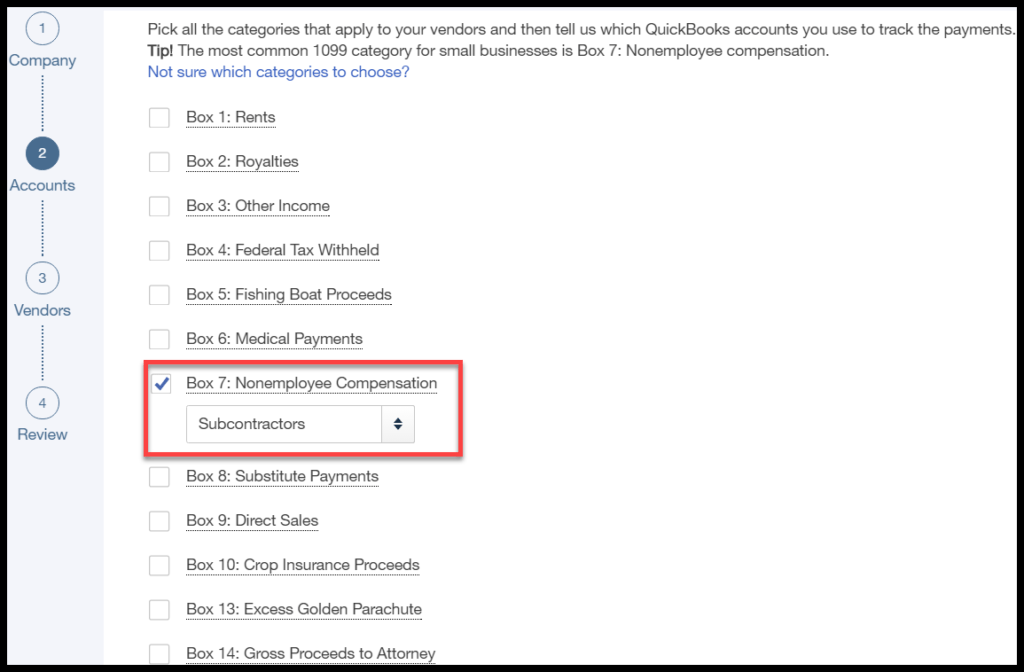 Step 8 – Confirm your 1099 Vendors
Review the list of vendors to ensure that all independent contractors are listed here. If anyone is missing, just click the Select 1099 vendors button as indicated below to add them to the list. Be sure to double check that the address and Tax ID or SSN number is correct. This is the information that will be printed in the Recipient section of the 1099 Form.

Step 9 – Review 1099 Vendors and Payments
This screen provides you with a preview of the totals that will print on each vendor's 1099 Form. In the upper right hand corner, you can see the total number of vendors and the grand total of all 1099 forms.

Step 10 – File & Send your Forms to the IRS and Vendors
The final step is to file your 1099s electronically or print and mail your forms. See a brief description of what each option entails below.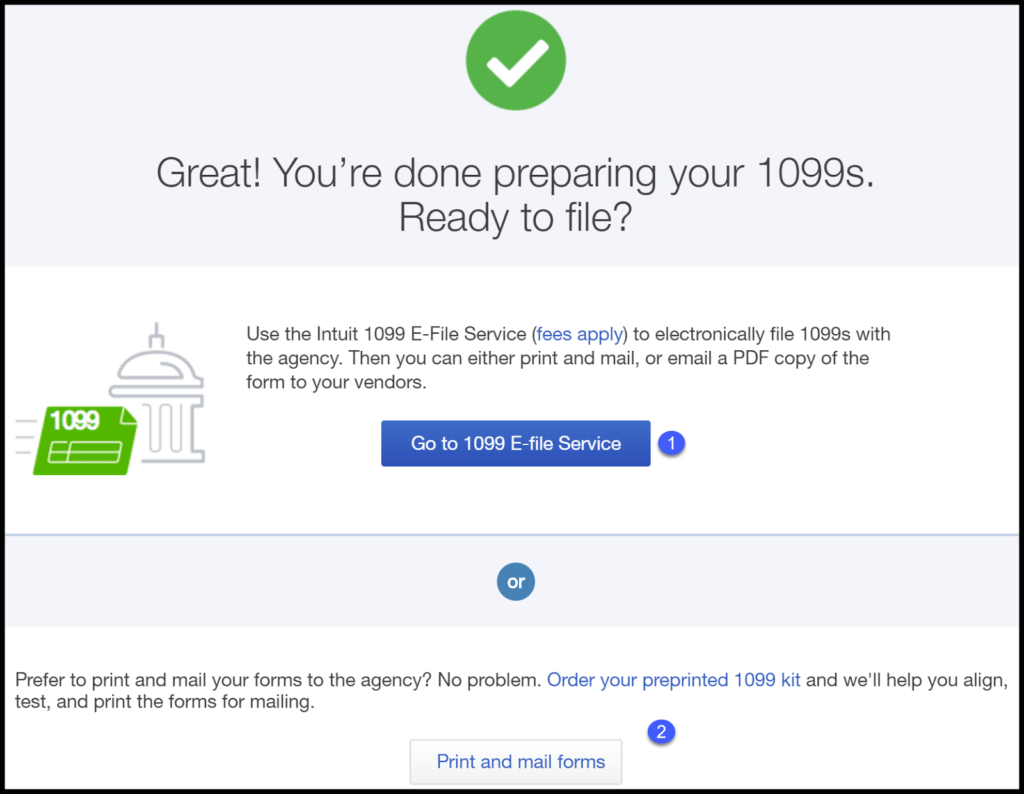 Electronically file – With this option, you can submit your 1099 forms electronically to the IRS in just a few steps. The cost for using this service starts at $14.99 for 3 forms. You will pay $3.99 for each additional form. To get started with this service, click here. After filing electronically with the IRS, then you can print and mail your 1099 forms or email a PDF copy of the form to each vendor.
Print and mail forms – With this option, you can just order your 1099 kit that we discussed earlier. The kit will include preprinted 1099 forms and instructions on how to print the forms for both the IRS and your vendors.
The Bottom Line
By now, you should have a pretty good understanding of what 1099 reporting is, who you need to provide a 1099 form to, and what the IRS 1099 reporting requirements are. If you're in the market for a new accounting software, we recommend that you check out QuickBooks Online. In addition to making 1099 reporting a breeze, it keeps track of all income and expenses throughout the year so that you are able to quickly produce accurate financial statements whenever you need them. Check out our free QuickBooks Online course to help you get your business up and running smoothly.