Small Business Owners are always looking for more time. One recent study by Infusionsoft found that small business owners identified "time to get things done" as the biggest challenge for their business. With time being such a precious commodity, anything that can save you and your business time is important. That's why I have put together this list of small business apps, each of which save me 5 minutes or more a day. Check them out below.
Click Here to get our FREE Google advertising guide and discover the 6 steps you can use to show up #1 in Google search

1. Wave – High-Powered Accounting for Free
What it Does
If managing money is not your strong suite, WaveApps may be your dream come true. For absolutely free, you get some pretty sophisticated accounting features. You can import all transactions from your bank account, both business and personal, and set it up so that many are auto-categorized when they are imported (such as rent, insurance, equipment, etc). You can even do invoicing, payroll (pay for transaction fees for invoicing and monthly fee for payroll), and other things like uploading receipts, tracking bills, etc.
How It Saves Me Time
I am by no means a Wave expert yet. But, there are ways in which Wave really saves me time, as I explain below:
It's So Easy to Use

 – Ease-of-use is always a consideration with any app. But, with accounting apps, which can often be over-complicated, it is especially important. Wave is by far the most intuitive accounting app I have used, which saves me a lot of time I would otherwise spend trying to figure everything out.

I have all my financial info in one place

– Although most accounting solutions provide a way to track both business and personal finances separately, I really like the way Wave sets it up. They are basically set up as separate accounts, which makes sure you do not get the two confused. But, they are both accessible with one-click, simply by choosing the correct tab at the top of the page. By keeping things separate but still having it all accessible in one place, I save a lot of time compared to the other financial and accounting apps I have used.

I can create detailed income/spending reports in minutes

– Ever wonder how much you spent in a certain category in the last month? I do all the time. With Wave, I can tell within a minute or two what my totals are, click on any category, and immediately have a detailed report that I can reference/print. Although it takes a little work upfront to setup, it will save you loads of time in the long run (especially come April 15th or so). (see below)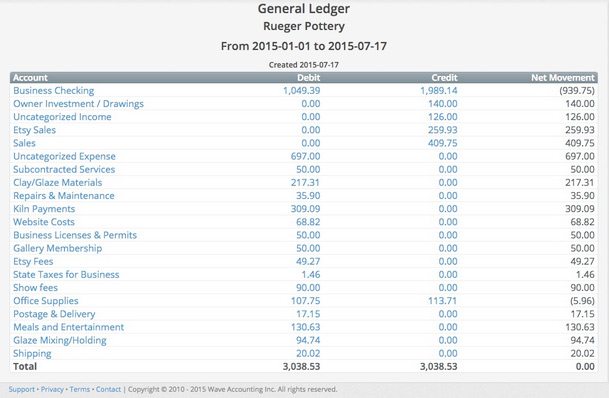 2. Insightly – Organizational Dream Come True
What It Is
If you have customers/clients or have frequent projects within your business, then you should have Insightly. Insightly is the shiz when it comes to tracking clients, managing projects, and generally running your business (especially considering it is free for up to 2 users). I use Insightly extensively with FitSmallBusiness and also for my pottery business, Rueger Pottery. Insightly also directly integrates with GoogleApps. Winning.
How It Saves Me Time
Makes Tracking Everything Way Easier – One of the hardest things when running a small business, is just keeping track of what all needs to be done and what you have and have not done for each task/project. Insightly gives you the tools you need to track everything; contacts, leads, projects, tasks, etc. For FitSmallBusiness, we keep all of our articles in Insightly. Whenever I am done writing initial content, I just switch the stage to "edit" and the responsible user to one of my bosses. Insightly then transfers the article to their to-do list instantly. Pretty sweet.
I also use Insightly for my pottery business. I track my hours and where in the process my pieces are. That way, at any one time, I know exactly how many pieces of each line I am working on and where they are in the creation process. One of my buddies helps me out at times also, and I have him record his hours in Insightly as tasks. At the end of each week, I can just see which tasks he has completed and know exactly how many hours I need to pay him for.
It's a quick and simple way to measure productivity

 – You can set up Insightly so that projects can be assigned a point value. If that project is completed during the week, you mark it as complete, and that point value is assigned to that responsible user. So, at the end of the week, you can just pull up that user's name and see their point productivity for the week. It is so much quicker than emailing back-and-forth to see what has and has not been done.

3. Google Drive – You Remember Microsoft Word? Yeah, It Is Basically Obsolete
What It Does
If you want to create and edit any kind of document, slideshow, spreadsheet, etc, Google Docs is your jam. When integrated with Google Drive, which is like the online version of Rubbermaid (it stores everything for you), you have a kick-ass word processing and file storage solution that is hard to beat. You can even download Drive to your computer so you can access and edit your documents offline. Well played, Google.
How It Saves Me Time
Google Docs/Drive is a huge timesaver for me. Here's why:
No More Minimizing Your Browser Window:

Instead of constantly having to minimize my internet browser and open/close documents on my word processing software, I can just have my documents integrated right into my online tabs, clicking back and forth as needed. When you are doing a lot of online research as I often do, it saves me quite a few minutes everyday in just clicking around.

Send/Share Files and Documents in Seconds –

 It is also a huge timesaver when I need to send files to people. I simply switch the document user permissions, attach it on gmail, and then send it off. It takes seconds. Way faster than uploading from a third-party word processor.

No More Lost Content

– Google Drive saves automatically and you never ever have to push a save button. I've had several freezes and have never lost more than a sentence or two. Yes, please.

4. Skitch – Images on Demand
What it Does
If you are going with just pure coolness and fun points, Skitch knocks the pants off its competition. But do not let the coolness fool you, it is also super practical/functional. I use it constantly throughout the day. Basically, Skitch uses your computer and lets you take a picture of your computer screen, either the whole screen or a part of the screen that you frame. You can then export that picture to your images as a file and voila, you can add it into any document, presentation, etc.
How It Saves Me Time
Skitch saves me at least 20-30 minutes a day. Here's how:
No More Searching for Obscure Images –

I do software and service reviews. So, whenever possible, I like to include an image that shows what action/screen I am talking about within a program. Before I had Skitch, I wasted a lot of time looking for shots of the exact screen that I wanted. Now, I can just go to the screen I want, take a Skitch shot, and have it in a document in less than a minute.

Provide Instant Visual Aids for Complicated Tasks

– There have been many times where I was trying to figure something out, sent my boss a quick Skitch shot of my screen, and had the problem solved within a minute or two. If you ever need to help someone figure out anything on their computer, Skitch will save you countless minutes of confused dialogue, by immediately getting you both on the same page and giving a clear visual example of what is going on.

Share and Mark Specific Sections of Documents –

If you are collaborating with someone else on a document, Skitch is a great tool. Instead of having to share a huge document and highlight one small portion in it for someone to look at, you can just take a quick shot of the highlighted area and send it right over. Or, you can point out certain areas from right within Skitch by adding arrows, like I did on the image above. It's one of my favorite apps and a huge time-saver.

5. Google Chat & Hangouts – Just Doggone Handy
What It Is
Google Chat and Hangout are two ways you can keep connected with co-workers. Google Chat is a real-time messenger which lets you chat with your contacts online (if they are online and available). Google Hangout also has a traditional chat feature, but is more known for its video chat and conference calling, which is very similar to Skype, but more convenient because it directly integrates with your Google contact list.
How It Saves Me Time
Quicker than Sending an Email

– I use Google Chat everyday to send links to my bosses, co-ordinate hangouts, etc. It's a huge timesaver for me. Instead of having to take a couple minutes to open an email, find the correct contact, and then put everything in, I can just send a quick chat message in seconds. What's awesome with Google, is that those messages are saved just like emails, so you can search and reference them at any time to find important data.

Invite Google Contacts and Be Video Chatting in Seconds

– I meet every day with the rest of the team at FitSmallBusiness using Google Hangout Video Chat. It's super handy. What I love about it, is that it is just so intuitive. You can be messaging someone about something and then switch over to video chat in seconds, simply by clicking the little video camera on the top left corner of the chat window.

Set Up Scheduled Hangouts in Less Than a Minute Via Google Calendar –

One of the great things about Google Hangout Video Chat, is that it integrates directly with all of Google's other apps, including Google calendar. This makes scheduling video meetings a breeze. You simply add an event, enable video chat, and then add your contacts. When the event is created, everyone will be sent an invite and a video chat link. If they accept, the event will be added to their calendar instantly/automatically and they will get a reminder 10 minutes before the chat. Talk about smooth. It's way quicker than trying to schedule, set-up, and coordinate a call on something else like Skype or Facetime.
Minutes, Hours, Days = More Time Free To Run Your Business
All in all, I estimate the 5 apps above save me at least several hours of time a week. Over the whole year, this means over 100 hours of saved time, which is more than 4 days total. The little things add up. Try these apps for yourself, maximize your time, and you will have more freedom to spend some extra minutes on the things that really matter.
Click Here to get our FREE Google advertising guide and discover the 6 steps you can use to show up #1 in Google search