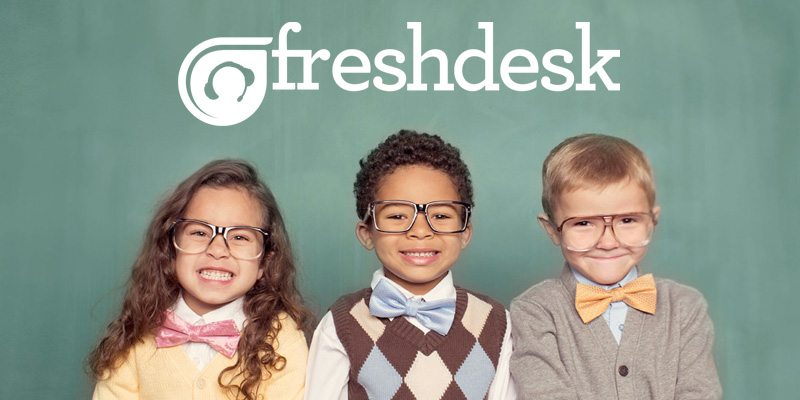 What is it?
An online business help desk tool for handling customer enquiries.
Want to manage 1000's of leads, save time, and get organized? Click Here to get our FREE CRM guide and find out how.
How popular is it?
Freshdesk is an industry leader and has over 30,000 customers worldwide.
What does it do well?
Provides a comprehensive help desk for businesses of all sizes at an affordable price and offers a good free plan for small businesses.
What does it not do well?
Free plan is limited to 3 agents, which won't work for larger businesses.
Who does it work well for?
Businesses that want an affordable yet comprehensive help desk with multi-channel support, social media monitoring, and customer self-service.
Who does it not work well for?
Businesses that want basic email ticket management but employ more than 3 customer service agents.
Free Trial?
Both. Free edition and 30 day free trial.
Cost Compared to Competitors?
Inexpensive
Similar products?
Zoho Support, Zendesk, Desk.com
Cloud or Hosted?
Cloud and Mobile
US Based?
Freshdesk HQ is located in San Francisco, CA, but its customer support is based in India.
User Reviews?
Very Good (see reviews)
Freshdesk Pricing
| | Price | Summary |
| --- | --- | --- |
| Sprout Plan | Free | Includes web form, canned responses, workflows,phone integration, knowledge base, and basic reports. Limited to 3 agents. |
| Blossom Plan | $16/agent/mo. | Everything in Sprout plus social media monitoring, customer satisfaction surveys, community forums, and advanced reports. |
| Garden Plan | $25/agent/mo. | Everything in Blossom plus built-in live chat and multi-product support |
| Estate Plan | $40/agent/mo. | Everything in Garden plus full portal customization and customizable agent roles |
| Forest Plan | $70/agent/mo. | Everything in Estate plus IP whitelisting and custom email servers |
Freshdesk pricing has five tiers. For small businesses with 3 or fewer customer service agents, the free plan may be all you need and includes basic features like email ticketing, canned responses, and web forms. However, social media monitoring and multi-channel support are only included in the paid plans.
If your business needs very basic email ticketing and has more than 3 agents, consider Zoho Support's free plan.
The pricing shown above is based on annual payment–expect about a 20% bump for month-to-month payment. Occasional agents can get "day passes" to access Freshdesk, priced at $1 to $3/day depending on the plan you select.
Read more on Freshdesk pricing here.
Ease of use
Setup – Very Easy. My Freshdesk interface was created as soon as I selected a username and password. Freshdesk allows a very easy and quick setup process. I could set up my support email, add more agents, link my social accounts, and customize my interface all without leaving the welcome screen. If you want to forward your support emails to Freshdesk, there are instructions on how to do so. I was also able to begin managing tickets right away.

Administration – Moderate. With the exception of workflows, which have some quirky names in Freshdesk, all the features were clearly labeled in the admin page of the help desk. It was easy to create canned responses, add custom ticket fields (this has an intuitive drag and drop interface), and edit my knowledge base and community forums.
End Users – Moderate. Your customer service agents can be up and running quickly for basic functions, like answering customer queries and using canned responses. They may need a bit more training for more advanced features if they have never used a help desk before. Customers can easily reply to Freshdesk tickets from their email.
Help -Very Easy. Freshdesk has 24×7 email and 24×5 phone support for all plans, even the free plan. They also have pop-ups within the interface, online self-help tools, and instructional YouTube videos.
Primary Features
These features are in the $16/agent/mo "Blossom" plan. Features vary based on the plan selected.
Features Included


Features Not Included


Web Form for Receiving Tickets

Built-In Live Chat*

Canned Responses & Internal Notes

Ticket Mgmt Features: Cloning and Linking Tickets

Assignment, Time-Based, and Ticket-Based Workflow Rules

Scheduled Reports

HERE

Self-Help Portal w/ Knowledge Base

Multi-Product/Multi-Brand Support*

Self-Service Community Forums

Supports Multi-lingual Content*

Social Media Monitoring: Facebook and Twitter

Embedded Customer Satisfaction Surveys

Standard and Advanced Reports

Time Tracking

Ticket Mgmt Features: Splitting, Merging, and Forwarding Tickets
*Available in Garden and higher editions.
Primary Integrations

Freshdesk integrates with almost 60 other applications. This is great for businesses that want their help desk to work with other business tools.
We discuss CRM, live chat, and phone integrations in more detail below, as these may be especially helpful for your business.
| Type of Business Tool | Integrations Directly Supported | Integrations Not Supported |
| --- | --- | --- |
| CRM | Insightly, Nimble, Zoho CRM, Salesforce, and more. | |
| Live Chat | Olark, Userlike, Freshchat (built-in solution) | SnapEngage, P3chat |
| Phone/Voice | Talkdesk, Freshfone | Nextiva, RingCentral, Phone.com, 8x8 |
| Bug Tracking | JIRA, Pivotal Tracker | BugHerd, Bugify |
| E-Commerce | Shopify, Magento, Bigcommerce | Volusion |
| Social Media | Facebook, Twitter | LinkedIn, YouTube, Pinterest |
| Task Management | None | Asana, Trello, Basecamp |
| Email Marketing | MailChimp | |
| Surveys | Survey Monkey | |
| Other | Google Apps, Google Hangouts, Zapie | |
View complete list of Freshdesk integrations here.
Detailed Overview:
Intro/Product Summary:
Freshdesk is an excellent help desk option for small businesses, and our top pick. It offers virtually all the features you could want from a help desk, such as social media monitoring, multi-channel support, and customer self-service, all at an affordable price.
The free "Sprout" plan offered by Freshdesk is a great basic option suitable for some small businesses with 3 or fewer customer service agents. The free plan focuses on email ticketing, but it does support phone integration as well. If this is not sufficient for your business' needs, the "Blossom" $16/agent/month plan is still significantly cheaper than Desk.com's and Zendesk's comparable plans.
Features:
1. Web Form
You can make it easy for your customers to contact you by putting a "feedback" form on your business' website. By default, like other help desks, Freshdesk converts emails from your customers into a ticket that your agents can reply to. Freshdesk also allows you to embed a popup or form on your website or self-help portal that allows customer to submit inquiries online. The inquiries become Freshdesk tickets that your agents can reply to.
Before submitting a support request through the web form, customers can search through the knowledge base to see if it contains the answer to their question. This saves times for your customers and customer service team.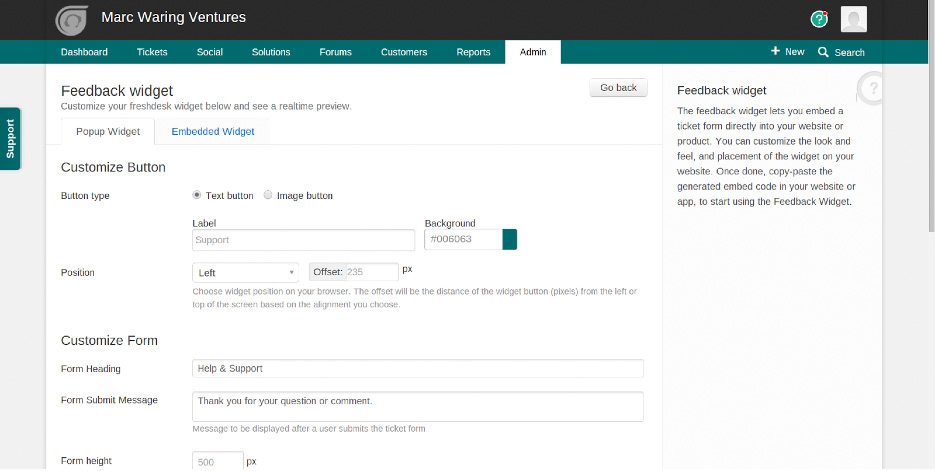 2. Canned Responses & Internal Notes
Canned responses let a customer service agent answer FAQs with a single mouse click. As long as you have the Professional or Enterprise plans, you can create ticket templates on any topic and easily insert them into tickets. The free plan only gives you access to default templates. Canned responses are different from the self-help portal (more on that below). Canned responses are shortcuts designed to help the agent, while the self-help portal includes answers to FAQs for customers.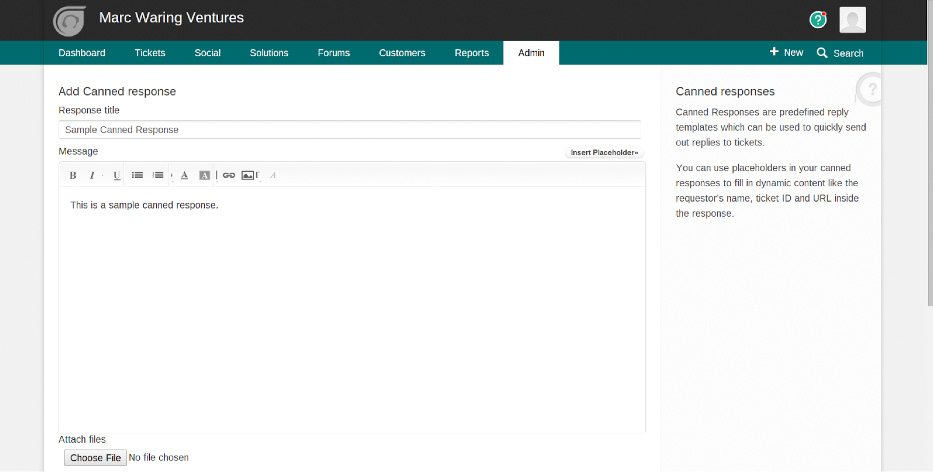 You can also add a private note, visible only to you and other agents, to a ticket.
3. Workflow Rules
Similar to canned responses, workflows are designed to save your agents the time and effort of manual labor by automating ticket actions. All Freshdesk plans comes with three types of automations:
Assignment-related ("Dispatch'r")
Time-related ("Supervisor")
Ticket-related ("Observer")
With "Dispatch'r," you can automate ticket routing to a particular agent or team of employees (e.g. route all job inquiries to your HR team).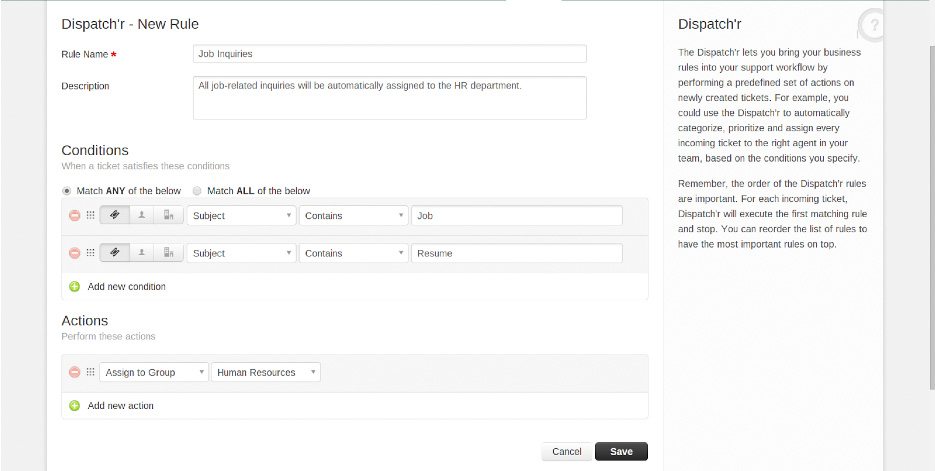 "Supervisor" allows you to perform actions on tickets after a certain period of time elapses (e.g. automatically close resolved tickets after 48 hours).
Finally, "Observer" lets you perform actions on tickets if someone has made changes to a ticket (e.g. automatically notify a manager if a customer gives a poor satisfaction rating).
While workflows can seem intimidating to someone who is unfamiliar with them, Freshdesk makes them very intuitive. Freshdesk has default workflows that you can leave on or turn off based on your preferences. The default workflows help you get a sense of how you can tailor workflows for your business' specific needs.
4. Self-Help Portal w/ Knowledge Base
A knowledge base lets your customers find answers to common questions on your website, without the need to contact you. Your customer service team can easily add articles to your business' knowledge base and edit articles right from within Freshdesk  If customers can't find the answer to their question on your knowledge base, they can submit a ticket from the same page through the feedback form (discussed above).
You can also treat knowledge base articles like canned responses and insert them into tickets with one click.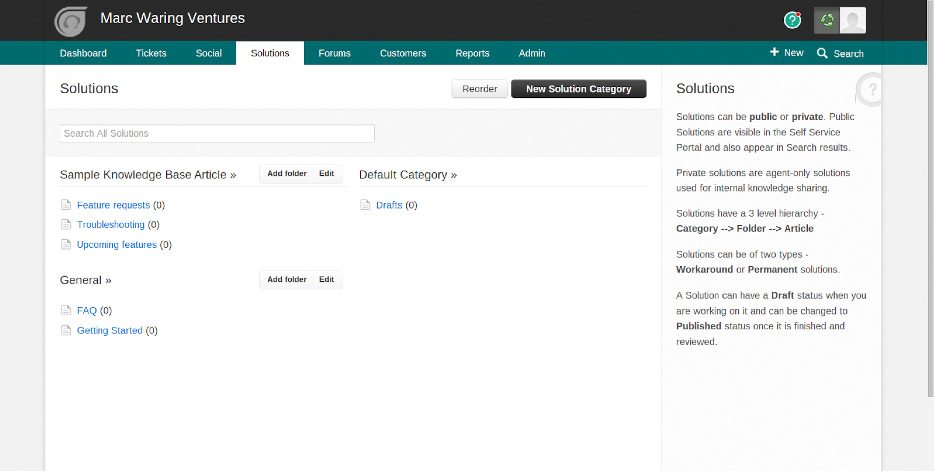 You can insert your company's logo and color scheme to personalize your self-help portal. Freshdesk also has an internal knowledge base for agents to share solutions with each other.
5. Self-Service Community Forums
A knowledge base is created and managed by your agents, but customers often like to discuss questions or problems with each other. Community forums appear alongside your knowledge base and foster communication among your customers. Your agents can post and moderate responses. If an important issue is raised by the community, your agents can convert the discussion into a Freshdesk ticket.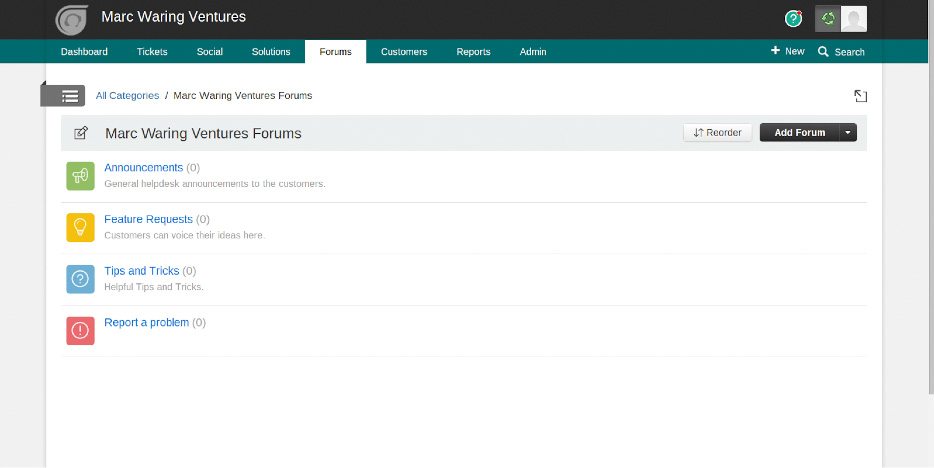 6. Social Media Monitoring
Social media can be an important source of customer traffic. You can link unlimited Facebook and Twitter accounts to your help desk with Freshdesk's Blossom and higher plans (the free Sprout plan doesn't have social media monitoring).
Facebook – You can automatically convert Facebook wall posts, comments, and messages on your business' Facebook page into Freshdesk tickets (posts/comments/messages about your business on other Facebook pages don't get converted).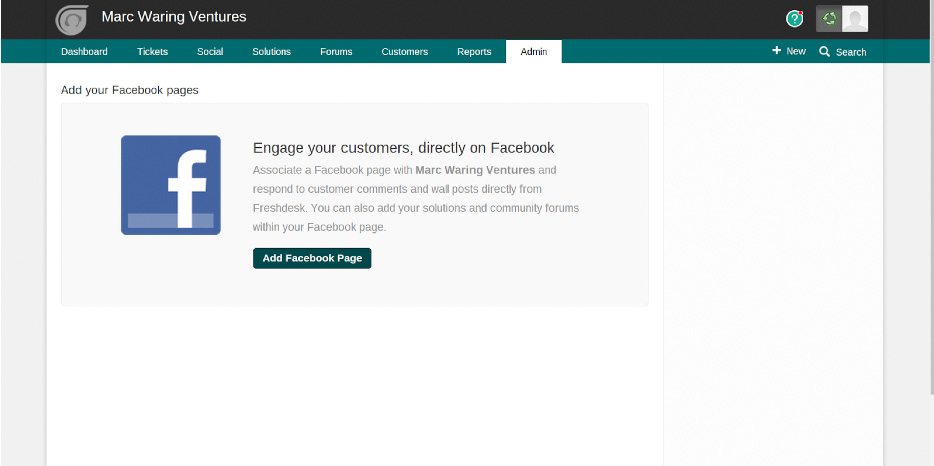 When your agent uses Freshdesk to respond to tickets originating from Facebook, the form of the agent's response matches the form of the customer's inquiry (a response to a wall post or comment appears as a comment, and a response to a private message appears in the message thread).
Twitter – Tweets can really help or really hurt your business. Similar to Facebook, you can automatically monitor your business' Twitter feed by converting tweets with your business' @Twitter handle and direct messages into Freshdesk tickets. The agent's response will match the form of the original inquiry.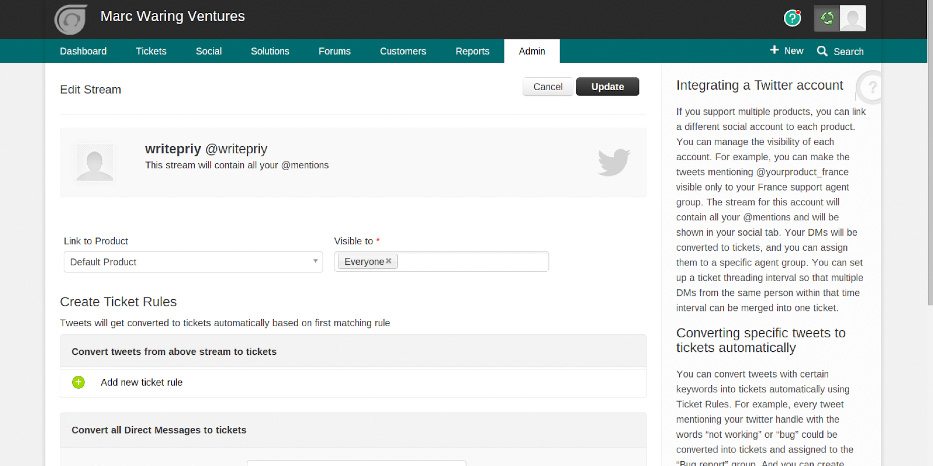 You can even search Twitter traffic for keywords related to your business (e.g. tweets about a new product from your competitor) from Freshdesk and convert them into tickets.
YouTube and LinkedIn – YouTube and LinkedIn are not integrated with Freshdesk. For even more social media functionality, take a look at Deskero.
7. Live Chat Integrations
Freshdesk's Garden and higher plans have a built-in live chat product called Freshchat, allowing you to use your help desk as a communication tool to chat with customers directly from your business' website. Live chat conversations can be converted into tickets or associated with existing tickets.
You can even initiate a chat with a customer and find out what web pages they are browsing when the chat begins.
Freshdesk's built-in Freshchat software works well, but if your business relies on live chat as its primary customer support channel, you may want to consider Kayako help desk. Kayako offers the most live chat functionality of the all the help desks we reviewed.
8. Phone Integration
It is possible to make and receive calls from your Freshdesk help desk. Freshdesk has its own telephony software called Freshfone. Freshfone stores call recordings in Freshdesk, and inbound and outbound calls and voicemails can be converted into tickets. This brings phone communications under the same Freshdesk umbrella as your other support channels.
Freshfone costs $1.00/month/phone line, $.015/minute for most inbound calls, and $.0025/minute for outbound calls. See more details here.
For additional information about phone services for small businesses, see our VoIP buyer's guide.
9. Embedded Surveys and Email Marketing
You can gauge customer happiness by embedding customer satisfaction surveys in Freshdesk tickets. By default, customers will receive a survey after their ticket is resolved. You can change these default settings.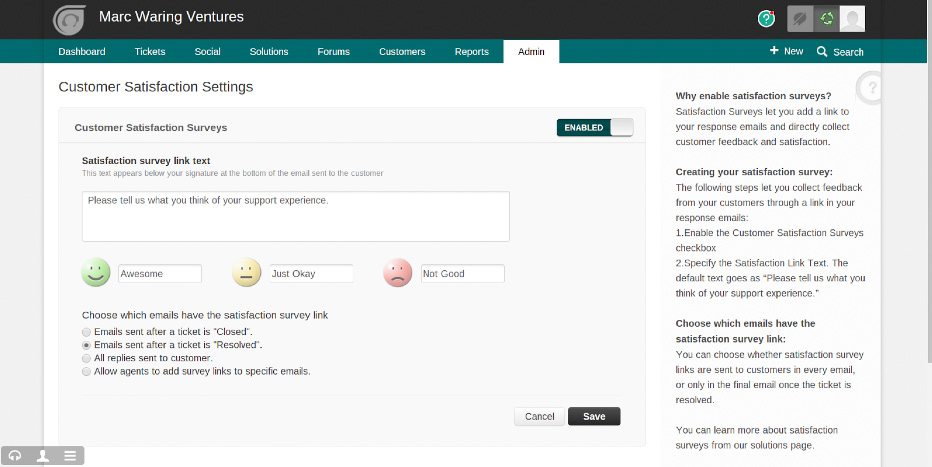 Freshdesk integrates with MailChimp, a free and paid email marketing software for businesses. You manage mailing lists and view marketing campaign stats in Freshdesk.
10. Reports, Dashboards, and Time Tracking
Freshdesk give you great insight into your business' customer service performance. All the plans include basic reports. Basic reports show individual agent and department stats on ticket volume, average first response time, average response time, average resolution time. Stats can be categorized by priority, status, and type. You can view which tickets were resolved on time according to criteria you specify.
The advanced reports show overall help desk stats, customer satisfaction reports, and time sheets. Enterprise reports have agent and group comparisons and greater analysis on the performance of your help desk. Unfortunately, you cannot schedule reports on Freshdesk to arrive in your inbox on a periodic basis.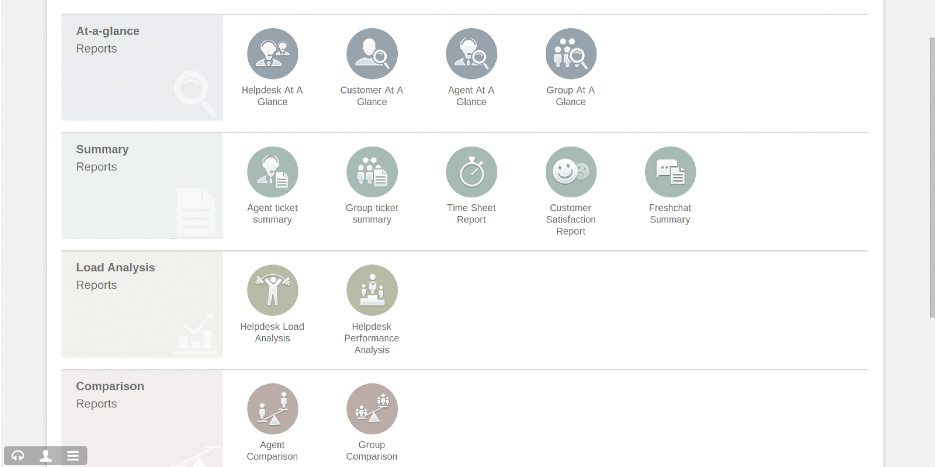 In the Blossom or higher plans, your agents can log the amount of time spent on tickets and note billable time. The time sheet report tracks these stats.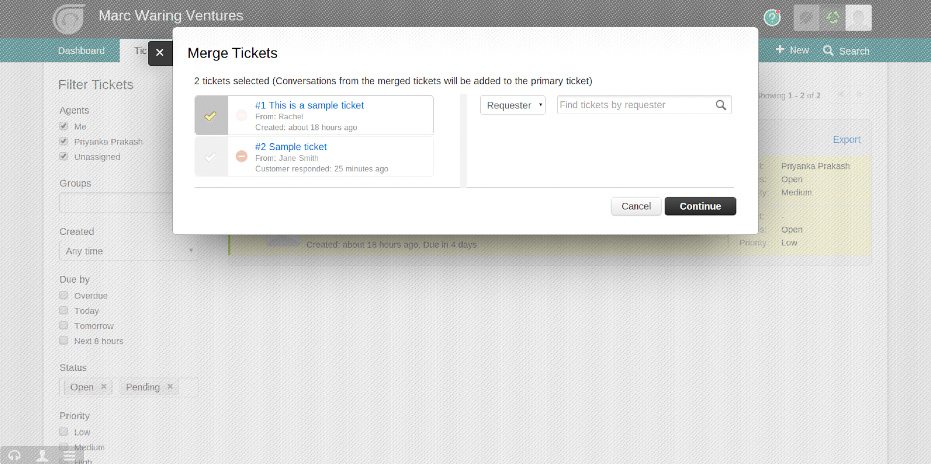 11. CRM Integrations
One benefit of using Freshdesk is that it can be used as an add on to several CRM systems, including Insightly, our recommended provider for small businesses. If you subscribe to both Freshdesk and Insightly, you can pull customer contact information from Insightly into Freshdesk. You can also track Insightly tasks associated with a customer or lead in Freshdesk.
This saves organizations who need both CRM and help desk software from having to add the same information to two different systems.
Other than Insightly, Freshdesk also integrates with Salesforce, Zoho CRM, Nimble, and more.
12. Ticket-Level Features: Duplicating, Splitting, Merging, Linking, and Forwarding Tickets
Freshdesk provides a pretty high degree of functionality for managing email tickets. This can make your customer service platform more efficient.
Duplicating & Splitting Tickets – Duplicating or splitting a ticket is helpful when multiple agents or departments are needed to handle a customer's inquiry. You can split a ticket on Freshdesk and assign each part to the relevant agent or team. You cannot duplicate tickets on Freshdesk.
Merging & Linking Tickets – When multiple tickets raise the same issue, you can merge them in Freshdesk. Merging tickets creates one ticket out of two or more similar tickets. You cannot link tickets on Freshdesk. Linking tickets lets you keep two tickets as separate but indicate that they are related for yourself or other agents.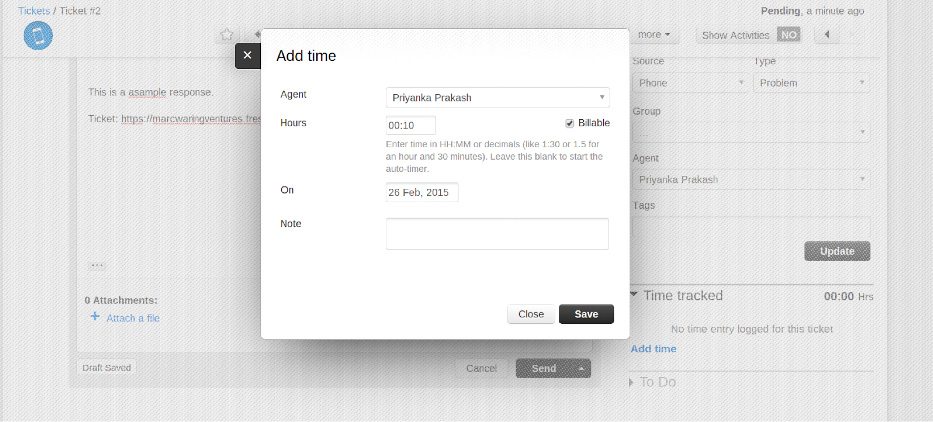 Forwarding Tickets –  Sometimes, a customer issue can be easily resolved by a member of your team who is not a help desk agent. Freshdesk lets you forward a ticket to a non-agent for resolution.
If your business handles a high ticket volume and requires even more ticket-level functionality, try HappyFox.
13. Mobile Help Desk
Freshdesk has mobile versions for iOS (iPhone and iPad) and Android to let your agents respond to critical customer service issues on the run. The mobile versions let you create and respond to tickets, use canned responses, and save phone calls as tickets if you have Freshfone. Other more administrative actions, such as linking social media and creating workflows, are only available in the desktop version.
Multi-lingual Support
Small businesses with international employees and customers will benefit from multi-lingual support, available in Freshdesk's Garden and higher plans. You can choose among multiple languages for your agent and customer service portal.
Multi-Brand/Multi-Product Support
Freshdesk's Garden and higher plans let you have brand-specific knowledge bases and community forums.
Customer Service
24 hours?
All Freshdesk plans come with 24×7 email support, 24×5 phone support, and online self-help.
US Based or Not?
No. Customer support is based in India.
Self Help, Phone, Email, Live Chat?
Self-help, phone, and email support are available for all plans.
The Bottom Line
Freshdesk is our recommended help desk for small businesses because if offers a complete range of help desk features at an affordable price. It comes with social media monitoring, multi-channel support, workflows, and customer self-service.
The support options for Freshdesk customers are great also. All plans, even the Free plan, comes with 24×5 phone support and 24×7 email support.
The free "Sprout" plan offered by Freshdesk is a basic option that might be sufficient for some small businesses with 3 or fewer customer service agents. The free plan focuses on email ticketing, but it does support phone integration as well. If this is not sufficient for your business' needs, the Blossom $16/agent/month plan is still cheaper than comparable plans from other help desks.
Want to manage 1000's of leads, save time, and get organized? Click Here to get our FREE CRM guide and find out how.
Please leave a review of your experience with Freshdesk below: