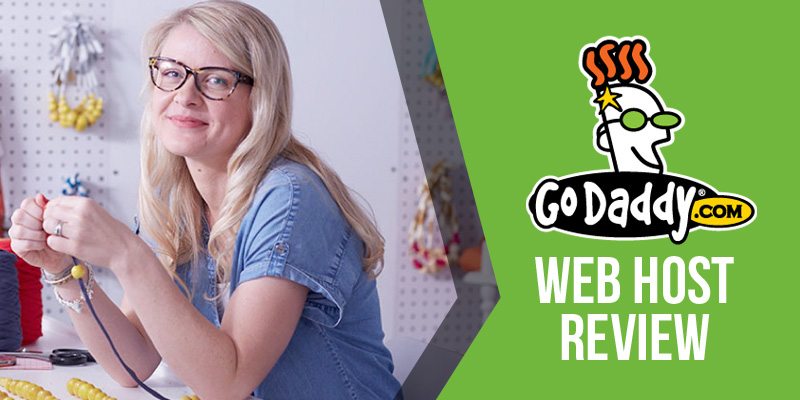 Click Here to get our FREE Google advertising guide and discover the 6 steps you can use to show up #1 in Google search
What is it?
Provider of shared web hosting and managed WordPress hosting for small businesses.
How popular is it?
13 million customers and services over 59 million domains.
Similar products?
Who is it right for?
Businesses that want a low-priced but dependable web host with excellent customer support.
Who is it not right for?
More tech savvy businesses that aren't dependent on good customer service can get slightly cheaper options.
Types of Hosting Solutions Available?
Shared Hosting, Virtual Private Server, Dedicated Server, and Managed WordPress Hosting.
Customer Support?
24/7/365 phone support + limited live chat support + self help (no email).
Average Uptime/Response Time?
Very Good. 99.95 % uptime and 593 ms response time (these numbers are tracked by Cloud Spectator).
Cost:

Inexpensive
1-Click WordPress Installation:
Yes
1-Click Shopping Cart Installation:
Yes
Bandwidth/Storage Space (see below for more details):
Shared hosting: Unlimited bandwidth in all plans. 100 GB to unlimited storage depending on plan.
WordPress hosting: 25,000 to millions of monthly visits depending on plan, 100 GB to unlimited storage depending on plan.
Free Domain?
Yes (free for initial term).
Free Emails?
100 to 1000 emails depending on the plan.
Does it include a Website Builder?
Available as a separate product; see our review
Included Security Features:
1 year SSL certificate in Ultimate plan; Regular backups; Secure file transfer; SSH; email privacy; virus, spam, and fraud prevention.
Integrated Control Panel?
CPanel/WHM for Linux and Plesk for Windows
Customer Reviews:
Good.
Detailed Overview:
Millions of small businesses have chosen GoDaddy to host their website because of the excellent customer support and the value you get for the amount you pay. We use GoDaddy ourselves for many of our business clients. For as low as $4.99 per month, you get unlimited bandwidth, free domain name, free emails, and hundreds of 1-click installations. GoDaddy is a leader among hosting platforms in ensuring a fast running website. Their around-the-clock customer support is helpful at resolving problems with your website.
In this review, we primarily cover GoDaddy's shared hosting plans, although there is a separate section for businesses with WordPress websites. A shared hosting plan divides the resources (processing power, memory, etc.) on a single server among several businesses. Shared hosting is a cost effective, appropriate choice for most small businesses. E-commerce businesses or businesses that want more control over their server are better off with a Virtual Private Server, Dedicated Server, or Cloud Host. If you're unfamiliar with web hosting, check out our guide on Web Hosting Basics.
While GoDaddy is a pretty economical choice, there are some downsides in regard to cost and resources. The plans start at $4.99/month but increase to $6.99/month when you renew. You don't get free Google and Facebook advertising credits on GoDaddy's shared hosting plans, but Dreamhost and other hosts offer these. In addition, GoDaddy's Economy plan doesn't include unlimited storage, which limits the number of videos and images you can put on your website. That being said, space isn't likely to be an issue for the vast majority of small businesses.
Pricing:
GoDaddy charges the following prices for its shared hosting plans.
Costs

Includes

Economy

$4.99/month
($6.99/month after renewal)


1 website, 100 GB storage, unlimited bandwidth, 100 emails, and free domain.


Deluxe

$5.99/month
($8.99/month after renewal)

Everything in Economy plus unlimited websites, unlimited storage, and 500 emails.

Ultimate

$7.99/month
($14.99/month after renewal)

Everything in Deluxe plus 1000 emails, 1 year SSL certificate, and 2x available processing power and memory.
The prices above are for a 12-month plan. By purchasing for a longer period, you can lock in a lower price. For example, if you purchase a 2 to 5 year Economy plan, the price drops to $3.99/month. If you purchase a 3 month Economy plan, you pay more–$6.99/month. You can view all your pricing option after you add a plan to your shopping cart. Compare plans here.
The Economy plan will suit the needs of most small businesses. If your business uses a lot of images, videos, or other files, you would fare the best with the Deluxe or Ultimate plan because they offer unlimited storage. 100 GB of storage lets you store about 22,000 images or 500 videos. If you are an e-commerce businesses, you will want to get the Ultimate plan because it includes the SSL certificate for free for 1 year (a $69.99 value).
GoDaddy offers a money back guarantee within 45 days of purchase for an annual plan and within 48 hours of purchase for a monthly plan. If you use a free domain from GoDaddy, however, you will be charged for the domain name if you request a refund. You also cannot transfer that domain to another hosting provider for at least 60 days. These restrictions minimize the benefit of the money back guarantee. If you want to check out what promo codes and discounts are available for Godaddy click here.
Customer Service
GoDaddy is known for providing great customer support. They will lend a helping hand if your website goes down or runs too slowly.
GoDaddy Support Hours: Phone support is available 24/7/365. When I called GoDaddy to ask them a question about SSL certificates and bandwidth limits, they were able to answer my question pretty well.
Unfortunately, even though live chat support is supposed to be open daily from 5AM to 12AM MST, it's usually unavailable even at that time. I kept receiving the following error message at different times of the day whenever I tried to live chat with a rep: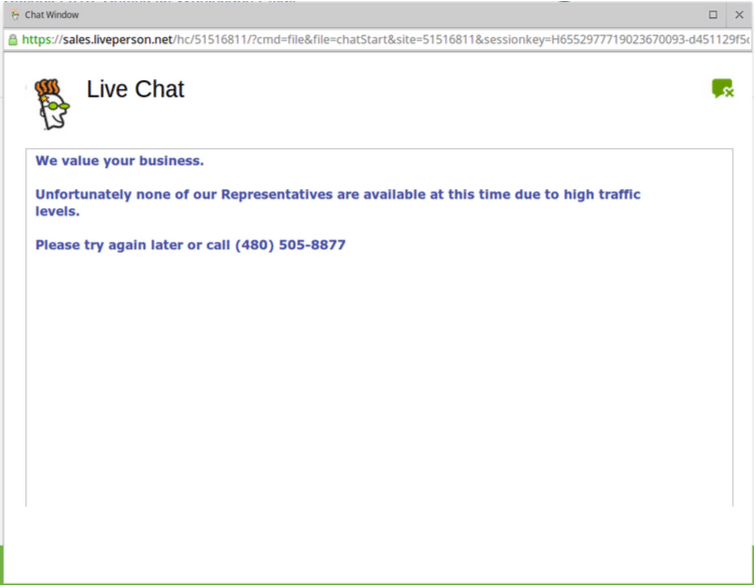 US Based?
Yes.
Self Help, Phone, Email, Live Chat?
Email support is not available.
Uptime & Server Response Times:
GoDaddy has one of the best uptime and server response times for shared hosting. GoDaddy commissioned an independent study of shared hosting by Cloud Spectator, which lists the uptimes and response times of several different shared hosting platforms. Uptime is basically the time during which the shared server (and your website) is up and running. Response time measures how long the server takes to deliver content when visitors come to your website.
Like most web hosts, GoDaddy offers an uptime guarantee. They promise to give you a credit if they don't have at least 99.9% uptime.

Uptime/Response Times: 99.95 % uptime and 593 ms response time.
Supported 1-Click installations:
Your website should work for your business by incorporating all the applications that you need to satisfy your customers. GoDaddy lets you easily add applications, including your WordPress blog and shopping cart or ecommerce software, with one click from your control panel. GoDaddy offers more applications for Linux/cPanel than it does for Windows/Parallels Plesk. In general, Linux/cPanel is much more popular than Windows/Parallels Plesk because you must pay licensing fees to run your server on Windows. If you have more questions about which operating software to use, talk with your web designer.
Most web applications like WordPress and Joomla need a database for storing content. In general, you will need a MySQL database for every WordPress site or application that you install.
Popular 1-Click Applications Supported: WordPress, Drupal, Joomla, Magento, Zen Cart.
A full list of applications is viewable upon creating a shared hosting account.
Number of MySQL databases included in account:
Linux: 10 databases of 1 GB each on Economy plan; 25 databases of 1 GB each on Deluxe plan; unlimited databases of 1 GB each on Ultimate plan.
Windows: 1 database of 200 MB each on Economy plan; 2 databases of 200 MB each on Deluxe plan; unlimited database of 200 MB each on Ultimate plan.
Security Features
GoDaddy provides an array of security features to keep your website and customer information secure.
SSL (Secure Sockets Layer) – SSL protection for 1 year is included in the price of the Ultimate Plan. After that, the renewal cost is about $55.99 per year. SSL encrypts private data as it is transferred over the Internet. Small businesses that accept credit card payments (as opposed to sending payments to a third party processor), store sensitive data, or require customers to login to access parts of the website should get SSL protection.
When comparing different web hosts, you will likely come across the distinction between shared and private SSL certificates. Most businesses that accept credit cards or store sensitive information will want a fully secure private SSL certificate because it provides security for credit card transactions on your domain.
Regular Backups – GoDaddy's shared hosting plans do not have auto backups. You can pretty easily backup your site yourself from cPanel, but you have to remember to do so regularly. Backups ensure that your website can be restored in the event the server crashes or your website is compromised.
Secure File Transfer – GoDaddy's shared hosting plans suppot SFTP. This technology encrypts confidential data while you are transferring files into and out of your website. These are valuable if you store sensitive information on your website.
Other Included Security Features –
Secure Shell (SSH) Access – Allows you to remotely manage your server (e.g. remotely reset a password).
Virus, fraud, and spam protection
Email privacy with 256-bit encryption (protects confidential information in emails)
WordPress Websites
WordPress powers over 17 % of the entire web. If you have a highly trafficked WordPress website that is central to your business, consider purchasing Dreamhost's managed WordPress hosting (called Dreampress) instead of shared hosting. Like Bluehost, Dreamhost has been recommended by WordPress. There are two reasons that managed WP hosting is beneficial for small businesses:
1. The web host does everything for you.
WordPress hosts handle the back end tasks of running a WordPress website, leaving you to focus on growing your business. Dreamhost will auto update your WordPress site whenever a new version of WordPress is released, so your website will run securely and with the latest features. In addition, Dreamhost will do daily auto backups of your WordPress site, so you can rest easy knowing that your website data has been saved.
2. The server is optimized for WordPress.
WordPress powers 17 % of the entire web. If you have a WordPress website that gets a lot of traffic and that is central to your business, you should consider getting one of GoDaddy's managed WordPress hosting plans instead of a shared hosting plan. Many web hosts now offer WordPress specific hosting, and it's beneficial for small businesses for two reasons:
1- The web host takes care of everything for you.
WordPress hosts handle the back end tasks of running a WordPress website, so you don't have to. All of GoDaddy's WordPress plans come with auto updates, so your website will run securely and with the latest version of WordPress without you having to make manual updates. In addition, the WordPress plans have nightly auto backups, so your website content can be easily restored if the server crashes.
2- The server is optimized for WordPress.
WordPress managed hosting offers a better experience for business owners who run WordPress sites and for their customers. GoDaddy has a special server architecture for WordPress hosting that makes WordPress sites run fast and securely.
Here is a pricing table for GoDaddy's WordPress plans, based on a 12-month subscription:
| | Price* | Summary |
| --- | --- | --- |
| Starter | $3.99/month | 25,000 monthly visitors, 100 GB storage, 1 website. |
| Business | $9.99/month | 250,000 monthly visitors, 500 GB storage, up to 5 WP sites |
| Pro | $29.99/month | Millions of monthly visitors, up to 25 WP sites, unlimited storage. |
*As with the shared hosting plans, the price differs based on the term of your plan.
To ensure maximum speed and reliability, the WordPress plans limit the number of websites per account and the number of visits to your sites (storage is also limited, but 100 GB should be enough for almost all small businesses). The Starter plan is good if you have a single blog or site that doesn't get too much traffic. The Business plan is good for websites with heavier traffic, and the Pro plan is recommended for developers and web designers. If you own several websites or get very heavy traffic or seasonal bursts of traffic to your website, the ordinary hosting plans are a more economical choice. The Deluxe and Economy plans allow unlimited websites on one account, and all the shared hosting plans offer unlimited bandwidth.
The WordPress plans also give you free advertising credits that you can use on Google ($100), Facebook ($50), and Bing ($100). This is a great marketing tool for small businesses and is worth more than the hosting plan itself.
On the downside, the WordPress plans do not include an SSL certificate. If you accept credit card payments or store sensitive information on your websites, you will need to purchase an SSL certificate separately from GoDaddy.
What's Included:
Bandwidth & Storage
Bandwidth and storage determine how fast your website will work for your customers. Bandwidth measures the amount of traffic that can come to your website, and storage is the amount of space that's available for the files, images, and videos that make up your website.
Although shared hosts often say that they offer "unlimited bandwidth and storage," be cautious about such claims. While they are technically true, a shared server has a finite amount of CPU (processing power) and RAM (memory) that is divided among the websites of several businesses. Every time someone visits your business' website, uses your website's search function, or views files on your website, it consumes CPU and RAM. If your website gets a lot of traffic and uses up too many resources, your shared hosting provider may ask you to upgrade your plan.
GoDaddy's Ultimate plan has Website Accelerator, a Content Delivery Network (CDN) that routes visitors' requests on your website to the server closest to them so that the website loads quickly for your customers.
The resources available on shared hosting plans will be sufficient for most small businesses. A GoDaddy rep I spoke to said that you'd only need to consider upgrading to a Virtual Private Server if you get thousands of visitors to your website everyday or want to upload thousands of videos or images on your website.
Bandwidth Available: All of GoDaddy's shared hosting plans offer unlimited bandwidth. The Ultimate plan uses a server with double the ordinary processing power and memory, so small business websites that get a significant amount of traffic will run faster on the Ultimate plan.
Storage Available: The Economy plan is limited to 100 GB of storage (approx. 22,000 images of 500 videos). If you think you may need more, storage is unlimited on the Deluxe and Ultimate plans.
Domains & Emails
A good business website has a catchy and memorable domain name (i.e. the URL for your website). GoDaddy will let you register a .com, .net., .co, .org domain name for your website for free with the purchase of annual, 2-year, or 3-year plan. When you renew your plan, you will need to pay the standard annual domain name fees (starts at around $9.99 per year).
If you have multiple websites for your business, you can add multiple websites onto a single hosting account at no extra charge on the Deluxe and Ultimate plans (the Economy plan only supports one website). While it is cheaper to have all your websites on a single hosting account, keep in mind that all your websites will have to share resources, so each site may run more slowly if your sites get a lot of traffic.
GoDaddy also lets you set up alias domains and subdomains. Alias domains let you reroute customers to your primary website (e.g. mybusiness.com) when they type in a secondary URL (e.g. sale.mybusiness.com). Subdomains let you set up a memorable URL associated with your domain for specific content (e.g. help.mybusiness.com for your support center).
In addition to domain services, GoDaddy also provides free emails (in a format such as janedoe@yourbusiness.com) so that you and your employees can have business email accounts.
Number of free domains: 1 free domain on all shared plans. After that, domains cost $8.99/year for a standard .com domain. See full pricing here. If you obtain a free domain from GoDaddy, you cannot switch to another host using that domain for 60 days. GoDaddy has a very large marketplace for bidding on and selling domains that are about to expire.
Number of free emails: 100 on Economy plan, 500 on Deluxe plan, and 1000 on Ultimate plan.
Number of websites per hosting account: 1 website on Economy plan and unlimited websites on Deluxe and Ultimate plans (though GoDaddy recommends that you run no more than 10 websites on a single hosting account because it can overload the server).
Website Builder
While many businesses use GoDaddy shared hosting plans to host a website that they designed elsewhere, GoDaddy's most popular product is the website builder. The website builder has drag and drop tools to help anyone build a professional-looking website without technical expertise. The website builder includes hosting, so there is no need to buy a shared hosting plan if you use this product. We have a separate guide about self-hosted website builders, including a review of GoDaddy's website builder.
Website builders are the cheapest, easiest route to a website (GoDaddy's website builder starts at $1.00/month), but you lose some control over the design of your website because you must use company-provided templates and themes. The self-hosted website builders also offer fewer resources (bandwidth, storage, free emails, etc.) than shared hosting.
Control Panel
Like most web hosts, GoDaddy gives you a control panel where you can manage several things related to your website from one location. For instance, you can manage your domain names, add new files to your website, and monitor how much bandwidth and storage you are using.
GoDaddy offers both cPanel and Parallels Plesk control panels. The most popular control panel is cPanel/WHM, which is available for the Linux operating system. Parallels Plesk is the most popular control panel for Windows. WordPress sites work best on Linux, and Linux is known for its stability and security. However, some applications only run on Windows servers. When in doubt, go with Linux.
Most small businesses do not have to worry about the programming languages that the web host supports unless they are trying to run scripts on their website. If you do have further questions about this, you can talk to your web designer or IT person.
Control Panels Available: cPanelWHM for Linux and Parallels Plesk for Windows.
Operating System Supported: Linux and Windows.
Programming Languages Supported: cPanel/WHM supports Perl, Python, and PHP. Parallels Plesk supports Perl.
Switching Hosts or Upgrading
As your business needs change, you may decide to switch hosting providers or upgrade to a different hosting solution (e.g. switch from shared hosting to a VPS). If you purchase content migration services, GoDaddy will migrate your website for you from another provider. A rep we spoke to said that the cost for this is currently $100 per website.
GoDaddy's WordPress hosting plans have a built-in migration tool that will seamlessly transfer your website from another provider to GoDaddy at no additional charge. This is a unique cost saving feature that the other hosts we reviewed did not provide.
If you're upgrading plans within GoDaddy, you are responsible for handling the transition unless you purchase migration services. GoDaddy does, however, provide some instructions on how to minimize the disruption to your website while upgrading. As a precaution, we recommend that you make a complete backup of your website before switching providers or upgrading.
Bottom Line
GoDaddy is very popular among small businesses, thanks to their excellent customer support and the range of features you get for a small monthly payment. You get unlimited bandwidth, lots of storage, a free domain name, free emails, and hundreds of 1-click installations in all of GoDaddy's shared hosting plans. Their around-the-clock customer support has personally helped us fix issues with our clients' websites.
For businesses with WordPress sites, GoDaddy offers one of the cheapest managed WordPress hosting platforms for just $3.99! It has a wide range of WordPress-specific features, such auto updates and nightly backups, but we don't think it's the best WordPress host out there. Our top pick for WordPress websites is WP Engine.
Take care when signing up to note the price hike after you renew. The plans start at $4.99/month, but this increases to $6.99/month when you renew. Also, if you want to make use of free advertising credits, try Dreamhost or another provider.
If you store a lot of videos or images on your website, you might want to get the Deluxe or Ultimate plan. GoDaddy's economy plan doesn't include unlimited storage, which limits the number of videos and images you can put on your website.