Search engines like Google can account for the large majority of traffic to a small business's website. In order to ensure you get a slice of the search traffic pie, you have to start thinking about what search terms you want to rank on. Only then can you begin optimizing your web pages to show up in the top results.
Over the last several weeks I have been laying the groundwork for a new website for my father's real estate company, Lake County Realty in Lake Gaston, NC. Last week I finished designing the main pages of the site using the Weebly Website Builder (see the full series here).
Today, I am going to show you how to figure out what search terms your potential customers are using when researching the product or service you offer.
Before we dive into the details on this topic, we suggest you check out Zillow Premier Agent, our #1 recommendation for generating qualified real estate leads. Click here to learn more.
How To Find Out What Search Terms People Are Using When Researching Your Product or Service
Google's keyword planner tool (which comes with a free adwords account) will give you an estimate of the monthly searches for any given search term.  It will also give you a list of other keywords Google feels are related to that search term, and their estimated monthly traffic.
This is a very powerful tool, that can give you a comprehensive map of the search terms for which you want your website to rank highly. To get started using the tool, I came up with a short list of terms that I think people may be using when researching Lake Gaston property:
Lake Gaston
Lake Gaston Real Estate
Lake Gaston Properties
Lake Gaston Rental Homes
Next, I head over to my google adwords account, click the tools and analysis menu, and select the keyword planner. It looks like this:
Google's Free Keyword Planner Tool
I want to use the "search for new keyword and ad groups" option. After clicking that option I get a window that allows me to enter in the list of search terms that I outlined above.  After clicking the enter button, and then selecting the keywords tab, I get a list of results. Here, I can see an estimate of the average number of searches per month that each term entered. Also included is a list of over 100 related search terms and their monthly traffic estimates.
It looks like this:
For now, we are going to ignore the three columns on the right (which are related to paid advertising) and focus only on the first two columns.
This article covers the basics of picking keywords, but cannot give you help specific to your website! Try WebCEO which provides detailed instructions on how to get your site to appear higher in search listings!
An Additional Step For Businesses With Local Clients
Google and other search engines can now tell where their users are located.  They use this information to provide locally relevant search results.  This is true even when search terms without locally identifying information are used. For example, if you are located on Lake Gaston and type "real esate" into Google, your search results will likely include realtors located in the Lake Gaston area. Google is using your location to gauge the intent of your search, even though you have not included any locally identifying keywords.
This is a very important nuance for businesses whose customers are coming from their local area. For these types of businesses, in addition to researching search terms that include locally identifying information like "Lake Gaston Real Estate" you will also want to include generic terms like "real estate".
You can filter the Google Keyword Tool's results to include only those searches made by people in your area. To do this, set the location using the option I have highlighted below: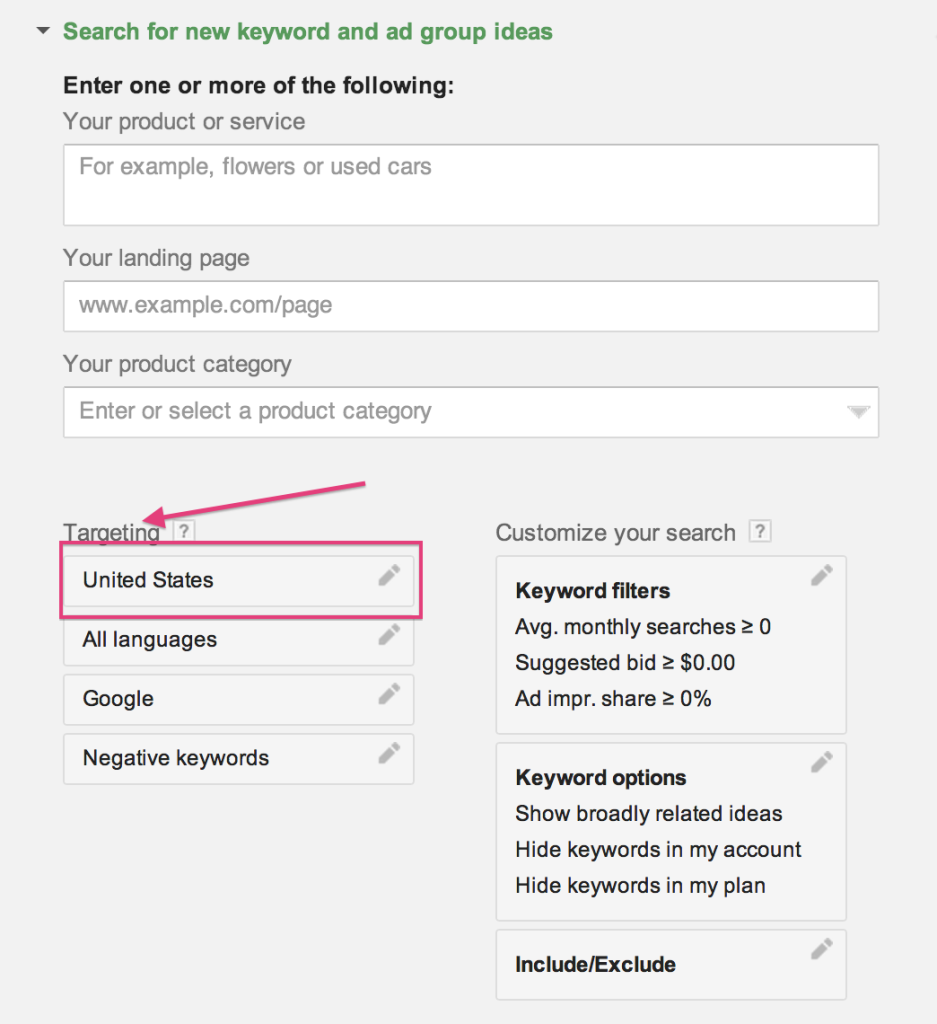 Since most of my father's clients do not live in the area, this step does not apply.
Observations From My Initial Keyword Research
After going through the results provided by the Google Keyword Tool, I now have a good idea of the search terms people are using when researching Lake Gaston real estate. You should be able to use this exact same process for your business. Keep the results in a spreadsheet that you can add to as you come up with additional ideas.
| | |
| --- | --- |
| Keyword | Monthly Searches |
| Lake Gaston | 5400 |
| lake gaston nc | 1900 |
| lake gaston rentals | 1900 |
| Lake Gaston Real Estate | 1600 |
| lake gaston camping | 480 |
| lake gaston fishing report | 390 |
| lake gaston vacation rentals | 320 |
| lake gaston resort | 320 |
| lake gaston va | 260 |
| americamps lake gaston | 260 |
| lake gaston boat rentals | 260 |
| lake gaston north carolina | 210 |
| lake gaston realty | 210 |
| lake gaston homes for sale | 210 |
| lake gaston map | 170 |
| outdoor world lake gaston | 170 |
| lake gaston rental homes | 140 |
| waterfront properties lake gaston | 140 |
| lake gaston fishing | 140 |
| lake gaston golf club | 140 |
| lake gaston nc rentals | 110 |
| lake gaston campgrounds | 110 |
We asked 50 experts for their best real estate marketing idea. Click here to see what they told us!