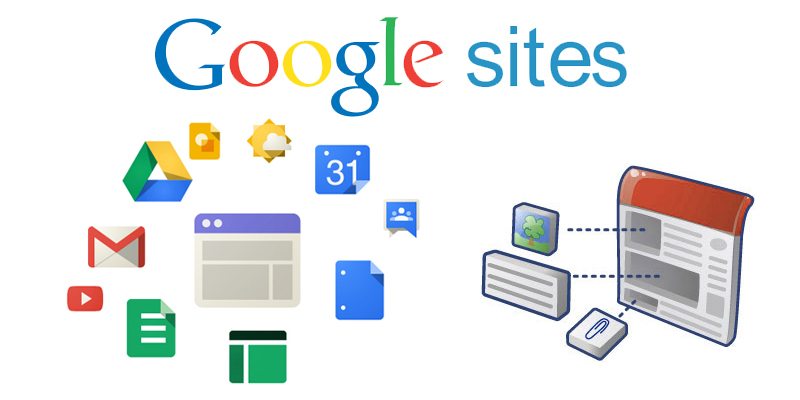 What is it?
Google Sites (Website builder and host)
Want to create a pro business website in less than 60 minutes? Click Here to get our FREE Website Builder guide and find out how.
How popular is it?
Averages around 201,000 searches per month. Google has 51,504 employees overall.
What it allows you to do?
Create basic sites that are good for communication within your business (HR site, Accounting soccer team page) or educators (Science club, 5th grade literature) without needing to know internet coding.
What it does not allow you to do?
Google Sites is not really structured to build a main client facing website for your business. Check out Weebly.
Who does it work well for?
Businesses looking to create an internal site for their teams/employees (like a project page, announcements page, or activities page), educators who want a class/school club page, etc.
Who does it not work well for?
Businesses who want a site that will serve as the  face of their business, businesses who want a good ecommerce solution. Check out Weebly.
Free Edition?
Yes, Google Sites is a free service
Pricing Cost Compared to Competitors?
Cheap
Type of Solution:
Cloud
Similar products?
Mango Apps, Rapidintranet
US Based?
Yes, Company & Customer Service
Customer Reviews?
Average (view reviews)

Google Site's Pricing
Free. Google Site's pricing is non-existent; completely free. The only cost would be if you want a custom domain name, in which case expect to pay an annual fee of $10-$15. Also, if you accept payments/donations using Paypal, Paypal rates apply. Business email is also an additional $5/month through Google Apps for Work.
Free Plan – 100 MB of storage (10 GB if you use Google apps) and unlimited pages
Ease of use – Moderate
Google's website builder is very basic. The interface is actually quite similar to a Google/Word document, which may be more intuitive for some technically challenged users. However, if you actually want to customize your page very much, you are going to be disappointed. The template is basically the law. For example, resizing anything is either a real pain, or not even an option. If you want a navigation bar at the top and sides of the page, you will have to add your site pages individually to both, instead of them syncing automatically. All in all, Google's website builder is more about changing text/content than it is about truly designing a custom site for customers to use/browse.
Here is what I came up with after spending around 20-30 minutes with the website builder.
 
Primary features:
| Features Included | Features Not Included |
| --- | --- |
| Free Website Builder | Real-time Shipping Quotes |
| HTML/CSS Editing | Professional Looking Templates |
| Page Permission Settings | Highly Customizable site/templates |
| One Click page creation | |
| Pre-populated/pre-designed templates and themes | |
| Google Site Search | |
| SEO Friendly | |
| Business Email ($5/Month) | |
| Limited ecommerce using Paypal/ Google Shopping Cart | |
| Mobile Friendly Setting | |
| Export Website Option | |
Primary Integrations:
| Integrations | Non-Integrations |
| --- | --- |
| Google App Suite | Major Ecommerce Stores |
| Paypal | Accounting Software |
| | |
| Olark and MyLiveChat (live chat) | |
| Zoho CRM | |
| Picassa | |
| Solve CRM | |
Detailed Overview
Although you can create a main business website using Google Sites, that is not really what it is designed for. It is more about creating functional and practical sites/pages to be used internally within a business or to create basic community sites like for a  school science club or classroom. The builder/editor looks like a google doc/word editor, which might be more comfortable to use for those who do not have a lot of tech experience. It is fairly simple to change content/text, but you cannot do much design/style editing, like change section size or move design elements around on the page.
There are several helpful features, all provided with a group site/community page context in mind.  There's a recent activity feature, which lets you see what changes have recently been made to the site. Also, you can create a separate announcements page or list page, both of which are great for school/department field-trips and outings (IE: Things Your Child Needs: A beach towel, sunscreen, etc).
Although not a good choice for building a full small business website, Google Sites can be an easy and free way to create group pages and sites for whatever you might need.
Features:
1. Number and Quality of Free Themes/Themes in General
Google Sites does not have a wide variety of themes available and the level of visual interest/design is basic. In other words, not a great option for full-scale business publicity but perfectly functional for group/community sites and pages.
2. Customizability of themes/design (Drag and drop, html access)
You can customize some aspects of your Google Site. You can add a navigation bar on the side of your page, embed google calendars, and edit the pixel width of some things, like your header. However, most sections are fixed from a design standpoint, only allowing you to edit text/content.
If you want to edit HTML code, you can. However, you can only add java script using a widget code box.
3. Custom Domain Options/internal hosting?
Free Google Sites are subdomains of GoogleSites.com. But, for around $10-$15 annually, you can get your own custom domain through Google as well.
4. SEO Friendly
Google Sites are SEO friendly. You can edit page descriptions and Meta Tags and can directly integrate with Google analytics, surprise, surprise.
5. Ecommerce/online option
Technically, you can sell products on your Google Site using a paypal button or Google Shopping Cart. But, it seems more geared toward accepting payments for events, trips, etc than for serious product sales.
6. Mobile Friendly
Google Sites has a setting that you can click which automatically resizes your site for those viewing it on a mobile device.
7. Reporting
Direct integration with Google Analytics gives you access to lots of different reporting options.
8. Email Capture/Newsletter Subscription
You can embed email capture/newsletter subscription forms using the HTML code embedding tool. Mailchimp and Zoho are two good options.
9. Business Email
For $5/month, you can subscribe to Google Apps for work, which gives you business email and many more options (calendar, drive, etc)
10. Appointment Booking
You can set up bookings/appointments through your google calendar and a third-party app like ScheduleOnce or Youcanbook.me, which can be found at the Google App Store (additional $5-$10/month)
11. Marketing Tools
Google Sites does allow you to connect your social media accounts to your site. Also, it integrates with Zoho, which has an email marketing solution that you can use (additional cost). Of course, you have access to Google Adwords and other google app tools for marketing.
12. Live chat
Google Site's does not have a built-in live chat feature. However, you can get a live chat on your site using Olark or MyLiveChat.
13. Invoicing
Google Sites does not have any included invoicing services with their service. You can integrate with Paypal, which allows you to invoice customers.
14. Blogging
Google Sites' announcements page can be set up like a blog. To see a tutorial, click here. You can also embed your Tumblr blog onto one of your Google Site pages. To see discussion concerning how to do this, check out this discussion board.
Google Sites' is probably not the best option if you plan on being a serious blogger. Other website builders allow you to organize posts in different stages, connect seamlessly to social media, and have RSS feeds directly integrated with your blog. Google Sites' does not include any of these features.
Integrations:
Of course, Google Sites has seamless integration with the whole Google App Suite, which gives you lots of different options, including drive, docs, calendar, and much more. There is also integration with Paypal, which is a nice feature. This means you can accept donations, have your employees pay for some trip/admission fee, or have parents pay for their kids' school outing right online.
You can embed YouTube videos in your Google Site. Also, Google Sites integrates with Zoho and Solve CRM systems, which is something a lot of other website builders do not do. You can also incorporate a live chat option using Olark or MyLiveChat.
Customer Service
24 Hour? No (M-F, 4am-8pm PT)
US Based? Yes
What's the Method of Delivery?
Google Sites has both phone support (paid customers) and an extensive self-help knowledgebase. As big of a company as Google is, you expect some negative customer service reviews. However, from the research I have done, Google has a less than stellar customer support rating, even for a big company. Many customers reported waiting on the phone for hours in order to get any help. Of course, being completely free, customer service expectations should not be as high as for a paid service.
The Bottom Line
If you need a cheap and basic website for your employees, classroom, or club/group, then Google Sites is a great choice. It is free and relatively easy-to-use. Also, it is built with an intranet/community user in mind and has helpful features for such a user. However, if you want to build a website that will function as the face of your business for your customers, Google Sites' lack of quality themes/templates and basic-features only approach are probably not for you.
Want to create a pro business website in less than 60 minutes? Click Here to get our FREE Website Builder guide and find out how.