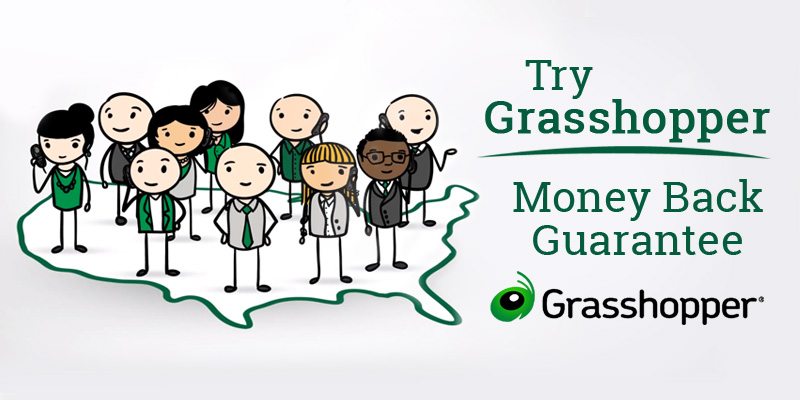 What is it?
A service that allows you to make and receive calls using a business phone number from your personal cell phone or skype.
How popular is it?
Grasshopper has over 150,000 customers.
What does it do well?
You can set up a business phone system with business phone numbers, auto attendant and extensions that route to your personal cell phones or Skype within minutes.
What does it not do well?
You can't set up a traditional business phone system with handsets. There's also no sending faxes, conference bridge numbers or personal voicemail boxes.
Who does it work well for?
Businesses who don't use the phone much but want a professional system that can be set up quickly and used on their personal cell phones or Skype.
Who does it not work well for?
Businesses who talk on the phone a lot (it gets expensive if you use more than 400 minutes/month per employee) or offices that want a traditional setup with handsets.
Free calls to US and Canada?
No. US and Canada calls are 6 cents/minute on basic plan.
Pay-per-minute plan?
Yes
Can you use your current phone number(s)?
Yes, but there's a $30 one-time fee
Does it support toll free?
Yes
Free Trial?
No
Cost Compared to Competitors?
Low, as long as you don't use more than 400 minutes/month per employee.
Similar products?
Cloud or Hosted?
Cloud
Does it require special phones?
No. You use your cell phone or skype.
Internet Bandwidth Requirements?
Not applicable
US Based?
Yes, Company & Customer Service
Grasshopper Pricing
Grasshopper pricing includes 4 different plans. The difference between each plan is the number of minutes and phone numbers you get.  All plans come with unlimited extensions, auto attendant, conference calling, and incoming faxes.
The lowest priced plan is $12/month, but it does not include any minutes. You have to pay 6 cents per minute. The highest priced option is $199/month for 10,000 minutes and 3 toll free or local phone numbers. This pricing does not include taxes or surcharges, which are outlined in the table below:
180 minutes:
$30.14 / month

2,000 minutes:
$61.07 / month

10,000 minutes:
$238.07 / month

Base Price:

$12

$49

199

*Taxes & Surcharges

$7.34

$12.07

$39.07

Minutes:

$10.80 (180 minutes)

$0 (2,000 minutes included)

$0 (10,000 minutes included)

Notes:

1 toll free or local number included

2 toll free or local number included

3 toll free or local number included

Optional Add Ons:

Additional phone numbers - Add $5 / month each
Voicemail-to-text - add $10 / month
"Call Blasting" - add $10 / month
*Note: The exact amount you pay in taxes and fees will vary depending on location. Some states, counties and cities will charge more than others. The prices in this example reflect the taxes in New York City.
It's also important to note these prices do not include your mobile phone, landline or Skype service bill, which you'll have to factor in because Grasshopper does provide actual phone service.
International Calling
You can make international calls for an additional charge per minute. Rates are on the lower end compared to other providers, ranging between 2 cents to over $1 USD per minute, depending on the country. You can look up international rates here. Grasshopper does not offer international phone numbers.
Check our full guide to International Calling Rates, where we compare all the top VoIP providers.
Reliability
Grasshopper scored below average for reliability of service and quality of calls. Of the 63 user reviews on www.virtualphonesystemreviews.com and www.comparz.com, 14 users reported technical issues: 2  noted dropped calls, 11 noted outages, and 1 user noted other technical problems. Many of the outage complaints were related to a single incident in 2011 when Grasshopper was out of service for a few days.
Ease of use
Setup – Easy. Grasshopper does not require any hardware. The first time you log in Grasshopper guides you through all the steps you need to take in order to set up your system. You could feasibly have all this done – with extensions, an auto attendant and custom recorded greeting – within a half hour.
End User – Easy. The Grasshopper online dashboard is simple and easy to navigate. Users should have no problem checking their voicemail or changing their forwarding number.
Support – Easy. Grasshopper has 24/7 phone support, as well as a searchable help center with a good number of user guides.
Features
| Features It Has | Features It Does Not Have |
| --- | --- |
| Receptionist (Auto Attendant) | Integrate w/ CRM |
| Call Queueing | Video Calls |
| Find Me / Follow Me | Call Recording |
| Call Scheduling | |
| Conference Calls | |
| Online Fax (receive only) | |
| Voicemail to Email | |
| Music on Hold | |
| Voicemail Transcription | |
*Available with a Virtual Office Pro account ($5/user/month upgrade)
Detailed Overview:
Auto Attendant
You can create your own greeting for users to hear when you first call a number. You can record this via phone, upload an audio file, or record it using your computer's built-in microphone. You can also send a script to Grasshopper's voice studio to record for $75.
Set up the menu options (i.e. "press 1 for sales, 2 for customer service") from the online dashboard by clicking "Extensions." (pictured below) Here you can set up the extensions for all your departments and individual employees. You can also set up a dial-by-name directory.
Call Routing
For each extension, you can add multiple forwarding numbers. You can choose to have them all ring at once, or in a specific order (call queueing). There's also call scheduling in that you can set hours for each number. For example, you could have the call forwarded to one number from 9am to 5pm and a different number from from 5pm to 8pm, or whatever hours you set.
If you need to transfer a call during a conversation, you can place the caller on hold by pressing # twice. Then you can press 2 to transfer the call to another extension. (explained here).
You can also upload music to play on hold for each extension. (explained here)
Voicemail
Voicemail messages are saved under the "Messages & Calls tab." You can play the audio and download or forward voicemail messages to your email inbox. You can click "request a human transcription" to have a Grasshopper employee listen and write out your voicemail. It costs an additional $10/month to use this feature.
You can set up Grasshopper to automatically send emails when you get a voicemail with a recording attached. You can also receive SMS alerts.
Unlike other services that give each extension their own inbox, Grasshopper places all voicemails in one place. A user will only find voicemails for extensions they are subscribed to, however. So if you have a user subscribed only to the customer service extension, they'll only see customer service-related voicemails. You can set up which user has access to which extensions under "Settings" and "Users."
Online Fax
Your Grasshopper number can receive faxes, but you cannot send faxes. Under "Extras" you can turn this feature on and off. You can also enter email addresses for faxes to be forwarded to as a PDF. You can also access faxes via your Grasshopper inbox – the same place you check your voicemails. (read more here). To learn more about our recommended online fax service, read our best online fax service buyer's guide.
Conference Calls
Conference calling is not great with Grasshopper. For one, while it's available free on all plans, you need to ask support to turn it on. Secondly, while you can have up to participants on a call, you have to add users manually by dialing each number and waiting for each caller to accept the invite. There's no conference bridge number for users to enter themselves to join the call. Also, each participant contributes to your minutes separately, so a 20 minute call with 10 participants would equal 200 minutes. (read more here)
Call Forwarding
Grasshopper is all about call forwarding. They don't actually provide service themselves, so every call you get will have to be forwarded to another device.
Call forwarding is set up under "Extensions" – the same place you can set up your dial menu. You can choose which numbers ring for which departments and at what times or in what order. You can turn numbers "on" and "off" with a single click, so you can easily stop forwarding to your home or office phone when you head out for lunch.
When a call is forwarded to your cellphone, it will appear as an 800 number. You'll hear an automated voices saying you have a call from grasshopper. You can click to accept, reject, send to voicemail or hear the phone number that's calling.
Call Recording
Grasshopper does not have any call recording capabilities at this time.
Mobile App
Grasshopper has a well developed iOS app, although the Android app is still in beta.
The iOS that lets you make calls from your Grasshopper number, check voicemail messages, view a call log and add e signatures to faxes or PDFs. One issue to note, however, is that any calls you make will count as cell phone minutes as well as Grasshopper minutes. The Android app has many of the same features, except e signature capability.
For outgoing calls, the Grasshopper mobile app enables you to show your business number to recipients. You have to be connected to the internet in order to do this. The call itself, however, goes out over your mobile network, so the call quality will not be affected by your internet connection.
Integrations
Grasshopper does not integrate with any other systems at this time.
Reporting
Besides the fact that you can view a call log from your dashboard, there's no call reporting or analytics on callers.
Customer Service
24 hours?
Yes.
US Based or Not?
Yes.
What's The Method of Delivery?
Grasshopper has 24 hour phone support and ticket submissions. Users are generally content with their customer service. They also have a searchable help center with adequate resources.
The Bottom Line
There's two main reasons why you'd want to use Grasshopper – 1. If you need a professional sounding phone system overnight or 2. If you have a lot of remote workers that prefer to use their cell phone instead of a corded phone. Grasshopper is very easy to set up and costs much less than its competitors.
The main downside, however, is that Grasshopper does not actually provide phone service – you can only forward calls to another device, like your cell phone. So if you use a lot of minutes, Grasshopper could be very expensive in the long run.
If your'e looking for a proper small business VoIP system, we recommend using Nextiva. You can check out our comparison of Nextiva and other top providers here.