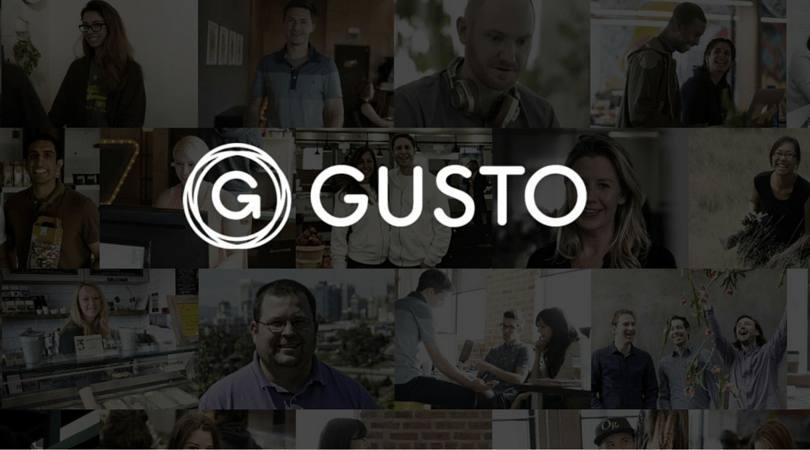 What is it?
Small Business payroll software.
How popular is it?
Gusto (formerly ZenPayroll) serves over 30,000 customers, as of August 2016.
Similar products?
What does it do well?
It's affordable and easy to use payroll software with full tax support, workers comp and benefits.
What does it not do well?
Gusto costs around $69/month for 5 employees. While we feel their high level of service is worth it, some businesses may prefer a simpler free or low-cost payroll program.
Who does it work well for?
Small businesses that want State and Federal payroll taxes filed for them, and help managing benefits and PTO.
Who does it not work well for?
Businesses that want a more bare bones solution should check out these free and low-cost payroll programs instead. You won't get help with new hire reports, or taxes filed on your behalf – as you do with Gusto – but it's better than running payroll and managing taxes by hand.
Accounting Integrations?
Yes, Quickbooks & Xero
Compliant in all 50 States?
Yes
Free Trial?
Cost Compared to Competitors?
Mid-range
Cloud or Hosted?
Cloud
US Based?
Yes, Company & Customer Service
Price
Gusto (formerly ZenPayroll) comes in one edition, which includes the full set of features. The base price is $39/month and you pay an additional $6/month per person on the payroll, which includes both employees and contractors. So, for 3 employees and 2 contractors, the cost would be $39 + $30/month, or $69/month.
Ease of use
Setup – Easy. Given all the employee and business information you need to enter, setup will be challenging no matter which payroll solution you use. Gusto keeps things as simple as possible, however, with an 8-step guided setup process you can complete at any time. You can chat with customer support (during business hours) at any time directly on the interface. Just click the icon in the lower right-hand corner. 
Another nice thing that makes setup easy with Gusto is the fact that you can have employees enter personal information themselves. After entering their basic information, you can select "self-onboarding" and your employee will receive an email with a link to enter their SSN, birthday, home address, and tax withholding preferences.
End User – Easy. From the stripped down navigation bar to the intuitive menus for adding employees or running payroll, I found everything in Gusto to be straightforward and easy to use.
Support – Easy. Gusto has phone and email support available during business hours (8am to 6pm PST). There's also a searchable support center with articles and video guides. Users spoke very highly of the customer service and I confirmed this with my own experience.
Features
| Features it has | Features it does not have |
| --- | --- |
| Direct Deposit | It has all the features we evaluated in our payroll software section. |
| Manage Sick Days / Vacation Days | |
| Pay Contractors | |
| Manage Benefits | |
| Send 1099 forms | |
| Send W-2 forms | |
| Submits payroll taxes | |
Integrations
| Integrations it has | Integrations it does not have |
| --- | --- |
| Accounting (Xero, Quickbooks) | Project Management (Basecamp, Asana) |
| Time Tracking (TSheets, WageBase) | CRM (Zoho, Salesforce) |
| | Digital Signature (Right Signature) |
| | Zapier |
Detailed Overview:
How Payroll Works
Running payroll takes a few quick steps. The first step is to review salary information to make sure everything is correct. You'll see a list of all your employees with their default salary and wages listed. You can adjust the number of hours worked, however, and add overtime. You can also add commission, additional earnings and reimbursement for company expenses.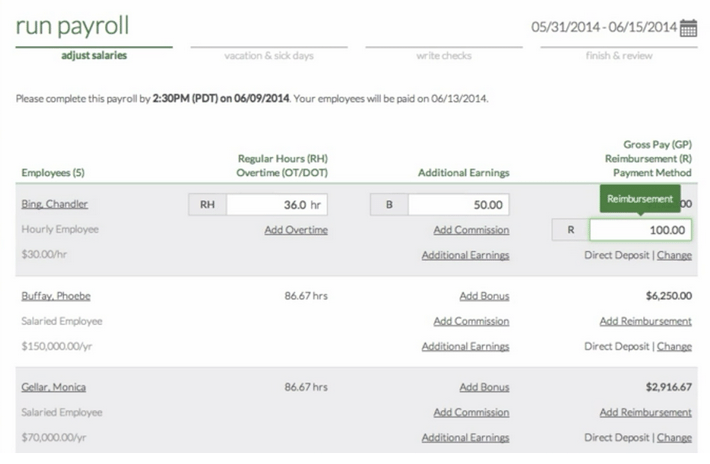 Once this is all entered, you can submit the information and process payroll. Employees with direct deposit will receive payment automatically on the pay date. For those without direct deposit, you can print checks directly from Gusto (explained here).
You can also setup the system to process payroll automatically. When turned on, this feature (known as "AutoPilot") will automatically process payroll one day before it's due.
See more about running payroll here.
Vacation/Sick Days
You can also use Gusto to track sick days and vacation days. When adding a new employee, you can set their allotted number of sick days and vacation days, as well as the number they've used up so far this year. Then, when you go to run payroll, you'll have the option of entering in sick/vacation days if any were used during this pay period. If an employee has used up all their days, you'll get a notification so you can go back and deduct pay if necessary.
Gusto recently added accrued PTO, which means employees can build up vacation days as they work more hours. To set this up, simply add the amount of PTO employees will earn for each hour worked. For help calculating PTO accrual, check out this article from Timesheets.
Pay Schedules
You have the option of paying employees weekly, every other week, twice a month, or once a month. This is set up under "Company Details" > "Change Schedule." You can also choose which day(s) of the week or month you'll be sending payment and specify the "start" date, which is when you'll send the first payment. (Read more here)
Gusto lets you setup multiple pay schedules. This can be helpful if you have both salaried and hourly employees, and prefer to them at different schedules (i.e. bimonthly and biweekly.)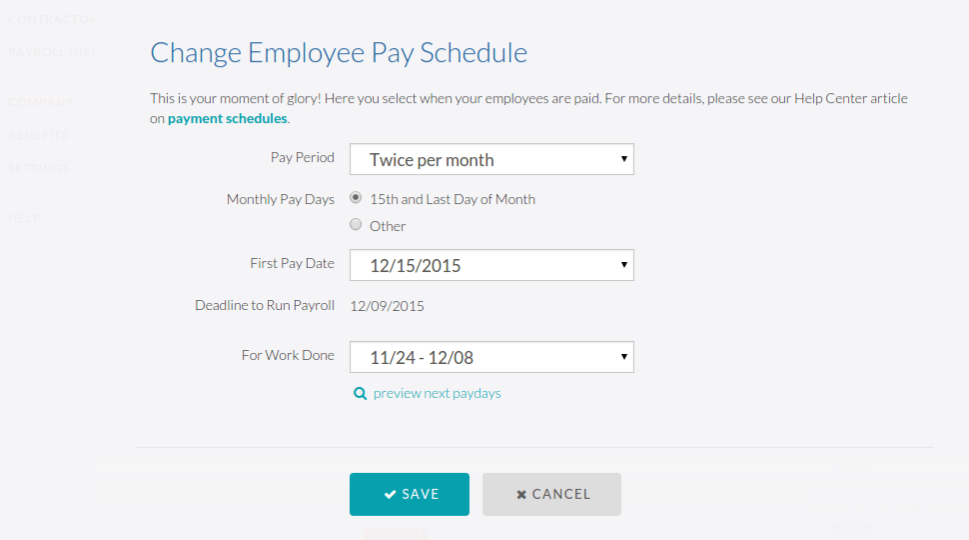 Payroll Taxes
Gusto handles federal and state payroll taxes in all 50 states (+DC).
Gusto gives you full taxes: During each pay period, employee taxes are withheld and payroll taxes are calculated. These taxes are sent directly to the federal and state government at the time the need to be collected, without any work required on your end. Employees will receive W-2s via email (to the email address provided to their account).
State and federal unemployment insurance taxes are also calculated and paid for you. To make sure your state liabilities are accurate, however, you'll need to manually update the rate this year. This number is uniquely assigned to each business and can change from year-to-year. (explained here)
Paying Contractors (1099s)
Besides employees at your business, you can also use Gusto to pay independent contractors. Like employees, contractors will count as users and require an additional $6/month each. Contractors are paid and managed, however, on a separate menu than employees.
You can add a contractor by filling out basic information (including SSN or EIN) and bank information if you wish to pay them via direct deposit. Once submitted, your contractor will receive an email with a link to login and see their payment information.
Sending payment is similar to running payroll, though a little easier. Just enter the amount and add reimbursement or a memo (if necessary). If you have direct deposit set up, the payment will automatically be added to their accounts. Otherwise you can print out checks, as you can with payroll. At the end of the year, Gusto will file 1099 forms on your behalf, and send these to your independent contractors via email.
Benefits
Benefits and charity matching are easy to manage. From the Benefits menu on the main navigation bar you can select between a number of different benefits to add. Once saved, you can add employees to a benefit under the Employees tab and set both the dollar amount deducted from salary and the amount contributed by the company.
As a newly released feature, Gusto also lets you offer health, retirement and transportation benefits to your employees. Gusto partners with different insurance and benefits providers to give you a range of options. Payments are automatically calculated and deducted each pay cycle.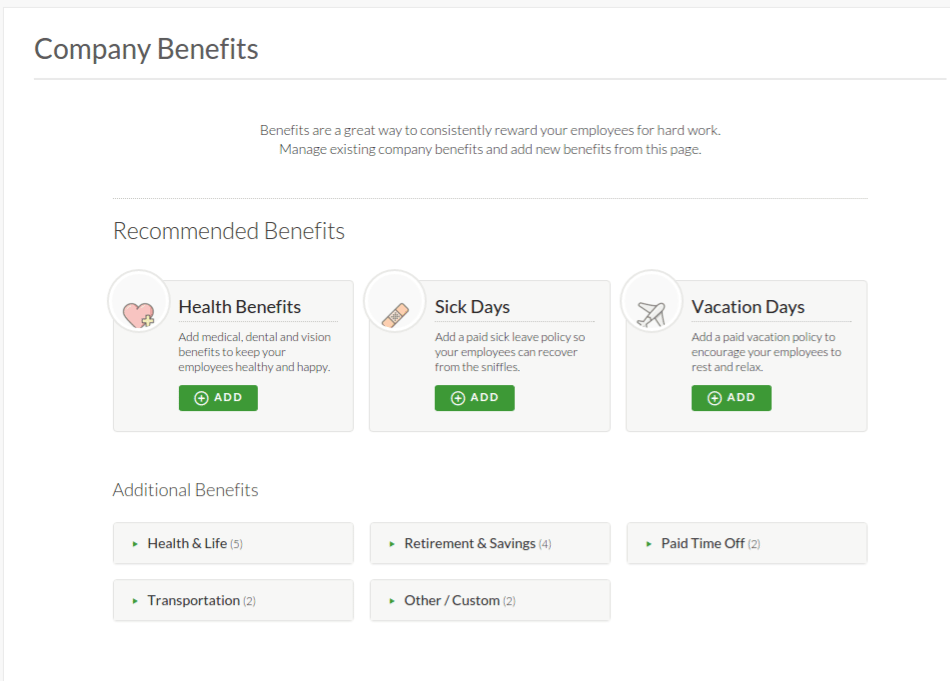 Integrations
Gusto (formerly ZenPayroll) integrates with a handful of other business programs, including Quickbooks, Xero, Freshbooks, time tracking software, benefits administration software, expense management and HR systems. By integrating with accounting software, you can automatically add payroll entries to your books. The integration with time tracking software (including TSheets and Nimble Schedule) automatically imports employee hours to Gusto.
Check out the full list of integrations here.
Reporting
You can download a number of reports as either CSV spreadsheets or PDFs. Topics range from payroll activity, contractor payments, tax reports and more. (Read more here)
Customer Service
24 hours?
No, 8am to 6pm PST, Monday to Friday.
US Based or Not?
Yes
What's The Method of Delivery?
Gusto has phone and email support available during business hours. There's also a searchable support center with articles and video guides. Users spoke very highly of the customer service and I confirmed this with my own experience. Although the wait time was moderate (5 to 10 minutes), the support representative was very helpful and able to answer more difficult questions.
Click Here to get our FREE Google advertising guide and discover the 6 steps you can use to show up #1 in Google search
The Bottom Line
Gusto rocks the payroll software world for two main reasons:
It's intuitive and easy-to-use software, loaded with convenient tools like employee self-onboarding and "auto pilot" payroll.
You get full tax support, including state and federal payroll taxes, unemployment taxes, W2s, 1099s and more, all filed for you. This comes at a fraction of the price of its competitors. Equivalent packages from Intuit and Surepayroll start at $101 and $72, respectively, while Gusto starts at $45.