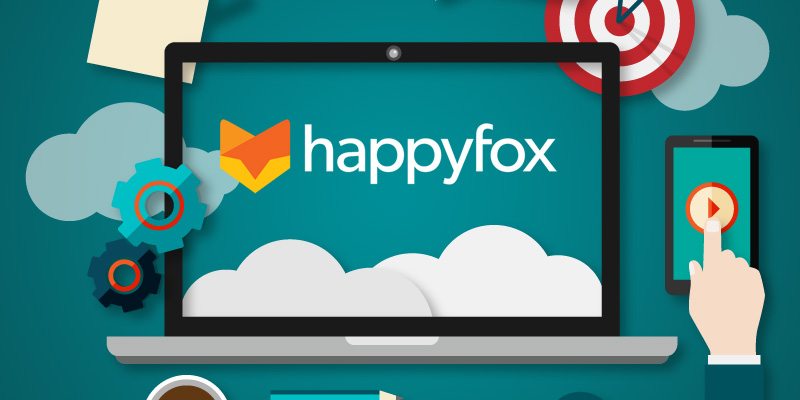 What is it?
An online business help desk tool for small, medium, and large businesses.
Want to manage 1000's of leads, save time, and get organized? Click Here to get our FREE CRM guide and find out how.
How popular is it?
HappyFox has thousands of customers in 32 countries, ranging from small businesses to Fortune 500 firms.
What does it do well?
Handle large volumes of email tickets by giving you email ticket management features (forwarding, splitting, cloning, merging, linking etc) that you won't find in other help desk software for the same price.
What does it not do well?
It doesn't give you a low cost help desk option if you want more than email ticket management.
Who does it work well for?
Larger companies and small businesses with a high ticket volume that need specific ticketing features (e.g. cloning and splitting tickets).
Who does it not work well for?
Small businesses with 3 or fewer agents and businesses that want social media, phone, and live chat integrations at a lower cost.
Free Edition/Trial?
30 day free trial.
Cost Compared to Competitors?
Moderate
Type of Solution?
Cloud and Mobile
Similar products?
US Based?
Yes. Headquarters and customer service located in Irvine, California.
User Reviews?
Very Good (see reviews)
HappyFox Pricing
| | Price | Summary |
| --- | --- | --- |
| Mighty Plan | $29/agent/mo. | Ticketing features, social media integration, live chat integration, reports, knowledge base and forums, email and phone support |
| Fantastic Plan | $49/agent/mo. | All Mighty features plus custom reports, multi-lingual support, and more security features. |
| Enterprise Plan | $69/agent/mo. | All Fantastic features plus you can add part-time agents and social media accounts. |
HappyFox has three pricing levels. The entry level Mighty plan includes all the ticketing features that are at the heart of HappyFox, a knowledge base/community forums, and reporting dashboard. You also get limited social media monitoring in the Mighty Plan. For additional social media features, customizations, and security features, you can upgrade to the Fantastic and Enterprise levels.
HappyFox is an economical option if your business employs more than 3 customer service agents and handles most customer inquiries via email. Whereas Freshdesk's free plan and Zendesk $1 plan limit you to 3 agents, you can have unlimited agents on HappyFox's Mighty plan.
If you employ 3 or fewer agents, Zendesk's $1/agent/month plan and Freshdesk's free plan offer other advanced features at a much lower cost than HappyFox. Zendesk's $1/agent/month Starter Plan is live chat/phone enabled and includes social media monitoring. Freshdesk, our recommended small business help desk, offers a web form and phone, CRM, and numerous other integrations for free.
If you want to integrate your help desk with live chat, HappyFox has a live chat feature. Pricing starts at $14.99 per agent per month, and a free 14-day trial is available. This is on top of the cost of the help desk plan.
All HappyFox pricing plans are per agent. The given prices are based on annual payment–expect about a 25% bump for monthly payment.
Read more on HappyFox pricing here.
Ease of use
Setup – Easy. Once I created a login, my HappyFox help desk was created in a couple minutes. A welcome screen showing the setup steps appeared, and I received a sample ticket. You have to forward support emails from your email client to HappyFox to convert them into tickets (no importing available). I was able to set up forwarding and begin managing HappyFox tickets in just a few minutes. Other setup steps, like adding agents, were relatively simple.
Administration – Moderate. I found it a bit difficult to find things within the interface. For example, it wasn't clear how to insert a knowledge base article into a ticket or how to customize the colors in your self-help portal. I found myself going back and forth too much between the user guides and the help desk.
End Users – Moderate. Your customer service agents can be up and running quickly for basic functions, like answering customer queries and using canned actions. It also took me only a short while to use the ticket managing features, like cloning tickets, that are at the heart of HappyFox. However, I gave HappyFox a Moderate score in this category because I found it pretty hard to get my name (the agent name) to appear in emails. Without an agent signature, customers get an un-personalized email from "Admin" or "Company." Finally, after a couple emails to HappyFox support, I was able to change my agent signature. Customers can easily respond to HappyFox tickets via email.
Help -Moderate. The level of email and phone support varies based on the the plan that you purchase. During the free trial, you can schedule a demo with a HappyFox rep. The user guides illustrate how to use all the features.
Primary Features
These features are in the $29/agent/month "Mighty" plan. Features vary based on the plan selected. The features not included in the Mighty Plan are available in the costlier Fantastic and Enterprise plans.
| Features Included | Features Not Included |
| --- | --- |
| Web Form for Receiving Tickets | Custom Dashboard |
| Canned Responses & Internal Notes | Add part time agents |
| Workflow Rules | Send SMS |
| Self-Help Portal w/ Knowledge Base | |
| Self-Service Community Forums | |
| Social Media Monitoring: Facebook and Twitter | |
| Reports, Dashboards, and Time Tracking | |
| Ticket mgmt features: Cloning, Splitting, Merging, Linking, and Forwarding Tickets | |
| Supports Multilingual Content | |
| Built-In Live Chat** | |
Primary Integrations
HappyFox's Mighty plan supports approximately 25 integrations with other apps, so you can make your help desk work with other business tools. Insightly, our recommended small business CRM, works with HappyFox. Other popular integrations supported by HappyFox include MailChimp, Shopify, Salesforce CRM, Survey Monkey, JIRA, and Twilio.
We discuss CRM, phone, and live chat integrations in detail below, as these may be especially important for your business.
| Integrations Supported* | Integrations Not Supported |
| --- | --- |
| CRM: Salesforce, Zoho, Insightly, and more. | Nimble |
| Live Chat: Olark, SnapEngage, and p3chat | |
| Phone/Voice: Twilio | Nextiva, RingCentral, Phone.com, 8x8 |
| Bug Tracking: JIRA | BugHerd, Pivotal Tracker, Bugify |
| E-Commerce: Magento, Shopify | Bigcommerce, Volusion |
| Social Media: Facebook and Twitter | LinkedIn, YouTube, Pinterest |
| Task Management: None | Asana, Trello, Basecamp |
| Email Marketing: MailChimp | |
| Surveys: Survey Monkey | |
| Other: Zapier | |
View full list of HappyFox integrations here.
Detailed Overview:
Intro/Product Summary:
HappyFox's claim to fame is its ticket management features. These features (e.g. duplicating, splitting, linking, merging, forwarding tickets) can increase your business efficiency, especially when you have a high ticket volume.
Businesses can get valuable information from HappyFox on how to use help desks in their specific industry. It has information for retail, healthcare, travel, and other business segments. I haven't seen this resource on other help desk websites.
HappyFox is a low-priced help desk option if your business employs more than 3 customer service agents and handles its customer support primarily over email. None of HappyFox's plans have an agent limit, whereas Freshdesk's free plan and Zendesk and Desk.com's cheapest plans limit you to 3 agents. These companies significantly bump up the price if you have more than 3 agents, even if all you need is basic email management.
There is a higher cost if you want to go beyond email ticketing management. You will pay $29/agent/month with HappyFox to get social media monitoring and multi-channel (phone + live chat) integrations, which you can get with Zendesk for $1/agent/month. You will pay $29/agent/month to get a web form and canned responses, which you can get with Freshdesk, our recommended help desk for small businesses, for free.
Features
1. Customer Web Contact Form/Web Widget
You can make it easy for your customers to contact you by putting a "contact us" form on your business' website. By default, like other help desks, HappyFox converts emails from your customers into a ticket that your agents can reply to.
HappyFox's web widget tool lets customers submit inquiries from your business' website as they are browsing. The inquiries become HappyFox tickets that your agents can reply to. Customers can search through the knowledge base to see if it contains the answer to their question. If it doesn't, they can submit a support request from the same page using the web form.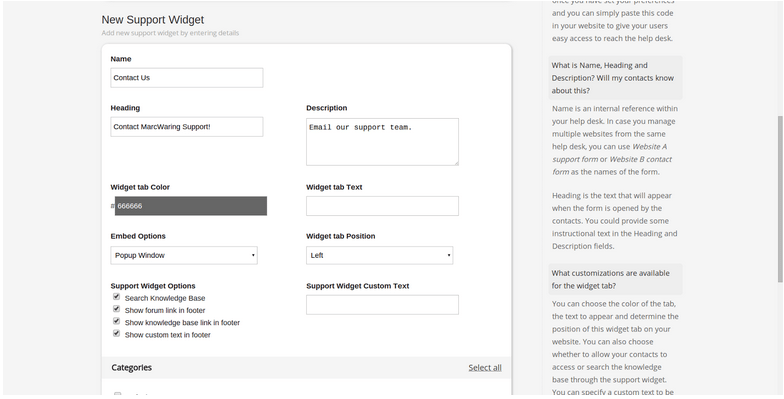 2. Canned Responses & Internal Notes
Canned responses (called "canned actions" on HappyFox) let a customer service agent answer FAQs with a single mouse click. On HappyFox, you can create macros on any topic and easily insert them into individual tickets (but into multiple tickets at once). Canned responses are different from the self-help portal (more on that below). Canned responses are shortcuts designed to help the agent, while the self-help portal includes answers to FAQs for customers.
You can also add a private note, visible only to you and other agents, to a case.
3. Workflow Rules
Similar to canned responses, workflows can save your agents the time and effort of manual labor by automating ticket actions. The most advanced help desks come with three types of workflows or automations:
Assignment-related
Time-related
Ticket-related
HappyFox has assignment-related and time-related automations, which are together called "Smart Rules."
You can automate ticket routing to a particular agent or team of employees (e.g. route all emails with the subject line "job" to your HR team or route all high priority cases to yourself).
You can perform actions on tickets after a certain period of time elapses (e.g. automatically close tickets if a customer doesn't respond to a ticket for 48 hours).
You cannot make more dynamic ticket-related rules in HappyFox. For example, you cannot trigger actions based on changes to a ticket (e.g. automatically re-open a ticket when a ticket's priority is changed).
For better workflow ability, give Freshdesk a try.
4. Self-Help Portal w/ Knowledge Base
A knowledge base lets your customers find answers to common questions on your website, without the need to contact you.
Your customer service team can easily add and edit knowledge base articles right from within HappyFox. This took me a few tries on HappyFox, but you can treat knowledge base articles like canned actions and use them when responding to customer emails. If customers can't find the answer to their question on your knowledge base, they can use the customer web form (see discussion above) to contact you.
You can add your own color and logo customizations to personalize the appearance of your knowledge base, but I found this more difficult to do on HappyFox than on other help desks.
5. Self-Service Community Forums
Community forums, where customers can discuss questions or problems with each other, are another great self-service tool. Community forums appear on your self-help portal alongside your knowledge base and foster communication among your customers. Your agents can post responses and moderate responses. Your community forums page takes on the same customizations that you set for your knowledge base.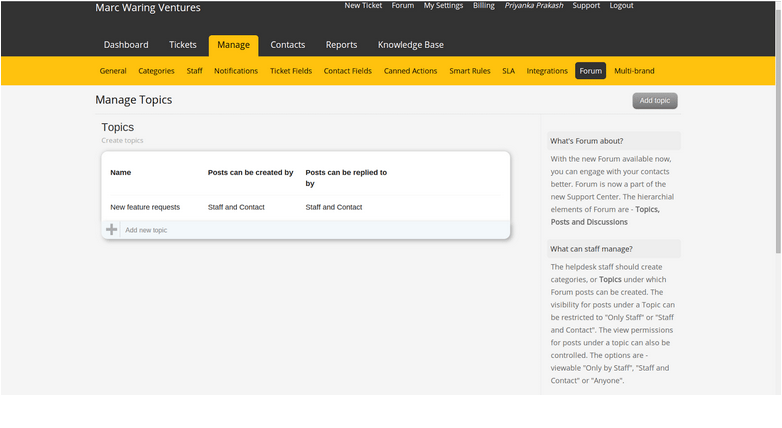 6. Social Media Monitoring
Social media can be an important source of customer traffic. You can link 3 Facebook and 2 Twitter accounts to your help desk with the Popular plan and more with the higher end plans. For unlimited social media page support, try Deskero or Freshdesk.
Facebook –  Automatically convert Facebook messages into HappyFox tickets.
One big drawback: Unlike virtually every other help desk with social media integration, HappyFox does not have the capacity to turn Facebook posts and comments into tickets. It only converts private messages to your business' Facebook account into tickets. This misses an important source of customer comments and feedback.
When your agent uses HappyFox to respond to tickets originating from Facebook, the agent's response is added to the message thread in Facebook, and the customer is alerted.
Twitter – Tweets can really help or harm your business. Similar to Facebook, you can automatically monitor your business' Twitter feed by converting tweets with your business' @Twitter handle and direct messages into HappyFox tickets.
Twitter search is not possible on HappyFox. This is helpful when agents want to search Twitter traffic for keywords related to your business or to competitors and act on the search results. For this, try Deskero.
YouTube and LinkedIn Integrations – YouTube and LinkedIn are not directly integrated with HappyFox.
7. Live Chat
HappyFox has a built-in live chat tool starting at $14.99/month per agent (there's a free 14 day trial) on top of the help desk monthly fee. You can view real-time information about the visitor, such as the most recent web page they were on, when chatting with them. You and your customers can also get emails of the chat transcripts. Canned responses are available for your agents to quickly resolve issues via live chat. Kayako help desk offers built-in live chat with the highest degree of functionality.
As an alternative to built-in live chat, you can integrate HappyFox with Olark, SnapEngage, and p3chat. If you subscribe to one of these services, you can chat with customers from your website and turn chat conversations into tickets. Even chats that you missed while you were offline can be converted into tickets. Each live chat service charges a fee (around $10-15/agent/mo), so you should take this into account beyond the cost of your HappyFox plan.
8. Phone Integrations
With phone integration, you can receive calls with HappyFox. You cannot make outbound phone calls from HappyFox, which is a drawback for sales-oriented businesses that call many leads.
HappyFox integrates with Twilio for phone integration. If you subscribe to Twilio, you can listen to call recordings in HappyFox, store call transcripts and details in HappyFox, and convert them into tickets. This brings inbound phone communications under the same HappyFox umbrella as your other support channels. Twilio charges fees (starting at $1/mo for a phone line plus $.0075/minute for inbound calls), so you should take these into account beyond the cost of your HappyFox plan. See more details here.
For additional information about phone services for small businesses, see our VoIP buyer's guide.
9. Surveys and Email Marketing
You cannot embed one-click customer satisfaction surveys into tickets on HappyFox. You can, however, send surveys by integrating HappyFox with Survey Monkey, a popular free online survey software for businesses. This will give customers a link to your Survey Monkey survey, but your survey questions won't appear in the body of the email.
HappyFox integrates with MailChimp, free and paid email marketing software for businesses. You can use the integration to schedule marketing emails for certain customer segments and to import contacts between HappyFox and MailChimp.
10. Reports, Dashboards, and Time Tracking
All the HappyFox plans include a basic reporting dashboard, which shows total ticket volume, number of pending tickets, and tickets by priority and status.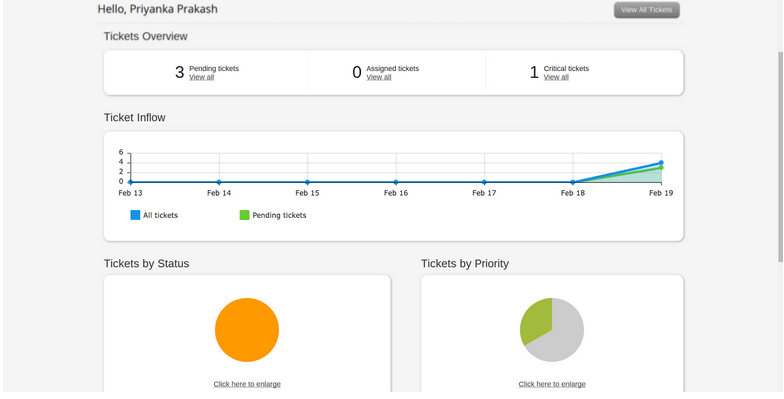 You can view individual agent performance reports and overview reports on average time to first reply, average reply time, average resolution time, and average number of replies before resolution. You can add filters to view stats related to tickets of a particular priority or status. It's not easy to filter stats based on channel. You can set up custom reports and scheduled reports in the Fantastic and Enterprise plans.
Agents can track the amount of time they spent on a ticket, and the advanced analytics shows how much time all agents or specific agents spent on tickets.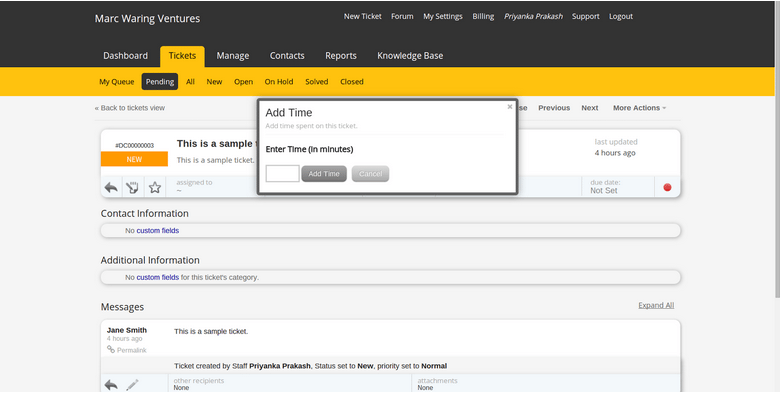 11. CRM Integrations
One benefit of using HappyFox is that it can be used as an add on to several CRM systems, including Insightly, our recommended provider for small businesses. If you subscribe to both HappyFox and Insightly, you can sync customer contact information in both systems and view customer information from Insightly on your HappyFox ticketes. You can also automatically add a note in Insightly whenever a ticket is updated in HappyFox. Similar functionality exists if you integrate HappyFox with another CRM.
This saves organizations who need both CRM and help desk software from having to add the same information to two different systems.
Other than Insightly, HappyFox also integrates with Salesforce, Zoho CRM, Infusionsoft, and more.
12. Ticket-Level Features: Duplicating, Splitting, Merging, Linking, and Forwarding Tickets
HappyFox provides a high degree of functionality for managing a large ticket volume. This can make your customer service platform more efficient.
Duplicating & splitting tickets: Duplicating or splitting a ticket is helpful when multiple agents or departments are needed to handle a customer's inquiry. You can clone the ticket on HappyFox or split it and assign each part to the relevant agent or team.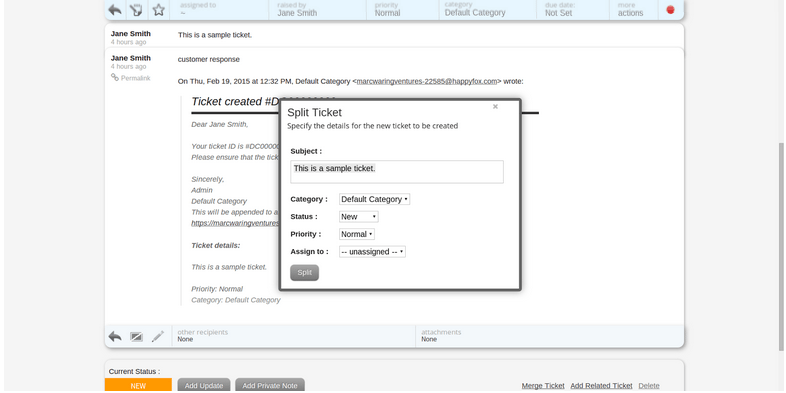 Merging & linking tickets: When two tickets raise the same issue, you can merge or link them in HappyFox. Merging them creates one ticket out of two similar tickets. Linking tickets lets you keep two tickets as separate but indicate that they are related for your agents.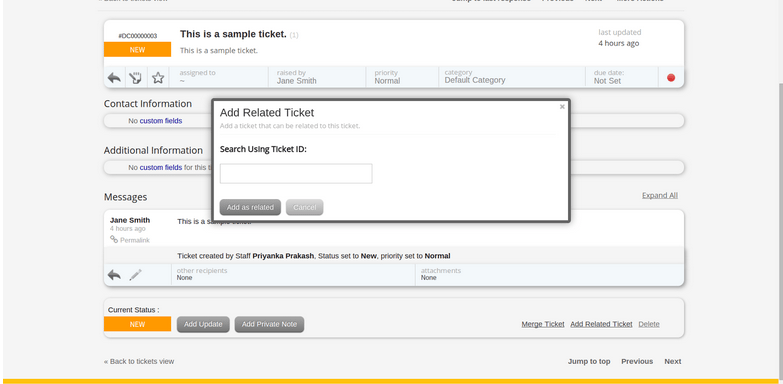 Forwarding tickets – Sometimes, a customer issue can be easily resolved by a member of your team who is not a help desk agent. HappyFox lets you forward the ticket, including internal notes associated with a ticket, to a non-agent for resolution.
13. Mobile Help Desk
HappyFox has an iOS (iPhone and iPad), Android, and Windows Phone app to let your agents respond to critical customer service issues on the run. The mobile versions are limited, mainly letting you reply to tickets. Other actions, such as adding canned responses or knowledge base articles, are only available in the desktop version.
14. Multi-lingual Support
HappyFox Fantastic and Enteprise plans have an impressive amount of multi-lingual support, benefiting businesses that have international employees and customers. More than 30 languages are available for the agent portal and 15 languages are available for the customer knowledge base.
15. Multi-Brand/Multi-Product Support
You can manage up to 3 separate brands in your self-help portal with HappyFox's Mighty plan. The less expensive plans only support one brand.
Customer Service
24 hours?
All HappyFox plans come with 24*7 email support. The Mighty plan also has 24*5 phone support. HappyFox has helpful online user guides, user forums, and instructional YouTube videos to help you understand its functionality.
US Based or Not?
Yes, in Irvine, CA.
Self Help, Phone, Email, Live Chat?
This depends on the plan you purchase (see above). Live chat support is not available for HappyFox customers.
The Bottom Line
HappyFox is a good choice if your business needs advanced ticket-level features to streamline a high ticket volume or if you employ more than 3 customer service agents. If these don't apply to your business, you may want to consider another option. Freshdesk, our recommended help desk for small businesses, offers more important and more frequently used features at a lower price.
Want to manage 1000's of leads, save time, and get organized? Click Here to get our FREE CRM guide and find out how.