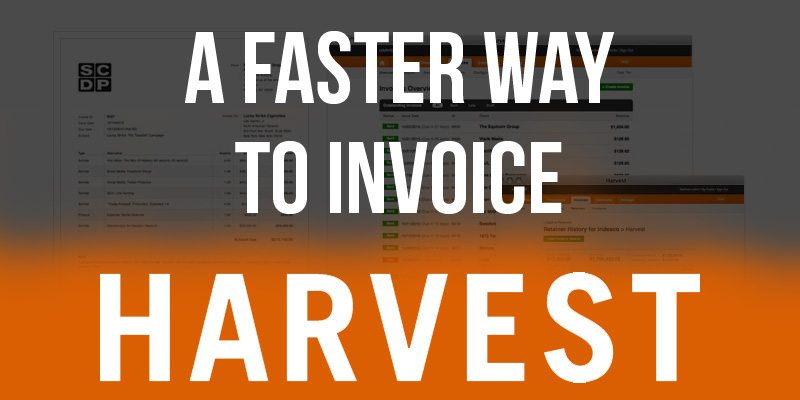 What is it?
Time tracking and invoicing software for small businesses.
How Popular is it?
Over 30,000 companies use Harvest
Similar Products?
What does it do well?
Harvest has solid, easy to use time tracking tools. It can also link up with accounting software like Xero and Quickbooks.
What does it not do well?
Invoicing is pretty basic. You can't save a list of products or services, customize invoice formatting or automatically send invoices via snail mail. Also, there's only 2 payment processing options (Paypal and Stripe).
Who it works well for?
Self employed workers who need to track time and expenses to invoice clients.
Who

it does not work well for?
Larger teams who need more comprehensive invoicing tools and reporting options. (Check out Freshbooks)
Time Tracking?
Yes
Send Invoice via physical mail?
No
Does it support multi currency?
Yes
Free Trial?
Yes
Cost Compared to Competitors?
Mid Range
Cloud or hosted?
Cloud
US Based?
Yes
Harvest Pricing
Harvest Pricing is divided into free and paid options. There's a free version of Harvest, but you're limited to 1 user, 4 clients and 2 projects. Otherwise there's 3 paid editions available:
The Solo edition ($12/month) gives you unlimited clients, projects and invoicing for 1 user. You can add 2 additional users, however, for $10/month each.
The Basic edition ($49/month) gives you 5 user licenses and adds timesheet approval. If you want more users you can add up to 9 for an additional cost of $10/month each.
The Business edition ($99/month) gives you 10 user licenses along with all the features of the basic edition. You can add an unlimited number of users at a cost of $10/month each.
Ease of use
Setup – Moderate. While Harvest is fairly simple and doesn't require too much setup, there weren't any special resources like Freshbooks has for first time users.
End User – Easy. Though a little more complicated than basic time tracking & invoicing, I found Harvest to be intuitive, easy to navigate and reliable, free of any bugs or button response issues.
Support – Easy. Harvest has free phone and email support. I did not find any complaints from users about the support team. Also, there's searchable help center with user guides, FAQs and video tutorials. You can also sign up for a weekly webinar to learn the ropes.
Features
| Features it has | Features it does not have |
| --- | --- |
| Time Tracking | Custom Invoice Formatting |
| Estimates | Save List of Products/Services |
| Payment Processing | Auto-Payment |
| Recurring Invoices | Send Invoice via Snail Mail |
| Multi-Currency | |
Integrations
| Integrations it has | Integrations it does not have |
| --- | --- |
| Accounting (Xero, Quickbooks) | Cloud Storage (Google Drive, Dropbox, Box) |
| Payment Processing (Stripe, Paypal) | CRM (Zoho, Salesforce) |
| Project Management (Basecamp, Asana) | eCommerce (Shopify, Big Commerce) |
| Zapier | Digital Signature (Right Signature) |
| | POS (Shopify, Vend) |
| | HelpDesk |
| | Mailchimp |
Detailed Overview:
How To Create Invoices
Harvest invoices are pretty basic. You can draw a list of items and services and specify the quantity and unit price. You cannot, however, pull up items from a pre-saved list as you can with Freshbooks. Also, you cannot apply taxes individually to each item. You have to apply tax to the invoice as a whole.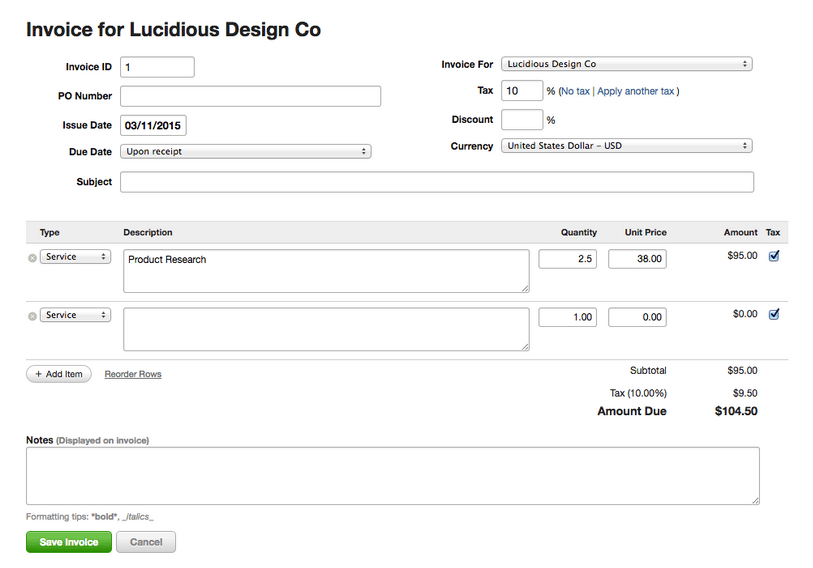 To send invoices, you can print a PDF and send via regular mail or send via email with a link to pay (which we'll explain under payment processing below). Unlike Freshbooks, Harvest will not send your invoice via snail mail. There is, however, a 3rd party service that can do this for you (read more here).
Sales Tax
Sales tax is also pretty basic. You can apply multiple tax rates to your invoice, but you can't do this item-by-item as you can with Freshbooks. This means you don't get the flexibility to tax some of your products/services but not others.
All tax rates have to be entered manually. I did not find any feature or integration that automatically imports tax rates based on the customer's location. However, if you link your Harvest account with Xero accounting software, the tax rates you have saved in Xero will be imported. (Explained here)
Payment Processing
Harvest has integrations with PayPal and Stripe that allow clients to pay via credit card straight from an invoice. Setting this up is easy. You can activate a payment service by going to "Invoices" > "Configure" > "Online Payment." From there you can enter your PayPal or Stripe account information to activate the service. If you don't have an account already you'll have to register one separately from Harvest. (Read more here)
Recurring Invoices/Auto-Payment
You can set up recurring invoices that are automatically sent to clients on a weekly, monthly, quarterly or yearly basis. You can also set a custom number of days, which is something you can't do in Freshbooks. Something you can't do, however, is set up auto-billing. You cannot automatically charge a client's card on a recurring basis.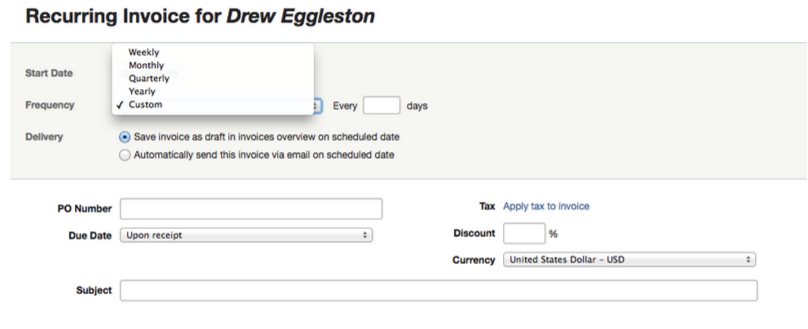 Time Tracking
Time Tracking is a key feature of Harvest. On the "Timesheets" page you can view your tasks for each day of the week. You can log times manually or click "Start" to run a timer. What's nice about time tracking in Harvest is the flexibility: If you need to log time for a client, you can create a project with subtasks and run the clock on each task. Otherwise, if you just want to get started quickly, you can run the clock and save it later.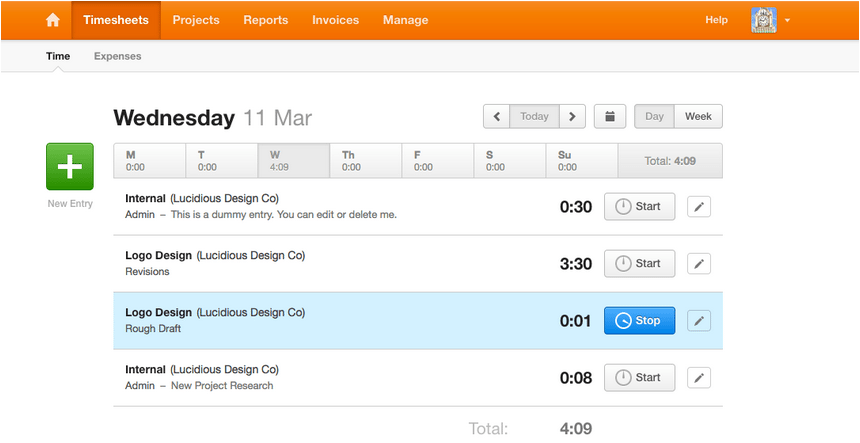 When you create a project, there's a number of billing methods you can choose from: You can set an hourly rate for the project, for each task or for each employee. You can add multiple employees to a project so they can all contribute time logs individually. Later, when you go to invoice the client, the time entries from the project will be automatically added to the invoice.
Custom Invoice Formatting
Harvest gives you a few customization options for your invoices. With any paid plan, you can add a custom logo and change field titles. However, you can't adjust the font or change the formatting/layout of your invoices.
Estimates
Estimates look identical to invoices. The only difference is, when sent, there's no option for the client to pay. Instead, when clients receive the estimate in their inbox, there will be a button to accept or decline it. Whether they choose one or the other, you'll be automatically notified and the status of the estimate will change in Harvest.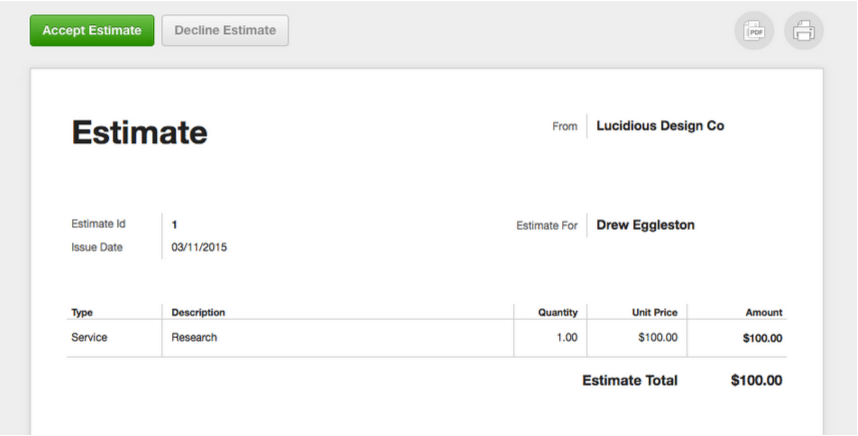 Accounting
Harvest does not have any accounting features besides basic expense tracking for the sake of billing clients. You can add expense entries to projects with a category, description and option to attach a receipt.
If you do want to export data for an accountant to look at, you can choose "Export All Invoices" under Accounting Settings. Note, however, the formatting will not be as clean as Freshbooks, which can export revenue and expenses as journal entries in a Quickbooks format.

Integrations
Harvest has a handful of integrations with project management software, accounting software and Google Apps. For example, with the Basecamp integration, you can run a timer within Basecamp to record time in Harvest. (explained here) Integrations with Xero and Quickbooks Online let you copy Harvest invoices directly to the accounting software.
Check out the full list of Harvest integrations here.
Reporting
Harvest gives you a handful of reports on time, invoices and expenses. You can set a custom time frame and specify which clients, projects, categories and staff (where applicable) you want to report on. Besides that, there aren't any more customization options. You can print reports or export them as a spreadsheet.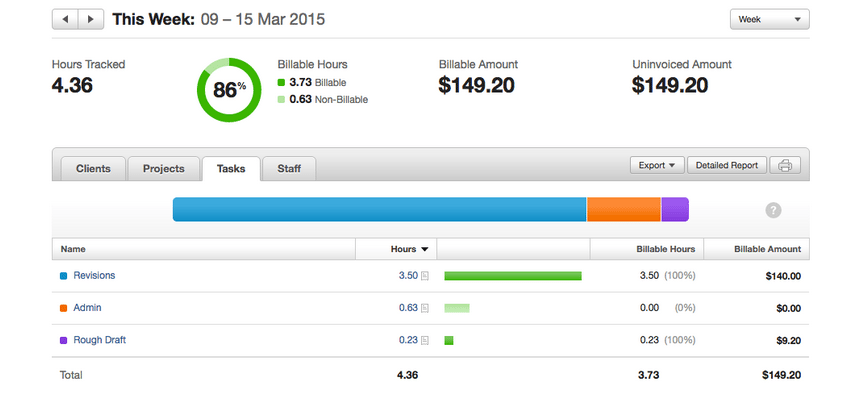 Mobile App
There's a Harvest mobile app for Android and iOS that's designed to let users track time and log expenses on the go. You can take a photo to track receipts and add notes. You cannot however, create invoices or view reports. The Harvest app can be a good substitute if you need to work on a project outside the office, although it cannot fully replace the desktop version.
Read more about the Harvest app for Android and iOS.
Customer Service
24 hours?
No, 9am to 6pm EST
US Based or Not?
Yes
Phone, Email, Live Chat, Self-Help Portal?
Harvest has free email and phone support (from 9am to 6pm). I did not find any user complaints about Harvest's support team and my own experiences confirmed that (although I did have to wait 45 minutes for a call back). There's also a searchable help center with user guides, FAQs, video tutorials and a weekly webinar you can sign up for to learn the ropes.
The Bottom Line
Harvest compares most closely to Freshbooks, another time tracking and invoicing platform. Freshbooks, has many features you won't find on Harvest, including the ability to link a bank account to track expenses, auto-bill clients, send invoices to a physical mailing address and apply sales tax to individual items on an invoice. Freshbooks is also a little cheaper than Harvest, coming out to $40/month for 5 users vs. $49 for Harvest.
So what are the advantages of using Harvest? If you only need 1 user then Harvest is likely a better choice. You get unlimited clients, projects and invoicing for $12/month. Freshbooks, on the other hand, starts at $20 for 1 user and you're limited to 25 clients.