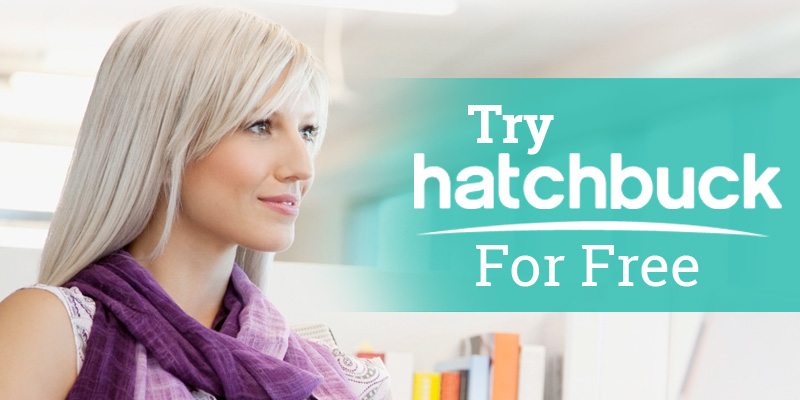 What is it?
A small business CRM with email marketing tools.
Want to manage 1000's of leads, save time, and get organized? Click Here to get our FREE CRM guide and find out how.
How popular is it?
Small. About 700 clients and 2,000 users, as of January 2015.
What does it do well?
Hatchbuck is a simple CRM with strong email marketing tools.
What does it not do well?
As of now, there's very few 3rd party integrations and no mobile app.
Who does it work well for?
Businesses that generate leads from their website and want to nurture them with automated marketing campaigns – especially e-retailers, given the ability to track customer preferences.
Who does it not work well for?
Businesses that aren't focused on generating leads from their website.
Free Edition?
No
Price Compared to Competitors?
Mid-Range
Type of Solution:
Cloud
Similar products?
US Based?
Yes, Company & Customer Service
Customer Reviews?
Excellent (view reviews)
 Click a Button For More Info
Hatchbuck Pricing
Hatchbuck's pricing structure is divided into 3 editions – all come with the full range of features. The only differences are the number of users you can have on the system and number of contacts you can save. All 3 editions let you send an unlimited number of emails.
With the Solo Edition ($59/month) you can have 1 user and save 750 Contacts
The Small Biz Edition ($99/month) gives you 2 users and 1,500 contacts.
The Team Edition ($199/month) gives you 5 users and up to 5,000 contacts.
The Professional Edition ($299/month) gives you unlimited users and up to 15,000 contacts.
The pricing above is for semi-annual billing. You can also pay month-to-month for 10% more. Read more on Hatchbuck pricing here.
Ease of use
Setup – Moderate.
When you first sign up, the Hatchbuck support team gives you a helpful live demo and attentive phone support to show you the ropes. The only downside to setting up Hatchbuck is that you can only import contacts from a CSV spreadsheet file.
Administration – Easy.
Adding/removing users and adjusting account privileges is all done from a straightforward "User" menu. Other administrative tasks like adding custom fields and setting up workflow rules were also kept simple. Unlike other CRMs, you're not bombarded with a long list of customization options.
End User – Easy.
Some of the common pitfalls I've seen with CRMs are too many menu options and shortcut buttons, so you have to do a lot of scrolling to find what you need. Hatchbuck avoids this by keeping the interface simple and shortcut buttons meaningful.
Help – Easy
Hatchbuck has both phone and email support, which users spoke very highly of. You can also search and browse the help center, which has a good number of support articles and videos.
Primary features:
| Features It Has | Features It Does Not Have |
| --- | --- |
| Contact Management | Advanced Reporting |
| Sales Pipeline | Invoicing |
| Task Management | Accounting |
| Workflow Automation | Social Media Monitoring |
| Basic Reporting | Help Desk |
| Web Form Integration | Territory Management |
| Email Marketing | Project Management |
| Document Library | Calendar |
Primary Integrations:
Integrations Supported

Integrations Not Supported

Social Media
(Facebook, Twitter, LinkedIn)

Freshbooks

Zapier

Shopify*

Phone/VoIP

Google Apps

Dropbox

Mailchimp

Evernote

Quickbooks
*Integration supported through Zapier, a third party app that lets you automate workflow between Hatchbuck and other applications.
Detailed Overview
Intro / Product Summary
Hatchbuck is a CRM and web marketing solution for small businesses. What you get are marketing automation tools to track customer preferences and nurture leads with personalized email campaigns. These tools are typically only available from high end systems, like HubSpot and Salesforce's Pardot, which can cost over $1,000 a month and require a lot more training to use.
Hatchbuck is missing some of the features you get with Hubspot, like an SEO checker or landing page builder. This means you can't use Hatchbuck to boost traffic for your website. You can use it, however, to track the preferences and online behavior of their customers and place them in personalized marketing campaigns.
Features:
Contact Management
Hatchbuck's contact management system is designed to give you loads of insight on your clients. Aside from the basic contact details, each contact profile has an activity stream including notes and tasks related to the client. If the contact is on one of your email campaigns, you can view when they've opened your emails, for example, and what links they clicked inside.
If you're an online store, you can even view recent purchases made by the contact. This is done through Zapier and can work with Shopify, Bigcommerce or Loop Commerce. You can set up automated actions based on the purchases of your customers. For example, if a customer buys a certain item or spends a certain amount, you could automatically send them a coupon. (explained here).
Unlike other CRMs, you can only view a list of individual contacts – there is no list of companies. You can click a company name, however, to view a company profile.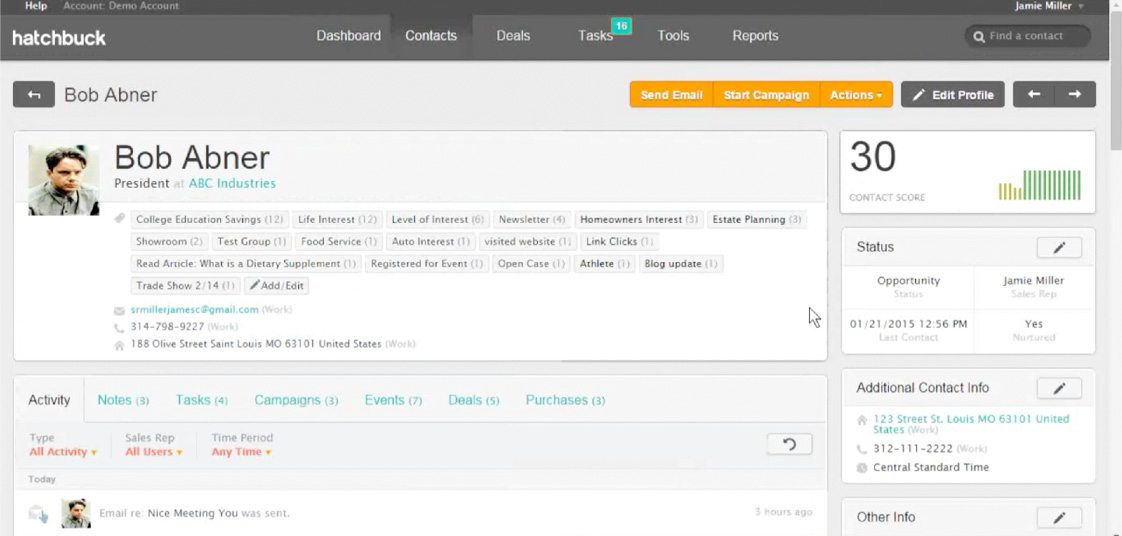 Each contact can also be tagged with keywords, which is displayed below their name and occupation. This can be set up through your marketing campaigns to gain better insight about customer preferences. For example, let's say you're an e-retailer of musical instruments and supplies who sends a monthly catalog. Through Hatchbuck, you could monitor each time a user clicks a link to a product. Depending on the type of instrument they click on, you could also add a new keyword to the contact – i.e. "percussion," or "microphones."
Over time, tagging clients with keywords helps you zero in on your marketing strategies. For example, once a user has clicked 5 or 6 links to percussion products, you could have them automatically switched from your generic mailing list to a list exclusively for percussion players.
Check out the video below for a more detailed explanation of tagging in Hatchbuck:
Tag and Filter Your Contacts from hatchbuck on Vimeo.
Sales Pipeline
Deal management in Hatchbuck is fairly basic. You can create a new "deal," link it to a contact and track the deal stage and probability of winning. Like contacts, clicking a "deal" pulls up a profile with notes, tasks, files related to the deal as well as an activity stream of recent changes.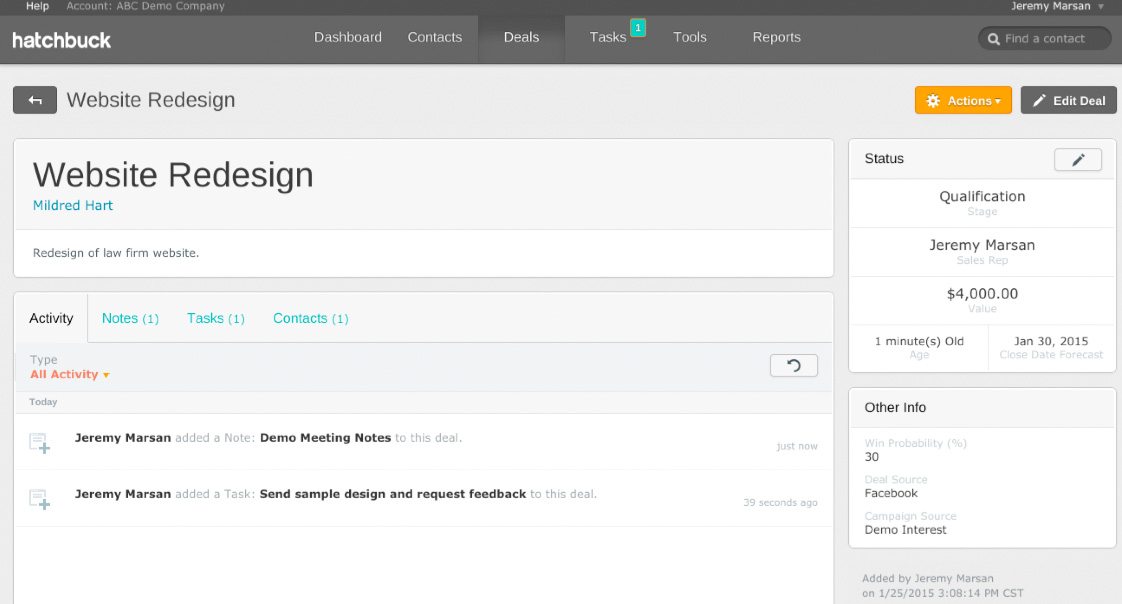 Task Management
You can create tasks directly on a deal or contact and assign them to yourself or other members of your company. Under the "Tasks" menu you can view upcoming tasks for you or other members of your team.
You can set up tasks to be automatically assigned when a certain action occurs – such as a new lead getting added to the system or a contact opening your email newsletter for the 5th time. Hatchbuck gives you many workflow automation options that can be set up fairly easily from the "Campaigns" or "Tag Rules" pages.

Reporting
Hatchbuck has 19 standard reports, including 9 related to sales, 9 related to email marketing, and 1 about form submissions. These reports are interactive – hovering over certain areas of the chart pulls up more information. Besides setting the time frame and filtering the data source, however, there's no custom reporting. You cannot build your own reports from scratch.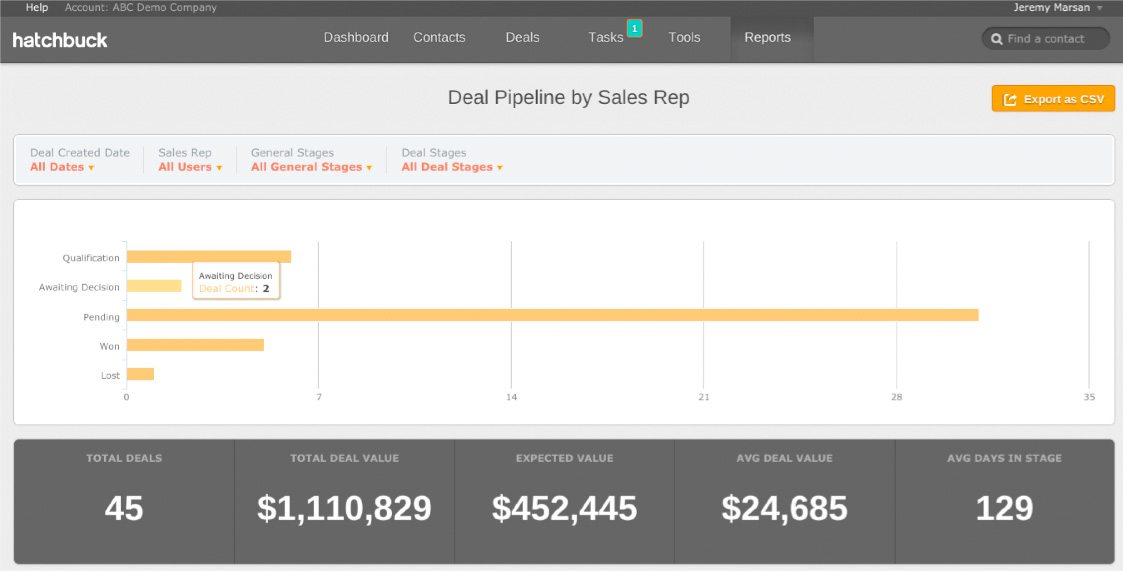 Email Marketing
Hatchbuck has sophisticated marketing tools. For one, you can create webforms using a drag and drop builder (pictured below). You can immediately generate the HTML code to add to your website, or generate special code to post it on Facebook or WordPress.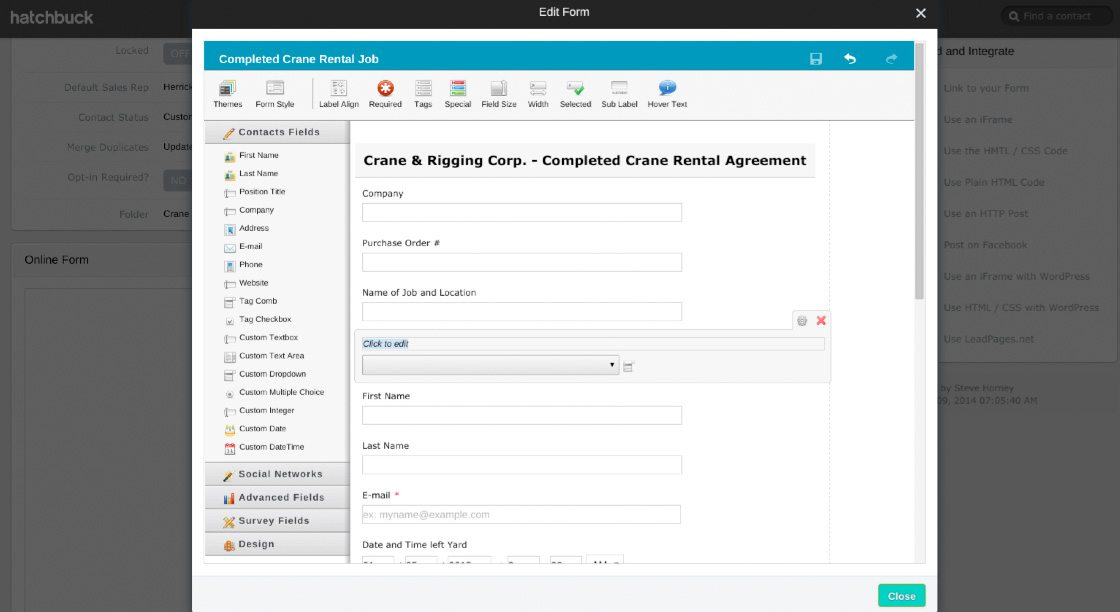 When users go on your website and fill out a webform, you can have them automatically added to one of many different email campaigns. These can be one-time welcome emails, or, depending on the interest/demographic of the user, you could add them to specialized newsletters. You could also create drip campaigns, which are pre-written sets of emails you send over a pre-determined set of time (i.e. one email per month for a year). You can create rich email newsletters with Hatchbuck using a drag and drop editor or pre-designed templates.
Check out the video below for more on email campaigns:
Create a Multi-Step Email Campaign from hatchbuck on Vimeo.
Territory Management
You can set permissions and assign leads on an individual basis, however, I did not find any tools to create sales territories.
Document Library
You can attach files to contacts or deals by adding a new "note." You can also upload and manage files under the "My Files" tab.
The purpose of this page is mainly to attach files to your email templates. For example, if you want to send client's a PDF of your product catalog, you can upload it via the "My Files" tab and later attach it to an email. The benefit of doing it this way vs. traditional email attachments is that Hatchbuck can track whether or not clients click the PDF.
my files from hatchbuck on Vimeo.
Project Management
There's no project management in Hatchbuck.
Calendar
As of now, there's no calendar in Hatchbuck.
Invoicing / Accounting
There's no invoicing or account tools in Hatchbuck.
Desktop/Server Based/Offline Access
Hatchbuck is cloud hosted, so you don't need to install any software on your computer. You can access Hatchbuck through your web browser. It does not support offline access, however, so you have to be connected to the internet to use it.
Mobile
Hatchbuck does not currently have any mobile apps or a mobile-optimized website. Given the simple layout, however, I did find the desktop version fairly easy to use on a mobile device.
Integrations:
User email integration is fairly basic with Hatchbuck. You're given a unique forwarding email address to log emails and save contacts directly from your inbox. (explained here)

Hatchbuck has light social media integration. You can enter in a contact's Facebook, LinkedIn or Twitter account and automatically save their profile photo. As of now, however, there's no social monitoring like you'll find in Nimble.
Hatchbuck is slim on 3rd party app integrations. ECommerce integrations were added just recently (Shopify, Bigcommerce, Loop Commerce.) But you have to set these up through a 3rd party service Zapier.
Customer Service
24 hours?
No, phone support is available Monday-Friday 8 to 5pm CST.
US Based or Not?
Yes
What's The Method of Delivery?
Hatchbuck has phone support and ticket form submission. Users spoke very highly of the support team. You can also search and browse the help center, which has a good number of support articles and videos.
The Bottom Line
Hatchbuck is for small businesses who want better marketing tools than Insightly or Zoho, but don't want to deal with the high price tag or complexity of HubSpot, InfusionSoft or Pardot.
Hatchbuck has its drawbacks – there's no mobile app, no calendar and few 3rd party integrations. However, being a new company, we'll hopefully see these features in the near future. Also, you'd be hard pressed to find a better user interface or a more attentive customer support team than Hatchbuck.
Want to manage 1000's of leads, save time, and get organized? Click Here to get our FREE CRM guide and find out how.