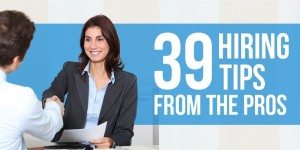 What do you look for when you're hiring someone new? A sleek resume, a polished presence, shiny shoes? Or do you think about the synergy of your team and how this new hire will affect group dynamics?
Perhaps you're unsure of where to recruit. Would it surprise you to know that 73% of Millennials (ages 18 – 34) are hired through social networks? (Aberdeen Group survey) According to this Jobvite's revealing survey, you can find a whooping 83% of job seekers on Facebook compared to 36% on LinkedIn.
These statistics prove that the hiring process is evolving, just like social media. Finding the right candidate is connected to discovering where they are. It's also about asking the questions and knowing what to listen for.
We asked hiring experts to give you their best piece of advice when hiring someone new. Here's a rich list of resources. Be sure to bookmark this page and tweet it out for those in your audience that may need this advice.
David Waring, co-founder, Fit Small Business
You want to make sure your postings match what job seekers are looking for. So why not check exactly what those are? With Indeed's Job Title Generator you can check out job seeker interest over time and compare it directly with the number of job postings over time. You might be surprised: often, the best job title isn't the one with the most postings, but the one most job seekers are looking for.
---
2. Apply Mark Zuckerberg's simple hiring rule to build respect in your company.

Brett Farmiloe, Co-Founder, Y Scouts

Mark Zuckerberg Said It Best: I have a simple rule, Mark Zuckerberg says. I will only hire someone to work directly for me if I would work for that person.
---
3. Is your candidate hungry for the job? Hunger is more important than skills.

Jon Penn, White Maqui

What advice would I give to small businesses who need to hire someone? Always hire for attitude and hunger. Skills be can learned on the way.
---
4. Use social media to gauge a candidate's personality.

Andrea Burnett, Andrea Burnett Public Relations Lifestyle Publicity

Never rely on or bother with a candidate's resume. It's simply worthless. I always look at their LinkedIn profile and their social media channels. Are they well-written, witty, intelligent? What do they post about? Is it interesting? But, what matters most is how they show up and how prepared they are for the interview. Before they come in, I ask then to look at my site, pick a client (or, in my case, a book that I'm promoting) and arrive ready to tell me what they would do to promote it. It shows me how creative they are and how much homework they're willing to do.
---
5. Make goal setting a part of your new hire orientation process.

Jilaine Parkes, CEO, SpriggHR

As part of your new hire orientation process, remember to set goals a few weeks in to reflect the new employee's understanding of their learning to date.  Goals are an excellent way to measure (and even course-correct) a new comer's perspective and value-add to the company.
---
6. You can always train a skill, but you can't train an attitude. Look for those who match your values.

Betty Brennan, President, Taylor Studios, Inc
My best tip would be to hire for attitude more than skill. You can train skills, but you can't change attitude. This is similar to hiring for your core values. Make sure the values of the candidate match the values of the firm. Hiring for culture will give the best chance of successful outcomes. It will be more pleasurable for everyone too.
Learn More: 11 Questions To Test Honesty and Integrity
---
7. Fact check resumes to weed out unreliable candidates.
Barry Maher,

Consultant, Author, Speaker, Barry Maher & Associates
Having consulted on hundreds of hires, my number one tip is to check everything checkable on your final candidate's resume. Where do people exaggerate and even lie? Where don't they? Education, compensation, duties and responsibilities, achievements, awards, length of employment, etc. Some people fudge dates to make themselves look younger. When I told one applicant that no one at his former company had heard of the Executive Merit Award, he'd cited, he simply replied that was probably because after he'd won it three years in a row the company retired the reward in his honor.
---
8. Use a probation period to assess how well a candidate will fit into the job.

Mike Scanlin, CEO, Born To Sell

You want to put the new hire on some kind of temporary plan. Tell them it's a 30-day (or 90-day, or 2-week, whatever) trial period. At the end of that period you'll decide if there's a match to go full-time.
---
9. Quality over quantity: Hire based on capacity rather than quotas.

John Jersin, CEO & cofounder, Connectifer
Managers easily get too focused on the number of hires they want to make, rather than the capacity they want to add. Further managers can get caught up in aiming at higher numbers so they can build a bigger fiefdom inside their company. This leads to hiring average people too quickly instead of holding steading and waiting a few extra weeks and wading through many more candidates to find future star performers. On the other hand, managers who focus on adding *capacity* instead of a certain number of employees, and aiming at higher capacity *per* employee can turn their team into an example of quality and launch the leader of that team into a position of thought leadership at their company.
---
10. Your mission if you should choose to accept it: Give a candidate one task and one hour to do it.

Mike Bowman, Publisher & Owner, The Quarter Roll Financial Entertainment Magazine

The best way to determine if a candidate is a good fit for your company's culture and has the skill sets to complete the work you need done is to have the applicant do some of the work during the interview process.
Ask a customer service candidate to assist a customer find something in the store. Instruct a public relations candidate to write a response to a (made up) public company crisis. Ask an operations manager candidate to tour your warehouse layout and give you a more efficient operational option. Instead of taking a smiling candidate's word that they can do the job, ask them to prove it. Qualified applicants will be proud to show you what they can do.
---
11. For the right candidate, it's never about the money, it's about the opportunity.

Greg Archbald, Founder & CEO, GreaseBook, LLC
The key to recruiting: create a compelling opportunity, present it early and often, and make the candidate earn the right to have it. The best people rarely take the job for the money — they'll take the job for an opportunity to meet their personal life plans, ambitions, and goals.
And remember, if you make it too easy for someone to get the job, he or she doesn't want it as much. If you make it challenging and difficult to get, he or she wants it more. 😉
---
12. Create a way to access your candidate's relevant work experience.

Matthew Reischer, CEO & Chief Hiring Manager of Legal Marketing Pages Corp, LegalAdvice

I always make sure your interview process is geared towards uncovering truthful assessments of IQ and relevant technical work experience. Create a process that seeks to gauge the scope of intellectual curiosity and intellectual capacity of any new hire. These attributes we have often found are key leading indicators for how successfully an employee will fit within our organization. Generally speaking we like to hire 'enthused nerds' who are engaged with our workflow and who love implementing complex technological and business ideas.
---
13. Have onboarding training in place immediately after hiring to create a smooth transition into your company's culture and values.

Rob Biederman, co-founder of HourlyNerd
The biggest mistake is hiring someone and not giving them the proper onboarding and training up front. We've made the mistake of hiring someone and assuming they can walk in and execute on day one. Even the best all-star will fail without proper training and onboarding.
---
14. Hire someone you can trust completely.

Debra Benton, Executive Coach

Hire someone you'd let run the company.
Hire someone who is in it for the love of what you do not to just have a job and make money.
Hire someone you'd let your daughter or son marry.
Hire someone your spouse approves of.
---
15. Involve your current staff in the hiring process.

Mike Munter, Web Design, SEO, Internet Marketing and Reputation Management

#1 best of all time – when I was GM of a minor league baseball team, I'd spend 10-15 minutes doing an intro interview with a candidate.
If I liked him/her, I'd have my 3 or 4 of my staff get to know them during a pre-arranged lunch. (I didn't go). My staff knew the deal, this was someone we were considering, so they'd get to know them in a more casual way.
After the lunch, I'd get staff feedback (after all they are the ones who'll be working with the new hire day in/day out, so they have to get a good vibe). If they liked the candidate, I'd move forward with a more serious interview and most likely make an offer.
---
16. Consider the Hartman assessment to understand where your new hire fits in your company.

Armand Hebert, Hebert Consulting

Half of my consulting business is in advising companies and business owner in new hires and team building. In that process the use of Hartman assessment are critical. This assessment combines DISC, Motivators and values into an easy to use report that can be tailored to an Executive, Management and Sales position. This give a company a clear idea of what type of employee they are adding to their work force. This is even more important in smaller companies who need new employees to become productive in a short amount of time.
---
17. Pay attention to how your candidate interacts with others.

Aalap Shah, Co-Founder, SoMe Connect

I would share that at our small marketing firm, one of the best ways to determine a good hire for us is how they interact with all of us – from the team, to the doorman of our building, to the founders. Attitude, how you talk and carry yourself, and politeness, matters and is an important trait to being part of the team. We find that when we are paying attention closely to how they treat people and others, we can make an assessment of how they'll perform in a team setting.
---
18. Look at more than employment, look at references.

Michael D. Shaw, People First Consulting

I think it has to be to hire on Will more than just skill. Hire the person that has strong references of support and not just dates of employment.
---
19. Understand the difference between hiring for a specific position and hiring for a specific person.

Chelsea Garrett, Managing Director, Garrett Search Partners, Inc.

Do not create a job around a person. Create a position specification and hire for the spec; do not hire hoping "the right" person will fit into that role. It's a recipe for disaster.
---
20. Find the person whose core values match your company ideals.

Victoria Cabanos, Managing Principal / CEO, Stuart-Lynn Company, Inc.

Hire on enthusiasm! Despite the fact that we provide a highly specialized service, I have learned that it is possible share knowledge and teach a wide range of skill sets, but it is nearly impossible to change an individual's core values. So make sure they are in line with those of your business.
---
21. Do you know job benchmarking? It helps you see past skills and to the right fit for the job.

David Scarola, Vice President, The Alternative Board

The best way to hire is by considering the job first and the candidates second. This is called job benchmarking. Instead of analyzing the candidates in front of you, analyze what the job requires in terms of behavior, motivation, and soft skills. Once you, and the other decision makers, determine each of these three benchmarks, then you can develop interview questions that assess each trait. Job benchmarking helps you see and hire beyond skills. It reveals cultural fit, as well as fit within the role.
---

22. Let the test-taking begin! Use tests to find the ideal person for the job.

Stephan Reek, Co-Owner, BSR Online

The best advice I can give is to give people a test. Give them a few questions on how they would solve a problem or let them actually do a few small things to test their knowledge. This way you know exactly who can really do those things.
---
23. Prepare yourself for the interview by understanding exactly what you want, and don't sugar coat it.

Christian Neeser, Outreach Manager, ZipRecruiter.com

Be Clear – There are lots of problems with generic help wanted ads. First, everyone and their brother applies, so you end up with a veritable avalanche of resumes and applications. Second, it makes it that much more difficult to zero in on candidates who really have what it takes. Therefore, be as specific as possible when writing job ads. Clearly define the position.
Learn More: 6 Things You Need To Do After The Job Interview
---
24. Don't be afraid to ask hard questions. And listen for the way the candidate answers it.

Brendan Burke, Managing Director, Headwaters MB
Ask the hard question. Don't dance around it. If someone has a hole in their career path, a low GPA or some other red flag on their resume, you have to confront the issue head on. Often times, the candidate will have a well-rehearsed answer and use the opportunity to showcase their sales skills. The ability to turn a negative into a positive is a critical attribute. Further, if the candidate doesn't have a smooth response, it quickly tells me that the candidate didn't prepare for or doesn't care about the interview.
Want to speed up payroll? Click Here to get 3 free timesheet templates
---
25. Encourage varying opinions to grow your business. Don't hire "yes" men.

Chike Uzoka, Entrepreneur & Business Coach

My best piece of hiring advice is to hire people who understand your company values and mission, yet do not necessarily agree with you on how to reach the ultimate vision. Having people disagree with you as the business owner and with each other can be a valuable thing in business, as long as no respect lines are crossed and no egos get in the way.
Learn More: 3 Keys to Small Business Success
---
26. Let more than one department head interview the candidate.

William Bauer, Managing Director, Royce Leather

Many of our roles require inter-departmental relationships, and it's crucial that all hires work well across departments and roles. We help facilitate this by having various department heads interview job candidates, regardless of the role for which they are applying. This gives us the opportunity to truly evaluate whether or not a candidate is a great fit for our culture. Those hiring for positions within their department will tend to ask role-specific questions, whereas team members from other departments can evaluate whether the candidate is a personality and cultural fit.
---
27. Don't miss the opportunity to ask behavioral questions about real life scenarios.

Mrs. Shilonda Downing, Virtual Work Team LLC

Asking behavioral questions during an interview is key to selecting the right person for your company or team. Behavioral questions, when asked properly, will provide insight regarding what a potential candidate might do or say in a given situation. Make sure you tailor the questions to real life scenarios that would actually happen in your business.
Learn More: Behavioral Interview Questions are Essential
---
28. Go with your gut.

Vivek Agarwal, Founder and CEO, Strand of Silk
I started my company 3 years ago, and over the years have made various recruitment mistakes including some that cost the company dearly. Reflecting back to almost every one of these mistakes, I decided to ignore my gut sense and go with the candidate that seemed to be more qualified on paper.
---
29. Use virtual contractors and freelancers to lighten the load.

Sandip Sekhon, CEO and Founder, GoGetFunding.com
My best piece of hiring advice for small businesses is to use virtual contractors where possible. Thanks to freelancers sourced from sites such oDesk we've been able to grow into one of the largest fundraising websites in the world.
Freelancer sites are full of talent at an attractive cost. Furthermore, with a small business profits can be unpredictable. The flexibility a contractor provides helps put my mind at ease.
---
30. Don't look for team players, look for critical thinkers who will get the job done.

Jeff Altman, Recruiter, The Big Game Hunter

Stop looking for team players. When you do you announce that you don't want people who can think and want people who are docile and obedient. You're saying that Steve Jobs, Larry Ellison, Michael Dell, and a host of others should never apply to your firm.
---
31. Does your candidate know about or engage with your product or service?

Stacey Oliver-Knappe, Chief Consultant, The Customer Service Gurus
The question that all businesses should ask a potential new employee is do they actually engage with the product or service. This helps to see beyond the technical skills needed for the job, to see if they have a will to do the job. For example, in an Apple store, the employees loved Apple products before they ever went to work for them.
Learn More: How to Create the Perfect Employee
---
32. Do you really need to hire an employee? Or will a freelancer be the right answer?

David Bakke, Writer, Money Crashers

My best tip would be to make sure you need to hire someone in the first place. Oftentimes with some prudent time management you can get a lot of the tasks in a small business completed on your own in order to save money.
---
33. Passion is more persuasive than educational background.

Deborah Sweeney, CEO, MyCorporation.com

When hiring for small business, it's better to look at passion and drive than educational background. I would rather have someone on our team that's excited about our business and willing to learn and grow as the business grows than have a Harvard graduate lacking entrepreneurial fire. You don't need a valedictorian, you need a person who loves small business.
---
34. Don't use artificial test assignments. Test on the real product for spot-on analysis.

Uliana Tikhova, Icons8

If you listen to the software developers, they complain about wrong skills evaluated during the interviews. Therefore, we're trying to isolate the software development skills from anything else. As a result, we currently use a simple pattern of hiring software developers. First, we interview the developers with proper skills and pick several of them. Then we give them a test assignments that can be accomplished in a week or two.
We give the real tasks of a real product, not artificial test assignments. The probation period is also paid at the common rate. We won't work for free, so we can't expect that from the prospective developers.
This procedure may seem quite pricey for start-up, but it is cheaper than a recruiting agency, and it's the money spent well. Meanwhile, there are no hard feelings on the candidates' part: not only get they paid, but also they can figure out if our project is enjoyable.
---
35. Change the ad for your job description, change your fortune.

Jean Tang, Chief Strategist for Copywriting & Founder, MarketSmiths
Make your job post headline VIVID v. generic. This will capture the attention of the right person, and ensure you're not flooded with responses.
Be specific in your ad–rather than listing characteristics you'd like (hard-working, intelligent, etc.) really SPELL OUT what the job is like and what needs to be done. This will scare away anyone not capable.
List the METRICS by which job success is measured. Again, this scares away bad fits.
Map out a hiring process in which you can compare apples to apples. Include tests that are close to on-the-job tasks. This measures persistence and healthy competitive spirit. Our winning candidate wanted this job–and it showed. She got back to me with polished answers within HOURS, not days.
---
36. Hire people who will positively impact your company culture.

Brett Derricott, CEO, AgencyFusion.com

As a small business, hiring is especially difficult. In addition to finding a person with the necessary skills and experience, it's critical to hire people who help shape the company culture in a positive way. Unlike a larger corporation, each person in a small business can greatly affect the work atmosphere for better or for worse. Regardless of a person's resume, never hire someone who doesn't contribute positively to the culture you've worked so hard to create.
---
37. Choose a candidate who compliments the existing team.

Gail Abelman, Staffing Perfection, Inc.

Resist the temptation to hire someone just like yourself. A business grows best when new ideas and different strengths are blended together. For best results, choose someone who complements you and the existing staff well.
---
38. Get recommendations from your employees and make sure your candidate will fit in well with your team.

Laura MacLeod, Human Resources Expert
Collaborating with all employees at all levels to determine what is needed in a new hire and what area needs the most assistance.
Utilizing all or as many employees as possible in the job search, from recommendations to interviews.
Taking in to consideration atmosphere of your business, to make sure that the new hire is the perfect fit for your business and with your current employees.
---
39. Commit to a rigorous interview process to find the right candidate.

Hajmil Carr, CEO, TrueLine Publishing

When looking to hire a new employee, the two most important factors to consider are: 1) Who are you? 2) Who is the candidate?
In order to clearly articulate who you are you need to have updated website information coupled with a strong online presence in order to properly paint the picture that you want to portray to court the candidates that will ultimately be the best fit for your firm.  In order to understand and get the best feel for who the candidate is you must have a rigorous interview process that critically flushes out the skill sets you need in a prospective candidate.
---
Bonus: Write the job description and then look for the perfect candidate.

Barney Cohen, President, Business 360 Northwest

My best tip about hiring is always write the job description before you look for the person to fill the job. In my work with business clients, I find the most common practice is to ask around to see if friends and colleagues know someone that would like to work at their firm.
This approach has several major drawbacks. First you don't get to interview a wide range of candidates and pick the best person for the job. Second, you have the baggage of the relationship with the person who recommended your new hire. And third – the biggest problem of all – you hire the person without a clear understanding of what the job actually entails. That leads to bad communication and uncertainty about what is supposed to happen.
---
Bonus: Hire a person who can take over your responsibilities.

I think the best advice I could give any small business owner is to let go of your ego, and hire the person best fitted to take over your responsibilities. Too often managers fear they'll be left behind hiring a person who might know more than them.
Learn More: Three hiring mistakes most businesses make
A big thank you to all of our contributions! Now, it's your turn. What's your best piece of hiring advice? Let us know in the comments below.
Want to speed up payroll? Click Here to get 3 free timesheet templates