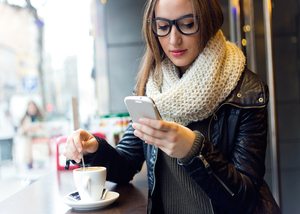 SMS marketing is a way of reaching customers through text messaging. Using a web-based program, you can send mass texts to subscribing customers, set up campaigns where coupons are sent automatically over time, engage customers in polls and questionnaires, or even run a sweepstakes contest.
Click Here to get our FREE Google advertising guide and discover the 6 steps you can use to show up #1 in Google search
The Benefits of SMS Marketing
Texting has by far the best engagement rate of any marketing medium. Whereas emails can sit unread, phone calls can go can go unanswered and leaflets can be thrown out before given a second glance, text messages are almost always read, and read quickly. As James Citron, CEO of text messaging service Mogreet, said to Forbes, "95 out of 100 of your customers who have opted into your text messaging program OPEN and READ your mobile messages within 3 minutes."
The keyword here, however, is "opted in." With text message marketing, it's not ethical (or legal) to send unsolicited messages. You can only text customers who have subscribed to your messaging list. Fortunately, most text marketing services provide an easy way for customers to opt themselves in and out straight from their mobile phone.
How SMS Marketing Works
The two basic components to a sms marketing campaign are the keyword and the shortcode. Here's an example:
Text "ICECREAM" to 555555 for our weekly list of flavors!
"ICECREAM" is the keyword. It gets placed in the body of the message. "555555" is the shortcode and it gets placed in the recipient box.
When a customer sends this message, they're effectively "opting in" to your campaign. You can send them a single, automated response, or add them to a list where they'll be sent additional texts over time Other ways to "opt in" customers are to let them check a box on an order form or submit their phone number online. Numbers received this way have to be confirmed, however, since a customer could enter a number incorrectly. Before adding them to a campaign, you'll have to confirm their participation with another message: i.e. "Text "YES" to receive weekly coupons"
One exception to the "opt in" rule is if you are contacting a customer about a previously agreed upon transaction. For example, a medical office doesn't need consent to send appointment reminders, since the appointment (the "transaction") has already been booked (or "agreed upon"). Sending a reminder to book a followup appointment, however, would be considered a promotional message and therefore WOULD require consent. (Read more here)
Once opted in, customers can also respond to your messages with sub keywords. For example, sending the phrase "Hours" can trigger a text with business hours and "Stop" can remove them from the list. This gives customers a way to interact with your business and enables them to opt out of your campaign if they wish to stop receiving messages.
Here's some of the additional things you can do with SMS marketing:
Send Coupons: Send customers exclusive deals. Uniquely-generated coupon codes prevents non-subscribers from taking advantage of your deal.
Drip campaigns: Send automated messages depending on how long customers been subscribed. In the context of coupons, for example, you may send a 5% off coupon right after signing up, a 10% coupon after 3 weeks and a 20% off coupon after 2 months. This runs automatically as soon as a customer signs up, so you don't need to keep sending individual messages.
Poll Your Customers: Let customers cast a vote by texting different keywords. Most services let you run polls where you collect responses over a period time and graph them from your online dashboard.
Create Groups: Divide customers into groups depending on which keyword they responded to, how they voted in a poll, based on their area code and more. Segmenting your customers lets you send more targeted promotions and coupons.
Sweepstakes Contest: Let customers sign themselves up for a sweepstakes by texting a particular keyword. From the dashboard you can view the list of phone numbers and choose one at random.
Send Photos and Videos: Multimedia Messaging Service (MMS) Marketing is a fairly new development in which you can send photos and videos to customers. This is especially useful if you want to send a flyer or restaurant menu to a customer.
Location-based Marketing: Send different messages to clients depending on their location. A more advanced method is geofencing, which tracks the location of clients and sends texts when they are close to your shop. Unfortunately, geofencing is very expensive. Each "ping" to track the location of your customers costs more than price of sending a text, so geofencing is not yet practical for common use.
Try SMS Marketing For Free with Ez Texting
Getting Started with a SMS Marketing Service
So how do I get a keyword and shortcode? Both of these are provided by a text marketing service. You can have a shortcode all to yourself, but this gets very expensive – at least several hundred dollars per month.
A more economical solution is to "share" a shortcode with many other businesses. Providers like EZ Texting, for example, have 1 shortcode that all their clients use (313131). To differentiate themselves, businesses "rent" different keywords, like ICECREAM or MOVIE. So when a client texts ICECREAM to 313131, they will be added to your list – not somebody else's.
With most services once you're signed up all the action will occur online. From the online dashboard you can mass-send messages and setup your automated campaigns. You can purchase more keywords and create your sub keywords. Also from the online menu, you can view a list of customers and generate reports on their activity, such as when users are signing up and by what sources, who has responded to which messages and even track reasons for opting out to figure out which campaigns didn't work.
Try SMS Marketing For Free with Ez Texting
How Much Does SMS Marketing Cost?
The two main costs of text marketing are the price per text and the price of renting keywords. For more advanced services, you may also have to pay for features like location-based marketing and multimedia messages (MMS).
It typically costs $15 – $25/month per keyword. You can use sub keywords for free, however, which are the words customers use to communicate after signing up, like "Stop" to opt out of the list. You also have to pay 4 to 5 cents for each SMS message you send, or 8 to 9 cents for multimedia messages (MMS). Pricing is usually tiered, so the more you send the less you have to pay per text.
Slick Text

EZ Texting

Trumpia

Base Price


Free

50 texts/month

1 keyword

Free

500 texts/month

1 keyword


$285/month

10,000 texts/month

9 keywords

Price for Advanced Edition


$79/month

2,000 texts/month

6 keywords


$94/month

2,000 texts/month

2 keywords


$485/month

25,000 texts/month

15 keywords

Features


MMS

Polls

Unique Coupon Codes


MMS

Polls

Drip Campaigns


MMS

Polls

Drip Campaigns

Custom mobile app for loyalty rewards
The Bottom Line
Text message marketing is one of the most powerful ways to reach an audience. With great power comes great responsibility, however, and you should make sure you abide by these 4 simple rules to stay compliant with the law and keep customers happy:
Make sure customers know they are opting in. Wherever you advertise your shortcode, explain that it will add recipients to a mailing list. It's also good practice to tell them the frequency of messages they'll be sent – i.e. "sign up to receive 1 deal a month"
Inform customers that fees may apply. Wherever you promote your campaign should include the phrase "message and data rates may apply." You'll also want to include this on opt-in confirmation messages.
Always give customers the ability to opt out. Customers should be able to opt out at any time. Fortuantely most (if not all) text marketing services are setup this way by default. You will, however, have to remind customers the opt out phrase – i.e. "Reply STOP to opt out of messages"
Click Here to get our FREE Google advertising guide and discover the 6 steps you can use to show up #1 in Google search