According to the most recent Secret Service data, there is nearly $9 million in counterfeit money circulating in the US.
With the rise of digital printing, it is getting easier and easier to produce counterfeit bills that will fool the average cashier or business owner – not to mention most consumers. If you and your employees are not educated, your business could lose hundreds or thousands in profit by accepting counterfeit bills.
We'll go over how to detect counterfeit money so you can make sure you remain safe from counterfeit bills.
Spoiler Alert: Counterfeit Pens Are Unreliable!
Before we get too far along, it is important to realize that the highly popular counterfeit pens (used to detect counterfeit bills) are no longer reliable indicators of whether or not a bill is counterfeit.
All the pen does is check for chemicals common in some of the more poorly done counterfeit bills, showing a specific color if those chemicals are present. But, with the rise of digital printing and counterfeiters specifically treating their bills so they will not respond to the pen test, you can no longer rely on the counterfeit pen to protect your retail business.
So, if counterfeit pens don't work, then how can you protect your business? We'll go into eight methods below that you can use to ensure you're looking at real money. A quick, reliable way is to use a UV light to check the security thread (see method #6). You can usually get a counterfeit pen that includes a UV light for under $10, or you can get a complete counterfeit money detector for around $40-50.
CLICK HERE To Get a Free PDF of 8 Counterfeit Detection Methods
How to Detect Counterfeit Money
Counterfeiters can sometimes duplicate one or two security features, but rarely all of them. So, if you check these 8 features on a bill, you should be able to quickly spot a fake. We'll use a $20 in most of our examples, since that is the most counterfeited denomination.
Here are the 8 things to look for:
1. Color shifting Ink
One of the first things to look for when checking to see whether or not a bill is authentic, is to see if the bill denomination on the bottom right hand corner has the right color shifting ink. All denominations of $5 or more have this security feature, going back to 1996.
Take this $20 for example, the 20 on the bottom right hand corner will have a copper color when you are looking straight at it. But, if you rotate the top of the bill down so that the bill looks flatter to your eye, it will turn more of a greenish color. See example images below. The left image from a more top-down view is clearly more of a copper color. But, when it is shifted to a flatter plane like the bill on the right, the denomination is much greener.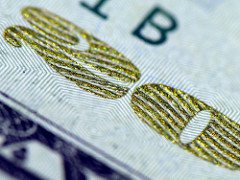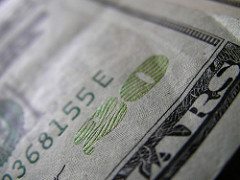 On the new $100 bills, the inkwell also has color shifting ink, turning green and becoming extra visible when shifted to a flatter visual plane (example shows both copper color and green)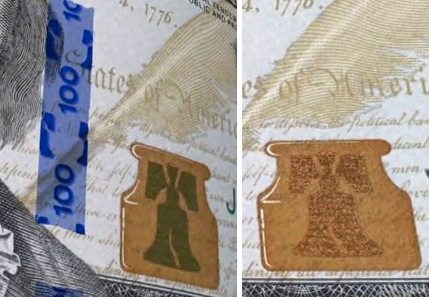 2. Raised Printing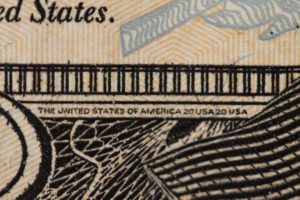 All authentic US reserve notes have raised printing. You can see the difference in in depth on the picture to the right when it is magnified. Many times, counterfeiters have a tough time duplicating this kind of printing method.
To detect raised printing, take your fingernail and run it carefully down the collar/jacket. You should feel some vibration on your nail from the ridges. If not, then you better do an in-depth check on the bill.
3. Blurry Borders, Printing, or Text
If you notice significantly blurry borders, printing, or text, it is an automatic red flag. Authentic bills are extremely detailed, made using die-cut printing plates that are capable of impressively fine lines. Printers are rarely capable of the same level of detail. Take a close look, especially at the borders, to see if there is any blurring.
CLICK HERE To Get a Handy (and free) PDF of These 8 Detection Methods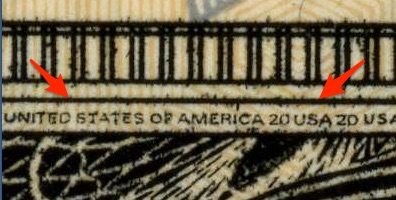 Another thing to be watching for, is micro-printing. Authentic bills have super fine text located at various places on the bill, as shown on the left. Many times, counterfeiters do not have sophisticated enough printing equipment to duplicate micro-printing finely enough to where it is actually readable. If you get a magnifying glass or put the bills under some other form of magnification, you can generally tell pretty quickly whether or not the micro-printing is authentic. If it is unreadable, then it is probably counterfeit.
(See chart at bottom of article for micro-printing details for each denomination)
4. Red and Blue Threads (see picture)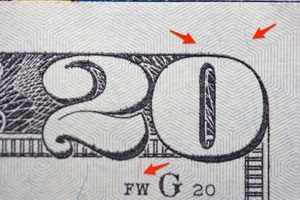 If you take a close look at an authentic bill (as seen on the right), you will see that there are small red and blue threads woven in and out within the fabric of the bill. Printers try to reproduce this effect by printing red and blue threads onto the bill in a similar pattern. But, a close look will often reveal that such printing is merely surface level, tipping you off to a counterfeit.
5. Watermark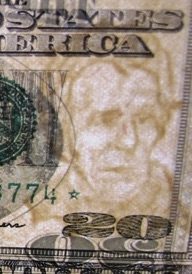 The next security feature to look for, is the characteristic watermark. In many of the new bills, the watermark is actually a replica of the face on the bill. In some, it is only an oval spot.
There are several things to keep in mind when examining a watermark.
The watermark should only be visible when you hold it up to the light

The watermark should be on the right side of the bill

If it is a face, the watermark face should exactly match the face on the bill (Sometimes counterfeiters use lower bills and just reprint, in which case the face wouldn't match)

If there is no watermark or the watermark is visible without being held up to the light, the bill is most likely a counterfeit
6. Security Thread
The security thread is one of the most distinctive security indicators of an authentic bill.
If you hold any bill up to the light, you will see a security strip on an authentic bill. It will have "USA" and the Bill's denomination, aka "USA 20" running vertically on the bill.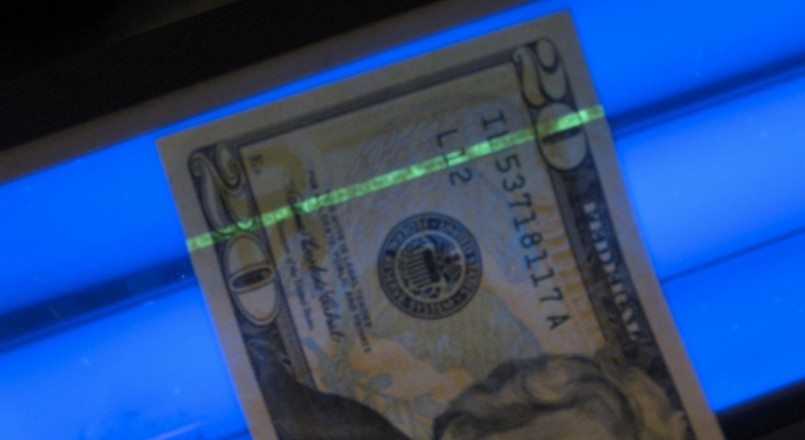 The ultimate test, is to put the bill under a uv or black light and make sure the bill glows the correct color. This extra security measure was originally added to provide a quick way for bar owners (one of the businesses most commonly targeted to dispose of counterfeit bills) to check the legitimacy of a bill.
Here are the location and colors of the security threads on different bills:
$5 – Right side. Glows blue under UV light

$10 – Right side. Glows orange under UV light

$20 – Far left hand side. Glows green under UV light

$50 – Right around the middle. Glows yellow Under UV light

$100 – On left side. Glows pink under UV light
7. Security Ribbon (On New $100 only)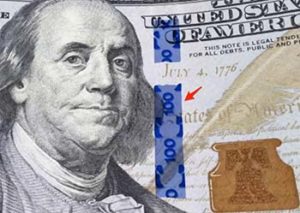 The newly printed $100 has an extra security feature. There is a visible blue security ribbon down the right middle of the bill that is 3D. If you move it back and forth, you will actually see the number 100 and a variety of little bells will move from side-to-side as the bill shifts.
8. Serial Numbers should correspond to Printing Year/Series
The last thing to check on a bill, is to make sure the serial number matches the supposed series/run year printed on the bill. Each letter that starts a serial number for a bill corresponds to a specific year (letter to year correspondence detailed below).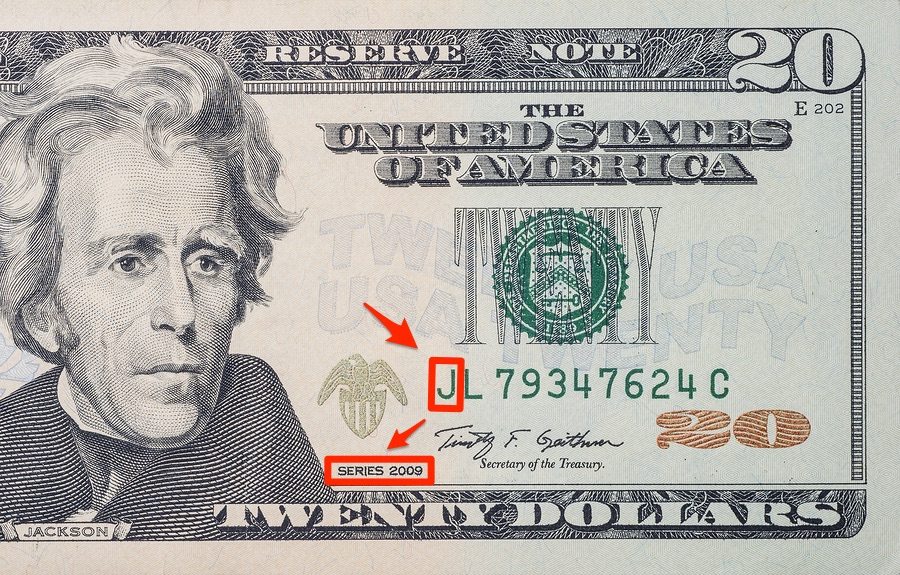 Just be sure to check and make sure the series year stated is a correct match with the letter that starts the serial number, and vice versa (shown above)
CLICK HERE To Get a Handy (and free) PDF of These 8 Detection Methods
Here are the letters and the corresponding years/runs they should match with.
E = 2004

G = 2004A

I = 2006

J = 2009

L = 2009A
Counterfeit Detection Tools and Resources
Education is the main defense against counterfeit bills. But there are also a variety of products and resources available to help you with the counterfeit detection process.
UV detection lights are especially helpful. They can quickly verify the authenticity of a bill by checking the security thread and seeing if it glows the right color. There are a few good options available on Amazon. We recommend the following based on their price and functionality.
Drimark Dual Test UV Counterfeit Detector.
$8-$10, 4.8/5 star rating on Amazon (101 Reviews)
If you are just looking for a cheap and easy way to do a basic UV counterfeit test, the Drimark Dual Test pen is a solid option. You can test using a traditional counterfeit pen. But more importantly, there is a UV light built right into the cap with which you can check the security thread. It uses three replaceable button cell batteries that are easy to find, purchase, and replace.
AccuBanker D63 Compact Counterfeit Detector.
$45-$50, 4.5/5 star rating on Amazon (17 reviews)
Although the AccuBanker D63 has a little higher price tag, it is an extremely functional counterfeit detection system that should last you many years. For one, it plugs in, which means no need to replace batteries. Two, it also has a specially enhanced watermark screen so you can also check that security feature.
What To Do If You Detect a Counterfeit Bill
So, let's say you find a counterfeit bill, what do you do next? Here are several steps to follow to make sure you are processing the bill and alerting the correct authorities.
1. Jot down some notes on who gave you the bill
The Police will be sure to want as much information as possible and the more prepared you are the more information the police will have to aid in their investigation. Jot down things like height, weight, eye color, hair color, and any unique features. A license plate number is great, although that is often not possible.
2. Handle the bill as little as possible and put it in a marked envelope
In some cases, there may be remnants of fingerprints, DNA, or possibly even certain processing chemicals that can help the police tie a bill to a certain counterfeiter. Handle it as little as possible and separate the bill from your other cash by putting it in a marked envelope in the register that you can quickly access later.
3. Contact Your Local Authorities
The last step, is to contact your local law enforcement authorities. Just get in-touch with the police station. They will be able to give you further instructions and contact other authorities as needed (generally the Secret Service).
To Sum It All Up
What it really comes down to is education. If you educate yourself and your employees on what an authentic bill should look like and the security features it should have, you will be well on your way to detecting counterfeit bills and protecting your business from unnecessary profit loss.
CLICK HERE To Get a Handy (and free) PDF of These 8 Detection Methods