Indeed.com is one of the largest job board sites, with over 200 million unique visitors every month and growing. Creating an Indeed job posting is a great idea not just because of their size, but also because they have free and paid options for job postings, and they have a high quality resume database that you can reach out to. Indeed is our recommended job board for small business owners who are looking to hire.
Indeed is also one of our go-to job boards for new postings, and we've consistently found and hired quality talent via Indeed. If this is your first time hiring with Indeed, click here for a free $50 ad credit to boost your job posting.
In this article, we will walk you through how to make the most of your Indeed job posting, including:
3 Ways To Post Your Job on Indeed
There are three main ways your job listing can show up on Indeed:
1. Free Job Posting
To make your Indeed job posting for free, create an account with Indeed through your company email, fill in your pertinent job information, and then post it. For more on how to post your job for free, check out the how-to section below.
2. Sponsored Job Posting
If you do a sponsored posting on Indeed, you will pay-per-click, generally somewhere between $0.25 – $1.50. Sponsored job posts appear at the top of Indeed search results. You can sponsor either a posting that is on your website or one that you have posted directly on Indeed.com.
2. Organic Search
If you have a Careers section on your website, and you have a job posting that is formatted correctly and designed to do well for online search engines, there is a good chance Indeed will pull in your job posting automatically and link to your Careers page (see more below in organic search section).
Let's now look at each of the three Indeed job posting options in detail.
How To Post Your Job For Free on Indeed
Indeed allows employers to post job listings for free, which is a great option if you cannot afford to use paid advertising. This is how to do create an Indeed job posting:
Step 1: Go to Indeed.com and click on the "Employers/Post Job" tab at the top left of the page.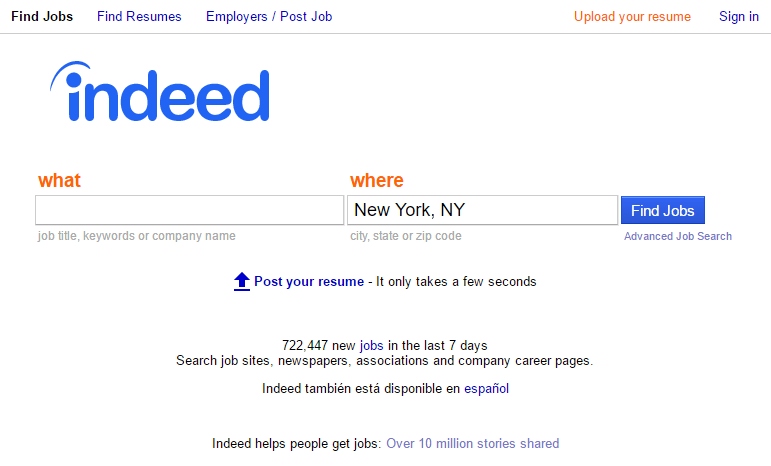 Step 2: Click on "Post Job".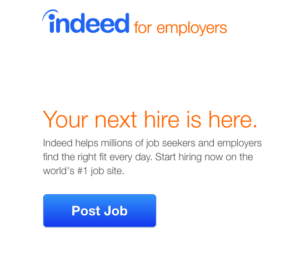 Step 3: You will then be cued to create an Employer Account (which is free) in order to move forward.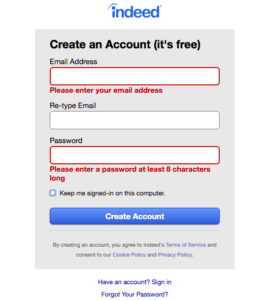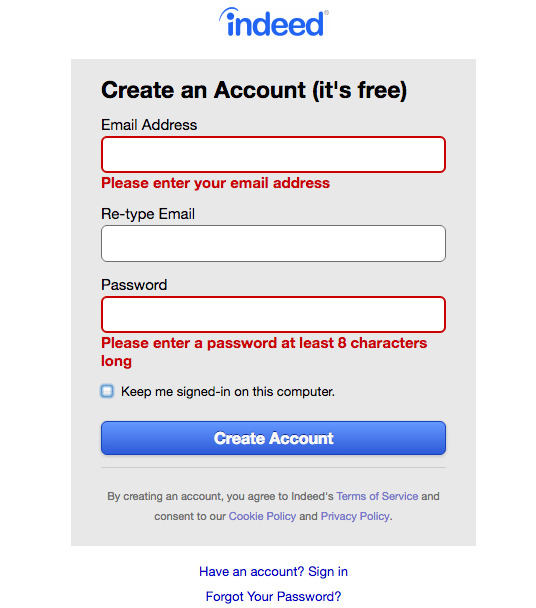 Step 4: You will then be cued to create a job posting, which consists of several steps. You'll need to have a job title and job description all set to proceed. If you don't have these, check out our article on how to write a job title and our article on how to write a job description.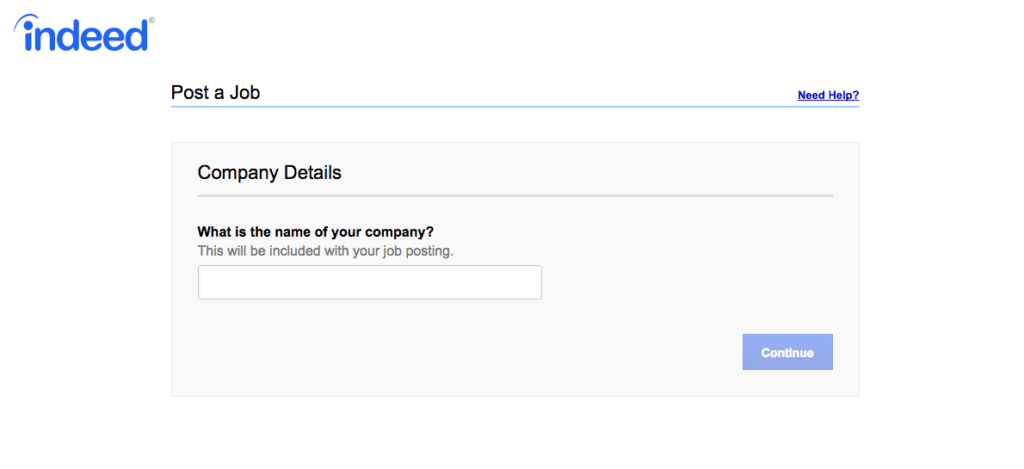 Step 5: Once you finish posting your job, you will see a version of the below screenshot. If you want to post for free, click on the "Post job without sponsoring" link: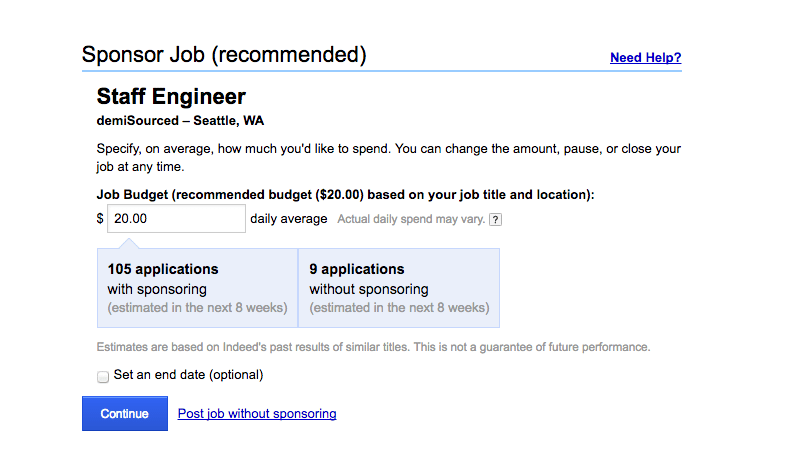 Step 6: Once you have clicked on that, you will need to verify your email address, and you will then get confirmation that your job was posted: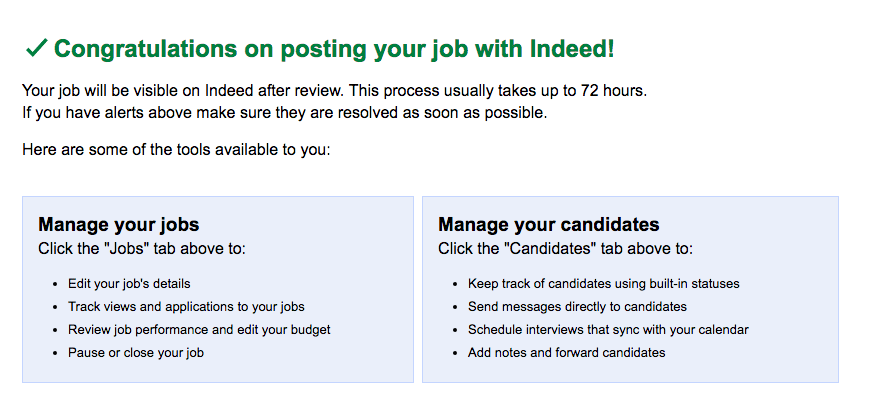 How To Sponsor Your Indeed Job Posting
If a free posting isn't getting you the results you want, you can get more exposure with a sponsored job posting on Indeed. Basically, sponsored job listings are the top 2-3 and the bottom 2-3 listings on each Indeed.com job search page. In many cases, sponsored listings will outperform free job listings by 3-5 times. You can see an example of sponsored postings on this screenshot (check out the pink arrows).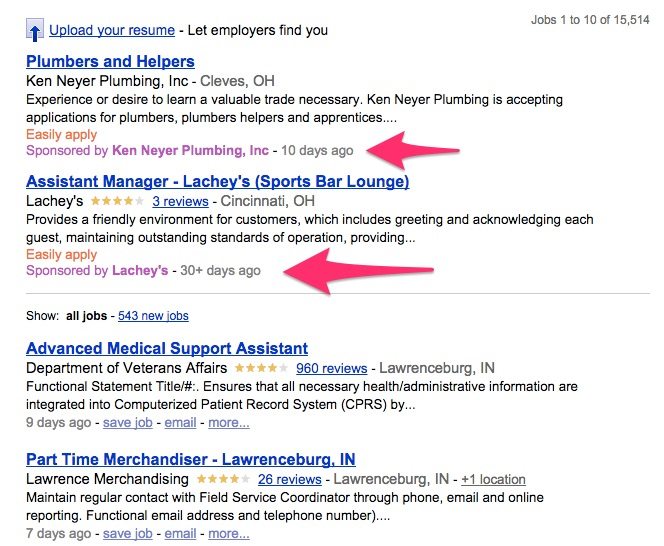 Why is sponsoring a job potentially important? Indeed.com's search results are based on relevancy and recency. As free listings age, they generally fall further down in search results. Sponsored ads do not, they always remain at the very top or the very bottom, which results in more applicants. You can see this from our example posting, which estimates 105 applicants with sponsorship versus 9 applicants with a free posting (see screenshot below).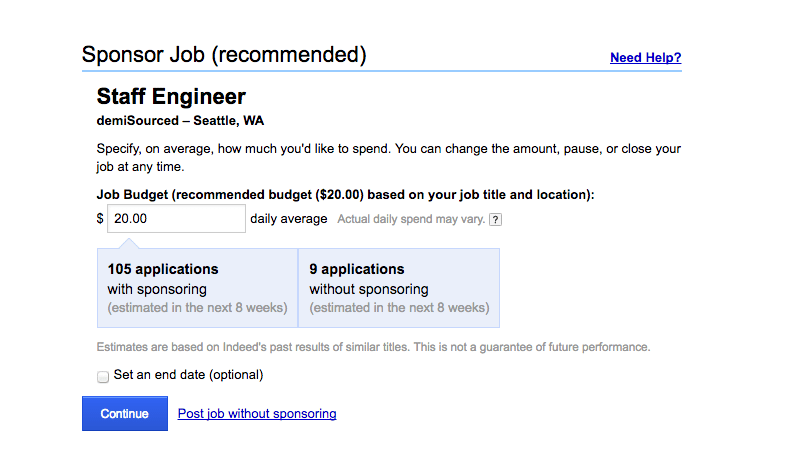 Indeed.com's sponsored ads work on a pay-per-click cost model, which means you pay a certain fee for every click you get from the sponsored ad, generally between $0.25 and $1.50 or so. You can set a monthly budget, a daily budget, and a targeted number of customers, and Indeed.com will try to meet your goals by bidding automatically for you, no longer displaying your ad when your monthly budget is reached.
If you want to do sponsored advertising for a job posting on Indeed.com, it's simple. Rewind back to step 5 of free posting (screenshot below); you can see that I could have set a daily average budget, as well as an end date, and then I would have clicked "Continue" to further set up my campaign and pay.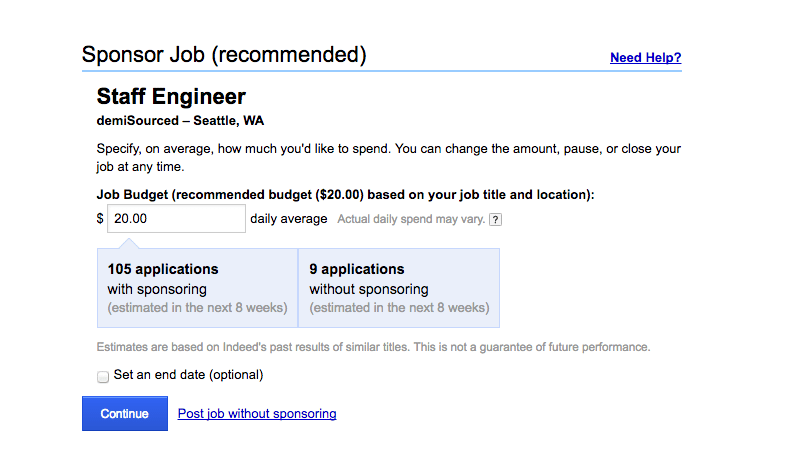 How To Get Your Indeed Job Posting / Listing Page Seen via Organic Search
It is possible to get a link from Indeed to your own website's career openings page simply by making your webpage search engine friendly. Indeed.com is constantly on the search for jobs, using engines and prowlers to find ones to add to their site. So if you have a Careers or Jobs section on your website, there is a chance that by using our tips Indeed will pick up your job posting all on its own.
Here are some steps you can take to increase the odds that Indeed.com will find and link to your posting/feed:
Have a Clear Job Title
Make sure you have a specific job title clearly spelled out. Put it on its own line, near the top of your listing, and make sure it is in bold so it stands out in some way. If it is jumbled in with everything else, Indeed won't link to it. Also, be as specific with your job title as possible.
If you need help, try Indeed's Job Title Generator.
This tool is super handy because it tells you 3 things:
How many job postings are currently out there containing the job title(s) you're considering
How many people are looking for that job title when looking for postings
Compares postings per job title for different job titles.
All of this information can help you create the best job title possible for your role so that it gets picked up by the Indeed organic search.
For example, here is a screenshot of the job titles "Data Scientist" versus "DevOps." This graph shows you how the orange line, which is DevOps, has exploded in popularity compared to Data Scientist (blue line) jobs.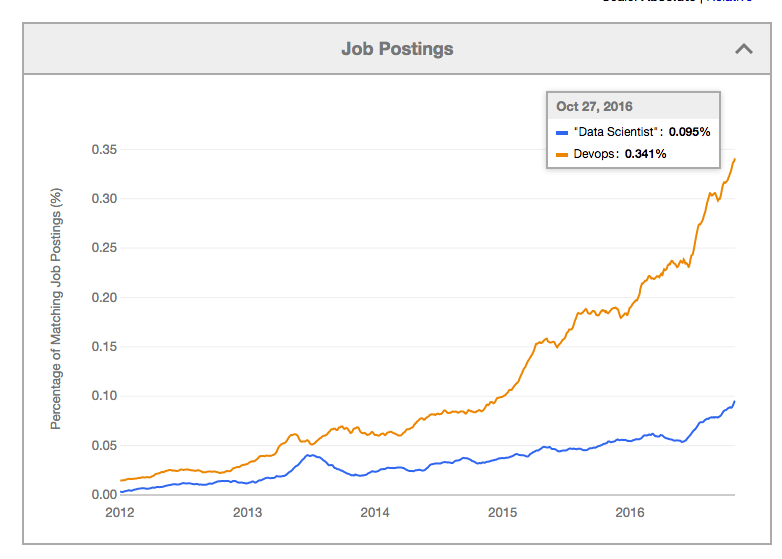 Include Your Company Name
This seems like a no-brainer, but at times employers list only a contact email or application submission button and never actually include their company name because they figure it is obvious. However, Indeed is looking for listings with company names included, so just take the extra minute and add it in. Bonus: add in a quick summary on your company, like when it was founded and your mission statement.
List One Physical Location with a City and State
Indeed.com is looking for a physical location. Even if your business does not technically have one, put your business's founding address, P.O box, or something down else down (where do you get your business mail?). Be sure to include only one location, as Indeed does not like multiple locations. Make sure to include a city, state, and zip code.
Give Each Individual Job Its Own Web Page and Unique URL
Indeed.com will not link to pages or job feeds that have more than one job on them. They want to see a custom url that is linked with one specific job posting. So, if you have multiple job postings on your website, create separate url's for each.
Make Sure You Have a Job Description
Include a detailed job description, including lots of keywords related to the role and industry. It's also a good idea to repeat words from your job title whenever you can, without the description seeming stilted. The more keywords that are repeated, the more likely it is that search engines and Indeed will find your listing.
Need help writing a great job description? Try our how-to guide.
Have Some Sort of Submit Button or Application Submission Email Address
Make sure you include clear instructions for how an applicant should conclude the process, whether it is a submit application button, or a phrase like "Send resumes and applications to abccareers@abccompany.com."
Top 3 Perks of Your Indeed Job Posting
If you still aren't convinced about posting your job on Indeed, here are some more reasons you might want to consider it.
Perk 1: Indeed lets you message up to 100 resumes for free.
Maybe you aren't getting enough applicants to your job posting or maybe you just want to take control of finding good candidates. Indeed allows you to "source" (aka find and pick) your own candidates that match your job description with up to 100 free messages and $1/message after that, making it way more affordable than LinkedIn Recruiter.
Perk 2: You will get applicants.
This may seem simple, but, for even my most complex roles in my consulting work, Indeed always delivers at least a few applicants. Since the process to post takes about 3-5 minutes total if you already have a job description ready, this is totally worth your time. It's also important to note that, especially when compared to other job boards, the applicant quality on Indeed, in general, is better.
Perk 3: You can see the resumes of applicants on your own terms.
Don't like logging into Indeed? Fine, then you can view the resumes of applicants via their email alerts while you are commuting home. I like how Indeed attaches the full resume of an applicant to the email alert, or you can log into Indeed and go through and organize candidates systematically- the choice is yours.
Having trouble organizing candidates? Check our our applicant tracking systems we recommend for small businesses.
Bottom Line
Indeed.com can be a great tool for finding quality employees, especially if you put some effort into making sure your Indeed job posting is as accurate and compelling as it can be. With the tips above, you should be well on your way to getting a good set of quality applicants.
The next step is interviewing good candidates. For help, check out our article on phone screens (including 2 free templates) and in-person interviews.
What did you think of your hiring experience with Indeed if you have tried it?