In this guide we'll show you how to generate more business from Angie's List. In particular, we'll cover paid advertising options and give you expert tips on how to get the best return on investment (ROI). 
Before we dive into the details on this topic, we also suggest you check out Insightly, our recommended small business CRM. Visit Insightly to learn more.
What Is Angie's List?
Angie's List is one of the first online business review websites. A key difference between Angie's List and competitors like Yelp and Kudzu is that Angie's List charges a small monthly fee to users in order to view and write reviews (about $10/year). By preventing anonymous reviews and applying verification steps, the company works to keep reviews more honest.
Angie's List specializes in service-based industries like home repair and medical practices. You won't find restaurants or retail shops like you will on Yelp. Some of the most popular categories on Angie's List are house cleaning, handyman services, HVAC, plumbing, remodeling and painting.
Businesses can create a profile on Angie's List for free. If you've been open for a while, there may be reviews of your business posted already. In either scenario, you'll "claim" your business profile by following the steps on the Angie's List Business Center.
What is Angie's List Advertising?
Here's how Angie's List works: Users choose the type of service they're looking for (say, electricians or movers) and the website returns a list of the top rated businesses in their area. Where your business appears on that list depends on the number of reviews you have and your average rating: The larger the number/better the rating, the higher you'll rank on the list.
The exception is if you advertise on Angie's List. By becoming a paid user, you can increase the position of your business in certain searches. Sponsored posts appear at the top of the default settings for search results as "Coupons":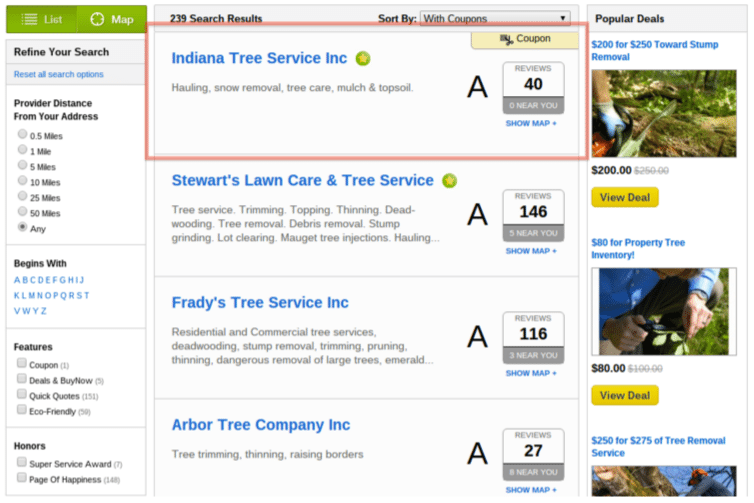 This means your business can appear above those who have a higher grade and/or more reviews. In the picture above, there is just 1 advertiser. Depending on your particular market & category, however, there can be as many as 14 sponsored results per search. In this scenario, where your business ranks among the 14 will fluctuate. So even if you don't have as many reviews as the other advertisers, you should appear at the top at certain times.
Does this mean I have to offer a coupon in order to advertise on Angie's List?
Yes. Offering a coupon is the only way for most businesses to advertise at the top of search results. (Some types of service providers, including dentists and movers in Illinois, for example, are prohibited by law from offering discounts in this manner.) This may seem like overkill, since you have to pay for the ad space on top of offering a discount. But the attraction of the promotion can help give you a higher conversion rate.
In order to advertise on Angie's List you need to maintain a "B" rating or higher. You also need at least 1 A rating or 2 B ratings in order to qualify, although ideally, you'll want at least a dozen ratings before you begin advertising (we'll get into this a little later).
Angie's List Advertising Costs
The cost of advertising on Angie's List is negotiable. $200/month is a typical bill, although according to Marketing Consultant Victor Bilandzic, the cost can vary from $20/month to a few thousand dollars depending on the size of your "reach," or the number of people who could potentially see your ad.
Reach is determined, in part, by where you advertise. Angie's List is divided geographically into many different zones. A consumer who logs in from Scottsdale AZ, for example, will obviously see a different list when they search "plumber" than somebody from Tampla, FL. Even within a city, there's likely to be different zones for each neighborhood or region.
As an advertiser, you can place your ad in a single zone or multiple zones. The more places you show your ad, however, the larger your potential reach and thus the more you'll have to pay. When selecting where to advertise, you should use your CRM software to figure out specifically where your customers live and stick to those areas.
Another important note on price is that it's negotiable. According to a former Angie's List salesperson, the price can be negotiated down to 50% of the initial offer. So whatever price you're given at first, you should seek at least 20% to 30% off (or higher, if you have some patience and bargaining power).
So what does a bill of $200/month get you?
According to Bilandzic and a few other sources, Angie's List has a cost per click (CPC) of about $4 to $8. In other words, businesses tend to pay between $4 and $8 for each click to their website. So a bill of $200/month should get you between 25 and 50 new visitors to your website each month.
This cost is a little bit higher than Google and Yelp, according to the same reports. But common wisdom holds that Angie's List buyers are a bit more "primed to buy" compared to users on Google and Yelp, who may just be casually looking. While there aren't any exact numbers available on this, businesses who advertise on all sites tend to report much higher conversion rates from Angie's List than the others.
How To Get The Best ROI From Angie's List
$4 to $8 is a pretty wide range, so what can you do to get the most bang for your buck? Here's some tips we heard from both Angie's List representatives and pro users:
1. Get More Reviews
The biggest factor in improving your ROI from Angie's List will be getting more reviews. Take a look at your competitors who are also advertising and compare your number of reviews to theirs. If they have significantly more than you (say you're in the single digits and they have 50+) then it follows that more users will be clicking on their ad than yours.
Boosting your number of reviews early on can be tricky. You may need to bring it up to customers in person "Hey we're just starting out on Angie's List – If you're a member, please leave us a review!" Linking to your Angie's List profile on your business website and social media profiles can also be helpful, as this can get past and current customers to take notice.
For more ideas, Angie's List has a page of resources for generating reviews, including web badges and physical review forms customers can fill out by hand. Once you get past the initial hurdle, reviews will come much easier. Angie's List sends out reminders to members to review services they've recently used. So once you start finding customers through Angie's List, your reviews should grow steadily.
2. Respond to Messages and Comments
Your grade and number of ratings aren't the only factors that influence your ranking. Your communication skills will also affect how high you appear in search results – for both paid and organic rankings.
The gist is that Angie's List values good customer service. So start with a strong focus on delivering for your customers. Respond in a timely way to their private messages as well as commenting on their reviews of your work. Obviously if you have a negative review, you want to try to make that right – or at least leave your side of the story on Angie's List. You can do that for free.
Don't respond just to negative reviews, though. Respond to all reviews (just leaving a "thank you!" can go a long way). You should also respond to all private messages, even if they're duplicates.
3. Win a Super Service Award
This, of course, is easier said than done, but each year Angie's List awards businesses who manage to receive top-notch ratings. The top 5% of qualifying businesses per category, in each market, receive the "Super Service Award."
The award appears as a green dot next to your business name in search results, so it's very attractive to potential customers. (Read more about the award on here on Angie's List.)
Other Forms of Advertising on Angie's List
Although online ads seem to be the most common form of advertising on Angie's List, there's actually several different opportunities available:
"The Big Deal" –

Similar to Groupon or Living Social, Angie's List features different coupons and discounts on

The Big Deal

. These deals are available to both members and nonmembers, although members get bigger discounts. Businesses can pay to have their deal featured. However, as with their online ads, there's a requirement that you have a "B" rating or higher.
Mobile Ads

– As a separate option, businesses can also advertise on Angie's List's mobile app/website "

SnapFix

".

Call Center Service –

Angie's List has a phone line members can call to get recommendations for service providers. As an advertisers with their call center, the operator will recommend your business to callers – usually alongside a few others.

Print Ads –

Angie's List also publishes a print magazine for members. The publication includes news stories and coupons for local businesses in the back.

LeadFeed –

A brand new service that enables businesses to "bid" on leads in real time. LeadFeed targets visitors who aren't members yet. When searching for service provider, non members receive a pop up message asking them to submit the details of their project. This information is then sent to all relevant businesses in the network, who can then bid on the prospect.

Experts Contributor Program –

Businesses with expert knowledge can contribute articles related to their industry. These articles are shared on the Angie's List

Expert Blog

.
Want to manage 1000's of leads, save time, and get organized? Click Here to get our FREE CRM guide and find out how.
The Bottom Line
Angie's List isn't without its critics. In particular, it takes a lot of heat for it's paid membership model, especially since the rise of free directories like Yelp and Google+. Regardless of where you stand on this argument, however, the reality is the same: Angie's list has an extremely loyal user base that isn't likely to use another directory. In other words, if you want to reach this subset of consumers, Angie's List is the only place to find them.