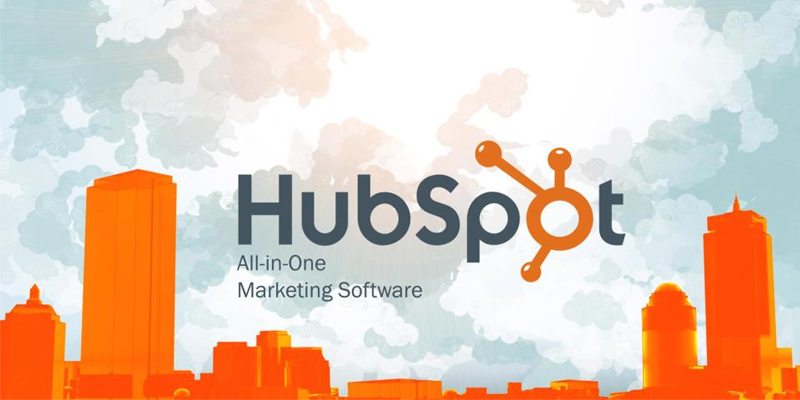 What is it?
A web marketing suite with a CRM
Want to manage 1000's of leads, save time, and get organized? Click Here to get our FREE CRM guide and find out how.
How popular is it?
Hubspot is used by 15,000 companies in more than 90 countries.
What does it do well?
Captures leads from your website and places them in an automated email marketing system based on predetermined criteria.
What does it not do well?
Hubspot is primarily an online marketing program. The CRM tools are fairly basic. You won't find territory management, a document library or advanced reporting. By contrast, you do get these tools with Zoho.
Who does it work well for?
Businesses that rely on their website as their main source of leads. HubSpot can boost your traffic and help you create personalized, automated marketing campaigns.
Who does it not work well for?
Businesses that aren't focused on generating leads from their website.
Free Edition?
No
Price Compared to Competitors?
High
Type of Solution:
Cloud & Mobile
Similar products?
InfusionSoft, Salesforce Pardot
US Based?
Yes, Company & Customer Service
Customer Reviews?
Excellent (view reviews)
 Click a Button For More Info
Hubspot Pricing
Hubspot's CRM is completely free. You can add unlimited users and save unlimited records, which is better than any other free CRM we reviewed. You can even use a free version of Sidekick email software, which among other tools, will let you track when clients are opening your messages. (see more here)
Hubspot's marketing software (their main product), costs between $200 and $2,400/month. You can read about these editions below, or check out their website for more detail.
The Basic Edition ($200/month) limits you to 3 users, 100 contacts and 1,000 email sends. It's also missing some advanced features like marketing automation and advanced reporting. There's also a required training fee of $500.
The Professional Edition ($800/month) adds these features, boosts you to unlimited users, 1,000 contacts and up to 10,000 email sends. There's also a required training fee of $2,000.
The Enterprise Edition ($2,400/month) increases that to 10,000 contacts, 100,000 email sends and adds a few more advanced features. There's also a required training fee of $2,000.
Ease of use – Moderate
Setup – Moderate.
While I found HubSpot's CRM to be pretty intuitive, the only way you can  import contacts is from a .CSV spreadsheet. Most competitors let you import straight from Gmail and Outlook.
Administration – Moderate.
Adding new users takes a number of steps, but the user guide made it fairly simple. While the CRM is more-or-less ready to go out of the box, the marketing tools require much more setup and ongoing administration.
End User – Easy.
Although HubSpot is packed with features, I found both the CRM and Marketing menus to be intuitive and easy to navigate.
Help – Easy.
If you sign up for the marketing software, you'll be required to pay for phone or webinar training sessions. While the price can be a bit steep ($500 – $2000), users spoke highly of the sessions. Besides that, HubSpot has free ongoing phone and and web support, which is also praised by users, and a number of user guides on their website.
Primary features:
| Features It Has | Features It Does Not Have |
| --- | --- |
| Contact Management | Territory Management |
| Sales Pipeline | Advanced Reporting |
| Task Management | Document Library |
| Workflow Automation | Invoicing |
| Basic Reporting | Accounting |
| Social Media Monitoring | Help Desk |
| Lead Management | Project Management |
| Calendar | |
| Web From Integration | |
Check out the full list of features here.
Primary Integrations:
| Integrations Supported | Integrations Not Supported |
| --- | --- |
| Social Media (Facebook, Twitter, LinkedIn) | Mailchimp* |
| Google Apps (Drive) | Evernote* |
| Dropbox | QuickBooks* |
| Zapier | Freshbooks* |
| Phone/VoIP | Shopify* |
*Integration supported through Zapier, a third party app that lets you automate workflow between HubSpot and other applications.
Check out the full list of integrations here.
Detailed Overview
Hubspot is an online marketing suite with many different tools for building website traffic, generating leads and converting leads to sales opportunities. There's form/web page builders, SEO tools, email templates, drip campaigns and workflow rules you can write to link all of them together. The CRM comes into the picture so you can track your lead conversion as you run campaigns. It does not come native with the system – it's an optional free add on. However, it only takes a few clicks to install.
Features:
Contact Management
HubSpot's contact book creates detailed profiles of your clients and is mostly easy to use. Like most CRMs you can save contacts – the individuals do business with and and companies – the businesses or organizations you work with. You can link contacts and companies together to stay organized. One mild issue, however, is that in order to do this, you need to go to the company page and click "Add Contact." If you do this the other way around (add the company from the contact page) you get a duplicate entry.
One thing I liked about the HubSpot's contact book is the "timeline" shown on each contact or company profile. All the activity related to the client – emails, calls, tasks, notes, etc. – are displayed in chronological order.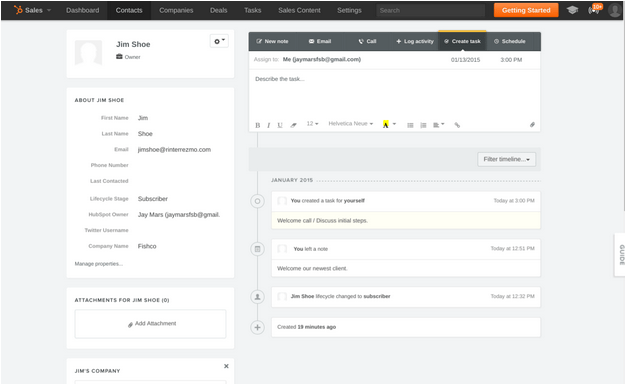 Sales Pipeline
HubSpot CRM has a pretty standard sales tracking system with a great interface. You can create custom deal stages and assign a probability of "winning" to each. Then you can drag your deals across the columns to adjust their stage. (explained here) Similar to Nimble CRM, this gives you a graphic display of all the progress of all your deals.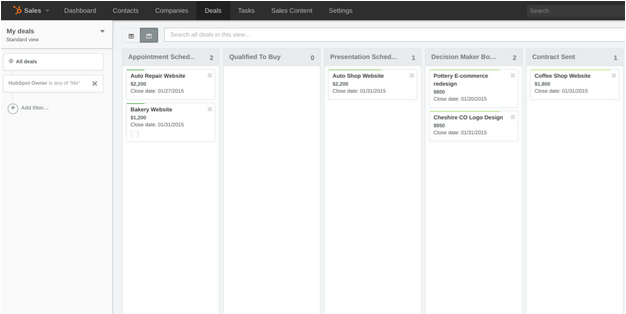 Task Management
You can create tasks and link them contacts, companies or deals. Hubspot takes a unique approach and displays tasks on a Kanban-style board (the same way as deals.) You can drag the task from one column to the other to update their progress. You can also view tasks as a list or calendar.
Reporting
Reporting and analytics are a major feature of HubSpot. Most are based on marketing – such as lead sources, email click rate or visit-to-click ratio of your landing pages. But you can also view some reports on sales, such as revenue by company. Reports are customizable (explained here.)
Email Marketing
HubSpot goes far beyond the email marketing tools found in other CRMs. It's basically a full-on web marketing suite that combines many services into one. You can boost search traffic for your website by creating SEO optimized content. There's an in-browser rich text editor to create blog entries and tools to help you find the right keywords to optimize your content.
You can create multiple landing pages where users submit information through a form. This information automatically gets added to your CRM with insight on their website behavior – i.e., how did long they spend on on your website and on which pages? Then, depending on their behavior and/or which landing page they came from, you can sort leads into different "buyer personas," or segments.
For example, if you sell flowers you might have one landing page for weddings and others for birthday parties and corporate events. Depending on where the lead came from, you can have them automatically added to a unique email campaign. This is all done with preset logic rules, so you don't have to manually assign each new lead. You could also choose to have leads sent internally, like to a salesperson.
These tools, of course, are only available if you sign up for one of their marketing packages. If you're using the free CRM, you won't get any marketing automation.
This video gives you a quick overview of all the marketing tools available from HubSpot:

Territory Management
There's no territory management tools.
Document Library
You can attach files to contacts, companies or deals, but there's no document library to sort through all at once.
Project Management
There's no project management feature.
Automation
Hubspot has very strong marketing automation, which you can read about above under "email marketing." The CRM, however, is pretty basic. There's no workflow automation I could find – in other words, no way to automatically create tasks or tasks reminders. According to the Hubspot team, however, this feature is in the works.
Calendar
You can view a monthly, weekly or daily calendar with all your personal tasks and filter by category.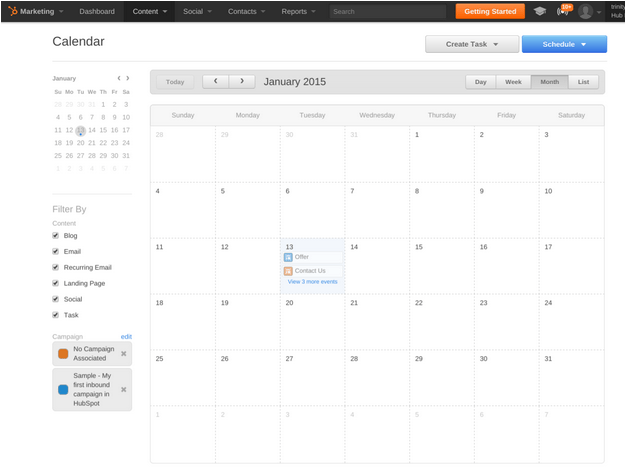 Invoicing / Accounting
There's no invoicing or accounting tools.
Desktop/Server Based/Offline Access
HubSpot is cloud hosted, so you don't need to install any software on your computer. You can access HubSpot through your web browser or a mobile device. It does not support offline access, however, so you have to be connected to the internet to use HubSpot.
Mobile
HubSpot is available as a mobile app for both Android and iOS, but it doesn't include leads, companies or tasks. Users are pretty content with its marketing capabilities, but given the lack of CRM tools besides contacts, it's probably not going to suit the needs of a traveling salesperson.

Integrations:
HubSpot integrates with a few 3rd party apps, including SurveyMonkey and Zapier, which enables you to link HubSpot with over 270 web services. HubSpot also integrates with a number of CRMs (Salesforce, SugarCRM, Zoho, NetSuite, Pipedrive and Base CRM), so for example, if you want to keep your old system for sales but use HubSpot for marketing, you can synchronize the two systems.
HubSpot has a close integration with social media services. You can publish to Twitter, Facebook and LinkedIn straight from HubSpot and monitor keywords (such as your company name) across all platforms.
There's no personal email inbox or personal email integration, however you can draft mass emails or send individual messages to contacts. When you do so, it will display your account email as the return address. Note, however, when I tested this out my email ended up in the spam folder – so the email feature may not be a reliable method of contacting clients.
HubSpot has a unique phone feature. You can make calls directly from the CRM and record the phone conversation. CRM users get a collective 60 minutes per month for free. After that, it's $50/user/month for 1,000 min/user/month.
Customer Service
24 hours?
No, phone and other live support is available between 8am and 8pm EST
US Based or Not?
Yes
Method of Delivery
HubSpot has great phone and web support. I was immediately connected to an agent when I tried the phone line and HubSpot guarantees responses to support tickets within 1 business day. This is consistent with what users are saying about their customer service. HubSpot also has a knowledge base with 20 user guides and FAQs.
The Bottom Line
HubSpot is a marketing suite first and a CRM second. While I found the CRM to be reliable and easy to use, it's rather basic – you won't find territory management, a document library or advanced reporting. If you need a high-level marketing suite, however, and can get by with a basic CRM, then HubSpot is a bargain ($800/month for unlimited users vs. $2,000/month for Salesforce's Pardot + $125/user/month for the CRM.)