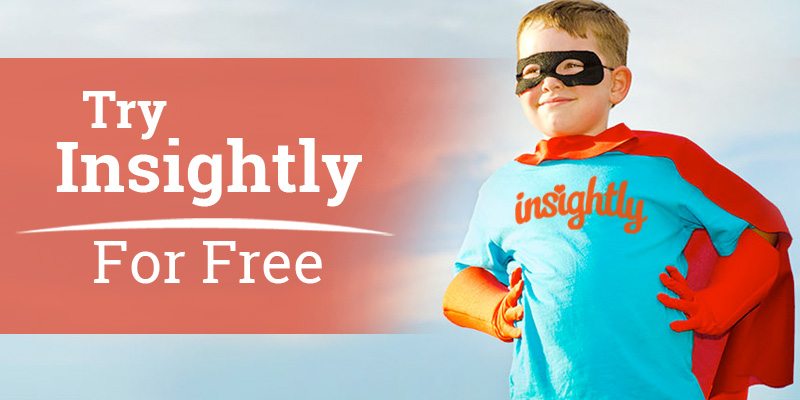 What is it?
Insightly is a Small Business CRM.
How popular is it?
Over 800,000 (Free & Paid) users as of September, 2015.
What does it do well?
Insightly provides an inexpensive, easy to use, contact and task management system.
What does it not do well?
Insightly is not a complete end-to-end business management system. You won't find customer service case management, website visitor tracking, invoicing, inventory management, as you will with Zoho CRM. That said, Insightly can integrate with other systems that offer these tools.
Who does it work well for?
Small B2B businesses, graphic designers, realtors, accountants, eCommerce stores, salons, and others looking for straightforward contact and task management.
Who does it not work well for?
Businesses that want to streamline their workflow with automation, such as email automation or auto-task assignment. Also, Insightly is not compliant with HIPAA or Sarbanes-Oxley so it's not ideal for large corporations or medical practices who want to store patient information.
Free Edition?
Yes. Free for up to 2 users and 2500 records.
Price Compared to Competitors?
Low
Type of Solution:
Cloud & Mobile
Similar products?
Nimble, Contactually
US Based?
Yes, Company & Customer Service
Customer Reviews?
Excellent (view reviews)
 Click a Button For More Info
Insightly Pricing
Insightly has 5 different editions, starting with a free version for up to 2 users. Paid editions add Mailchimp & Quickbooks Online integrations and boost the number of records you can save. A record is any item stored in the CRM, such as a contact, project, organization, task, etc.
Paid editions also increase your number of custom fields, email templates, mass email sends/day, document storage and more. Read more of these pricing differences here.
Free

Basic
$12/user/month

Plus
$29/user/month

Professional
$49/user/month

Enterprise
$99/user/month

Up to
2,500 records

2 Users Max

5 Email Templates

200 MB Storage

Up to
25k records

Adds Mailchimp
& Quickbooks
Online integrations

50 Email Templates

1 GB Storage

Up to
100k records

Adds Basic
features + priority
email support

100 Email Templates

10 GB Storage

Up to
250k records

Unlimited Email Templates

100 GB Storage

Up to
500k records

Unlimited Email Templates

250 GB Storage
Note: The prices above reflect the annual rates. If you want to pay month-to-month instead, the cost is about 25% higher.
Ease of Use
Setup – Easy.
With little need for customization, Insightly is pretty much ready to go out of the box. You can import contacts from Gmail, Outlook or a spreadsheet file (explained here). Free onboarding support is given to all paying clients.
Administration – Easy.
Compared to other CRMs, there's a very small learning curve to master the back-end of Insightly. You can add new users with just a few clicks. Permission levels, likewise, are managed on a very simple menu where you click icons to grant different access privileges. (explained here)
When it comes to personalizing your system with custom fields, Insightly again keeps things very simple (pictured below). You don't have to take a crash course or learn any jargon.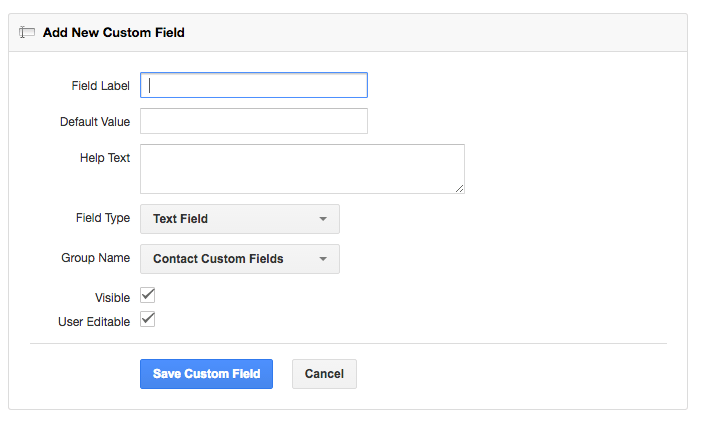 End User – Easy.
Overall, Insightly is very easy on the user end. It's layout is simple and actions like adding a contact, opportunity or task are consistent across the platform – by learning how to do one, you can basically do them all.
Help – Easy.
Insightly has high quality help articles and email support available to paid users. Some of the downsides are the lack of phone support and the fact that higher paying clients (those on the "Plus" plan and higher) are given priority email support. As such, some users have complained about response times.
Primary Features
| Features It Has | Features It Does Not Have |
| --- | --- |
| Contact Management | Help Desk |
| Sales Pipeline | Territory Management |
| Task Management | Document Library |
| Workflow Automation | Invoicing |
| Advanced Reporting | Accounting |
| Web Form Integration | Social Media Monitoring |
| Project Management | |
| Calendar | |
| Email Marketing | |
Check out the full list of features here.
Primary Integrations
| Integrations Supported | Integrations Not Supported |
| --- | --- |
| Social Media (Facebook, Twitter, LinkedIn, etc.) | Freshbooks* |
| Google Apps | Shopify* |
| Dropbox | Phone/VoIP |
| Mailchimp | |
| Quickbooks | |
| Evernote | |
| Zapier | |
*Integration supported through Zapier, a third party app that lets you automate workflow between Insightly and other applications.
Check out the full list of integrations here.
Detailed Overview
Insightly offers the best of both worlds: You get simple and effective contact & task management, which is often overlooked by larger CRMs. Yet, if you do want to explore advanced tools, Insighlty can ease you into webform-to-lead integration, email templates, custom reports and other powerful features. They also support a surplus of 3rd party integrations.
The main downside to Insightly is that it has limited automation (there's no "trigger" rules or automatic follow up reminders). For most small businesses this shouldn't be an issue. If you need these features, however, you should save your time and check out Zoho CRM instead.
Features
Contact Management
You can create a list of contacts, which are the individuals you do business with, as well as organizations, which are the companies or groups they represent. Contacts and organizations can be linked together, so if you know an individual salesperson at company x you can link their contact page to company x. Insightly also enables you to create custom fields for your records. So, for example, you can include a field for the client's location if you set up sales territories by region.
Check out the video below for more detail on Insightly's contact management:
Insightly also has lead management. You can upload a list of prospective clients and save them under a separate "Lead" menu. Once the lead expresses interest, you can "convert" them to a contact and sales opportunity. Leads can be saved individually, uploaded as a spreadsheet file or imported from a form on your website. (see more here)
Sales Pipeline
Under the "opportunities" page, you can keep track of your open, closed, and lost deals. You can assign dollar values to deals and estimate your chance of winning. With that information, Insightly enables you to forecast your upcoming sales.
Task Management
You can create a task for any upcoming or past event and link them to a contact, organization and/or opportunity. For example, if you just had a service call with a client, you can add a new task to leave notes about the conversation. You can also use tasks to plan future events, like a meeting with a client, or an assignment with a due date. Opening up the "Tasks" tab, you can track those that are open, completed and overdue.
Reporting
Insightly's new custom reporting engine allows you to build reports from any record or field in the system – even your custom fields. Simply choose a record (Contact, Opportunity, Task, etc.) and select which fields you want on the report. Drag and drop to add them to the report, and remove any fields you don't want.
From there, you can apply filters to get the exact report you want. Say you want to view new clients in the past 30 days who have pending deals worth $10,000 or more? You can create this very easily by adding a "filter row." Select"Opportunity Value," "greater than" and typing "$10,000."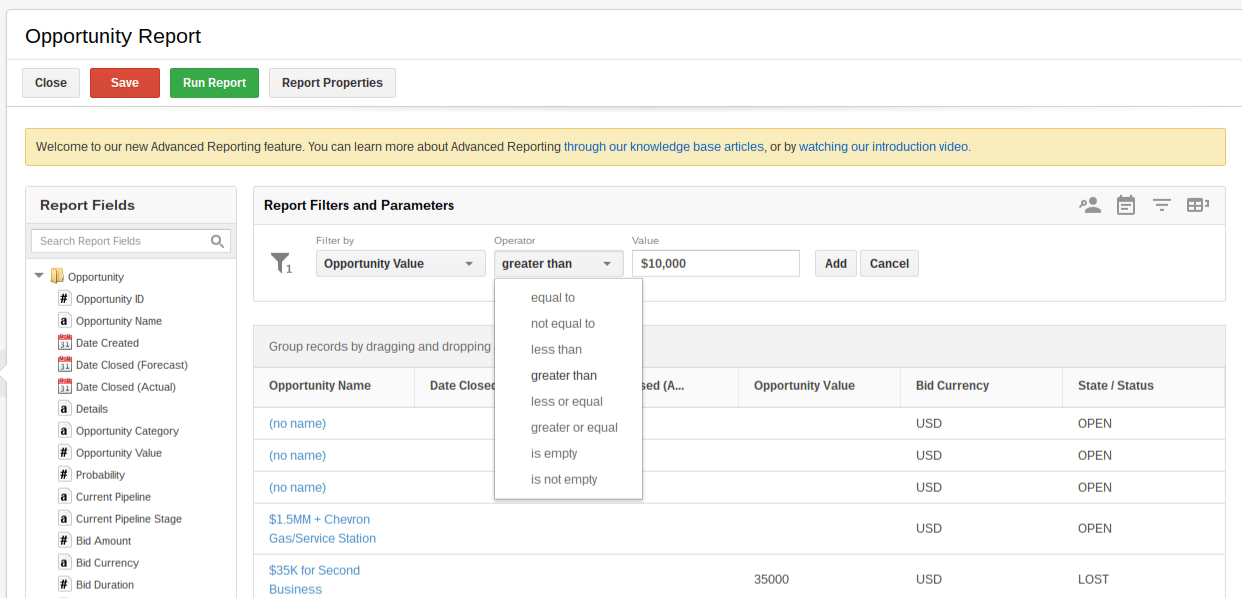 Insightly's custom reports are strictly tabular. You cannot create bar graphs, pie charts, etc. within Insightly. You can, however, export any report as an excel spreadsheet. From there, you can create many different kinds of charts in a few clicks.
Additional reporting tools include the ability to save and categorize reports in "report folders," and to setup "recurring reports" that are created and sent to your email inbox on a recurring schedule. Want to view a breakdown of tasks completed by employees every week? Just set the schedule and you'll have this report delivered automatically.
If you want a simpler option, Insightly gives you 10 preset reports that will automatically graph. Just click "Legacy Reports" in the upper right corner. From there you can choose between 9 reports related to opportunities (i.e. sales opportunities funnel report, reasons for losing opportunities, etc.) and 1 that's a breakdown of completed tasks.
Email Marketing
Insightly has 3 levels of emailing:
Send Emails straight from Insightly (including mass emails, sent to up to 500 contacts/day on a "Basic" account).
Link your Email account. This allows you to send emails via Insightly, but receive responses to your main inbox.
Install the Gmail Sidebar Widget. As we'll explain more under integrations, the sidebar widget adds loads of CRM tools directly to your Gmail inbox.
To send a mass email, you can choose a list of leads or contacts and email them straight from Insightly. Your login email will be displayed on the other end as the sender. With a free account you're limited to 10 emails/day, with a "Basic" account it's 500 emails/day, with a "Plus" account it's 2,500 emails/day and so on (see more).
You can also send messages to specific individuals just by clicking "send email" on a lead or contact page. You can type up a message or use a pre-saved template. (see more here)
Territory Management
Insightly does not have a formal "territory management' feature, but it is possible to divide up sales teams using permission levels. When you add a new lead or contact, you can make it visible only to a select team or select employees. You can edit records this way in bulk, so you don't have to assign a team to each individually.

Document Library
Insightly does allow you to upload documents and attach them to contacts, organizations, tasks, etc. but there's no document library where you can browse through all uploaded files.
Project Management
Insightly has surprisingly strong project management tools included with their CRM. Under settings, you can draw out a series of tasks and save them as a project template (known as a "pipeline.") Then, when you create a new project, you can choose one of your pre-saved pipelines from a dropdown menu.
As each new stage of the project is reached, new tasks will automatically be fired out to all responsible parties. This workflow automation is one of the more sophisticated features of Insightly. Another nice feature to the project management tools is that insightly does not limit the number of projects you can save.
Check out the video below for detailed overview of Insightly's project management:
Automation
Insightly has basic automation. There's some workflow automation (described above), but you can't set up elaborate "trigger rules" like you can with Zoho or Salesforce CRM. (What's a trigger rule? See here)
Insightly also lacks automatic follow up reminders. This is a tool that tracks your conversations with clients and sends you alerts when you haven't spoken in 2 weeks, a month, etc. You can find auto follow up reminders from Zoho CRM, Top Producer or Contactually. Top Producer, a realtor-specific CRM, can even recommend follow up responses based on the circumstance.
Check out the video below for more on Insightly's workflow automation:

Calendar
Insightly provides a calendar that shows upcoming events for all members of your team. You can filter between type of event and responsible user. So, for example, if you just want to see the items you have due this week, you can select your own name and "tasks" to filter the calendar.
Invoicing/Accounting
There's no invoicing or accounting tools.
Desktop/Server Based/Mobile/Offline Access
Insightly is cloud hosted, so you don't need to install any software on your computer. You can access Insightly through your web browser or a mobile device. It does not support offline access, however, so you have to be connected to the internet to use Insightly.
Mobile App
The Insightly mobile app (iOS or Android) is handy for reaching clients on the go. You can call, email, text and even map your Insightly contacts. You can view all your records (contacts, opportunities, etc.), create tasks, convert leads to sales opportunities and view your calendar. A few additional unique include the ability to save audio recordings as notes, scan business cards, and the ability to add images from your camera/photo library to a record. (see more here)
You can also update project/opportunity stages, which is convenient if your salespeople want to make changes on-the-go.
Some of the limitations of the mobile app are that you cannot generate reports or change admin settings, like your pipelines. While the mobile app has most of the tools you need on the go, it's not a total replacement of the browser version.
Integrations
Insightly integrates with many different business applications including Quickbooks Online, Xero, Mailchimp, Dropbox & Evernote. Check out the full list of integrations here. There's also hundreds of more integrations available through Zapier, a 3rd party service, including Trello, Basecamp, Freshbooks and more. These take a little more time to set up, however, and are not always free.
Insightly also integrates with social media platforms. When you add a contact, Insightly will scan for social media profiles based on email and auto add the profile(s) to contacts. Among the social media supported is Twitter, Facebook, LinkedIn, Google+, FourSquare, Picasa, Klout and many more.
For email integration, Insightly recently unveiled a new Gmail Sidebar Gadget that lets you view CRM records directly from your email account. When you click on an email, the tool finds all relevant information about the contact, including leads, opportunities and projects. (Read more here)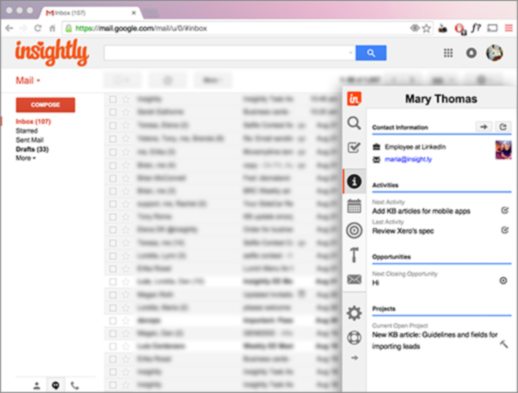 Customer Service
24 hours?
No (hours not listed)
US Based or Not?
Yes
What's The Method of Delivery?
Insightly has email support for paying users. There's no phone support or live chat. Users are generally content with the web support, with many citing quick response times in online reviews. Insightly gives priority email support to "Plus," "Professional," and "Enterprise" users.
All users (free & paid) can access Insightly University, which is a free online help center with FAQs, in-depth guides and video tutorials.
Bottom Line
Insightly is all about keeping things simple. At its core, it offers small businesses a clean and simple platform to track their sales and interaction with clients.
That said, it also has some surprisingly advanced features: The project management tools, when coupled with workflow automation, is very strong and something we use internally at Fit Small Business to manage our articles. You also get email templates, custom reports, a mobile app with business card scanning, and integrations with Mailchimp, Xero and Quickbooks Online.
At Fit Small Business, we started using Insightly simply for its contact and project management. As our business grew, however, we also found it incredibly useful for importing leads, sending sales emails (with templates) and generating custom productivity reports. Now we're amazed at how many advanced tools this simple CRM can throw our way.
If you want to explore more CRM options, you can check out our comparison of Insightly and other top providers here.