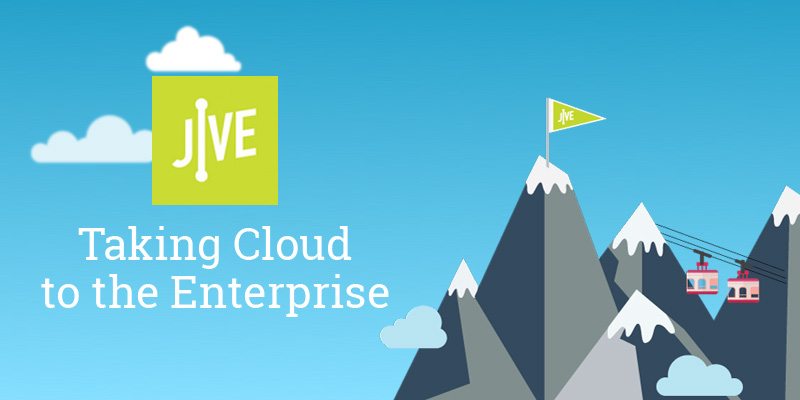 What is it?
A small business VoIP phone system.
How popular is it?
Jive Communications is a medium-sized company with over 300 employees.
What does it do well?
It gives you a professional phone system you can customize to your liking. Jive also has top-rated customer service.
What does it not do well?
It takes 2-3 days to set up, so you can't get started immediately like you can with Phone.com or Grasshopper.
Who does it work well for?
Small businesses that prioritize good customer support and reliable phone service. Jive also has a Salesforce integration, a highly customizable call routing system and advanced call reporting/analytics.
Who does it not work well for?
Businesses who need a phone system overnight, or those who do not talk on the phone much and don't need unlimited minutes.
Free calls to US and Canada?
Yes
Pay-per-minute plan?
No. All Jive small business plans have unlimited calling. Inbound toll free calls, however, are 1.9 cents/minute.
Can you use your current phone number(s)?
Yes
Does it support toll free?
Yes
Free Trial?
No, but there's a 30-day money back guarantee if customers are not satisfied.
Cost Compared to Competitors?
Mid-range
Similar products?
Cloud or Hosted?
Cloud
Does it require special phones?
Yes. Jive works with many Cisco, Yealink, Panasonic and Polycom internet-enabled phones. (Check out a list of phones here) For a one-time $20 fee per user, you can also use a mobile/desktop phone for Windows, Mac, Android or iOS. There's also a Google Chrome browser widget you can install to make and receive calls from your browser.
US

Based?
Yes, Company & Customer Service
Reliability
Along with RingCentral, Jive has the most reliable service of any provider we reviewed. Of the last 50 reviews on www.voip-info.org/reviews/Jive+Communications+Reviews, 4 users noted technical issues: 2 noted outages and 2 noted equipment-related issues. 
Jive Pricing
Jive's small business VoIP service is priced depending on how many users you have. The pricing is tiered: It's $30 for 1 user, $26/user for 5-9 users, $24 for 10-24 users, $22 for 25-49 users and $20 for more than 50 users.
There's only 1 edition of Jive and it includes all features (except the mobile app, which costs a one time fee of $20 per license.) Phone numbers cost $1.75 / month each, which is the lowest of all VoIP services we reviewed. Jive does not include any phone numbers with the base package, so you have to add at least $1.75 for one number.
This pricing does not include taxes or surcharges, which are outlined in the table below:
1 User:
$43.20 / month

5 Users:
$176.53 / month
($35.31 / user)

25 Users:
$743.18 / month
($29.73 / user)

Base Price:

$31.70

$131.50

$550.50

*Taxes & Surcharges

$11.50

$45.03

$192.68

Minutes:

Unlimited (except Toll Free calls are 1.9 cents / minute)

Unlimited (except Toll Free calls are 1.9 cents / minute)

Unlimited (except Toll Free calls are 1.9 cents / minute)

Optional Add Ons:

Additional Phone Numbers - Add $1.75/month each
Mobile App - Add $20/user (one time fee)
*Note: The exact amount you pay in taxes and fees will vary depending on location. Some states, counties and cities will charge more than others. The prices in this example reflect the taxes in New York City.
International Calling
You can make international calls for an additional charge per minute. Rates are on the lower end compared to other providers, ranging between 3 cents to about 30 cents a minute, depending on the country. You can look up international rates here. Jive does not offer international phone numbers.
Ease of use
Setup – Moderate. Unlike Grasshopper or Phone.com, setup is not immediate. After signing up, it took the implementation team a few hours to create my account. It takes an additional 24 to 48 hours on top of that to set up phone numbers, even if they are new numbers. One benefit, however, is that Jive provides a special onboarding agent to help, which is something only more premier services offer, like Nextiva and RingCentral.
End User – Moderate. When it comes to setting up voicemail, call routing or call forwarding, Jive is unique in the huge number of options you get. While this has the benefit of letting users customize the system to their liking, it also makes the system a bit more difficult to use.
Support – Easy. If there's one area Jive excels, it's customer service. The phone and chat support team, which is available 24/7, is highly praised by users. There's also a searchable support center with articles and video tutorials.
Features
Features It Has

Features It Does Not Have

Receptionist (Auto Attendant)
Call Queueing
Find Me / Follow Me
Call Scheduling
Conference Calls
Online Fax
Voicemail to Email
Music on Hold
Call Recording
Video Calls
Integrate w/ CRM (Salesforce only)

Voicemail Transcription
Detailed Overview:
Auto Attendant
Jive gives you a lot of flexibility when setting up the auto attendant. The "dial editor" (pictured below) is a drag and drop tool you use to specify how calls are routed through your company. The graphical interface makes complicated patterns more intuitive and gives you many more options than the other systems we reviewed.
For example, you can have calls routed to a real receptionist first, and if only if they're not available have the call passed onto an auto attendant. From there, you can specify keypad shortcuts ("press 1 for customers service" "2 for sales" etc.) to route callers to departments, extensions, to a pre-recorded message (such as company hours), to leave a voicemail, to search a directory and more. You can have multiple dial plans in case you want to route calls differently when your business is closed or on holiday.
You can upload your greeting and any other pre-recorded messages you want to play under "Sound Clips." You can also record these directly from your Jive phone.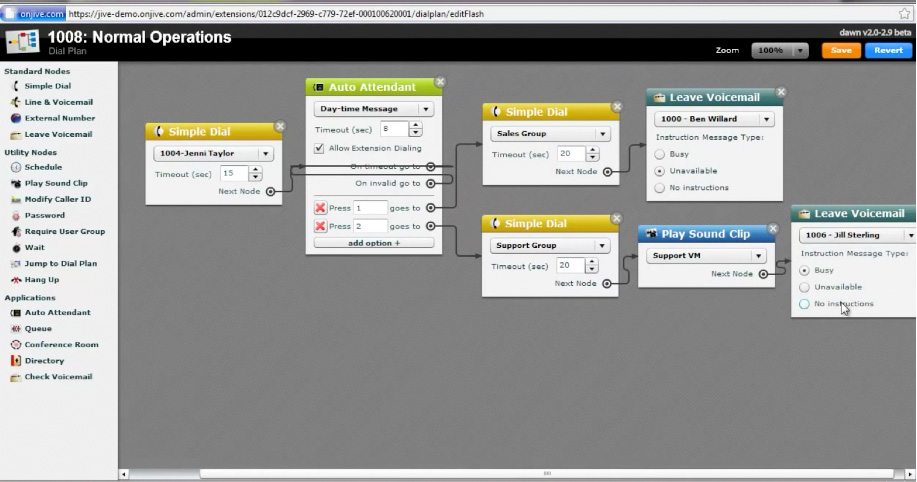 Call Routing
here's a number of ways you can have calls routed to a department. Under "Call Queues" you'll find 5 different options:
Ring All rings all phones at once.
Round Robin cycles through agents as fairly as possible.
Least Recent rings the agent who hasn't received a call for the longest period of time.
Fewest Call rings the agent who has taken the fest number of calls.
Random selects the next agent randomly.
One common option that's missing is ringing agents in a fixed order.
When you set up a queue, there's many additional settings: You can set how long to wait before moving onto the next agent if the first does not answer. You can upload an audio file to play as a pre-call announcement, or play a message periodically while the caller waits on hold. You can choose to play default music on hold, or you can upload custom audio. You can even have the estimated hold time announced periodically to the caller.
Voicemail
You can create an unlimited number of voicemail boxes – such as one for each user and "shared" voicemail boxes for each department. Users can set up voicemails to be forwarded to their email address with an attachment of the audio file. They can also play messages online via their personal login.
You can also set up shared voicemail boxes, which users can check by dialing an extension and entering a password. (Read more here)
One missing feature is voicemail-to-text transcription. If you're looking for this feature, check out Nextiva or Phone.com.
Online Fax
Jive includes unlimited inbound and outbound faxing. You can set up virtual fax machines on extensions and have each forwarded to an email address. This means each employee can have a unique fax number with messages delivered to their inbox. Faxes are also sent via email. Set the recipient address as [FaxNumber]@[AccountName].fax.onjive.com, then upload your fax as an attachment. Most image and document files are supported. (Read more here)
To learn more about our recommended online fax service, read our best online fax service buyer's guide.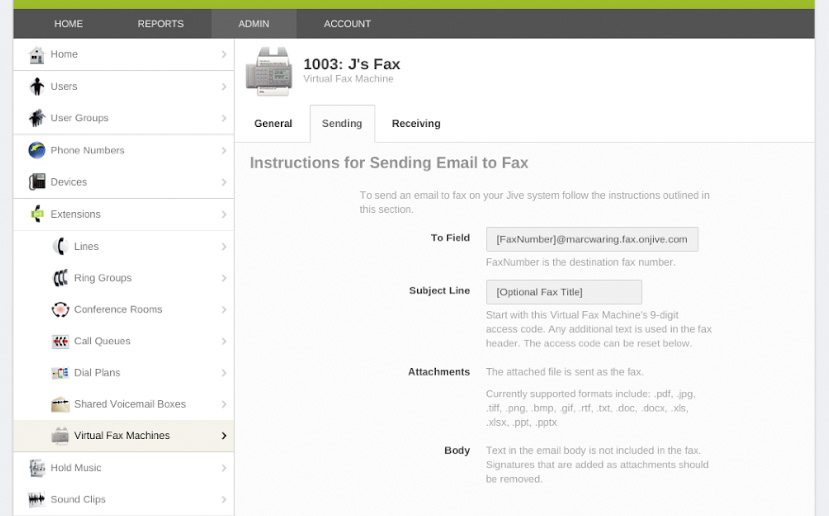 Conference Calls
Jive has advanced call conferencing. You can set up multiple "rooms," each attached to a different extension. Users can then dial this number (or get forwarded via your auto attendant) and enter a password to join the call. There's a limit of 10 participants per call, however, you can have multiple calls going on at once.
Users get in-conference tools to mute their microphone and raise the volume or decrease the volume of the conference. Admins can lock the conference and eject users. You can also set up conference calls to be automatically recorded. (Read more here)
Call Forwarding
Each user can set up personal call forwarding settings under "Find Me/Follow Me." Jive gives you a lot of options – you can multiple steps in which the call is forwarded to a different number (or set of numbers) if the last number did not pickup. (Read more here)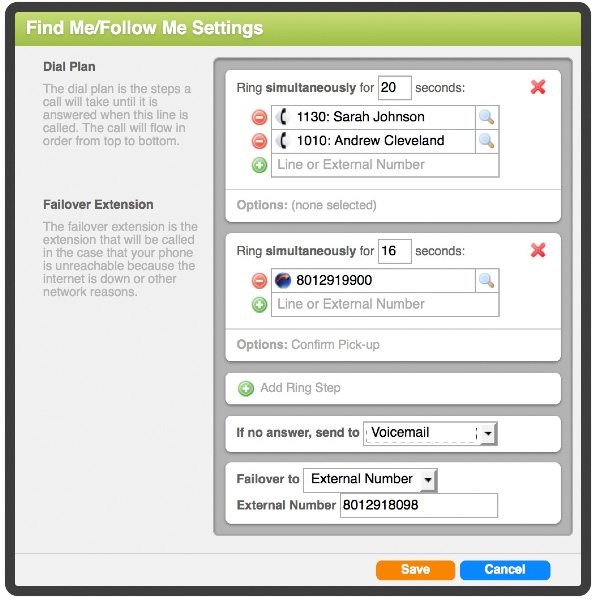 Call Recording
Jive has a lot of options for call recording. Administrators can turn on recording for all calls in the system, or calls to specific phone numbers or extensions. There's also a manual recording option, but you cannot "turn it on" mid-call – you must begin recording before the call takes place.
Recordings are saved through Amazon S3 cloud storage, which costs $0.14 per GB (which is about 5,000 minutes of recorded calls). Read more about Jive calling recording here.
Mobile App
Jive has a basic mobile app for iOS and Android that costs a one-time fee of $20 per license. You can make calls over the internet using your business number. The mobile app does not route calls over your mobile network, so it won't use your cell minutes.
I had a two issues with the mobile app. For one, my account had to be enabled in the back end in order to use the app. This required a 40 minute call with customer service to fix. Secondly, once I got the app going, I could only make calls if I was connected to WiFi. It would not work if I was using 3G or 4G mobile data.
Integrations
Jive has two 3rd party integrations: Salesforce and Google Chrome. The Chrome integration is a toolbar widget that lets you make or receive calls from within your browser (pictured below).
The Salesforce integration enables you to make calls from within the CRM. You can also take incoming calls, for which Salesforce will search leads, contacts, accounts, etc. to match the call with contact information. If no match is found, you'll be given the option to create a new lead, contact or account. (Read more here)

Reporting
Jive has a sophisticated reporting package. Clicking the "reports" page, the first thing you'll see is a rundown of company-wide inbound and outbound calls. You can set a custom time frame to analyze calls. You can also break down calls by day, by phone number or by extension. There's even a map tool that breaks down calls by location in the United States.
Check out the video below for more on Jive Call Analytics:

Customer Service
24 hours?
Yes.
US Based or Not?
Yes
Support Options
Jive has 24 hour phone and chat support. You can also submit a support ticket. Users praised the customer service fast responses and knowledgeability. Based on my personal experiences, I found the support adequate. I was connected with an agent quickly on the phone, but it took 40 minutes to resolve an issue with the mobile app.
Jive also has a searchable support center with articles and video tutorials.
The Bottom Line
Jive is most comparable to 8×8 and Phone.com. All of them offer a professional phone system with unlimited minutes for about the same price. What Jive offers that that the others do not, however, is advanced reporting, a more customizable call routing system, more reliable phone service and better rated customer support.
What Jive lacks is unlimited toll free calling (it costs 1.9 cents/minute), a solid mobile app, voicemail-to-text transcription and international phone numbers. In comparison, both 8×8 and Phone.com offer unlimited toll free calling. Phone.com also offers voicemail-to-text transcription and international phone numbers while 8×8 has an advanced mobile app and more 3rd party software integrations.
Please leave a review of your experience with Jive below: