If you are reading this article, you are probably a small business owner who is trying to figure out a job title for a new hire, or perhaps wondering how to give job titles for everyone in your company because you've grown so much.
Are you hiring? Get better results by posting on Indeed. They will even give you a $50 ad credit for signing up, which will help you find a qualified candidate in no time. Click here to check it out.

Rankings of Job Titles & Definitions
Before explaining how you can create job titles for your own company, we want to give you a framework for how to think about job titles. In order of authority from the top down, here are different prefixes for some common job titles and how they relate to company structure.
Job Titles by Ranking
| Job Title | Common Forms | Appropriate for Who? |
| --- | --- | --- |
| Chief XXX Officer | CEO, COO, CTO, CMO, CHRO, CFO | Owners & major equity holders of the company, the highest ranking members of each department, or the company's main authority figures both internally & externally to the company |
| Managing Director or Director of XXX | Director of Marketing, Director of Operations, Technology Director | Team members who report to the CEO directly or heads of their respective departments; not appropriate for company owners |
| Senior Vice President, Vice President, Assistant Vice President | SVP of Finance, Assistant VP of Human Resources | Team members who report to a Director or C-level (e.g. COO, CTO, etc.) of their department; these titles are usually seen only at companies with over 50 employees. |
| Manager, Supervisor, Lead, Team Lead | Lead Analyst, Call Center Manager | Team members who manage a team of people (usually promoted from Representative or Associate level). Alternatively, "manager" can also imply someone who manages a process or function, such as a Social Media Manager. |
| Associate, Representative | Customer Service Representative, Business Development Associate | Entry-level roles and roles that do not have any management responsibility (of a team or of a function). |
| Clerk, Assistant | AP/AR Clerk, Administrative Assistant | These titles usually are associated with special functions within a department (like an AP/AR Clerk who reports to the Controller) or reserved for employees that provide assistance to a team or executive (Administrative Assistant). |
| Intern, Aide | Marketing Intern, Physical Therapy Aide | Intern is reserved for a current student or new grad; an intern can work part time or full time, sometimes for academic credit. Aide is meant for an unlicensed or non-degree holding employee in a department. |
Popular Job Titles & What They Mean
Sometimes you get a business card from someone and wonder what their title means or what rank they are. In the table below, we compare some popular job titles.
Popular Jobs Titles Comparison Table
| Popular Job Title #1 | Popular Job Title #2 | The Difference |
| --- | --- | --- |
| CEO | President | A President is usually second in command to the CEO and is more involved in daily operations than a CEO. You don't usually see both roles until a company grows to 50+ employees and becomes too large for the CEO to manage alone (or whatever that threshold is). |
| CFO | Controller | A CFO is a strategic leader of the finance department, and probably has a strong stake in the business with the CEO. A Controller is responsible for financial processes and systems, more like a Head Accountant, and is not usually at the strategic table. |
| Sales or Account Representative | Business Development Manager | In general, these titles mean the same thing. The most popular title was "Salesperson" until that became a "dirty" word. An Account Representative does not always do sales though and might instead be the second in line after the sale has been made. |
| Accountant | Accounting Clerk (or variation of this) | An Accountant is usually a certified CPA or has some degree in accounting. An Accounting Clerk or Accounting Assistant does not usually have any certification and instead is more administrative and in charge of one phase of the process, like Accounts Payable (AP). |
| Office Admistrator | Administrative Assistant | An Office Manager usually is in charge of the physical office space and the functions around it, like ordering supplies. Sometimes, they also serve HR functions. An Administrative Assistant usually helps a department or executive in tasks like scheduling, emails, and paperwork. |
| Project Manager | Product Manager | While these two titles get confused a lot, the difference is in the title itself - a project manager manages projects and project teams and a product manager manages a product, usually from a marketing or technical perspective. |
| Software Engineer | Software Developer | Used almost synonymously, the difference is that all Software Engineers are also Software Developers, but not vice versa. Also, an engineer will typically have at least a bachelor's degree whereas a developer can have any level or no education. |

Do I Need to Have Job Titles?
There are 5 primary reasons why you should create job titles for your employees:
Job titles can help you recruit the right candidates for job openings.
Job titles define your organizational structure – Job titles let people know how employees and departments are connected with each other, who reports to whom, and who points of contact might be for business purposes.
Job titles communicate an individual's experience and level of authority to internal and external people.
Job titles can even save you money – If you can't afford to give an employee a big raise, a small raise with a new title can sometimes go a long way.
Job titles can motivate employees – They can provide employees with direction and motivation for upward movement.
Along with job titles, accurate job descriptions also go a long way towards organizing your business structure and explaining what your employees do. For more read our guide on how to create a good job description.
Potential Drawbacks of Giving Job Titles
Recently, there has been a trend where some companies are eliminating job titles. If the only reason you don't want to give job titles is to appear "hip," that's not a great reason.
However, there may legitimately not be a need for job titles if any of the following apply to your business:
You are a company of fewer than 5 people
When a company is this small, everyone probably wears many hats. As long as everyone is functioning as a team, there may be no need for job titles.
Your company already has culture issues
If there are issues with your company culture, where employees are arguing or bickering, your time is probably better spent resolving those issues than coming up with job titles. However, giving titles can send a message to those that you may terminate in the future.
Prepare yourself to lose someone
When you give out job titles, you can't please everyone. If you have people essential to the business who might not be pleased with this decision or the title they are given, proceed with caution or have a plan B.
How Do I Come Up With Job Titles?
Asking yourself the following 5 questions will help you create the right job title for your employees:
What department does the employee work in?
(i.e. Finance, Sales, Marketing, Operations, etc.) – The department they are in should typically be part of the title.
What rank does the employee have internally?
Chief? Director? Associate? Basically, does the employee report to other people, or do other people report to them? Or are there people above or below them in the organization (e.g. a Senior Analyst versus an Analyst)?
Is that the same as what the rank should be viewed as externally?
If yes, then move on; if not, then think about what kind of authority you want them to have. For example, is the person a decision-maker that has the authority to make decisions with clients or customers? Is this person representing you at trade shows or conferences? You will want to give a title that conveys authority when the individual meets potential clients.
Are they a manager of a process or of people or both?
You might want to include Lead for a process manager in the title, and Manager in a people manager title.
Does the title suit the company culture and team?
For example, if you pride yourself in a super casual atmosphere, but then start handing out Managing Director titles, the titles might not fit the culture you're trying to create. However, if you are in a small financial consulting firm, having formal titles is the only way clients will understand who does what. Think of the company in a larger context and perhaps sketching out the company structure on a whiteboard can help you come with job titles that fit your company culture.
These questions can be thought of as a formula for creating job titles. Still having trouble? Try out the Indeed Job Title Generator.
For example, let's answer these 5 questions for my role at Fit Small Business to see if we come up with the right job title for me.
What department am I in? – Editorial/Writing.
What rank do I have? – None, I'm a normal staff writer.
What do I manage? – I manage all of the Human Resources (HR) articles.
Is that what everyone should know? – Yes, both internally and externally.
Does the title fit in with the rest of the team at Fit Small Business? – Yes.
Result: I'm the HR Writer at FitSmallBusiness.
Let's also use Mike, our SEO Director, as another example.
What department is he in? – He is in our Marketing department.
What rank does he have? – He is a manager in the Marketing department.
What does he manage? – He manages the SEO team and the SEO process.
Is that what everyone should know?- Yes, both internally and externally.
Does the title fit in with the rest of the team at FitSmallBusiness? – Yes.
Result: Mike is the SEO Director in our Marketing Department.
Job Titles & Company Structure – Examples
So what does a full company structure look like with job titles? Let's look at some examples.
Example 1: Retail Store
For ABC Clothing Store:
Store Owner and/or CEO and/or Store Manager (depending on who she is talking to)
Store Manager (if there is a layer of management below the Store Owner)
Assistant Store Manager(s) or Shift Managers (people who are in charge when the Store Owner and Store Manager are gone)
Retail Associates (people who work the floor and cash register)
Inventory Associates (people who work the back room and potentially overnight shifts)
Marketing Manager (manages the marketing functions of the business, but probably not a team; depending on the business size, this might also fall on the Store Owner or on the Store Manager)
Example 2: Boutique Management Consulting Firm
For XYZ Management Consultants:
CEO and/or Principal Consultant (depending on who the owner is speaking to)
Consultant (able to speak directly to clients without CEO, might manage a team)
Senior Associate Consultant (high-level team member who might manage parts of the consulting process, has some client interaction)
Associate Consultant (worker bee consultant-crunching numbers, research, making presentations for Senior Associate Consultant & Consultant)
Administrative Assistant or Office Manager (helps out around the office and may serve as assistant to the CEO or a Consultant)
Business Development Manager or Client Manager (performs sales/marketing functions)
Example 3: Real Estate Office
For M&D Real Estate Company:
Real Estate Broker (a broker has passed a high level exam and is senior to an agent; this could be the owner of the company)
Real Estate Agent (agents have also passed an exam and act as an intermediary between buyers and sellers of property on behalf of a broker)
Sales Assistant (general assistant to the real estate sales process, may help broker or agent)
Closing Coordinator (assists with paperwork items for a real estate closing and may also help facilitate the process between the buyer and seller (when the agent or broker needs to be out selling)
Administrative Assistant or Office Manager ((helps out around the office and may serve as assistant to the broker or agents)
Business Development Manager or Client Manager (performs sales/marketing functions)
What Titles Should You Use When Posting a Job?
The job title you use internally doesn't have to be the same one you use when hiring. As long as you're not misleading people, it's okay to use a job title in your job posting and job description that will get you more traffic and more qualified applicants.
For example, here at FitSmallBusiness, we were looking for a Search Engine Optimization (SEO) Specialist, and posted our job as such. You could hear the crickets–we got hardly any applicants! When we posted the role with the job title of Digital Marketing Specialist, and then kept the job description focused on SEO, we got a ton of applicants and were able to complete our recruiting process.
To help you determine the best title for your job postings and job descriptions, try Indeed's Job Title Generator.
This tool is super handy because it tells you 3 things:
How many job postings are currently out there containing the job title(s) you're considering
How many people are looking for that job title when looking for postings
Compares postings per job title for different job titles.
For example, the line in BLUE below is for a Digital Marketing Manager and the line in ORANGE is for an SEO Manager from the Indeed tool. You can see that Digital Marketing Manager generates more job seeker interest, which is why we went with that title.
If you want to have different job titles for your job posting and internally post-hire, just remember to be up front with your candidates about the actual title of the role they will have once hired!


Top 5 Tips for Giving Job Titles & How To Roll Them Out
1. Tell your team what you are about to do
Surprising people, especially around something that matters to them as well as to their overall career path, is not a good idea. Tell your team that it's time to create titles for everyone and explain why you are doing it (business development, hiring more people, maybe other reasons).
2. Don't overthink it/keep it simple
Companies like Apple and Google have gotten creative with their titles, like calling their HR Department the "People Department". Don't feel the need to be fancy. Standard names like Finance, Operations, Customer Service, and HR work just fine for the vast majority of small businesses and make more sense to people.
3. Be careful on egos
Do you have a wide range of experience levels and ages in your company? You'll need to take that into account when making job titles, within reason. There is no reason to appease someone with a "big" title they don't deserve, like giving a 25 year old a "Managing Director" role. However, remember that people will view these titles to reflect the hierarchy of the company, so take that into account.
4. Present it
Whether you have short individual meetings or a team meeting, you need to tell everyone what you decided on for their titles, as well as everyone else's. If you have a team of more than 10, a small handout of a sort of organizational chart can be useful as people get used to the new job titles. Below is an example of an organization chart for a bakery.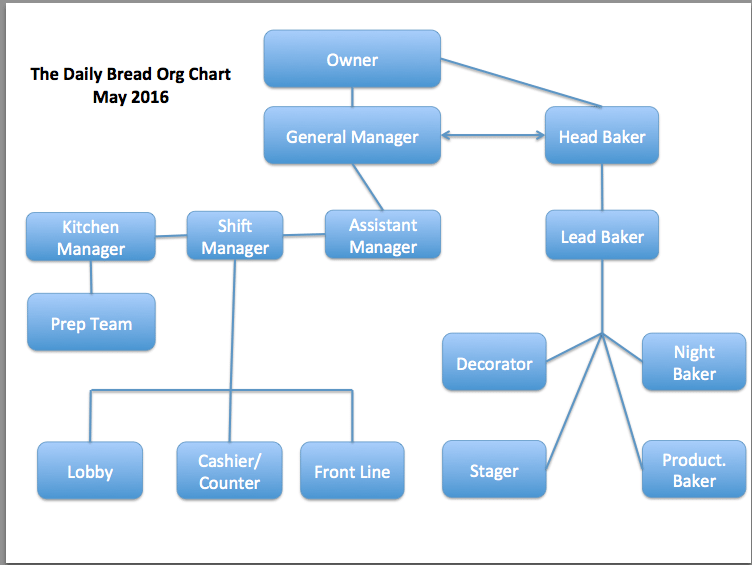 5. Be open to feedback…within reason
Circling back to point 3, you may get some bruised egos or some constructive criticism from team members or managers. Hear out their ideas, or include them in on the process from the get-go, but remember–it's ultimately your business and your structure. Do what makes sense.
The Bottom Line
Job titles are important for a small business and can be easy to overthink. Go through the 5 questions for each person as a starting point and go from there, and you can always check your titles with Indeed's Job Title Generator.