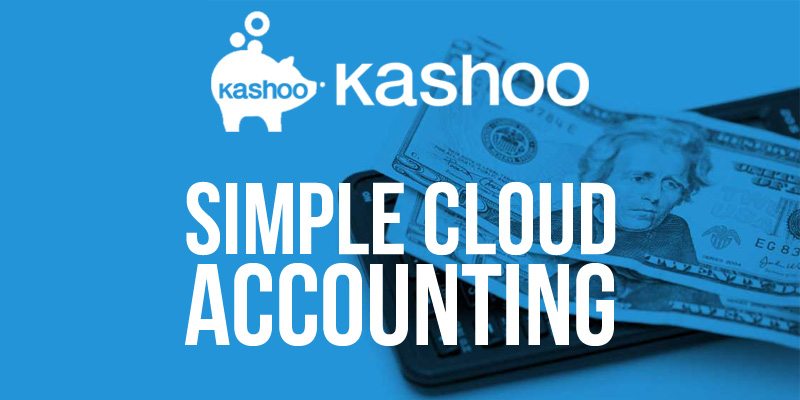 What is it?
Simple accounting software for small businesses.
How popular is it?
Kashoo has over 150,000 registered users, as of March 2015.
What does it do well?
Kashoo is one of the simplest programs that can handle accrual accounting.
What does it not do well?
While you can send invoices there's no payment processing, so you can't include a link for clients to pay. You also won't find advanced features like payroll, auto-categorization rules or inventory management.
Who does it work well for?
Small businesses who want a simple and easy to use accounting software but don't need any additional tools.
Who does it not work well for?
Businesses who want advanced tools like payroll and payment processing and/or want to integrate their accounting software with their CRM, POS system, project management and more.
Cash or accrual based accounting?
Both
Does it save Audit Traits (log of user activity)?
Yes
Free Trial?
Yes
Cost Compared to Competitors?
Low
Similar

products?
Cloud or Hosted?
Cloud
US Based?
No (Canada)
Kashoo Pricing
Kashoo has two plans available:
The Solo edition is $5/month (or $50/year). You get all the key accounting and invoicing features for 1 user.
The Business edition is $20/month (or $200/year). You get unlimited users and the ability to manage multiple locations and up to 5 companies. Most other accounting software requires a separate license for each company.
Check out the Kashoo pricing page for more details.
Ease of use
Setup – Easy. Kashoo has a series of short welcome videos, though you can also dive right into software and go back to them later. You can also chat with support directly from the main user interface. I tried this out and got connected immediately.
End User – Moderate. Kashoo keeps all of its menu pages simple. When, say, adding an expense or filling out an invoice, you won't be bombarded with options. Kashoo is simple and straightforward. Linking bank accounts is also easy. You just need to enter your account ID and bank credentials (when supported).
I did feel the interface was a little crowded, however, for such a simple program. Kashoo gives you all the navigation options to the left, without separating them into submenus. Likewise, a summary bar to the right can make the interface a little cumbersome.
Support – Easy. Kashoo has responsive phone, email and live chat support. There's also a searchable support center with user guides, videos and FAQs.
Features
| Features It Has | Features It Does Not Have |
| --- | --- |
| 5 Types of Accounts | Categorization/Automation Rules |
| Auto-import Bank Statements | Pament Processing |
| Invoicing | Payroll |
| Multi-Currency | Time Tracking |
| | Inventory Management |
Primary Integrations
| Integrations It Has | Integrations It Does Not Have |
| --- | --- |
| Paychex | Payment Processing (Stripe, Paypal) |
| Freshbooks | Project Management (Basecamp, Asana) |
| | Accounting (Xero, Quickbooks) |
| | Cloud Storage (Google Drive, Dropbox, Box) |
| | CRM (Zoho, Salesforce) |
| | eCommerce (Shopify, Big Commerce) |
| | Digital Signature (Right Signature) |
| | POS (Shopify, Vend) |
| | HelpDesk |
| | Zapier |
Detailed Overview:
Accounts:
Kashoo supports the five main types of accounts (assets, liabilities, equity, revenue and expenses). You can view and edit these under "Setup" and "Accounts." Unlike Wave, these are fully modifiable. There aren't any accounts you can't delete or edit.
Journal entries, which you'll find under "Adjustments," are stripped down to the basics. You can't enter a description for each line – just the account and the amount debited or credited. You can't reverse them, nor can you save them as drafts. You can, however, set up journal entries to recur.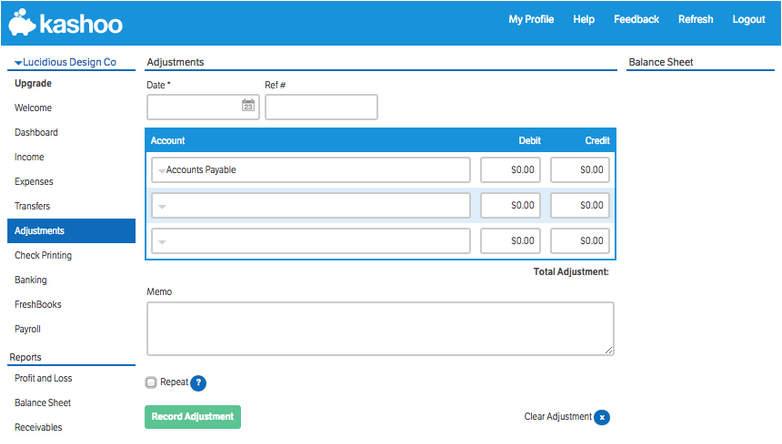 Bank Reconciliation:
You can link accounts from all major financial institutions, including Bank of America, Citibank, JP Morgan/Chase, Wells Fargo and many more. Kashoo will automatically import bank statements each day. If your bank is not supported, you can also upload a Quickbooks or spreadsheet file to import transactions.
Reconciliation is pretty standard. If an imported transaction matches a transaction you manually entered, Kashoo will find this match and ask you to confirm it. Otherwise, you can add imported transactions to your books or delete them. Kashoo does not let you set rules to automatically categorize transactions.
Check here for more on bank reconciliation in Kashoo.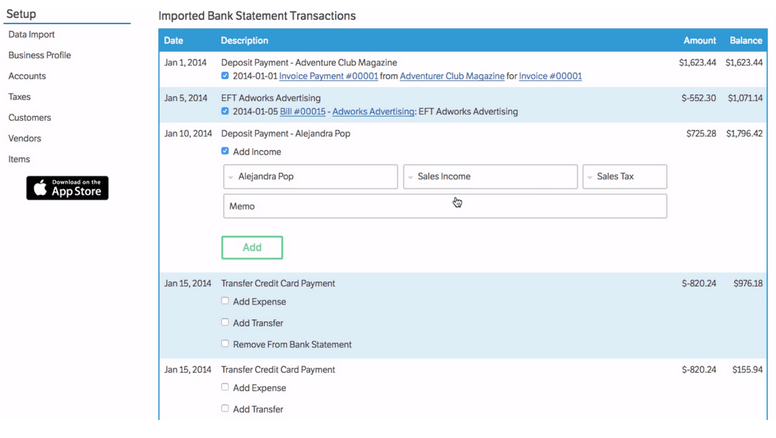 Invoicing/Billing
Invoices are also pretty basic. You can add items and apply sales tax for each one separately. Bills work the same way. Some features you don't get are the ability to pull items off a pre-saved list. Also, while you can save invoices as a PDF and/or email them directly to the client, invoices do not include links to pay. Other features you don't get are the ability to make invoices recur or send estimates.
Read more about invoicing here.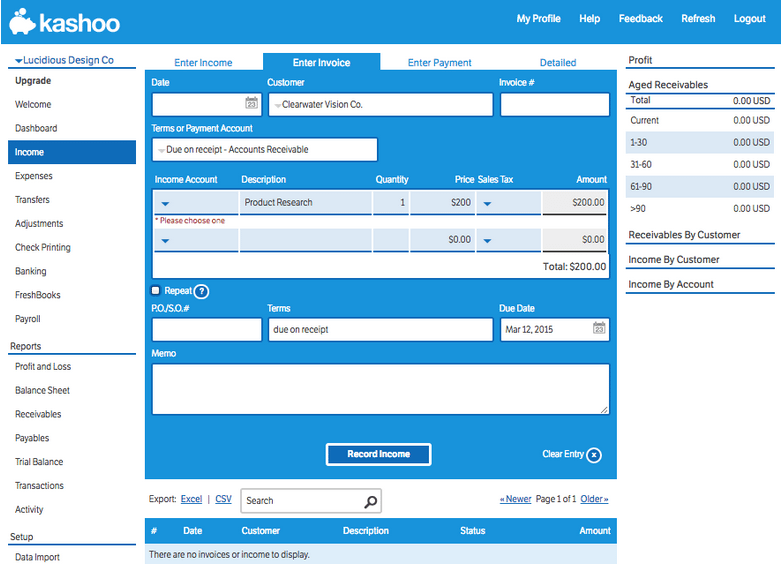 Payment Processing
Kashoo does not offer any payment processing functionality, internally nor externally. This is a big weakness compared to the other accounting platforms we looked at, which all let you send invoices with a link to pay via credit card.
Customers
Kashoo keeps a list of customers and vendors. Clients you invoice and vendors you pay are automatically added to the list, although you can also import contacts from a spreadsheet (CSV, XLS and more). Clicking each customer lets you view contact details and a list of recent transactions.
Multicurrency
Kashoo does not support multicurrency.
Integrations
Kashoo has a few integrations: Paychex, Freshbooks and Winlogistix. You can set up payroll through an integration with Paychex and the Freshbooks integration lets you send invoices and synchronize data between the two programs. (Explained here)
Reporting
Reports, though functional, are pretty slim. There are 7 standard reports, including profit and loss, balance sheet, payables, receivables, transactions and an activity log of changes made on your account. For each report you can adjust the date, but that's it in the way of customization. You cannot build reports from scratch.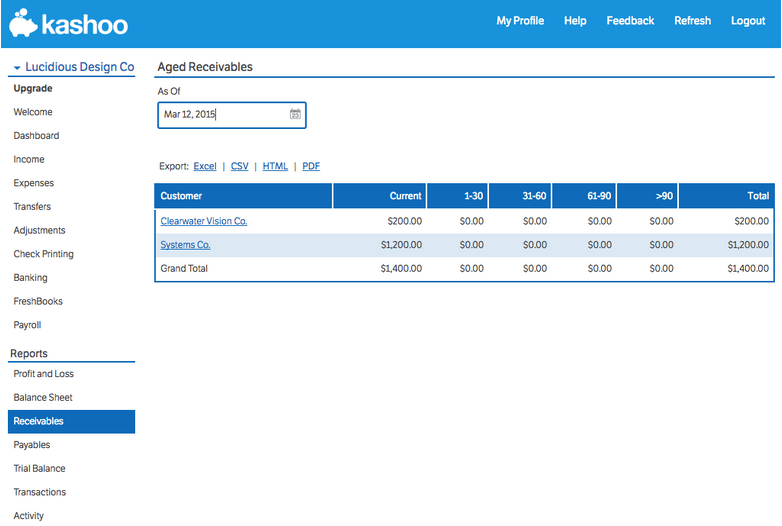 Mobile App
Kashoo has a feature stacked mobile app for iPhone and iPad, which users rate highly. You can view all your accounts, add transactions, create journal entries, create invoices/bills, generate reports and more. The only thing you can't do is perform a bank reconciliation.
The Android app, which was released December 2014, is still in its early stages. For now you can only add expenses and income. Users have noted the limited functionality.
Other Features
While Kashoo doesn't have much in the way of advanced features, one unique tool is the ability to print checks. If you can order 8.5 x 11" blank checks from your bank, you can print out payment for bills directly from Kashoo. (Read more here)
Customer Service
24 hours?
No, 6am to 5pm PT, Monday to Friday
US Based or Not?
No. (Canada)
Phone, Email, Live Chat?
Kashoo has email, phone and live chat support, which you can open directly from the main user interface. Trying both phone and live chat support, I was connected immediately and found very helpful answers. There's also a searchable support center with user guides, videos and FAQs.
The Bottom Line
Kashoo is most comparable to Wave, another simple and user-friendly program for small business accrual accounting. In a head to head battle, Wave comes out cheaper (free edition for unlimited users) and has payment processing, which Kashoo lacks. If phone support is a must, however, then Kashoo is much cheaper: $5/month for 1 user vs. $19/month for Wave.
Just note that Kashoo is not great for invoicing. While you can send invoices to clients, there's no way for client's to pay directly on the invoice as they can with Wave. If this feature is important to you, consider Wave or separate invoicing software like Freshbooks, which can actually integrate Kasho to automatically sync transactions between the two programs.