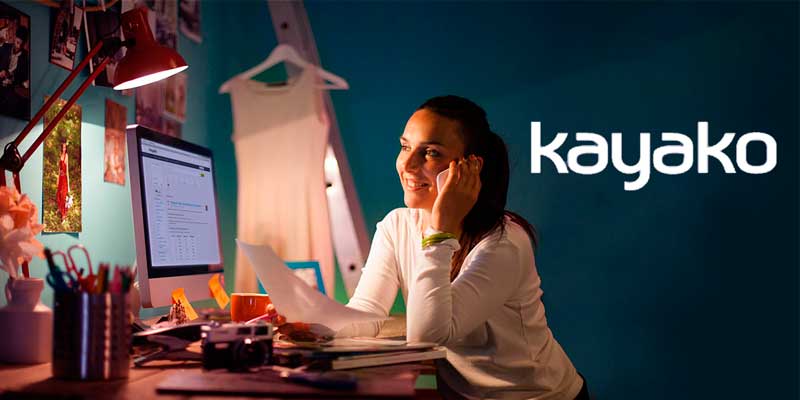 What is it?
An online business help desk tool for handling customer enquiries.
Want to manage 1000's of leads, save time, and get organized? Click Here to get our FREE CRM guide and find out how.
How popular is it?
Kayako has over 40,000 customers.
What does it do well?
Gives businesses with live chat and/or phone as their primary support channels a help desk that intelligently manages these channels and centralizes them in a single help desk.
What does it not do well?
Kayako doesn't have social media integration, is not very easy to use, and is costlier than other help desks for basic email ticketing features.
Who does it work well for?
Businesses that handle most support requests through live chat and/or phone.
Who does it not work well for?
Businesses that service customers through social media, business owners who aren't very tech savvy, and businesses that prioritize email support over live support.
Free Trial?
30 day free trial
Cost Compared to Competitors?
Expensive
Similar products?
HappyFox (for ticket mgmt features), Freshdesk (for built-in live chat), and Desk.com (for built-in live chat)
Cloud or Hosted?
Cloud and Mobile
US Based?
No. Support and help desk headquarters are in India.
User Reviews?
Good (see reviews)
Kayako Pricing
| | Price | Includes | Doesn't Include |
| --- | --- | --- | --- |
| Kayako Case | $24/agent/mo. | Email ticket management, canned responses, workflows, time tracking, knowledge base, customer satisfaction surveys, reports. Mobile version available. | Live chat and phone integrations |
| Kayako Engage | $24/agent/mo. | Live chat, phone integration, knowledge base, customer satisfaction surveys, reports | Email ticket management, canned responses, workflows, time tracking. No mobile version. |
| Kayako Fusion | $39/agent/mo. | Everything in Case and Engage plans. Mobile version available. | |
Kayako pricing has three  tiers. Kayako Engage is all about live support (chat+phone) and doesn't have email ticket management. Kayako Case has email ticket management but no live support capacity. Kayako Fusion, as the name suggests, combines what the two other categories offer.
If all you want is basic email ticket management, you should seriously consider another help desk option, such as Freshdesk, our recommended help desk for small businesses. Kayako is really a preferred option only for businesses that rely heavily on live chat or phone to handle customer support.
All Kayako plans are priced per agent. The given prices are based on annual payment–expect about a 25% bump for monthly payment.
Read more on Kayako pricing here.
Ease of use
Setup – Difficult. After I created a username and password, an email from Kayako notified me that there were two separate help desk interfaces. The staff interface, used for customer communications, is where you reply to tickets, add customers, and edit your knowledge base. The admin interface, used for configuration, is where you setup your support email, add agents, and customize the interface.
You can either forward your emails from your email client to Kayako or have Kayako import your emails. The process for importing emails was difficult on Kayako because it requires technical knowledge. Once I set up email forwarding, the rest of setup was also a bit confusing because I had to switch back and forth between the two interfaces.
Administration – Moderate. After I got used to the dual interface, it was pretty easy to use the different features offered by Kayako. I could use canned responses, view live chat and call history, and create knowledge base articles within a few minutes. Viewing reports was a bit more challenging because of the sheer volume of reports (approx. 100) and because there was no overview dashboard showing the most important stats.
End Users – Easy. Once your agents get past the initial hurdle of having two separate interfaces to work with, it should be pretty easy for them to use the basic features in Kayako. It's simple to add a new ticket, reply to customers, search for a customer, use macros and canned responses, and edit knowledge base articles. It's also easy for customers to reply to a Kayako ticket.
Help -Moderate. As a help desk built around live chat, Kayako's live chat support for its customers was pretty. Although I was shuffled to a few different agents, I was eventually able to get all my questions answered by live chatting with and calling Kayako reps. The user guides illustrate how to use all the features. If you need further help, you can schedule a one-hour demo with a Kayako rep.
Primary Features
These features are in the $39/agent/month "Fusion" plan. Features vary based on the plan selected.
| Features Included | Features Not Included |
| --- | --- |
| Web Form for Receiving Tickets | Self-Service Community Forums |
| Built-In Live Chat | Social Media Monitoring |
| Canned Responses & Internal Notes | Time and Ticket-Based Workflows |
| Assignment-Based Workflows | |
| Self-Help Portal w/ Knowledge Base | |
| Embedded Customer Satisfaction Surveys | |
| Ticket Features: Merging, Linking, Splitting, Cloning, and Forwarding Tickets | |
| Standard and Custom Reports, Time Tracking | |
| Scheduled reports | |
| Multi-brand/multi-product support | |
| Limited Multilingual Content Support | |
Primary Integrations

Kayako supports approximately 25 integrations with other apps, so you can make your help desk work with other business tools. The catch is that, with the exception of phone integration, these integrations are only available if you download, install, and host Kayako on your own servers. For most small businesses, this comes at an unsustainable cost ($4,000/year for 10 agents for the Fusion plan)
On the plus side, Kayako Fusion and Kayako Engage integrate with most VoIP services, even if you don't host Kayako on your own servers.
We discuss CRM, live chat, and phone integrations in more detail below, as these may be especially helpful for your business.
Type of Business Tool


Integrations Supported
(self-hosted version only, except for phone integration)


Integrations Not Directly Supported


CRM


Salesforce, Sugar

Insightly, Zoho, Nimble

Live Chat


Phone/Voice


RingCentral, Nextiva, Phone.com, and many other VoIP services

Bug Tracking


JIRA


BugHerd, Pivotal Tracker

E-Commerce


None

Magento, Shopify, Bigcommerce

Social Media


None

Facebook, Twitter, LinkedIn, YouTube, Pinterest

Task Management


Basecamp

Asana, Trello

Email Marketing


MailChimp

MailChimp

Surveys


Built-in only

Survey Monkey

Other


FreshBooks, Joomla

Zapier
View full list of Kayako integrations here.
Detailed Overview:
Intro/Product Summary:
Many help desks make live chat and phone communications an afterthought, but not Kayako. It has intelligent phone integrations and built-in live chat that let you proactively engage customers, learn more about your customers, and connect live support to other types of communications.
Kayako comes with a bit of a learning curve because of the dual interface and technical knowledge required to use some features. If live chat and phone support are essential to your business, however, Kayako is probably the best help desk for you in terms of functionality. This functionality comes with a cost. To get live chat/phone plus email ticketing (most businesses would need all three), you have to pay $39/agent/month.
By sacrificing some live chat features, you can pay just $25/agent/month for integrated live chat on Freshdesk, our overall recommended help desk for small businesses. Alternatively, you can integrate Freshdesk, Zendesk, Desk.com, or other help desks with external live chat and phone services that you already use. But for the highest degree of flexibility with phone integration and out of the box live chat functionality, Kayako is your best bet.
Features:
Web Form
You can make it easy for your customers to contact you by putting a "contact us" form on your business' website. By default, like other help desks, Kayako converts emails from your customers into a ticket that your agents can reply to. Kayako has a widget you can embed in your knowledge base that allows customer to submit inquiries online if the knowledge base doesn't answer their question. The inquiries become Kayako tickets that your agents can reply to.
Canned Responses & Internal Notes
Canned responses let a customer service agent answer FAQs with a single mouse click. On Kayako, you can create canned responses (called "macros" for email tickets) on any topic and easily insert them into individual email tickets (but not multiple tickets at once).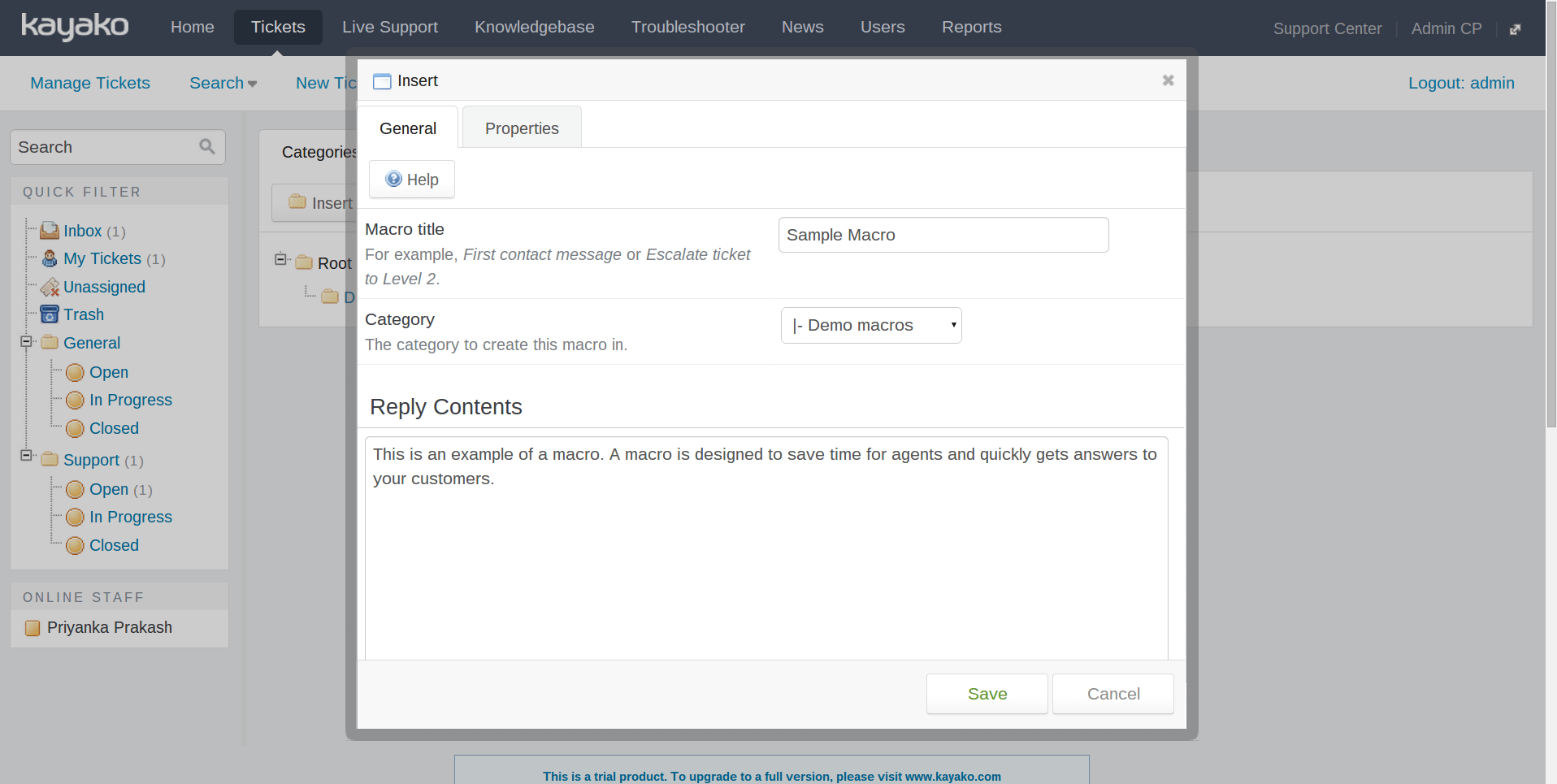 You can also improve the efficiency of live chats by inserting canned responses during live chat sessions.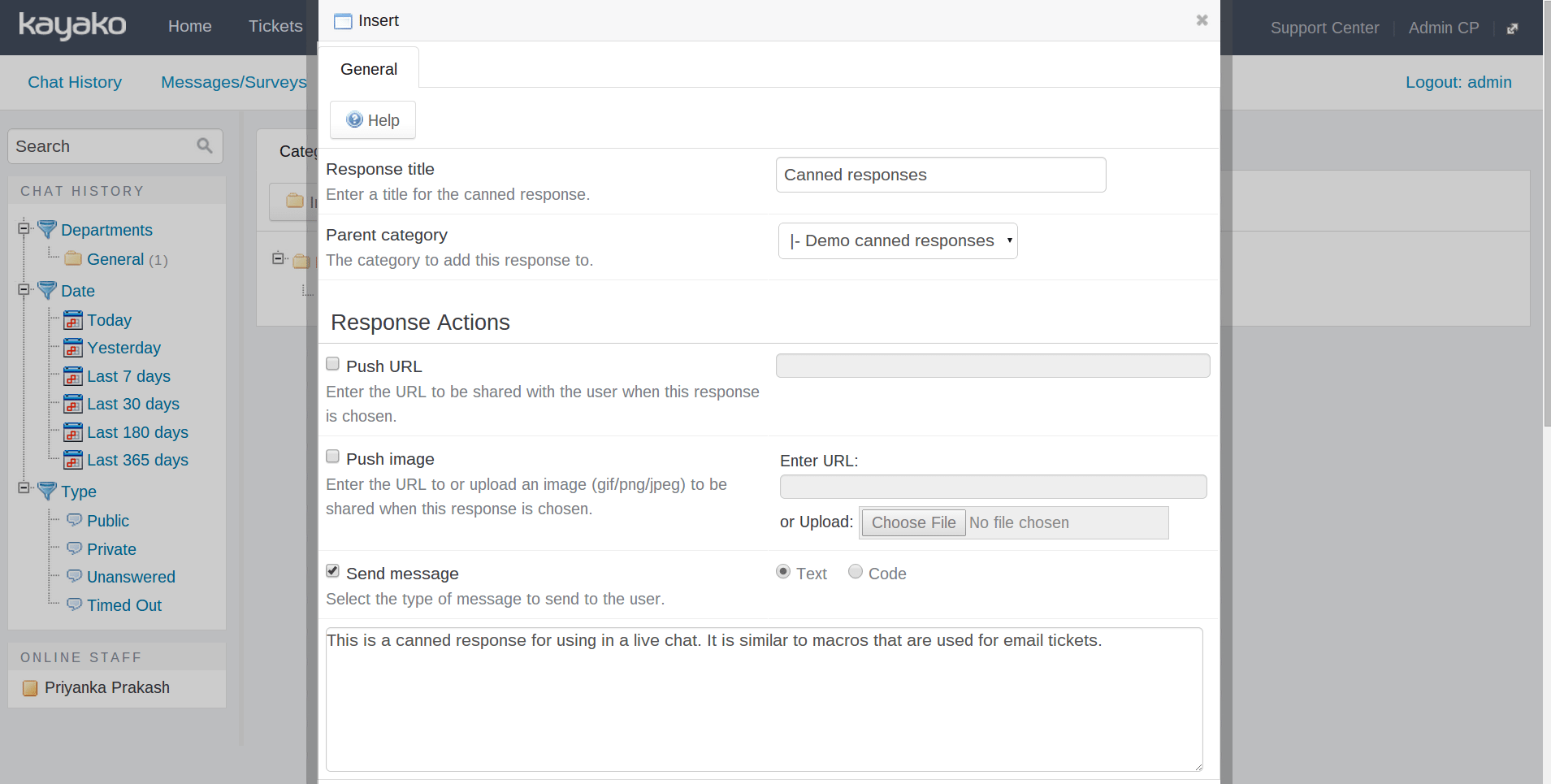 Canned responses are different from the self-help portal (more on that below). Canned responses are shortcuts designed to help the agent, while the self-help portal includes answers to FAQs for customers.
You can add a private note, visible only to you and other agents, to a ticket.
Workflow Rules
Similar to canned responses, workflows can save your agents the time and effort of manual labor by automating ticket actions. The most advanced help desks come with three types of workflows or automations:
Assignment-related
Time-related
Ticket-related
Kayako only allows assignment-related workflows. For example, you can automate ticket routing to a particular agent or team of employees (e.g. route all emails with the subject line "job" to your HR team or route all high priority cases to yourself).
You cannot make more dynamic time and ticket-related rules in Kayako. For instance, you cannot automatically change ticket priority if a customer doesn't respond to a ticket for 48 hours. You also cannot trigger actions based on changes to a ticket (e.g. automatically re-open a ticket when a ticket's priority is changed). For advanced workflow ability, try Freshdesk.
Self-Help Portal w/ Knowledge Base
A knowledge base lets your customers find answers to common questions on your website, without the need to contact you.
Your customer service team can easily add and edit knowledge base articles right from within Kayako. You can also treat knowledge base articles like canned responses and use them to quickly reply to customer emails.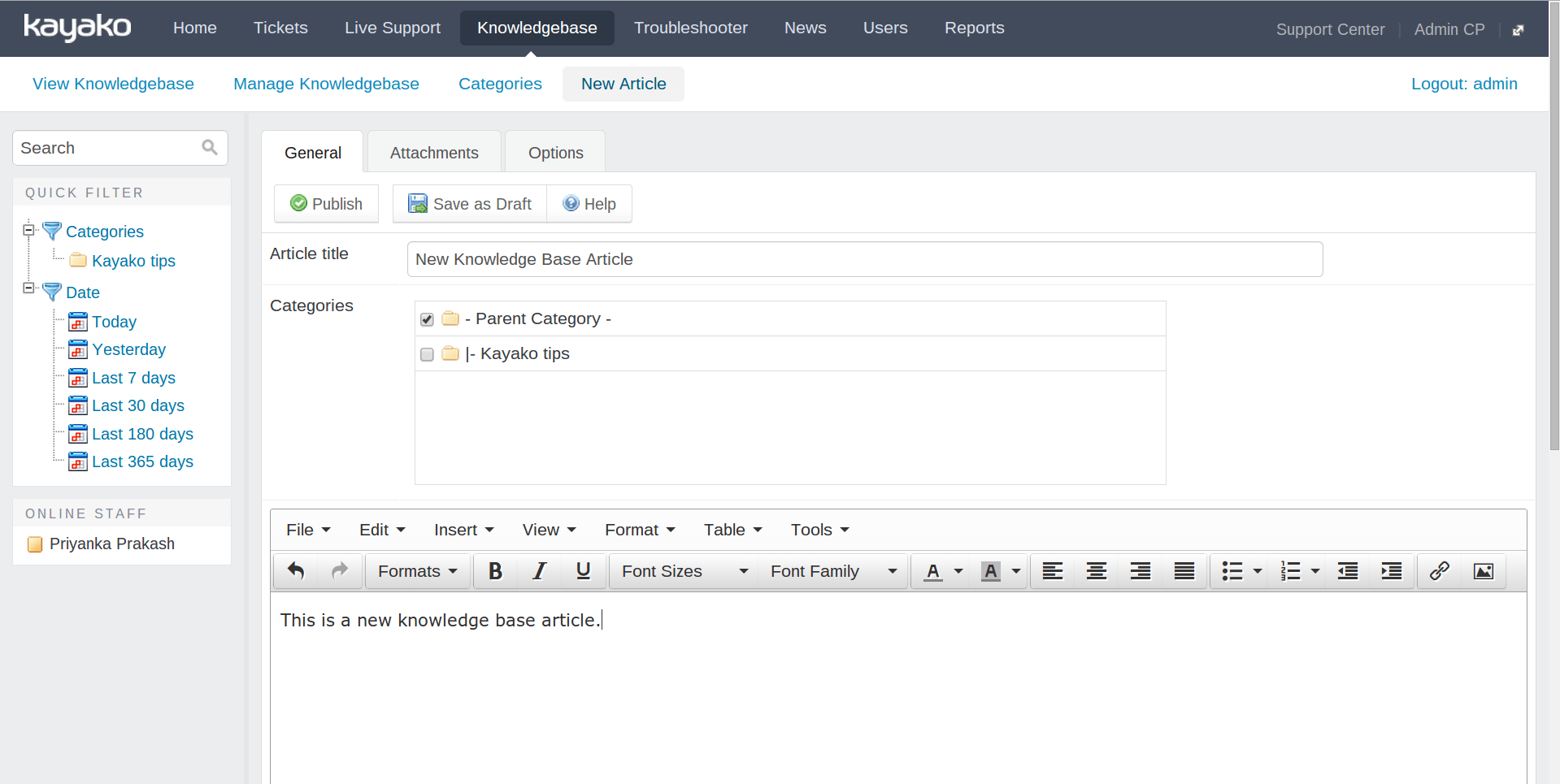 While it is possible to add your company logo and customize the layout of the knowledge base, I couldn't find a way on Kayako to add color customizations to my knowledge base.
Self-Service Community Forums
Currently, Kayako does not let you add community forums to your customer self-service portal. Community forums, where customers can discuss questions or problems with each other, are a great self-service tool. For this option, try Zendesk, Freshdesk, or Desk.com.
Social Media Monitoring
Currently, Kayako does not allow you to integrate social media channels, so you cannot convert customer inquiries on social media pages into tickets. A Kayako rep told me this is on the company's radar but couldn't promise when the feature would be available. For social media monitoring, try Deskero.
Live Chat (Built-in)
Live chat functionality distinguishes Kayako from other help desks. Freshdesk and Desk.com have built-in live chat just like Kayako, but Kayako's is better. Beyond just converting live chat sessions into tickets. Kayako helps you better understand your customers and connect live chat to other support channels. These features are available in the Fusion and Engage plans.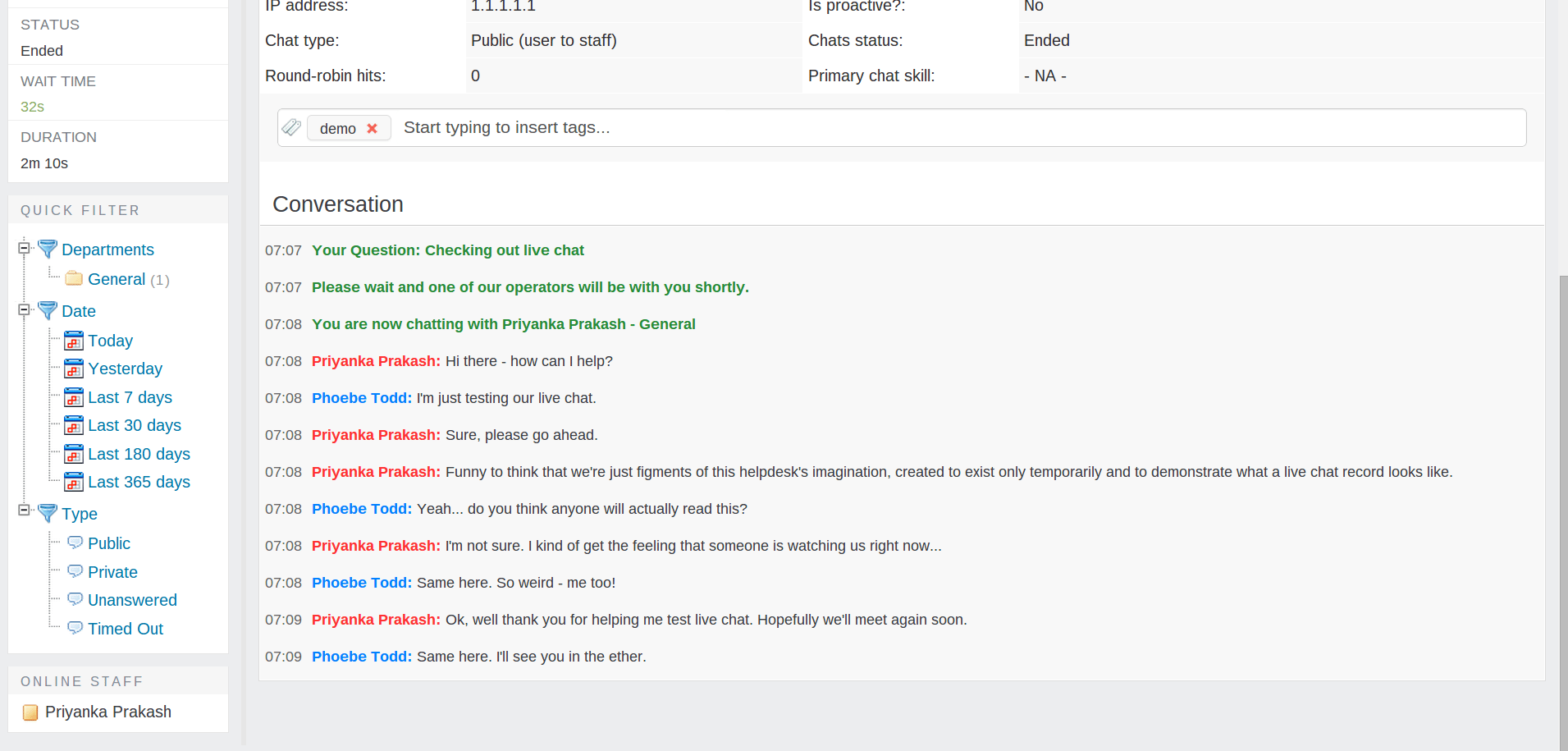 Visitor Information – Kayako help desk will tell you which region a customer is from, what page(s) the customer is currently browsing, how they were referred to your site (e.g. through Google's search engine), and what language they are viewing your website in. Your agents can use this valuable information to enhance the customer service experience.
Initiate Chats – Instead of just passively responding to customer questions, you can initiate a chat with customers who look they may need help. While Freshdesk has this feature as well, only Kayako lets you set proactive rules for automatically initiating a live chat. For example, you can automatically begin a chat with customers who have spent more than 10 minutes browsing your business' website to see if they need assistance.
Offline Chats – If a customer tries to chat with you while you're offline, a message is created that you can view on the Kayako help desk.
Customer Multi-Channel History – Alongside the ticket that is created from your chat, you can view emails, offline messages, and phone calls from the same customer. This make it easy to get to the heart of a customer's problem.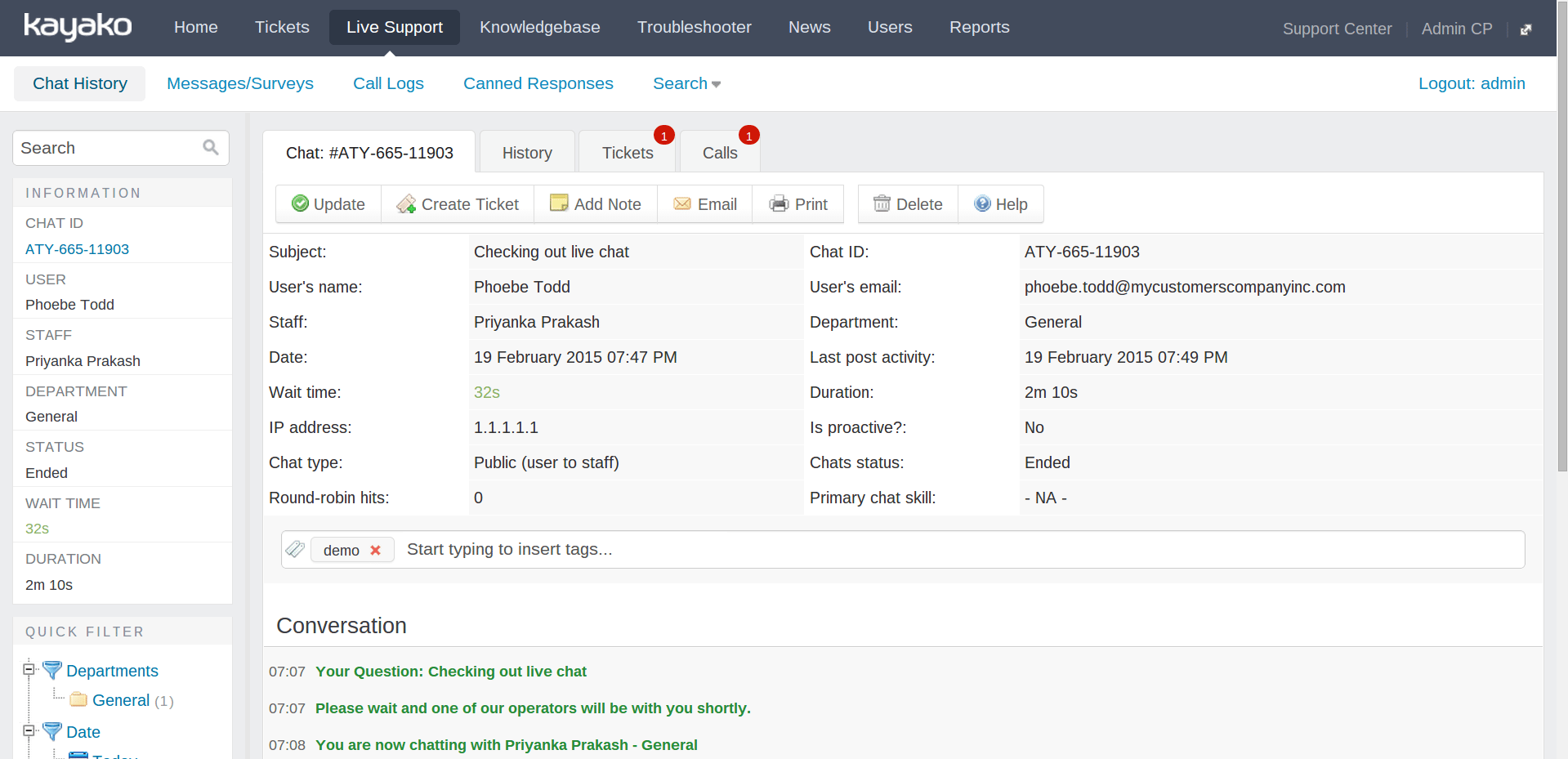 Pre-Routing Chats – You can pre-route chats to the correct agent or team. For instance, you can set a rule to automatically assign all chats from Spanish-speaking customers to your Spanish-speaking agents.
Canned Responses – Kayako is the only help desk with built-in live chat that lets agents use canned responses to answer FAQs in chat sessions.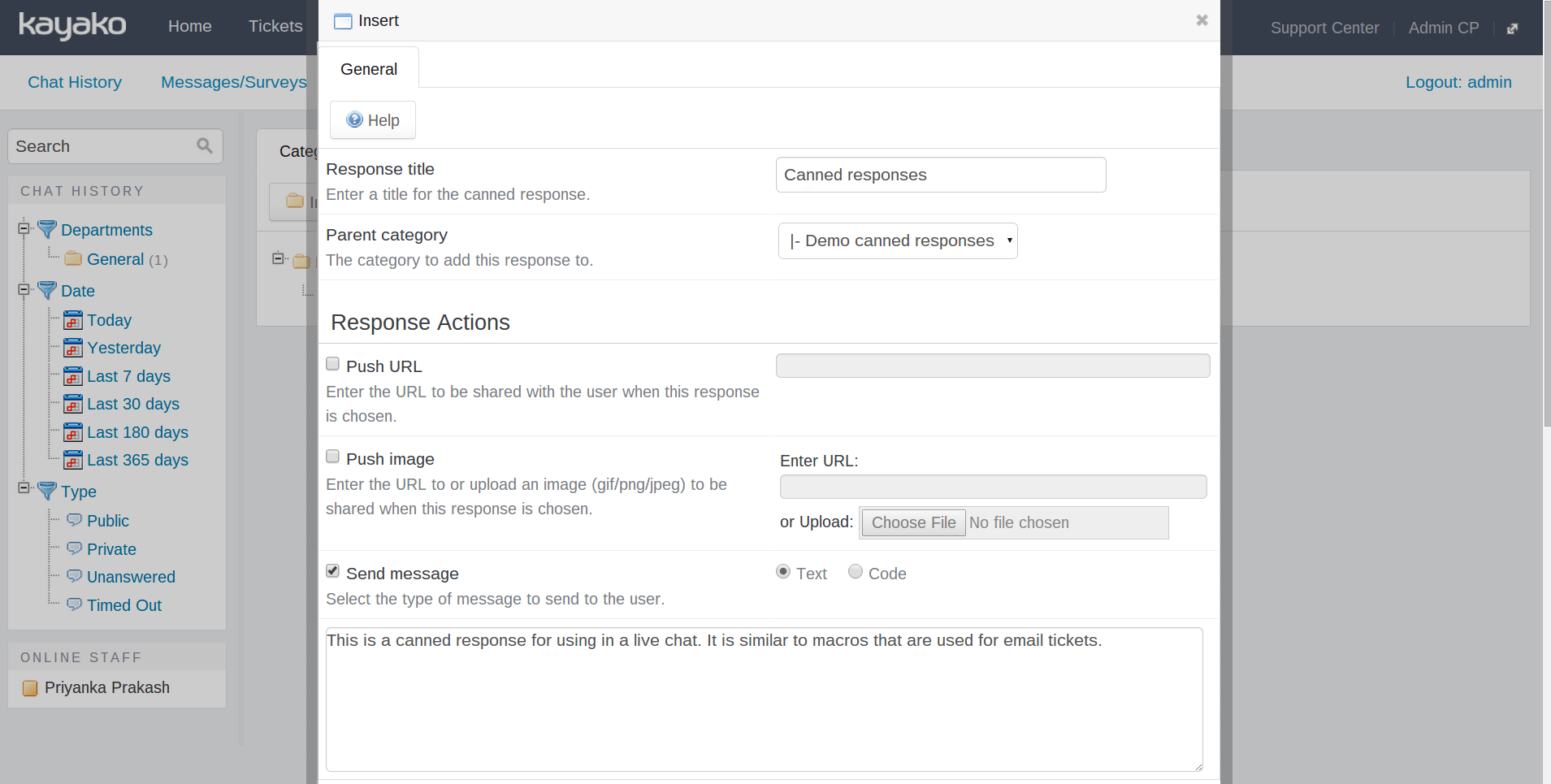 Attachments – You can attach screenshots, files, and links during your live chat session to better help your customers. Freshdesk's built-in live chat currently doesn't have this capability.
Customization – An HTML tag generator lets you embed custom live chat widgets on your business' website.
Agent Sharing and Transfer – If your agent faces a question that is better handled by a co-worker, the agent can transfer the chat to that person. This does not interrupt the conversation for the customer. I actually experienced this myself as a customer when chatting with Kayako support reps.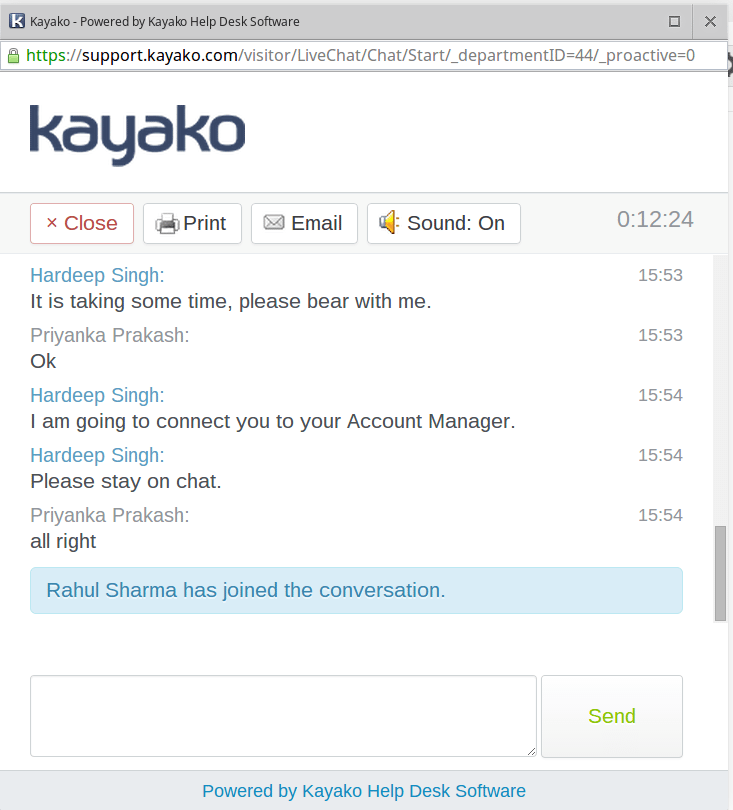 Phone Integration
As with live chat, Kayako stands out for excellent phone integration. Kayako Fusion and Kayako Engage integrate with any SIP-compatible VoIP provider, allowing you to make and receive calls through your help desk. Most modern VoIP services are SIP-compatible.
If you subscribe to such a service, Kayako can pull up the customer's entire ticket history (emails, web tickets, chats, and other phone calls) when the customer calls you or when you call the customer. Knowing this customer history makes it much easier to quickly address a customer's problem. You can also store and listen to call recordings in Kayako. See our guide on recommended VoIP providers for a better understanding of the costs and features of VoIP services.
Kayako lets you embed a click-to-call button on your website. Your customer can use this button to request an immediate call-back if they want to speak to your business' customer service team by phone.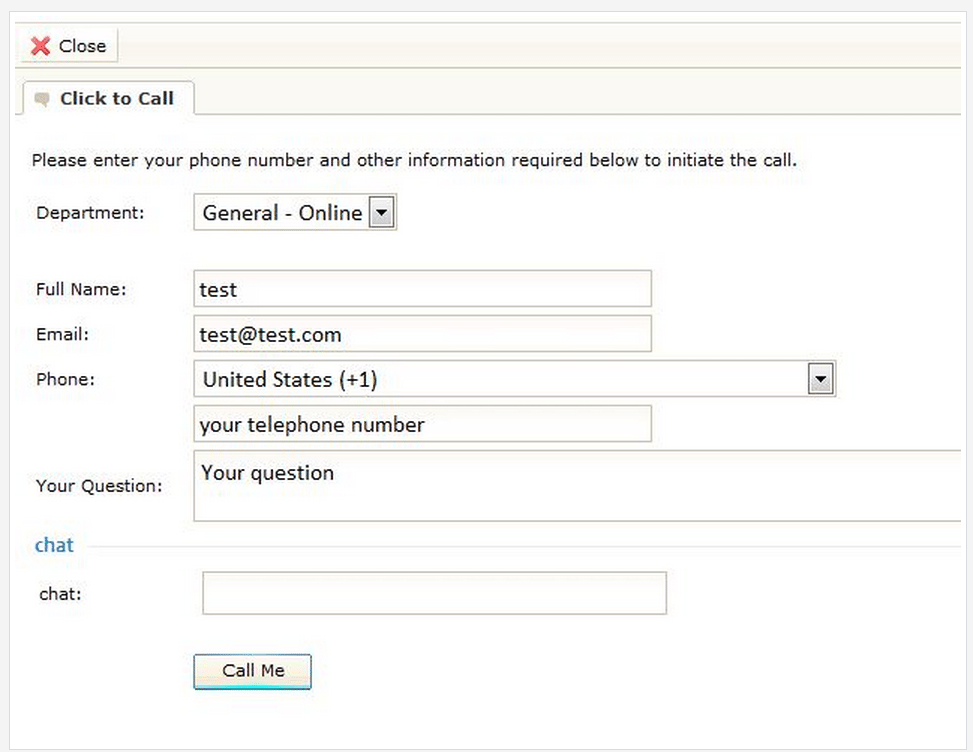 Embedded Surveys and Email Marketing
You can gauge customer happiness by embedding customer satisfaction surveys in Kayako tickets. By default, customers will receive an email asking them to rate your business' customer service when a ticket's status is changed to closed. You can disable these surveys or have them sent to different ticket statuses in your admin interface.
Kayako integrates with MailChimp, free and paid email marketing software for businesses. This allows you to manage email marketing lists from your help desk.
Reports, Dashboards, and Time Tracking
All Kayako plans come with 100+ standard reports, the ability to build custom reports, and the ability to schedule reports on a periodic basis. While this functionality is great for giving you an insight into your business' customer service, the sheer volume of reports can make it intimidating for a first-time user. Fortunately, you can search by keyword to get the reports you need.
Reports include everything that is typical of help desks, such as individual agent performance reports and overview reports on average time to first reply, average reply time, and average resolution time. If you don't find a report that you need, you can always create one using Kayako's custom report builder.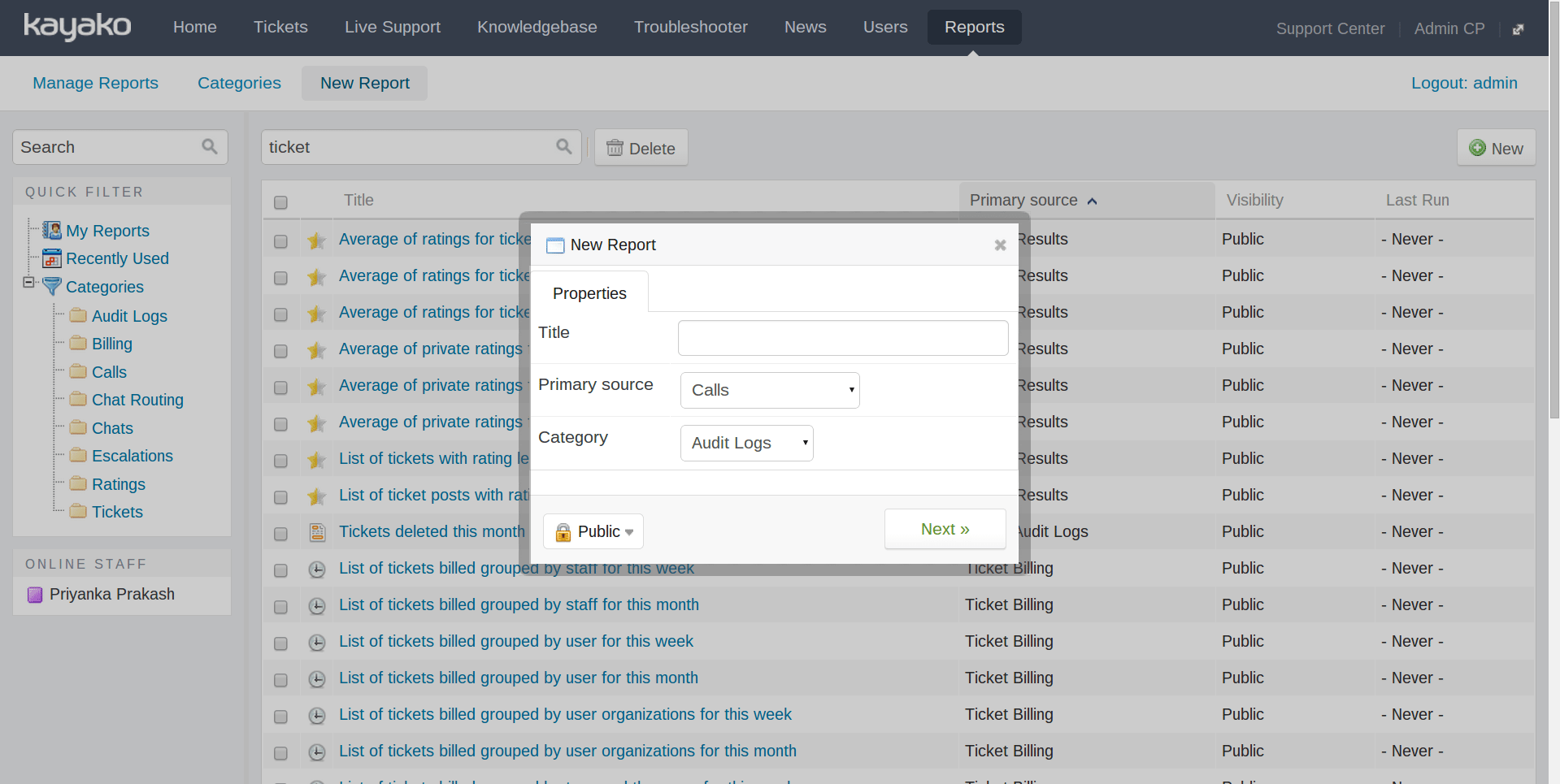 Only Kayako Fusion lets you view stats related to customer chats and phone calls in addition to email tickets.
Agents can track the amount of time they spent on a ticket and note the amount of billable time.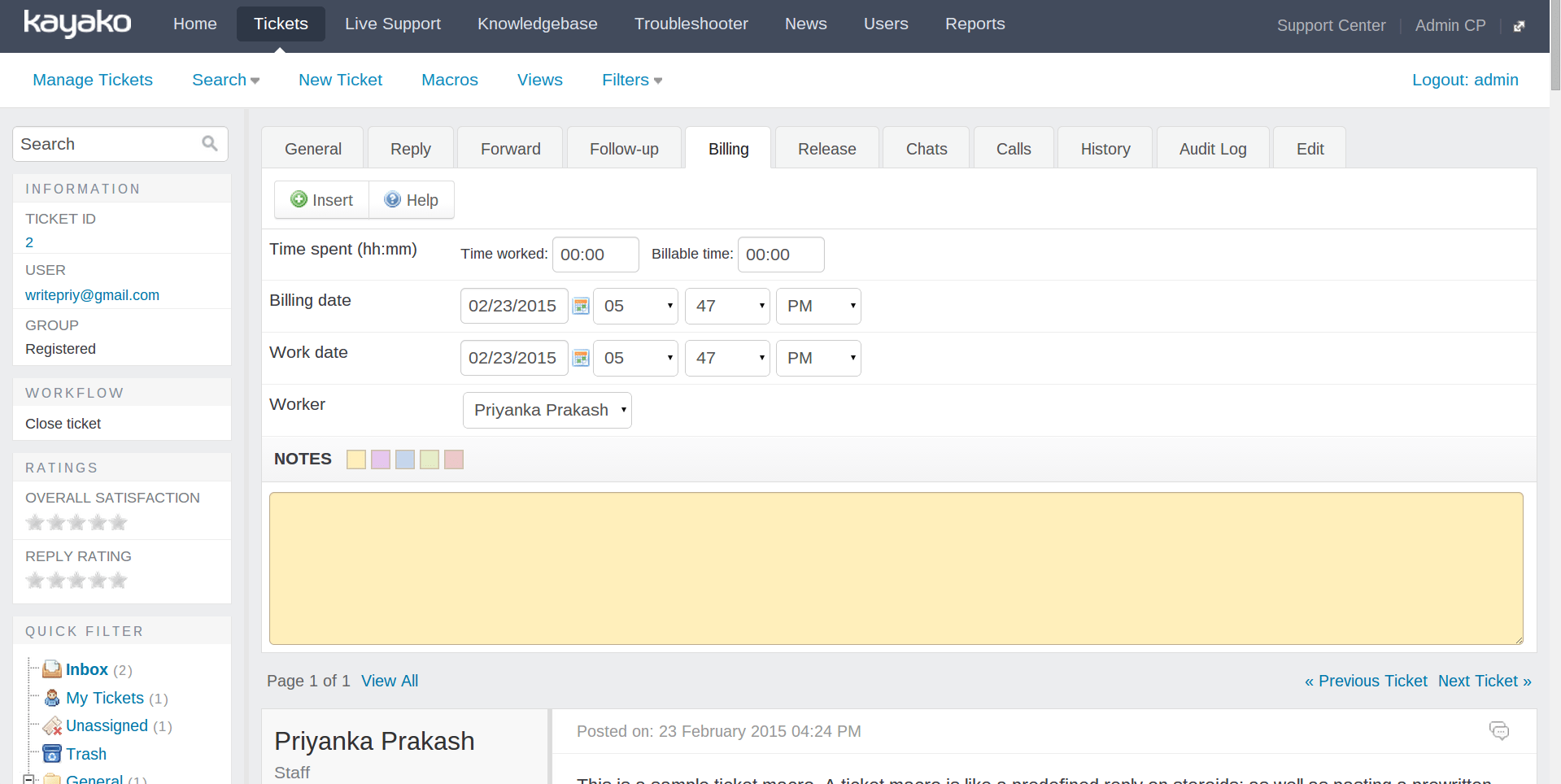 CRM Integrations
One benefit of using Kayako is that it can be used as an add on to a couple of CRM systems. Kayako integrates with Salesforce and Sugar CRM but none of our recommended providers for small businesses. If you subscribe to both Kayako and Salesforce, you can view Kayako ticket activity in Salesforce, and vice versa. Updating customer contact information in Kayako will also update it in Salesforce, and and you can create Salesforce tasks and contacts from Kayako. Similar functionality arises if you integrate Sugar CRM and Kayako.
This saves organizations who need both CRM and help desk software from having to add the same information to two different systems.
Ticket-Level Features: Duplicating, Splitting, Merging, Linking, and Forwarding Tickets
Kayako provides a high degree of functionality for managing email tickets. This can make your customer service platform more efficient.
Duplicating & Splitting Tickets: Duplicating or splitting a ticket is helpful when multiple agents or departments are needed to handle a customer's inquiry. You can clone the ticket on Kayako or split it and assign each part to the relevant agent or team.

Merging & Linking Tickets: When two tickets raise the same issue, you can merge or link them in Kayako. Merging them creates one ticket out of two similar tickets. Linking tickets lets you keep two tickets as separate but indicate that they are related for yourself or other agents.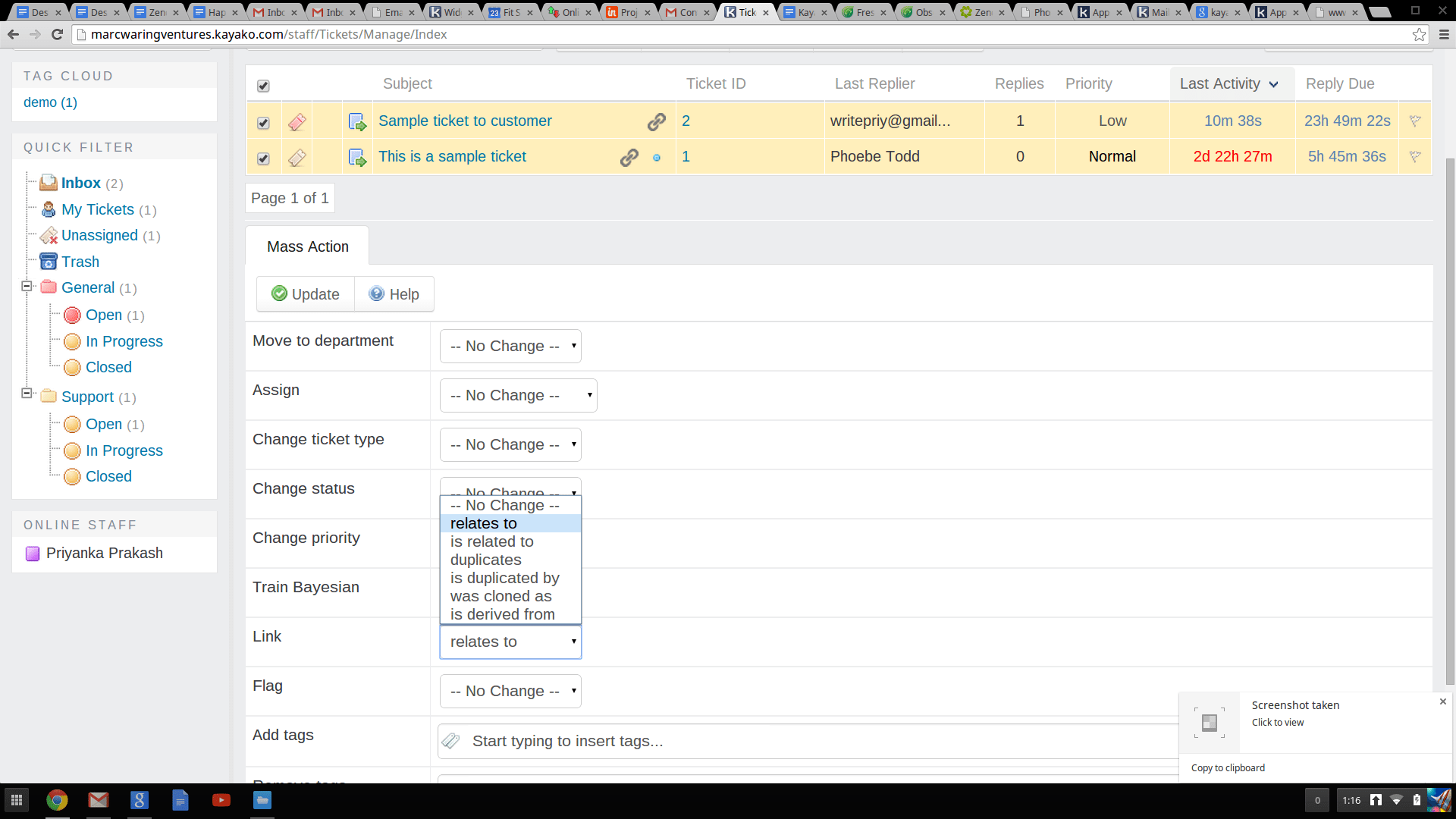 Forwarding Tickets:  Sometimes, a customer issue can be easily resolved by a member of your team who is not a help desk agent. Kayako lets you forward a ticket, including internal notes associated with a ticket, to a non-agent for resolution. It even lets you add a reminder to follow up with your team member and specify a reply deadline for your team member.

Mobile Help Desk
Kayako has an iOS (iPhone and iPad), Android, Windows Phone, and Blackberry app to let your agents respond to critical customer service issues on the run. The iOS and Android versions let you reply to email tickets and apply canned responses to email tickets. The Windows and Blackberry versions just let you reply to email tickets (no canned responses).
If you plug in a live chat client that supports Jabber/XMPP to Kayako, you can use live chat on a mobile device.
Multi-lingual Support
You can host your knowledge base in multiple languages by downloading a language pack shared by Kayako users. You currently cannot change the agent interfaces to another language unless you host Kayako on your own servers.
Multi-Brand/Multi-Product Support
In all of Kayako's plans, you can have separate content for multiple brands in your knowledge base.
Customer Service
24 hours?
All Kayako plans come with 18*5 (11:30 PM – 6 PM EST Sunday-Friday) email, live chat, and phone support, and online self-help is also available. There is limited weekend support available for critical technical problems.
US Based or Not?
No. Support is based in India.
Self Help, Phone, Email, Live Chat?
The level of support is the same across Kayako plans.
The Bottom Line
If live chat and phone are essential customer support channels for your business, you should consider choosing Kayako as your help desk software. Kayako has many valuable tools, such as visitor monitoring and proactive engagement, to help you provide better live chat support for your customers. It also integrates with most VoIP services. For this enhanced live support functionality, you will pay a bit more than you would for other help desks.
While Kayako is great for live support, if you want an easy-to-use help desk, Kayako may not be the best option. The learning curve is high because of the two separate admin and staff interfaces and the technical knowledge required to use certain features.
In addition, if your business services customers through social media, you should consider other help desk options. Kayako does not have social media integrations. For social media monitoring, more basic built-in live chat and phone integrations, and ease of use, Freshdesk remains our recommended help desk for small businesses.
Want to manage 1000's of leads, save time, and get organized? Click Here to get our FREE CRM guide and find out how.
Please leave a review of your experience with Kayako below: