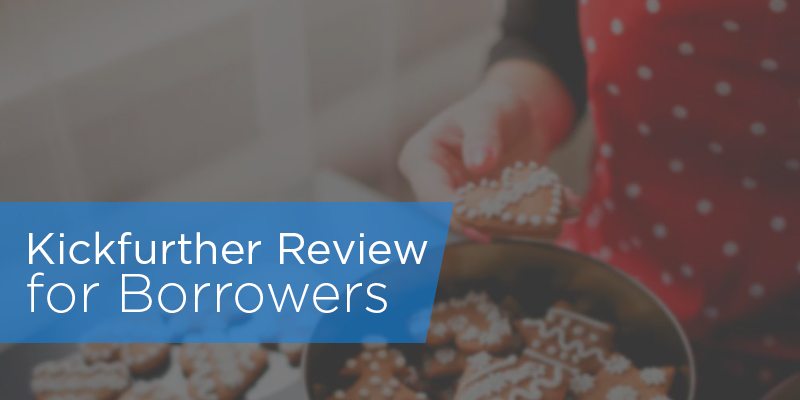 What are they?
Kickfurther is a crowdfunding platform in which investors give loans to small businesses to purchase inventory.
How popular are they?
Since launching in January 2015, Kickfurther has facilitated funding for over 200 businesses totaling $3.8 million.
Similar companies:
Kickstarter, Lending Club, and Funding Circle (but Kickfurther is specifically designed for small businesses that need to buy inventory)
Who will qualify?
US based businesses with a track record of at least one successful sales and production run whose inventory has a shelf life of at least 1 year. A variety of other criteria, such as social media data and customer reviews, are also evaluated during the screening process.
Who are they right for?
Businesses that are having trouble fulfilling purchase orders because they cannot afford to buy inventory.
Ineligible Industries?
No alcohol, tobacco, or firearms businesses.
Personal Guarantee Required?
No.
Collateral Required?

Technically no collateral is required (other than the inventory). However, if you're unable to sell the goods within the promised time frame, Kickfurther can lower the price, or the investors can decide to have the goods liquidated.
Approval Time?
7-10 business days after your listing closes.
Where do they lend?
All 50 states.
How much do they lend?
In general, businesses will qualify for no more than 25 % of their annual revenues, unless the inventory is backed by a purchase order.
For how long?
When you list your offer for investors, you estimate how long you will take to pay back the loan. The average repayment time on Kickfurther is 6 months.
Cost / Interest rate?
The average APR for a Kickfurther loan is around 20-30%.
How do payments work?
You must pay back investors with a pre-set percentage from every sale of inventory until the entire principal amount raised plus the interest is paid off.
Paperwork/Documentation Required?
There's no formal paperwork, but you will have to pitch your business and product in a way that is attractive to investors. This may include providing some historical sales and revenue numbers.
Kickfurther Reviews?
Unavailable.
---
---
Detailed Kickfurther Review
If you're familiar with the crowdfunding platform Kickstarter, which allows people to raise money online for a product or venture from a large number of investors, Kickfurther is similar. The main difference is that Kickfurther focuses on small businesses that need money to buy inventory.
In order to be eligible to use Kickfurther, you must have had at least one successful production and sales run. Kickfurther also checks a variety of other data, including social media data and distributor references, as part of its pre-screening process. Most businesses that use Kickfurther have good marketing appeal and sell a consumer product, such as apparel or electronics.
If you qualify, you can list an offer specifying how much money you need to raise, the rate of return you're willing to give your backers, and the repayment schedule. The average is a 10 % rate of return and repayment over a 6 month time period. Investors can then decide whether they want to contribute money to your offer and if so, how much. If the offer is funded, you will sign a contract that signs over your goods to the investors and specifies what percentage of each sale will go to paying back investors. Small businesses then receive the funding in 7-10 business days (Kickfurther operates on an all-or-nothing model, so if your offer isn't fully funded, you won't get any money).
Kickfurther takes a 3.5 percent cut from the business when the initial amount is funded. If inventory doesn't sell in the promised time frame, Kickfurther can lower the price of the goods in your store. If the goods still don't sell, the investors can collectively decide whether to have them liquidated. In our conversations with Kickfurther, the company emphasized that investors usually don't vote for liquidation, even if the inventory takes a longer time than expected to turn over, as long as the small business owner is communicative.
Kickfurther offers several benefits for small businesses, the primary being cost. If you get a short-term working capital loan from an online lender to purchase inventory, expect to pay around 40-80 % APR. In contrast, the annual interest rate on a Kickfurther loan ends up being around 20-30 % on average.
Another benefit is the power and reach of the Kickfurther community. Every backer gets a store on Kickfurther that they can use to market and sell your products. This widens your sales channels and increases your brand recognition.
---
Minimum Qualifications

Personal Credit Score: No credit check.
Years in Business: No minimum time in business is required, but you must have had at least one prior successful sales and production run of the offered goods.
Revenues: No minimum required.
Industry Exclusions: No alcohol, tobacco, or firearms businesses.
Other Qualifications:
Businesses must be based in the US, and the inventory must have a shelf life of at least one year. Kickfurther evaluates a variety of factors to pre-screen businesses, such as the following:
Social Media: Facebook fans, Twitter followers, Blogs, and overall user engagement

Ebay, Amazon, Etsy accounts: Star ratings on products, positive comments from buyers

Kickstarter, Indiegogo, and other crowdfunding platforms: Backer feedback and satisfaction

Sales history and reporting

Proof of production and manufacturing history

Professional reference from accountant or lawyer with whom the business has a commercial relationship

Distributors or other client references
Collateral Required? There's no collateral required in the traditional sense. However, if your offer is funded on Kickfurther, then you're no longer the owner of the inventory. The investors now own the inventory and can collectively decide what to do with it if the goods don't sell within the promised time frame.
Does the loan require a personal guarantee – From who? No.
---
Cost & Fees to Use Kickfurther

Upfront Fees: Kickfurther takes a 3.5 % cut upfront. For example, if you raise $10,000, you will get $9,650 in your bank account once Kickfurther takes its cut.
Servicing Fees: None.
Other Fees: When you list your offer on Kickfurther, you promise your backers a specific rate of return and must price your goods accordingly. See example below.
Are interest rates variable? No.
---
Cost of Borrowing on Kickfurther
The cost of borrowing money on Kickfurther varies because the small business sets the rate of return and the payback time period.
However, there are 3 numbers to keep in mind when using Kickfurther:
Raise

– This is the amount of money that you raise to buy inventory.

Profit/Return

– This is the rate of return that you promise to your investors.

Consignment Price

– This is the price at which you have to sell the goods for investors to make their rate of return.
Here's an example to clarify things:
Suppose you want to raise $10,000 to buy inventory, and you promise backers a 10 % profit/return in 6 months. Kickfurther will take its 3.5 % cut, leaving you with $9,650 to buy the inventory. Within 6 months, you must try to sell your goods for (10,000*10 % + $10,000) = $11,000 in order to give the investors their promised 10 % return. $11,000 is called the "consignment price" because you are selling the goods on behalf of the investors, who now own the inventory.
The best way to evaluate loan cost and compare different financing options is to calculate the Annual Percentage Rate (APR). APR is the annualized cost of a loan. We can calculate the APR of Kickfurther by using the term loan APR calculator below (input Kickfurther's 3.5 % cut as an origination fee):
Some sample APRs:
$50,000 raise with 8 % return in 3 months – 29.82 % APR
$10,000 raise with 10 % return in 6 months – 22.51 % APR
$100,000 raise with 14 % return in 1 year – 20.86 % APR
While your exact APR will vary based on the specifics of your offer, the average APR for Kickfurther is in the 20-30 % range. This is cheaper than taking out a working capital loan from an alternative lender like Kabbage or OnDeck, and it is several magnitudes cheaper than paying for inventory with a costly merchant cash advance.
The tradeoff is time — while Kickfurther is certainly cheaper, it takes 7-10 business days to get funding on the platform once your offer closes. In contrast, you can get funding from OnDeck or Kabbage within a couple days. In addition, Kickfurther is an all-or-nothing platform, which can be a downside. If you're not able to reach your funding goal, then you don't get any money.
---
Application Process:
The application process with Kickfurther is pretty simple, and if you have a marketable product and love talking about your business, then there's a good chance you'll be successful on the platform.
When listing your offer, you will have to provide background on your business, the promised rate of return, and the promised repayment timeline. Here's an example of a successful offer from Stojo, a company that makes a collapsible coffee cup. Notice how they emphasized the positive aspects of their business–they also offered an above-average return, allowing them to raise almost $25,000 in one day.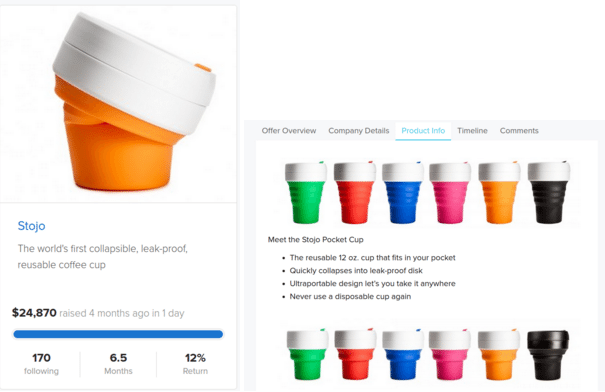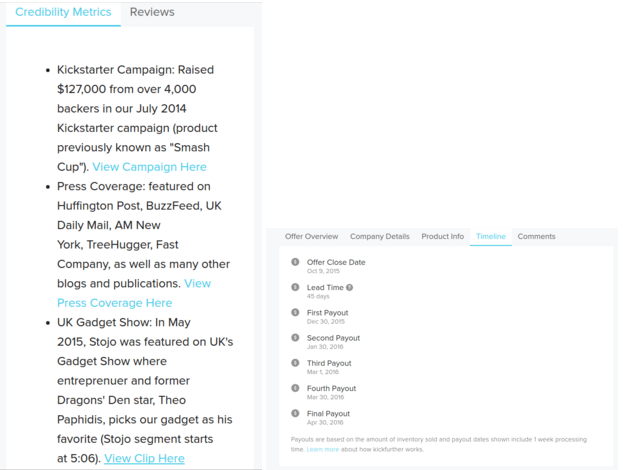 This business paid investors back as promised, so they now have a 5 star rating. This will help Stojo easily raise money on Kickfurther in the future if they ever want to post a second offer.
What documents need to be provided? No documents are needed, but you should provide some details about your company's background, revenue, and sales history.
Do they need online access to any systems (e.g. Quickbooks, PayPal, bank accounts)? No.
Is there a credit report pull? If so at what point in the process? No.
Loan Sizes and Terms
What is the minimum / maximum time I can borrow capital? There's no minimum and maximum time you can borrow, but the average repayment time on Kickfurther is 6 months.
What is the minimum / maximum amount of available capital? There's no minimum or maximum amount you can borrow, but in practice, you can't borrow more than 25 % of your annual business revenue unless your inventory is backed by a purchase order.
Payment Methods & Schedule
How will I receive my capital? ACH transfer within 7-10 business days after your offer is funded.
How will I pay investors back? The small business owner connects their bank account and manually initiates an ACH payment when they have a sale of inventory. Kickfurther then divides up the payment to the individual investors.
Schedule of payments to investors: You will sign a contract that specifies what percentage of each inventory sale will go to pay investors back. Payments are usually on a monthly schedule.
Penalties for missed payments: There's no financial penalty for missing a scheduled payment. However, if you miss a payment, investors can vote to have your goods seized, the price lowered, or to have the goods liquidated. Usually, this doesn't happen as long as the business keeps investors apprised of any reason for delays in selling inventory.
What happens on pre-payment? If the goods sell early, you must pay your investors early. The monthly payments and rate of return remain the same.
Customer Service
Kickfurther has email support, phone support, and an FAQ page.
US-based or International? Kickfurther is based in the US in Boulder, CO.
Support hours: Monday-Friday, 10 AM – 4 PM Mountain Standard Time.
Other Lending Products
Kickfurther doesn't have any other lending products.
---
Need some money for your business? Click here to get our FREE Guide:
How to Get a Small Business Loan.
The Bottom Line – Kickfurther Review
Our overall Kickfurther review is a positive one. This is a great option for fledgling businesses that need money to buy inventory and grow. Listing an offer is simple and fast, and if you're good at selling your business, you should be able to raise the money you need.
The cost of Kickfurther, at an average of 20-30 % APR, is very reasonable compared to the cost of some other small business financing options. On top of that, if your offer is successful, the Kickfurther community can help promote your product, widening your sales channels and increasing your brand recognition.