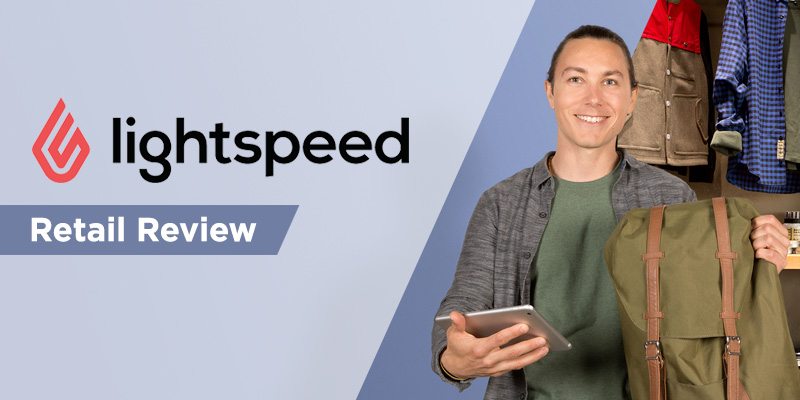 What is it:
POS, inventory management, and enterprise resource planning (ERP) system.
Want to Reduce Retail Theft and Better Manage Your Inventory? Click Here to find out how.
Popularity:
Over 26,000 users.
What it allows you to do:
It allows the small business owner to have a similar level of in-depth inventory management and data gathering tools as a big box store without the complexity and confusion of many POS systems with similar high-powered features.
What it does not allow you to do:
Manage employee schedules, automatically calculate waste/shrinkage.
Who it works well for:
Retail businesses that want a system that is simple enough to use for their startup but complex enough to grow with their business, small businesses that need in-depth inventory management tools, businesses with multiple locations, small businesses that sell both products and services (pet store, electronic parts store, bike shop, etc).
Who does it not work well for:
Businesses with a super tight budget, businesses that just want a bare-bones POS to process transactions and credit card sales, any business in the automotive industry (Lightspeed cannot service the automotive industry due to a non-competition agreement with another POS provider).
Free Edition:
14 day free trial
Cost Compared to Competitors:
Low
Hardware Included:
None
Type of Solution:
Cloud
Merchant Account Included:
No (See Credit Card Processing Section Below)
O.S. Platform:
Can be used on any device with an internet connection. Specific app for iPads as well (although Androids can be used just using the web browser interface).
Similar products:
Revel, Erply
US Based:
Originated in Canada, but now has locations in New Jersey, Seattle, New York, Boston, Toledo, and Chicago
User Reviews:
Good
Click a Button For More Info
How It Works
Lightspeed is a POS software that can transform any internet compatible device into an easy-to-use but impressively sophisticated point of sale solution that can process transactions, manage inventory, create and track work/service orders, and much more.
You simply sign up for the software on your device (download it if you are using an iPad) and then connect it to your other hardware, like receipt printers, barcode scanners, cash drawers, etc. The software communicates with and controls all the other devices to create a high-powered point-of-sale solution for your small business.
Although Lightspeed can process transactions and credit cards efficiently and effectively, it can also do much more. You can track inventory levels, use historical sales data to calculate new inventory orders, create and send purchase orders, manage vendors, track employee hours and productivity, generate a wide-variety of analytical reports, create and manage customer lists, configure loyalty programs and discounts, and much more.
Pricing
Lightspeed has several different pricing plans. All features (other than advanced analytics) are included in all plans. The pricing difference relates to how many registers and users are included.
Here are the options:
Small – $89/month ($76/month if paid in 14-month installments)

1 Register and 5 employees

Medium – $149/month ($128/month if paid in 14-month installments)

2 registers and 10 employees

Large – $259/month ($222/month if paid in 14-month installments)

4 registers and 20 employees
Our recommendation is to start out with their Small plan, the lowest they offer. It is affordable for most small businesses, has more than enough functionality for the average business, and you can always upgrade plans or add on registers and employees as needed.
All plans include unlimited products, customers, transactions, software upgrades, and premium 24/7 technical support.
Add-ons
Lightspeed also has some add-ons for an additional cost, as detailed below:
Advanced reporting – $25/month ($21/month for 14 month payment)
Additional register – $59/month (includes 3 additional employees)
Additional employee – $9/month
Web Store – $59/month for 2000 products ($51/month for 14 month payment)
Hardware Costs
Lightspeed offers several different hardware bundles to its customers, costing between $1100 – $1700 or so (including iPad or iMac). One is an iPad specific setup and one is for a desktop. Both come with a cash drawer, receipt printer, barcode scanner (iPad is bluetooth and desktop is USB), and card swipe. The iPad package also includes an iPad cover/stand. You can also buy additional or individual hardware components separately.
Check out
Lightspeed's Hardware Page for more info and to contact a hardware specialist.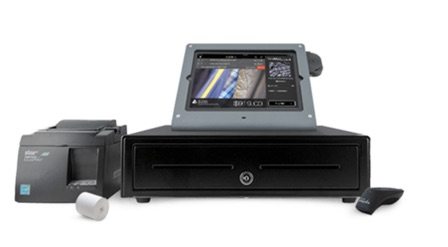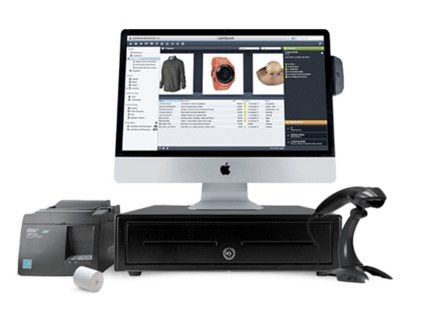 Credit Card Processing Fees
Lightspeed does not have their own merchant account services for processing credit cards. However, Lightspeed integrates with Cayan, Mercury payments, and any payment processor that has an Authorize.net gateway, like our recommended processor Payline Data. In other words, if you use one of these compatible providers, you can swipe (or read the new chip cards) and process the credit card at your Lightspeed register with no hassle, just like any other transaction.
Cayan and Mercury require merchants to sign up with them and provide financials before they give an estimate regarding what kind of processing cost deal they can give.
Payline Data is much more transparent, using interchange plus pricing, which means they just add a fixed fee, .2% +$.10 per transaction, on top of whatever the card company charges (Mastercard, Visa, Discover).  On average, Payline Data's processing costs in total come out to around 1.62% + $.25 per transaction. To see how we got this number and learn more about credit card processing fees, check out our in-depth article on Credit Card Processing and Fees.
Ease of use
Overall, Lightspeed Retail is a fairly simple system to use. There is a little bit of a learning curve for the back office portion, simply because Lightspeed has a lot of features and functionality. But, all in all, Lightspeed is much easier to use than its competitors who offer similar features.
Software Download and Setup: Easy
The only downloading you have to do with Lightspeed Retail, is if you want to use an iPAD as your POS system. Then, you simply go to the App Store, search for Lightspeed Retail, and click "Get." That's it. If you are using a desktop, laptop, or android device, you just go to LightspeedHQ.com, click on the dropdown "Products" tab, click on "Retail" on the left, and then hit the "Get started for free" button on the main retail pos page. You just sign up and everything is run through the cloud, no software required.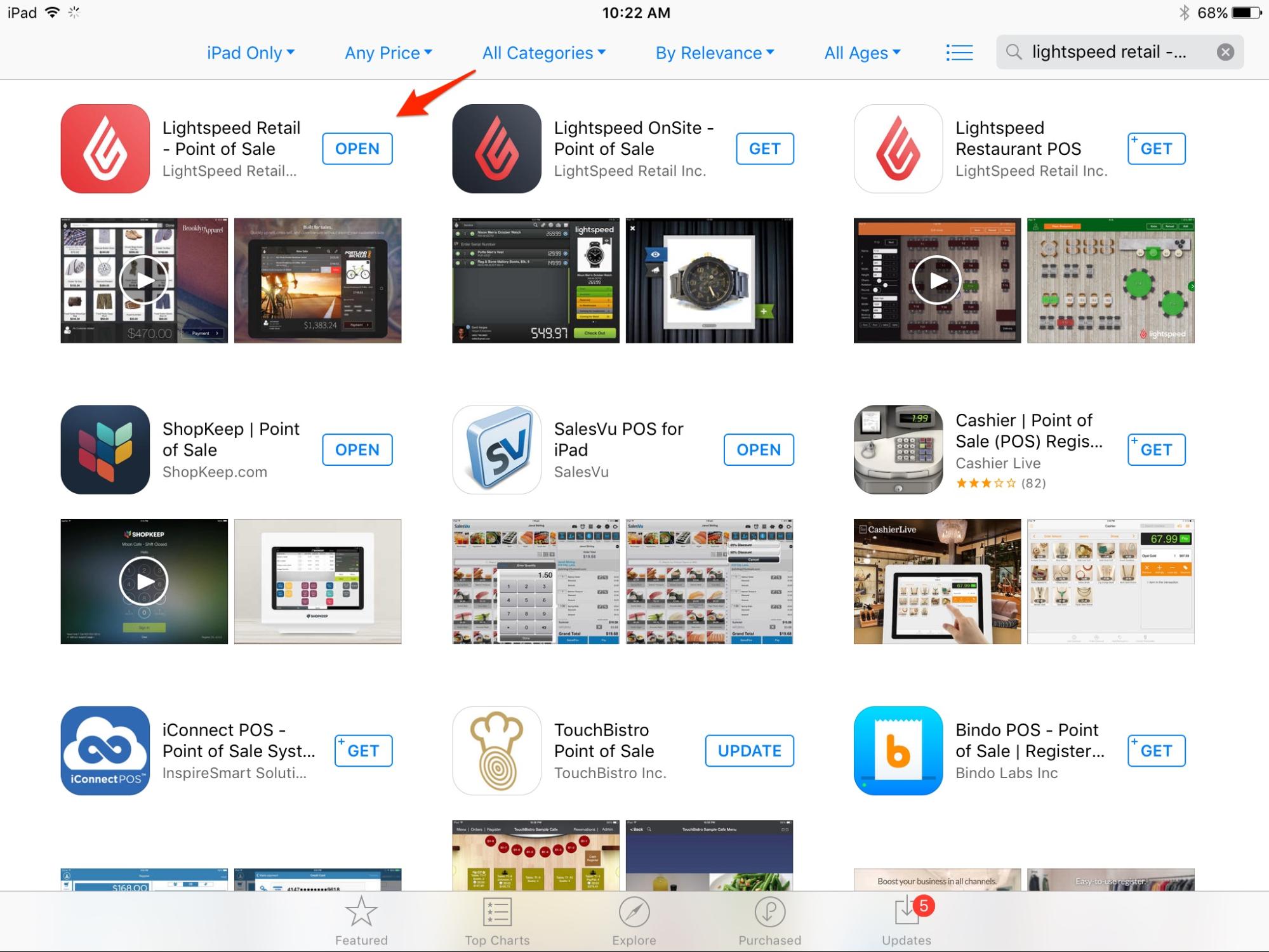 Store Setup: Moderate 
When you start setting up your store, things get a little more complicated, but not overly so. Lightspeed's back office is actually set up nicely, with easy-access buttons down the lefthand side of your dashboard, as seen below. If you click the little pushpin at the bottom righthand corner of the dashboard tab, your dashboard will always be visible.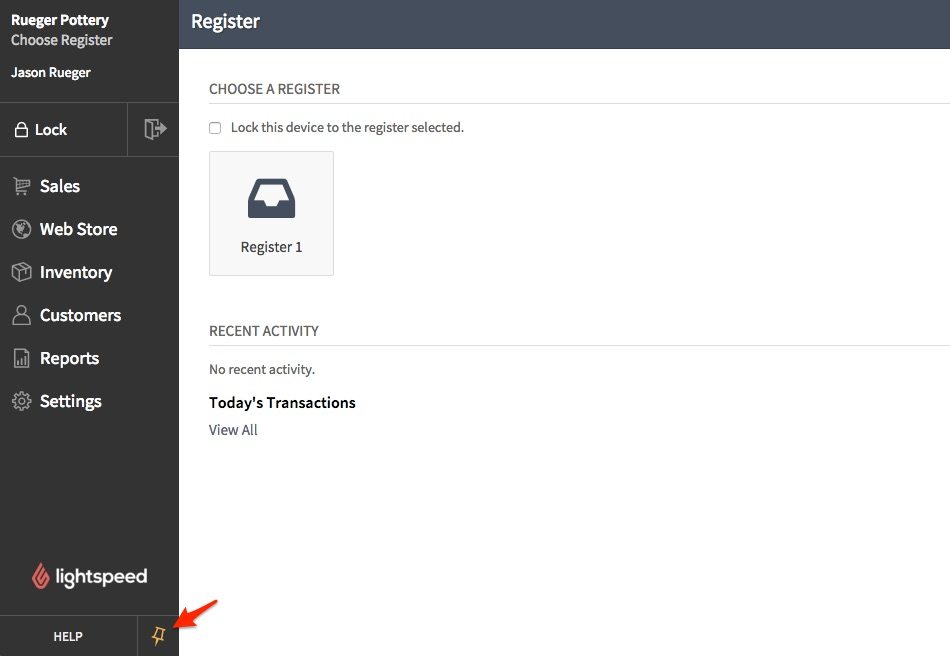 Adding inventory is actually really intuitive also. There are several ways you can do it. The easiest way to add a large amount of inventory, is to format your inventory list in a spreadsheet, send it to Lightspeed, and they will import the list into the system for you. You can also import from vendor catalogues as well.
To add one item at a time, you just click on the inventory tab, click on the add new item tab, and then put in your info for that item.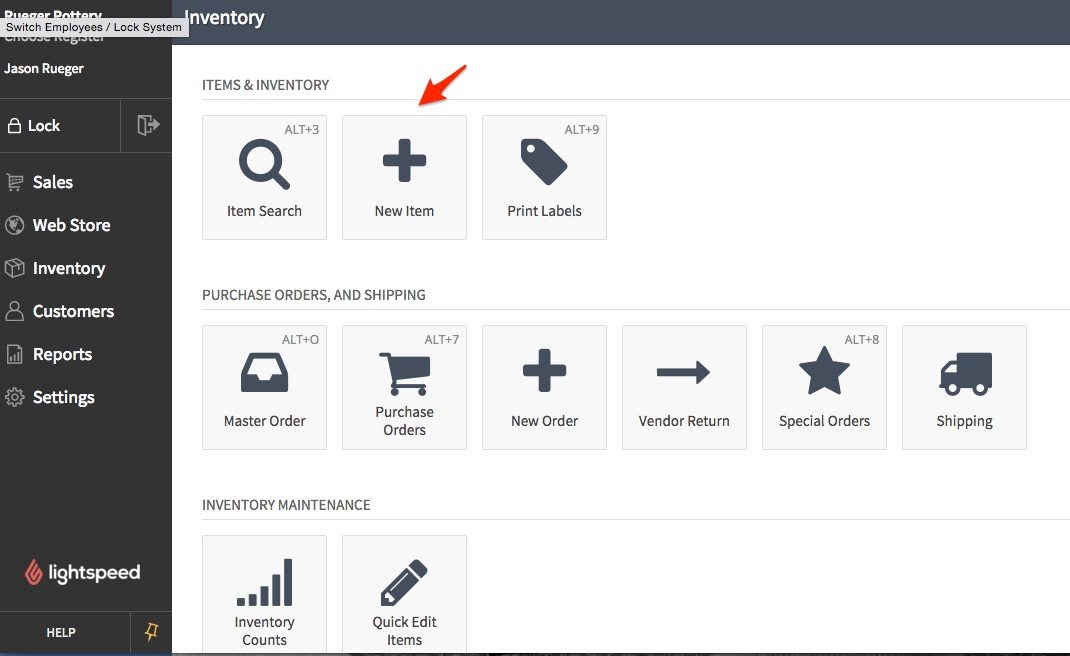 Inventory Page: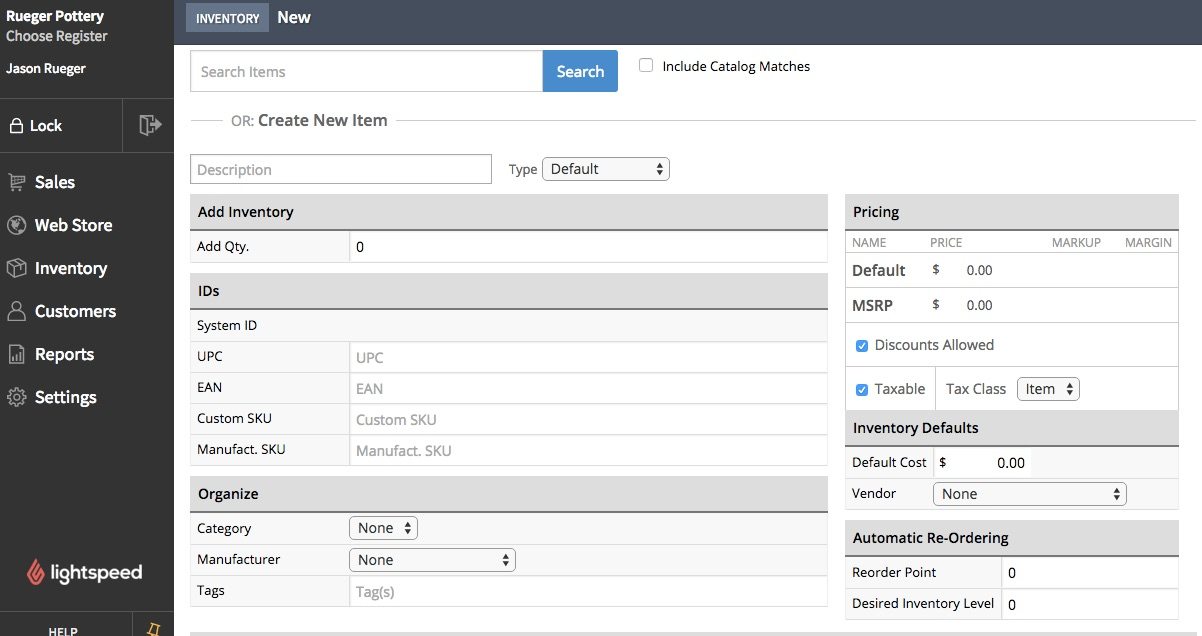 Most of the other back office tasks are just as intuitive, like adding/managing customers and generating reports. Configuring your vendors and purchase orders are a little bit more complicated, but after using the system for a bit they become second nature also.
Register Use: Easy 
The register is super easy-to-use, making training your sales clerks a breeze. Here is the screen you will get once you sign-in.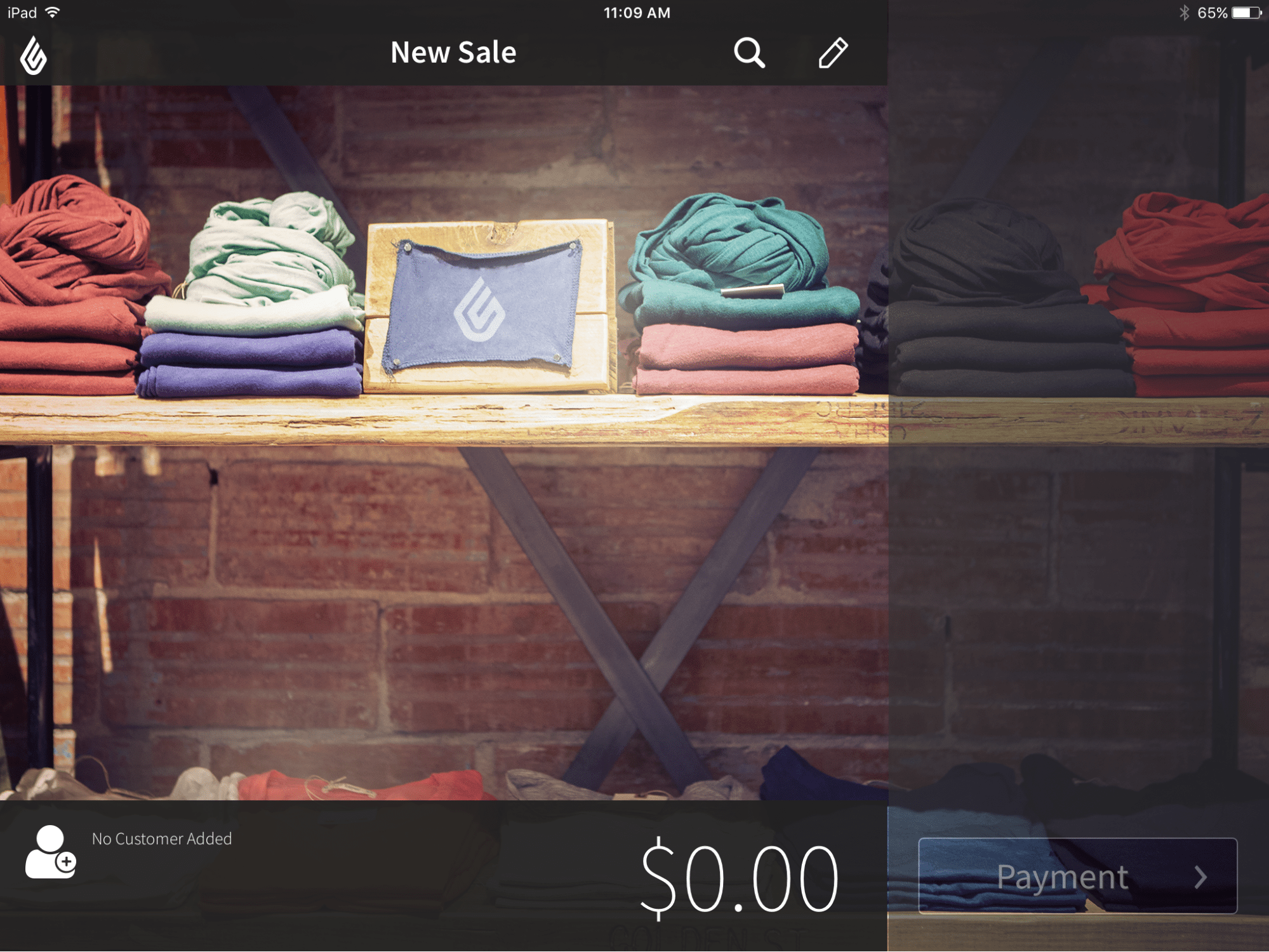 To add products from your inventory to the sale, simply click on the little magnifying glass to search and add from your inventory catalogue.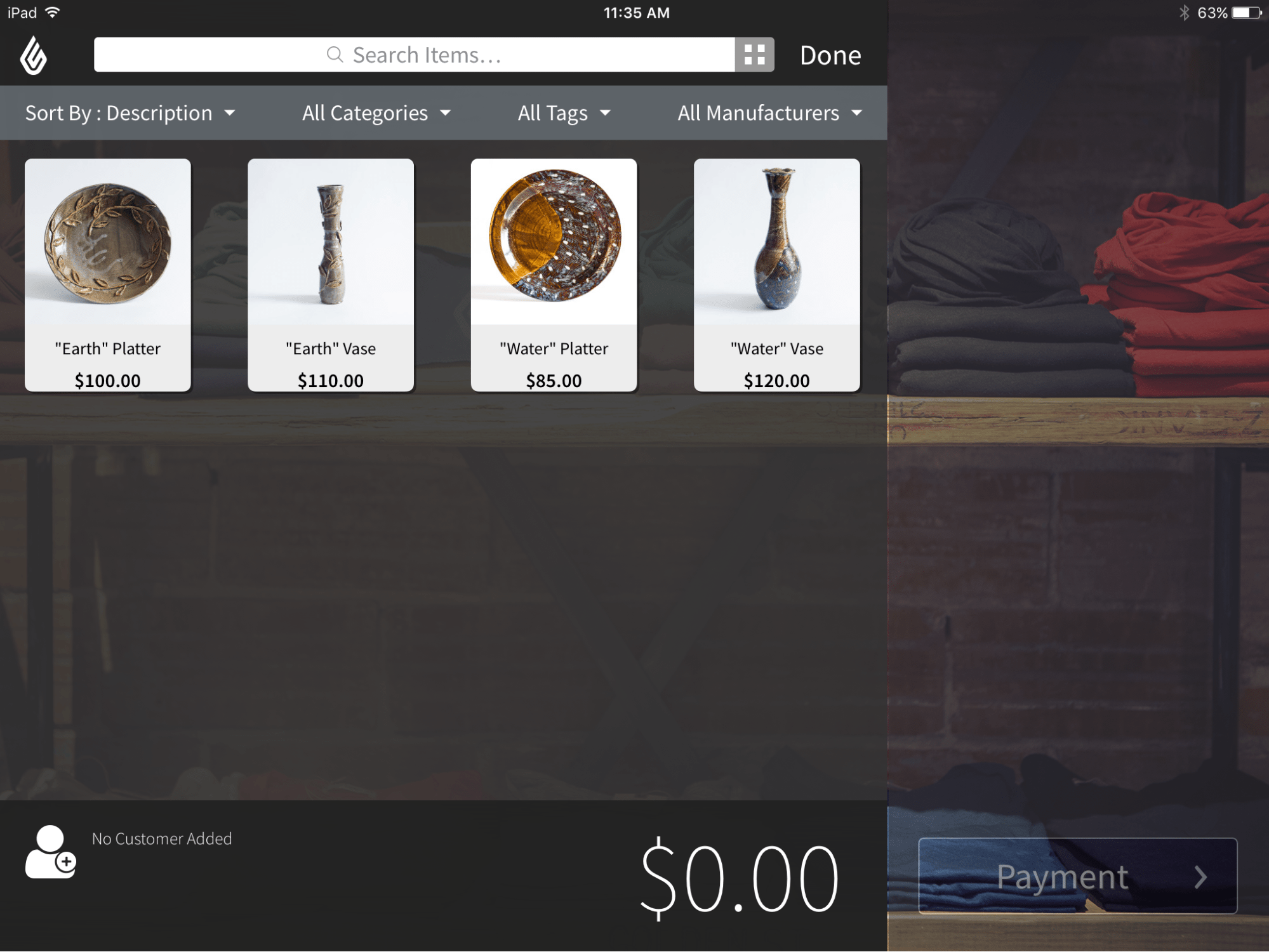 You just select a product and then click the "Add to sale" button that pops up. It is then added to your cart. To delete or edit an item in the iPad register, simply swipe your finger to the left and those options will appear, as shown below.
You can add a customer to the sale by clicking on the little customer icon with the plus sign on the bottom left hand of the register screen. If you need to access your back office from your register or need to toggle sales, just click on the little Lightspeed icon at the top left of the page to get side tab access.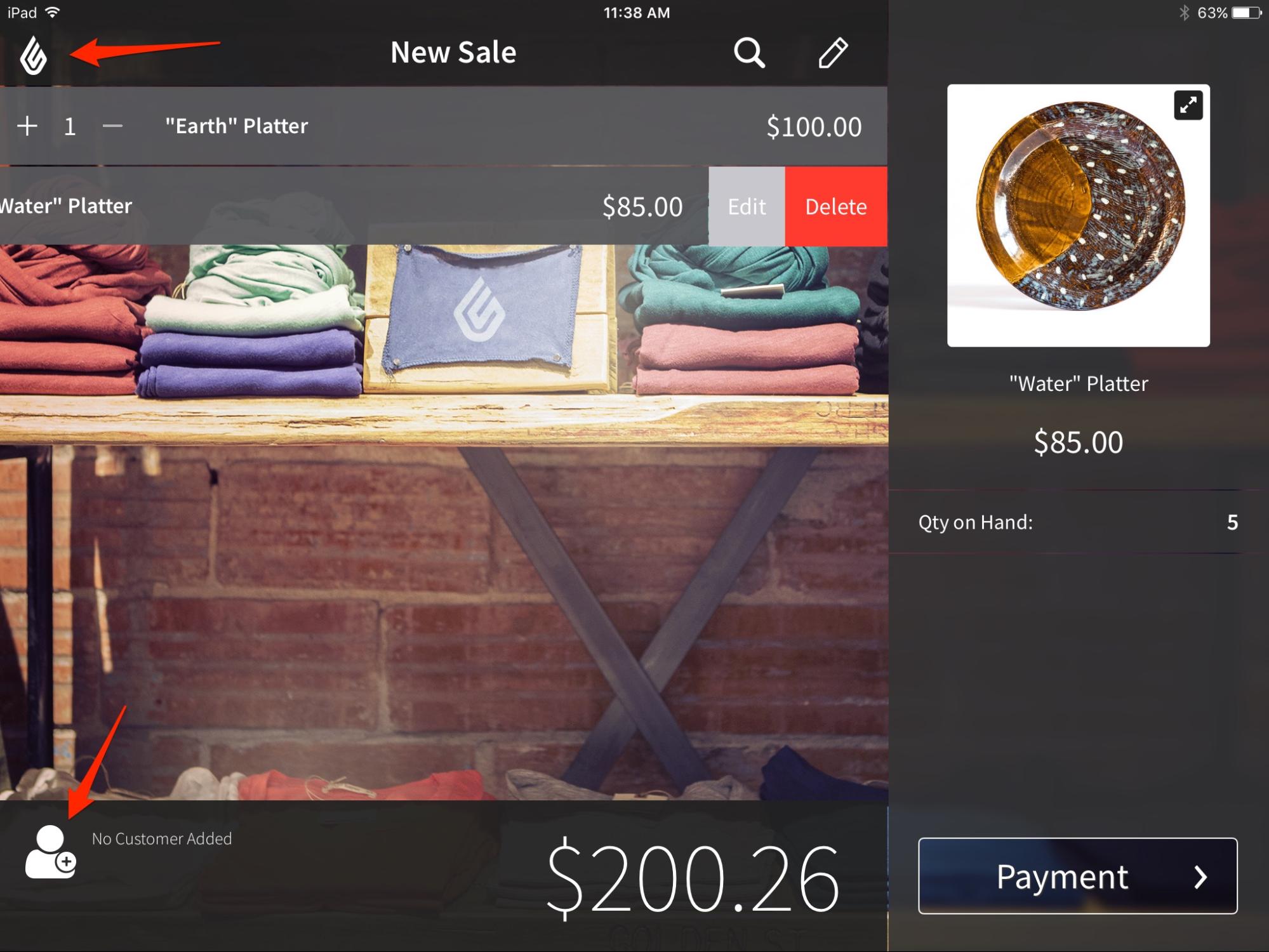 To checkout, you simply click the Payment button at the bottom righthand of the screen. You will then get a screen with multiple payment options. To complete the transaction, simply select the payment option you need and click "Finish Sale" at the bottom of the screen. You will then have the option of printing a receipt, printing a gift receipt, or emailing a receipt.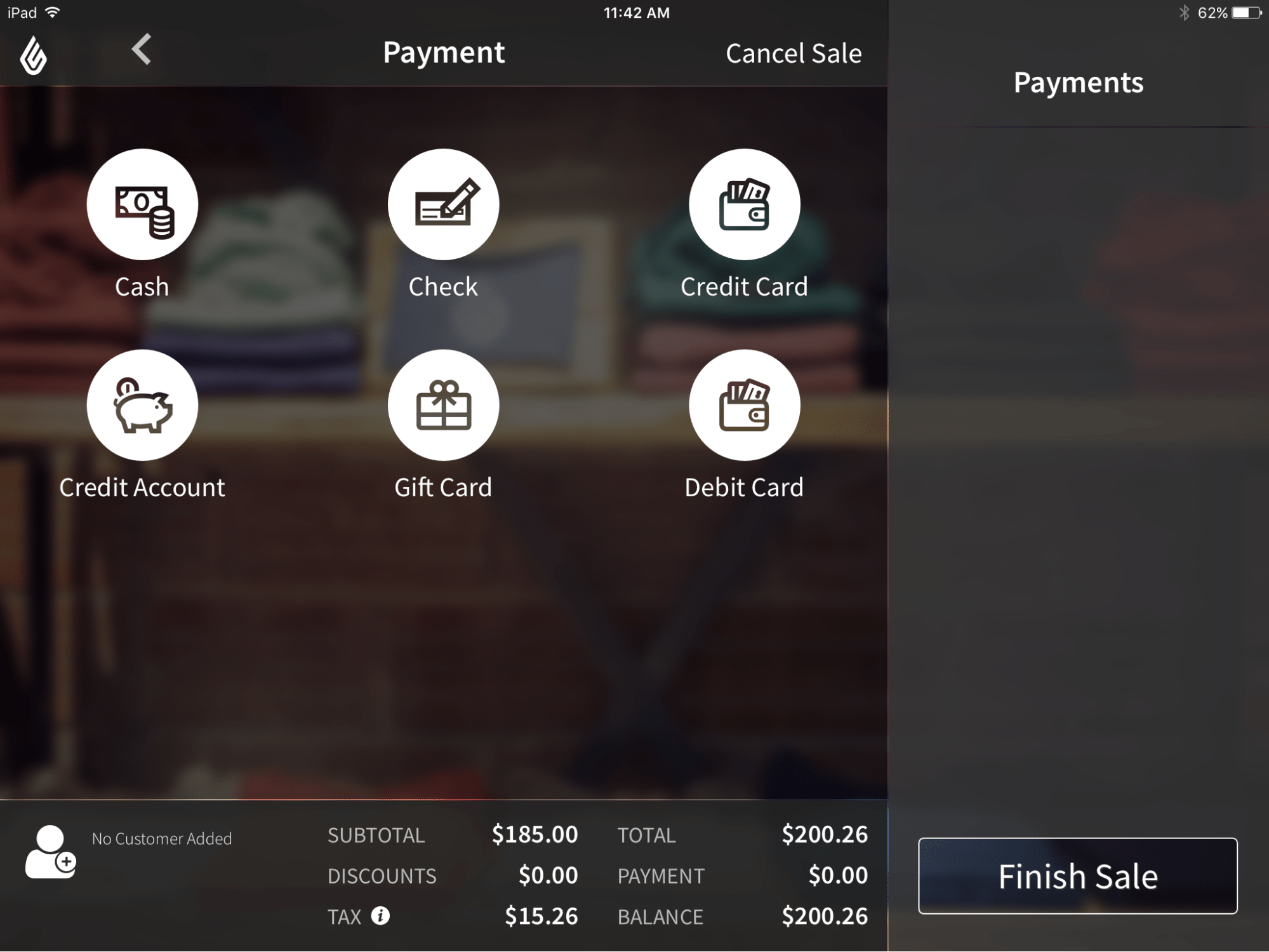 Primary features
Features Included

Features Not Included

Accept many
different payment
types (cash, check,
credit, gift card, etc)

Employee Scheduling
System (although it
does integrate with
Nimble scheduling)

A wide-variety
of inventory management
tools (track item quantity,
multiple category and tag
options, multi-store
inventory tools, etc)

Payroll (although
it links directly
with Quickbooks)

Purchase order
creation, management,
and tracking

Layaway and
Special Order Options

Over 3000
pre-programmed
vendor catalogues

Employee Time
Tracking, Management,
and User Permissions
Customization

Create and manage
customer lists,
automatically create
contact with email
capture, and more.

Service and Work
Order Creation and
Management System

50+ Standard Reports
Primary Integrations
Integrations

Non-Integrations

Cayan, Mercury,
and any Authorize.net
Gateway provider

Paypal

Apple Pay

Mailchimp
(email marketing)

Excel

Quickbooks
(accounting)

Perkville
(customer loyalty)

Nimble Schedule
(employee scheduling)

Thirdshelf
(customer loyalty)

AppCard
(customer loyalty)

Booxi
(appointment scheduling)

Bike Rental Manager
(rental software)

And more
Detailed Overview
There are several important points to make about Lightspeed. First, if you are just looking for a POS system to process transactions and do some basic inventory counts, then Lightspeed will probably be overkill for you. Second, the Lightspeed system is designed with inventory in mind, so if you are primarily a service business and don't really carry inventory to sell to customers (whether business or consumer), then you may want to look elsewhere. But, with those upfront cautions out of the way, if you carry and manage inventory of any kind for your business, Lightspeed will be hard for you to beat.
Lightspeed's theory is that if small businesses can streamline their inventory management system, they can cut costs and improve their efficiency and bottom line, better allowing them to compete and hold their own against large retailers who have significantly more buying power and resources at their disposal. In other words, their whole system is designed with inventory management in mind.
Lightspeed doesn't disappoint, with arguably the best inventory management system for the price point. If you choose Lightspeed, you will be able to track inventory counts, set re-order alerts for when stock gets low, set different prices for modifiers of the same item (XL = extra $2), create and send purchase orders when you need more product (directly from over 3000 pre programmed vendor catalogues), create detailed inventory and sales reports, and much more.
Lightspeed's system also allows you to assign and track work and service orders. This is one of Lightspeed's distinctives, as few other POS systems at the price point offer work order features. Additionally, Lightspeed has some solid employee and customer management tools, is pretty simple to use, and has great 24/7 customer service.
When it comes to Lightspeed's downsides, there are few. One, is that the $89/month price tag may simply be too steep for some of the smallest businesses, but that just comes with the territory. Other than that, there isn't much. Sure, it could be nice to have a custom keyboard at the register to input miscellaneous charges but that is really a small thing, as most Lightspeed customers will be using a barcode scanner and already have their entire inventory programmed into the system.
If inventory is key to your business, then Lightspeed is the best POS option for your money.
Features:
1. Inventory Management
Lightspeed's entire POS is designed with inventory management in mind. You can track inventory counts, view margins and costs for each item, set a variety of in-depth modifiers for one item (with different price points), transfer inventory from store to store, and generate detailed sales reports, even down to specific attributes and tags.  You can also do layaways and special orders.  If you carry inventory, Lightspeed has you covered.
2. Employee Management
Lightspeed has a pretty solid employee management feature set. There is an employee time clock, so you can know exactly how many hours each employee has worked and import those directly into Quickbooks. Also, Lightspeed has a really good permission setting system, giving you complete control of what your employees can and cannot do within the Lightspeed system, and most importantly at the register (permission to open cash drawer without a sale, for example). You can also track employee productivity and individual sales to better calculate commissions and bonuses. The only bummer, is that Lightspeed does not have a built-in employee scheduling system, although they do integrate with a Nimble Schedule, which is a solid solution.
3. Customer Relationship Management (CRM)
Lightspeed has some great customer relationship management features. For one, any email address that a receipt is sent to on your POS is automatically added into your system as a contact. You can also create contacts manually and organize them into a wide variety of types and categories (Frequent vs. infrequent, business vs. customer, etc). You can also do quotes and lines of credit for individual customers, which is handy.
4. Always-on mode (accept payments even when offline)
Lightspeed has recently introduced an always on mode, meaning you can accept transactions of all types, including credit cards, during an internet outage. When the internet is restored, the system will automatically process all credit card transactions and delete any sensitive information that had been stored during the outage.
5. Barcode creation/scanning
Lightspeed allows you to both create and print custom barcodes for all of your items. Of course, you can also scan them at the register or when doing inventory counts.
6. Label creation/printing
Lightspeed allows you to create and print labels as needed.
7. Gift Card/Discount Options
When it comes to discounting, Lightspeed has a lot of great options. One, you can create a variety of discounts in your back office that you can then apply to any order at your register. Also, you can actually configure automatic discounts into your customer profiles. So, if you have regular non-profit customers, you can program in a sale's tax sales tax discount. Or, if you have a wholesaler you deal with, you any purchases under their name can be automatically configured to be discounted.
Lightspeed's gift card option is also really cool. For one, you can buy from any supplier, as long as they are EAN-13 or UPC-A standard, which allows you to shop around for the best deal. Second, the gift card system is re-programmable, meaning that you can save a lot of money long-term by recycling gift cards for different customers.
8. Ecommerce/online storefront option
Lightspeed actually has an ecommerce option that you can add for $59/month. It allows you to sell up to 2000 products and directly integrates with your brick-and-mortar inventory count, so it is all in one place. While the integration is handy, the price tag is a little hefty for what you get. You cannot customize your template much at all and the features are pretty barebones.
This is especially true considering you can get a high-powered ecommerce option like Shopify for around the same price. To learn more about Shopify and other ecommerce options, check out our ecommerce provider buyer's guide.
9. Mobile payment option
Lightspeed is not really designed to be a mobile payment option. It is mobile in the sense that you could technically take your iPad anywhere and sell product as long as you have wifi. But, if you are looking to process transactions primarily on-the-go or on your phone, Square or Paypal is a better option.
10. Purchase Order management
Lightspeed has one of the most sophisticated purchase order management systems I have tested. You can set automatic inventory points so that low inventory is automatically included in a reorder list that you can access in real-time, to create and send purchase orders right from within Lightspeed's system.
Also, it has over 3,000 vendor catalogues already pre programmed into its system, something I have not seen in any other POS system I have reviewed This means that if you buy product from any of those vendors, you can just browse the catalogues and automatically create purchase orders in a snap. If your vendors are not included, you can send your vendor catalogue to Lightspeed and they will create a new vendor in their system. It's a refined and efficient system.
11. Reporting
Lightspeed has a robust reporting system, allowing for over 50 standard reports with many variations within them. You can check profits, transactions, and customer accounts. You can also create asset reports, historical inventory reports (to help with reordering), margin-per-line reports, and much more. Sales reports can be generated and broken down by many different criteria, including by item, category, tax class, by hour, by day, by employee, etc . . .
For an additional $21/month, you can get advanced reporting. This gives you real-time dashboard access from anywhere and also allows you to create your own custom reports based on a variety of store data. In other words, Lightspeed should have your reporting needs well-covered.
12. Appointment Booking/Reservations
Lightspeed Retail does not have built-in functionality for appointment booking or reservations. You will have get that functionality through a third-party application like Appointy (it's free).
13. Payroll
Lightspeed does not have payroll features within its system. However, it does have seamless integration with Quickbooks and you can directly import employee hours from your Lightspeed time clock into your Quickbooks payroll, making it a breeze.
14. Restaurant Tools
Lightspeed Retail is not made for restaurant applications. Lightspeed does have another product, Lightspeed Restaurant, which is a great restaurant POS solution and our recommended provider. You can split checks, configure table layouts, fire items on an order back to the kitchen at different times, see where tables are in the dining process with one look at the pos screen, and much more.
15. Grocery Store Tools
Lightspeed is not really designed for grocery stores. It does not have a built-in waste or shrinkage calculator (Although you can factor in "damaged goods"). Also, it is not really configured super well for scale integration, which is a must for grocery stores.
16. Retail Store Tools
Not a whole lot to be said here. Lightspeed is designed primarily for retail and it does pretty much everything a retail store POS needs to do, from in-depth inventory management to solid customer management.
Customer Service
24 hours?
Yes
US Based or Not?
Yes
Phone, Live-Chat, Email, Self-Help Portal?
Lightspeed has a self-help portal available to its customers for answers to common questions. It also has tutorials for common tasks. There is 24/7 phone support for all customers. There is also live chat support during regular business hours. Lightspeed retail has a solid customer support reputation and is one of the better support providers in the industry.
Conclusion
If you are just looking for a basic POS solution, then Lightspeed will probably be a little overkill for you. But, if you are looking for a POS solution with lots of inventory management and other sophisticated tools that can grow with your business, then you cannot go wrong with Lightspeed Retail.
Want to Reduce Retail Theft and Better Manage Your Inventory? Click Here to find out how.