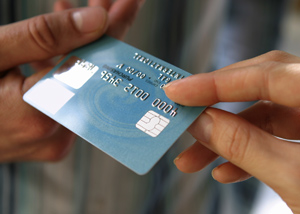 In addition to the merchant services reviews left by users below, Fit Small Business also reviewed the top 4 merchant account service providers.  We chose Bluepay as our top provider.
Read The Fit Small Business Review  – Date of Review 6/18/14
Read Out How To Accept Credit Cards Guide
Below you can find user reviews for First Data, Total Merchant Services, Dharma Merchant Services, Heartland Payment Systems, BluePay Processing, Merchant Warehouse, and iPayment.
Merchant Services Deals and Coupons
BluePay offers a $500 Challenge for merchants who are switching from another merchant service provider. If BluePay can't help you save money, they will give you $500.
Ask your sales representative to waive set-up fees, monthly service fees and compliance fees. Our conversation with BluePay resulted in the sales rep offering to waive the second month of statement fees. Our First Data rep offered to get rid of the monthly fee altogether.
First Data is offering a 50% reduction on the annual PCI compliance fee for new customers who apply and are approved for an account in July 2014.
Total Merchant Services is offering customers a free copy of QuickBooks when they sign up as customers. You may also qualify for free hardware if you need a credit card processing terminal.
Many merchant service providers offer seasonal merchant processing. During your slow months, you can initiate a temporary suspension of your account for as little as $5 per month.
Merchant Services Reviews
BluePay Processing
Headquartered in Naperville, IL, BluePay Processing is an aware-winning credit card and check processing service provider. The company was founded in 2003 and serves businesses of all sizes with a catalog of merchant payment processing solutions.
First Data
As a global leader in credit card processing, First Data is the standard when it comes to direct processors. Hundreds of resellers line up to sell First Data's services and it is estimated that 3 out of every 4 credit card transactions are processed through First Data. First Data delivers stellar customer service and best-in-class merchant products to businesses around the world.
Dharma Merchant Services
Dharma Merchant Services is a San Francisco-based certified Benefit Corporation with a strong commitment to doing social good in the world. Dharma provides merchants with the resources, information and a crash-course training needed to make the best selection when it comes to choosing a credit card processor who can meet the merchant's needs. Dharma provides processing services to businesses in the U.S. and Canada, donating 50% of their net profits to charitable organizations.
Merchant Warehouse
Founded in 1998, Merchant Warehouse is headquartered in Boston and offers round-the-clock customer support. Merchant Warehouse caters to businesses from all different types of industries and has products for both small and large businesses. The MSP offers both tiered and interchange-plus pricing.
View Merchant Warehouse User Reviews
iPayment
iPayment, Inc. launched in 1999 as a privately-held company servicing US-based small businesses. The company now provides services to more than 190,000 businesses across the country.  The company's headquarters are in Westlake Village, CA. iPayment is a registered ISO/MSP of Wells Fargo Bank.
Heartland Payment System
Heartland Payment System was founded in 1997 by Bob Carr. The Princeton, NJ company caters to high-volume small and mid-sized businesses, processing more than 11 million transactions a day and $80 billion dollars in credit card transactions a year.
Total Merchant Services
Since 1996, Total Merchant has provided credit merchant services to businesses across the country. The company is based in Woodland Hills, CA and specializes in creating customized merchant processing packages for businesses of all sizes.
View Total Merchant Services User Reviews