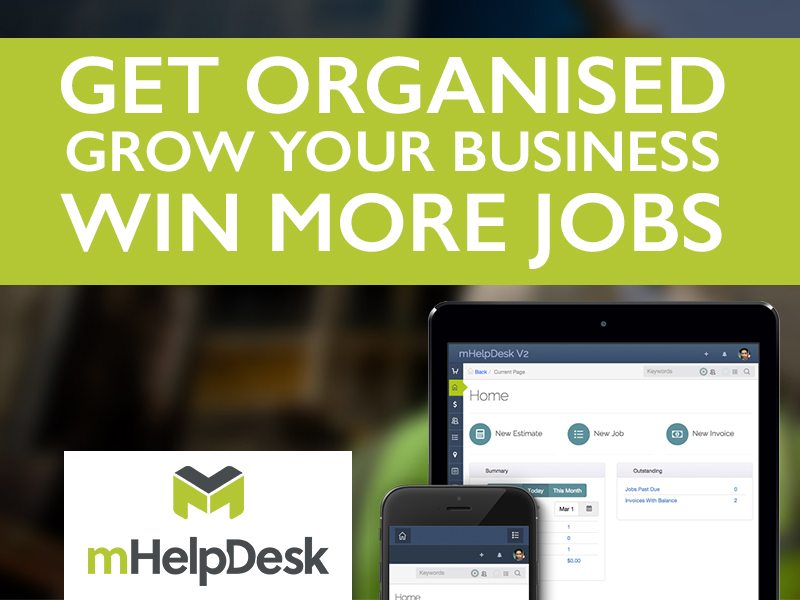 What is it?
Work Order, Job Tracking & Invoicing software for field service businesses.
Want to manage 1000's of leads, save time, and get organized? Click Here to get our FREE CRM guide and find out how.
How Popular is it?
MHelpDesk has over 12,000 customers.
Similar Products?
Connect2Field
What does it do well?
If you do a lot of work off-site, mHelpDesk helps you keep track of your staff, projects and expenses and bill clients on the spot.
What does it not do well?
There's very few 3rd party integrations.
Who it works well for?
Business that travel to their clients' locations: Repair/installation services, remodelers, event planners, caterers, etc.
Who

it does not work well for?
Businesses that don't work off-site. (check out Freshbooks)
Time Tracking?
Yes
Send Invoice via physical mail?
No
Does it support multi currency?
Yes
Free Trial?
Cost Compared to Competitors?
High
Cloud or hosted?
Cloud
US Based?
Yes, Company & Customer Service
MHelpDesk Pricing
MHelpDesk pricing is broken up into 3 packages based on the number of users you need.  A user is an administrator, manager, or staff member.
The Pro Package ($75/month) includes the full set of features for 1 user. Additional users are $25/month each.
The Business Package ($149/month) gives you up to 5 users, with additional users priced at $20/month each.
The Enterprise Edition is for an unlimited number of users. You have to call for pricing.
Ease of use
Setup – Easy. MHelpDesk has a guided setup process that involves adding your basic information, saving products/services, inviting team members and adding customers, which you can import from a .CSV or from Quickbooks. It's all pretty simple, plus you can skip a step if you prefer to do it later. 
End User – Moderate. MHelpDesk will take some getting used to. While basic tasks like invoicing and employee scheduling were intuitive enough, projects took some time to understand. Overall, mHelpDesk has an adequate interface: It's not the cleanest or fastest, but it gets the job done.
Support – Easy. MHelpDesk has phone and email support available during regular business hours. Users spoke very highly of the support team, citing fast responses and knowledgeable answers. This was confirmed by my own experience. MHelpDesk also has a searchable support center, with user guides, FAQs and video tutorials.
Features
| Features it has | Features it does not have |
| --- | --- |
| Time Tracking | Auto-Payment |
| Estimates | Send Invoice via Snail Mail |
| Save List of Products/Services | |
| Payment Processing | |
| Customize Invoice Formatting | |
| Recurring Invoices | |
| Multi-Currency | |
Integrations
| Integrations it has | Integrations it does not have |
| --- | --- |
| Accounting (Quickbooks) | Cloud Storage (Google Drive, Dropbox, Box) |
| | Time Tracking (Toggl, Harvest) |
| | CRM (Salesforce, Zoho) |
| | eCommerce (Shopify, Big Commerce) |
| | Payment Processing (Stripe, Paypal) |
| | Digital Signature (Right Signature) |
| | POS (Shopify, Vend) |
| | Payroll (ZenPayroll) |
| | Project Management (Basecamp, Asana) |
| | HelpDesk |
| | Zapier |
Detailed Overview:
How To Create Invoices
MHelpDesk has sophisticated invoicing. You can add line items from your inventory, or write new ones on-the-fly. You can set a due date, attach a note and even include a digital signature, which you can draw using your mouse or touchscreen within mHelpDesk.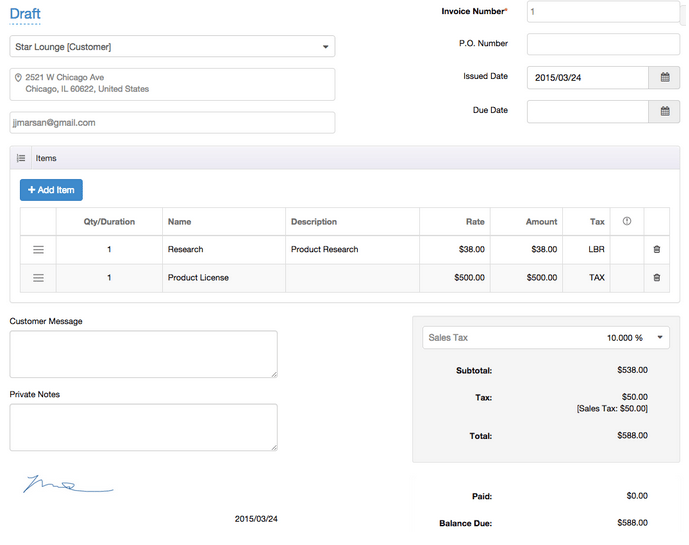 Sales Tax
Applying taxes is a little confusing. All rates have to be saved beforehand under "Settings" > "Sales Tax Items." Then, when creating an invoice, you can specify if each item is taxable or not. At the bottom specify which tax rate you're using. You can apply one rate to the invoice, so you don't get too much flexibility in this area.
Recurring Invoices/Auto-Payment
You can set up invoices to recur at any schedule. Specify the start/end date, frequency (in weeks, months or years) and how long the customer will have before payment is due. Currently, auto-billing is not a supported feature, so you cannot automatically charge a customer's credit card on a recurring basis.

Custom Formatting
You can customize invoices in many different ways. Upload a logo and add text for the header. Adjust the formatting of the body with mHelpDesk's in-browser editor: You can drag boxes to change their size or position, change the name/font of data fields and even add new data fields by selecting them from a "Keywords" list.
Of all the invoicing software we looked at mHelpDesk has the most customizable invoices by a long shot.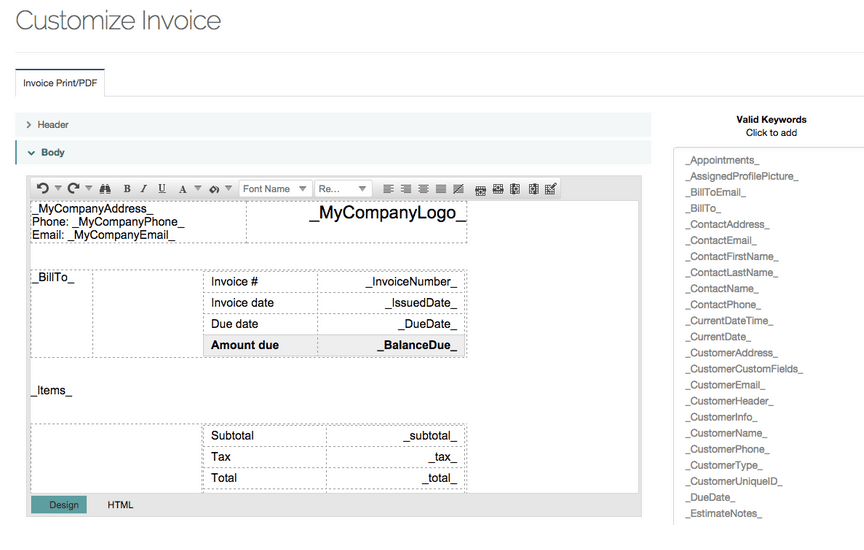 Payment Processing
There's two payment processing options: PayPal and Authorize.net. By setting one of these up, you can include a link for clients to pay via credit card directly on the invoice. You can also process credit cards on the spot by typing credit card information into the "Payments" tab on the invoice. MHelpDesk does not currently support any credit card swipers, however you can enter credit card information manually on the mobile app.
To link a payment service to your account you just need to go to "Settings" > "Payment Processing" and enter your PayPal or Authorize.net account information. (Read more here.)
Estimates
Estimates look identical to invoices – you can add line items, apply taxes and add notes for the client. Each item also has a box labeled "Approved." If there's any new items you want to suggest to your client, uncheck this box and the item value won't affect the estimate total. It'll just appear as an optional add on.
You can send estimates via email and they'll appear as a PDF in your client's inbox. Unfortunately there's no easy way to approve the estimate. Unlike Freshbooks, clients won't see any buttons to approve, rejects or suggest changes to the estimate.
Time Tracking
MHelpDesk is largely based around projects. When creating a new one, you add employees and draw a list of tasks. For each task (pictured below), you can assign a staff member, add a description, apply a rate and run a clock to track time. This timer will stay open even if you leave the page, so you can continue browsing mHelpDesk.
When it comes time to bill a client, you can click "Copy to Invoice" at the bottom of the project. This will create a new invoice with all the fields complete with your task/time data.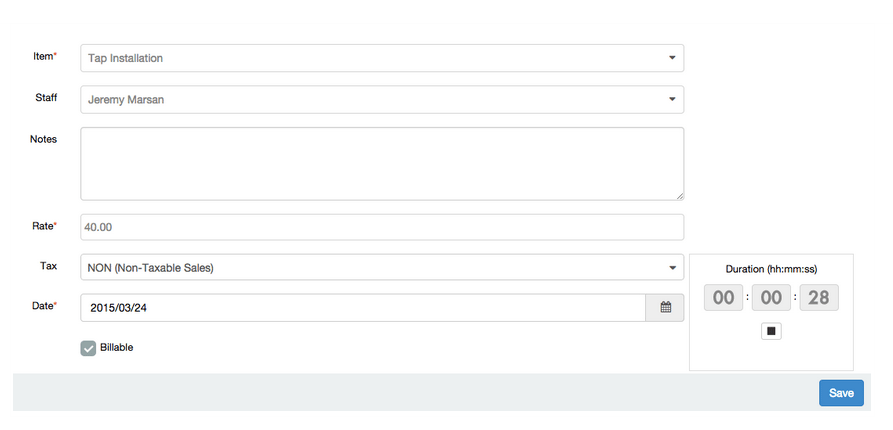 Accounting
MHelpDesk does not have any native accounting tools, however you can export your transaction data as a spreadsheet file if you wish to import into another program. MHelpDesk also integrates with Quickbooks Online, so you can automatically sync your transactions between the two programs.
Integrations
3rd party Integrations are not a strong point. Besides Quickbooks Online, there's an integration with Google Calendar: You can set up a 2-way sync between your employee schedule and Google Calendar. That's it as far as integrations go.
Reporting
MHelpDesk has one of the best reporting engines of all the invoicing software we've seen. There's almost 30 standard reports covering data such as sales, customers, projects and time. What's even better is that you can create custom reports based on many different data fields in your system (including projects, contacts and customers) and set rules to narrow this data down. Once generated, you can download reports as a .CSV or .XLS.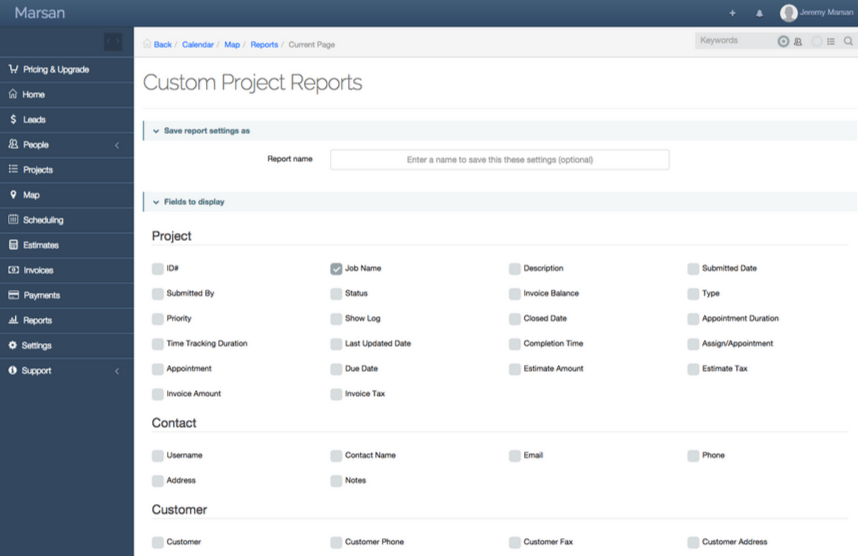 Mobile App
MHelpDesk has a stacked mobile app designed to give you all the tools you need when working the field. You can schedule appointments, add contacts, update projects and track time on the go. You can create estimates/invoices and have clients sign off on them from your device. The geo-location tracking lets coworkers view your location on the mHelpDesk map. While you cannot swipe credit cards, you can enter card information manually to charge a client on the spot.
Read more about the Android or iOS app.
Other Features
MHelpDesk has a number of unique features I have not seen in other invoicing programs. For one, there's a native digital signature tool: When drafting an invoice or estimate, you can add a signature using your mouse or touchscreen phone/tablet. This is especially handy if your client is nearby and you need them to sign the invoice on the spot. It's not so handy if your clients are in another office, however, as this tool only works within mHelpDesk. Clients cannot sign via email.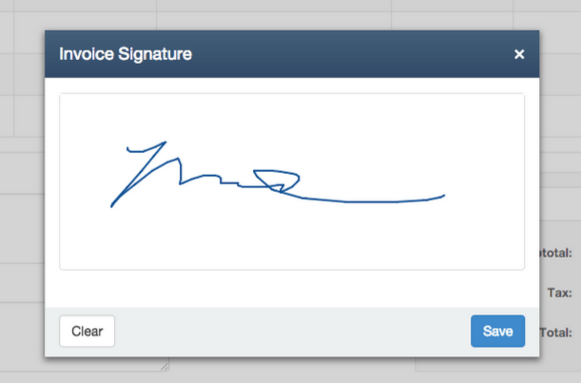 Another key feature of mHelpDesk is employee scheduling. When you create a project, you can assign appointments to employees with optional email alerts set days or minutes prior to the appointment. You can also click the "Scheduling" tab on the main navigation bar to view a calendar of all appointments. This calendar is interactive – you can drag, drop, reorder and click to create new appointments. You can filter by employee and view by day, week or month. You can also integrates with Google Calendar for a 2-way sync.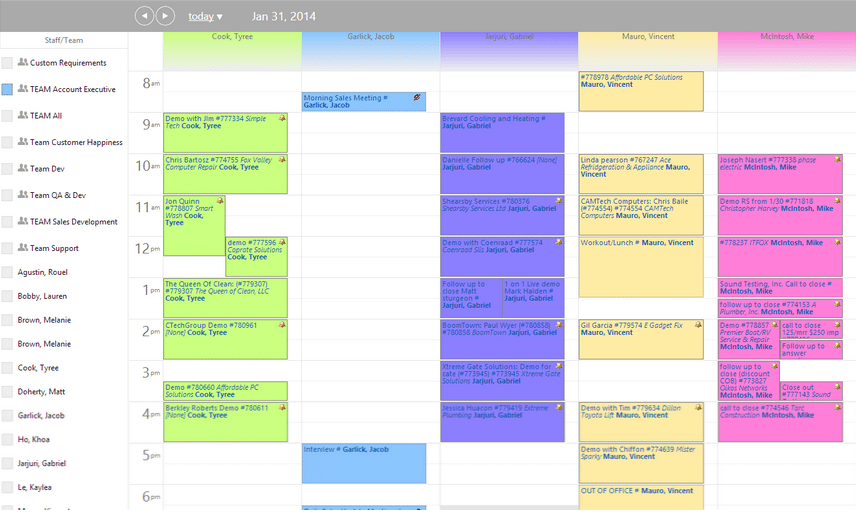 The Map tool is yet another feature I haven't seen in other invoicing platforms. Using a Google maps-integrated map, you can view the location of all your clients and filter to just view those with pending jobs. This map can also show the location of your team, using geo-location on their mobile devices. This is part of the reason why mHelpDesk is ideal for businesses that travel to their clients' locations.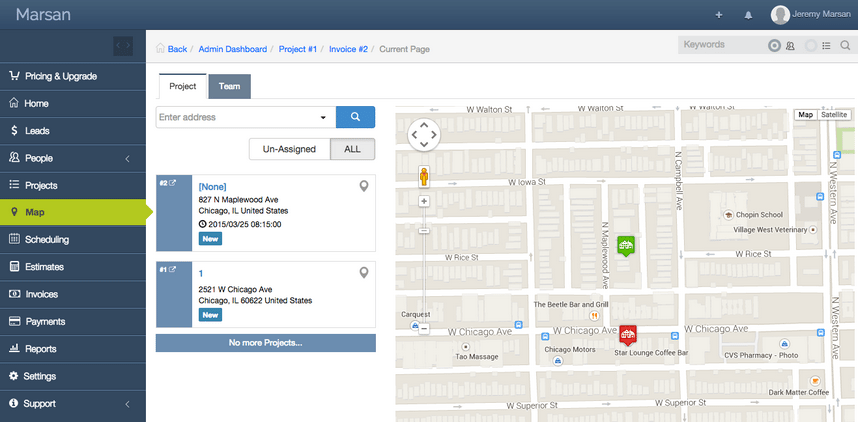 Leads Management is a new feature to mHelpDesk. You can keep a list of prospective customers, track their source and update the lead "status" as you go (i.e. "sent proposal," "negotiating, etc.) This brings mHelpDesk into CRM territory, which is impressive for its already-stacked set of features.
Currently, you can import leads from Home Advisor or from your own website by integrating a form. Using the "Custom Form" tool under Settings, you can build various forms to place on your website. For example, a prospective customer could fill out a form to request more information, a client could use one to schedule an appointment or a customer could fill out a form to report an issue. All this information would be automatically added to your mHelpDesk account, so you or your employees can track and respond to the request as soon as possible.
Check out this video for more on mHelpDesk form building:

Customer Service
24 hours?
No, 9am to 5pm EST Monday – Friday
US Based or Not?
Yes
Phone, Email, Live Chat, Self-Help Portal?
MHelpDesk has phone and email support available during regular business hours. Users spoke very highly of the support team, citing fast responses and knowledgeable answers. This was confirmed by my own experience. MHelpDesk also has a searchable support center, with user guides, FAQs and video tutorials.
The Bottom Line
MHelpDesk is great for businesses that travel to off-site to work. The interactive map, in particular, is great for managers who like to keep a handle on their staff, and employees who need to travel from location to location. The built-in digital signature tool is also ideal for off-site work, as you can get clients to sign-off on (or even pay) for work as soon as its completed. You cannot swipe credit cards, but you can enter this information manually to process payments on the spot.

Want to manage 1000's of leads, save time, and get organized? Click Here to get our FREE CRM guide and find out how.
The main downside to mHelpDesk is the price: At $150 for 5 users, it's $50 more than Freshbooks. If you need the location features, however, then its probably worth the extra cost.