Nextiva and RingCentral are two of the top small business VoIP providers. In this article, we'll compare their price, features, ease of use and customer support. Below you'll find our recommendation, along with a detailed comparison:
Nextiva vs. RingCentral Winner: Nextiva
We recommend Nextiva because they offer many of the same features for a much lower price and have stronger customer support for small businesses.

Nextiva vs. RingCentral Comparison Table
Price
(for 5 users
per month*)


$232

$298

Features


Auto Attendant
Call Queuing
Online Fax
Music on Hold
Conference Calls
Voicemail
Transcription


Auto Attendant
Call Queuing
Online Fax
Music on Hold
Conference Calls


Integrations


Outlook
Firefox
Internet Explorer


Salesforce
Outlook
Gmail
Zendesk
Desk.com


Ease of Use


Moderate

Easy

Customer Support


Excellent

Good

Learn More

Nextiva vs. RingCentral: Price
Winner: Nextiva
Starting at $72/month for 1 premium user, RingCentral costs about 40% more than Nextiva, which runs at $53/month for the equivalent package. For 5 users, RingCentral costs $298/month, and Nextiva costs around $232/month. All of this pricing includes taxes and fees, although the exact amount varies depending on your location.
Nextiva vs. RingCentral: Features
Winner: Tie
Both Nextiva and RingCentral have all the standard business VoIP features, including:
Auto Attendant that greets callers and directs them to the right department/employee
Dial By Name Directory for callers to search for an extension
Call Queuing and other dial patterns
Find Me/Follow Me, i.e. f you want your phone to ring your office phone first, then cell phone, then home phone, etc.
Voicemail-to-email, voicemail messages automatically forwarded to your email inbox
Mobile App that lets you make outgoing calls using your business number
Conference Calls
Music On Hold
Internet Fax
They also both offer automatic call recording, although to activate this on Nextiva, you need to upgrade to an Office Enterprise account (+ $7/user).
Besides that, they both have some advanced features you won't find from the other. RingCentral has integrations with Salesforce, ZenDesk and Desk.com, which lets you make phone calls straight from the CRM or HelpDesk interface. RingCentral also has a more advanced mobile app. When you make calls over WiFi or 3G/4G, you get a menu of call tools – with a single click you can begin recording the conversation, transfer the call, put the call on hold, or if your signal is getting weak, transfer the call to your cell network without the caller being interrupted.
Nextiva has their own set of advanced features. Included with each "Pro Plus" plan is a complimentary voicemail greeting, professionally recorded by Nextiva staff. With an "Enterprise" account you get up 3 complimentary recordings. All you need to do is send in the script. Nextiva also has a tool that can automatically transcribe voicemail messages to text, which is not offered by RingCentral. Their supported integrations include Outlook, Firefox, Internet Explorer, so you can make calls directly from your browser or inbox.
Nextiva vs. RingCentral: Ease of Use
Winner: RingCentral
RingCentral takes the cake for ease of use. The interface is simple and easy to navigate (pictured below) and setting up the auto attendant, call forwarding instructions and voicemail are all pretty straightforward. If you do get lost, however, there's instructional videos you can watch directly on the interface.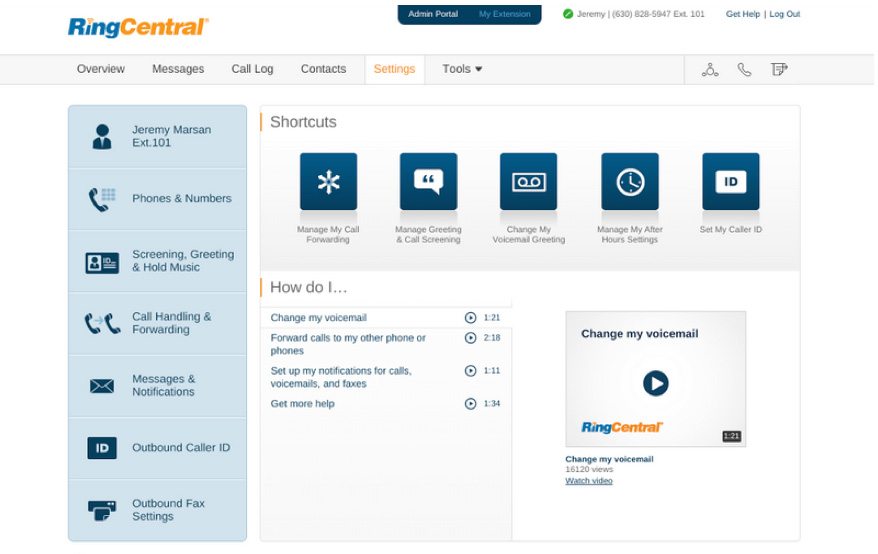 Nextiva's interface is not as graphical (pictured below). When you first get started, it's not quite as intuitive as RingCentral. Setting up the auto attendant takes a little more work. Once you get your feet wet, however, both of those programs are fairly easily to manage.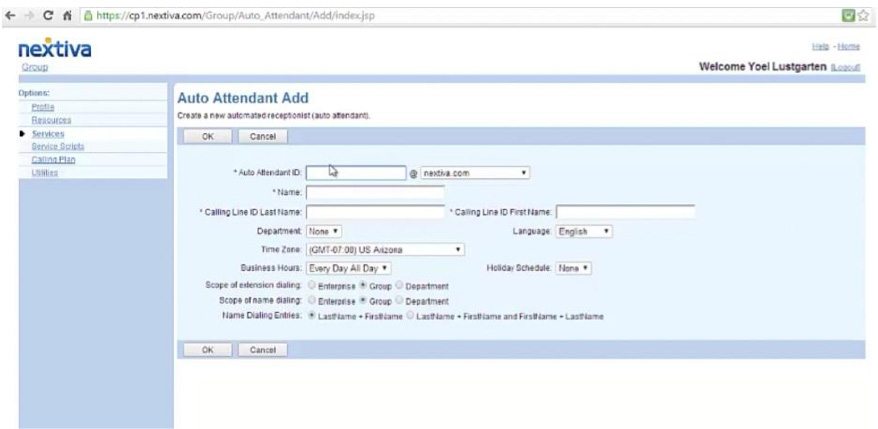 Nextiva vs. RingCentral: Customer Support
Winner: Nextiva
Both providers have phone support available to their clients. RingCentral phone support available 24/7 while Nextiva runs from 6am to 7pm PST during weekdays and 10 am to 2pm on Saturday. The reason Nextiva wins for this category, however, is because they give better support to small businesses.
When you sign up with Nextiva, you get a personal account rep to help with setup, regardless of how many users you have. RingCentral offers the same thing, but only to clients with 3 or more users. Your setup agent will be non-US based unless you have at least 10 users on your account.
The same goes for RingCentral's general support line. After setup, only accounts with more than 20 users can get connected to their US-based support team. Nextiva's support team, on the other hand, is all US-based. There's no preferential treatment to larger clients.
The Bottom Line
So how do the two providers rack up? Nextiva is significantly cheaper than RingCentral and has better customer support for small businesses. RingCentral, however, has a better user interface that's a little easier to use. Both have the same basic features, but differ in their advanced tools  – RingCentral has Salesforce, ZenDesk and Desk.com integrations, as well as a killer mobile app. Nextiva has Outlook, Firefox and Internet Explorer integrations, complimentary voicemail greeting recordings and automatic voicemail-to-text transcription.
In the end, we feel price and customer support are enough reason to choose Nextiva. Though the user interface is not as polished as RingCentral, any disadvantage is countered by their knowledgeable and responsive support team. If you need one of the features that are offered by RingCentral but not Nextiva, like an integration with Salesforce or ZenDesk, then check out Jive or 8×8  for other alternatives.