By offering in-house financing to your customers, you can boost customer loyalty and build a repeat clientele. Data collected by PayPal shows that the average order size of a small business that offers customer financing increases 15 percent, and over 90 percent of customers who use consumer credit said they plan to do so again.
Why is customer financing so popular? According to CreditCards.com, over 60 percent of consumers aren't able to qualify for a conventional credit card. Unless you offer such customers financing in-house, they are walking out the door of your business without making any purchases.
In this article, we'll tell how to offer customer financing without breaking the bank, and cover:
This article is for B2C businesses. If you are a B2B business interested in offering trade credit to your customers, check out our article Invoicing & Extending Credit to Your Customers. Also, please note that this article is about how to offer in-house financing for your customers. If you'd like to learn about how to accept credit card payments, please read How to Accept Credit Cards: The Ultimate Guide for Small Businesses.
How Customer Financing Works
Customer financing is designed to convert a browser into a buyer. It is targeted at potential customers who are on the fence about buying goods or services from your business because they are unsure if they can afford it. Customer financing allows the customer to be enrolled in an affordable monthly payment plan, so they don't have to pay up front.
Here are the steps involved in offering consumer financing: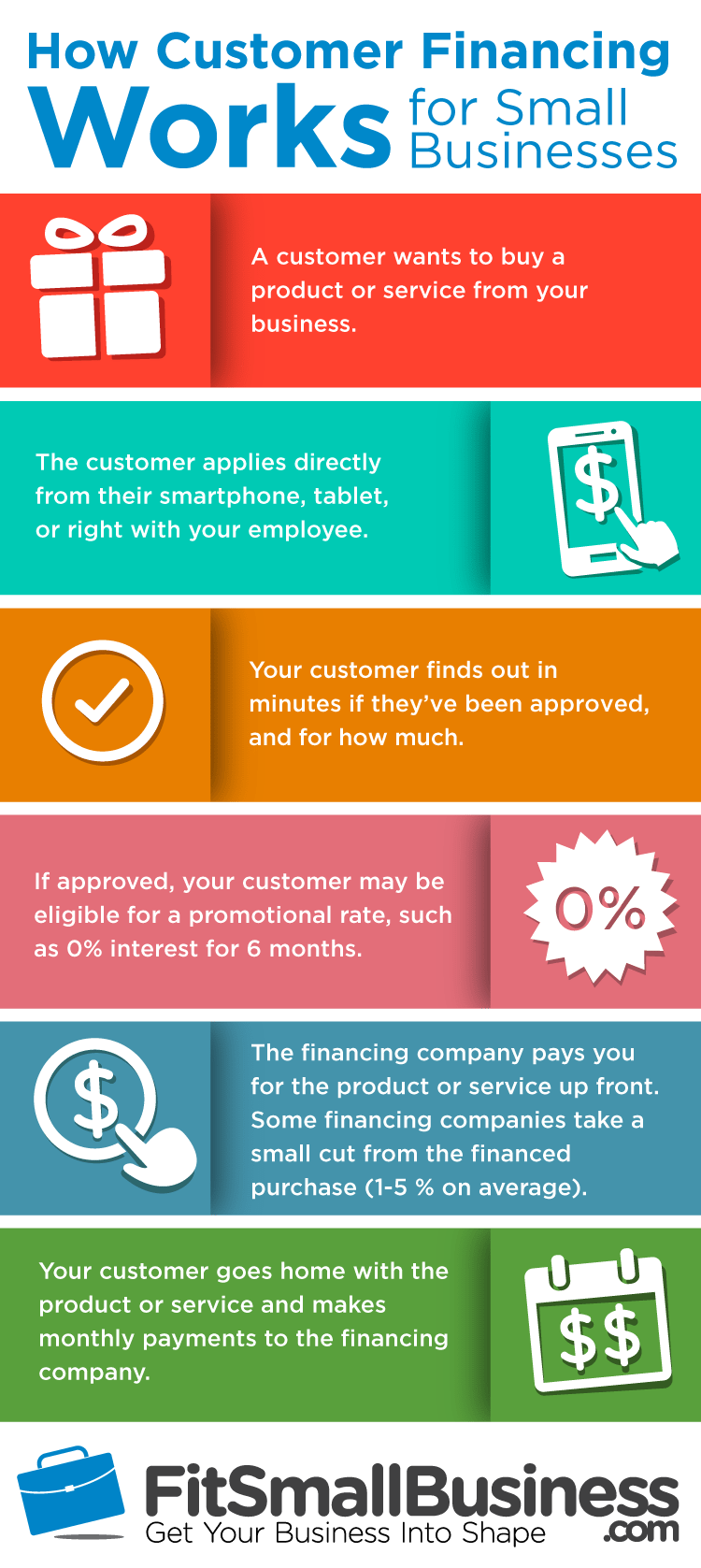 As the steps above indicate, offering financing to your customers can be simple and quick. You don't need special software or hardware. There are no minimums and long term contracts if you use a financing company that's small business friendly. You get all or most of the payment up front. Most importantly, your customer leaves your shop happy.
DIY Consumer Financing vs. Using a Financing Company
A lot of small businesses that want to offer financing to their customers start out by thinking, "Why can't I just do this myself?" You can do it yourself, but there are three main reasons to hire a financing firm:
Using your own money to provide credit to customers ties up your small business' cash flow.

Lending to customers on your own can get complicated. It takes time to keep track of all your customers' credit transactions and to follow up with customers who don't pay on time.

A business that provides consumer credit needs to comply with multiple laws and regulations. You need to comply with these laws even if you use a third party service, but hiring it out makes things easier (

for further information about these laws,

read this article

, and consult an attorney)

.
Using a financing company frees up your time and money for what you do best: running a great small business.
How Much Does it Cost to Offer Customer Financing?
There are two costs you should keep in mind when offering financing to your customers:
What will the financing firm charge you?
What interest rates will the financing firm charge your customers?
What will you be charged?
There are three different ways that the financing company can charge you:
Free (no charge to the business owner)

– There are a limited number of financing solutions that are completely free for the merchant.

Discount rate

– Most financing firms charge the small business owner a small percentage (1-5 % is typical) of each financed sale. For example, if a customer applies for and receives financing to purchase a $5,000 sofa from your furniture shop, the financing firm will deduct $100 from the purchase and send $4,900 to your bank account.

Flat rate

– Some firms charge a flat monthly rate, which covers an unlimited number of customer applications for financing. The average is around $40-50/month. There may also be a one-time initial setup fee.
What will your customers be charged?
Offering financing is most valuable for your business if it's affordable for your customers. Although it's the financing company, not you, that's actually lending the money and administering the payment plan, your customers may not view your business very kindly if they have to pay a very high interest rate.
Most financing firms offer customers APRs ranging from 5 to 20 percent. The exact interest rate that your customers will qualify for depends on the company that you're using and the customer's credit score. Some firms specialize in catering to prime customers and offer relatively low interest rates. For eligible borrowers, the financing firm will also offer promotional incentives such as 0 % interest for 12 months. Other companies work with subprime customers and charge higher rates.
Small Business Customer Financing Options
While many big box retailers, such as Best Buy and Kmart, offer consumer credit, a lot of small business owners feel like they don't have the resources to compete. Banks that offer consumer financing solutions usually require you to meet certain minimums, and they take a large cut from financed purchases. Fortunately, there are good options for smaller businesses, examples of which we give below.
We think of a consumer financing company as small business friendly if it meets the following criteria:
No minimums or long-term contacts are needed

Easy, quick sign up and instant credit decision for your customer

Non-recourse (i.e. even if your customer cannot pay back the loan, this has no affect on your payment).

No card readers or other hardware needed

Free or a small cut taken from purchase price (no more than 5 %)
Here are a few of the leading companies that meet our test of "small business friendliness."
PayPal Credit is the best free customer financing option we found in the course of our research. However, PayPal Credit is only available to online and brick and mortar businesses who already accept PayPal payments. In that sense, it's not really free. While there's no extra charge to the merchant to offer PayPal Credit, you are already paying the ordinary PayPal merchant account fees (which is currently 2.9 % + $0.30 per transaction).
If you already use PayPal as a merchant, you can add PayPal Credit banners to your site or store to notify customers. Here are the details:
Amount customer can finance

: If the customer is approved, they will receive a credit line of at least $250.

Promotional rate

: On purchases over $99, PayPal is interest free for the customer for the first 6 months.

Interest rate

: On purchases under $99 or after 6 months for purchases over $99, PayPal will begin charging your customers interest at a rate of 19.99 % APR.

Customer credit box:

A downside to PayPal is that they work mainly with good credit borrowers. The

average credit score to get approved for PayPal Credit

is 720.

Merchant payment

: As the merchant, you get paid the full amount upfront. Th

ere's no extra charge to you to offer customer financing.  
Bob Shirilla, founder of Simply-Bags.com, introduced PayPal Credit to his website last year. "It was easy to setup," he said, "and the percentage of large orders (over $400) increased 20% over the same period. We attribute this increase to providing an easy method of financing to our customers."
Did you know that PayPal also offers financing for small businesses that need working capital? If you'd like to learn more, check out our review of PayPal Working Capital.
2. LoanHero: Good for businesses with prime and subprime customers
LoanHero is another good customer financing solution that works primarily with consumer goods, home improvement, medical, and auto service businesses. They work with prime and subprime customers. Here are the details:
Amount customer can finance

:

Purchases between $1,000 to $25,000.

Promotional rate

: Merchants can offer 0 % interest for 6, 12, or 24 months.

Interest rate

: Start at 13.99 % APR. LoanHero loans are 1-5 year loans.

Customer credit box:

They work with prime and subprime customers.

Merchant payment

: Discount rates start at 1 % of every financed purchase.
3. Auctus Rebus Financial Group: Good for businesses with a large volume of financing
Auctus Rebus charges small businesses a flat monthly rate that covers an unlimited number of financing applications. This can be a good option for small businesses with big ticket items, such as furniture or appliances, where financing is more common. Here are more details:
Amount customer can finance

:

Purchases between $1,000 to $30,000.

Promotional rate

:

Every customer

gets some kind of promotion, such as 0 % interest for 12 months or no payments for 90 days.

Interest rate

: 8.99 % to 19.99 % APR. Auctus Rebus loans are 4-6 year loans.

Customer credit box:

Customers might qualify with a credit score as low as 560.

Merchant payment

: Monthly charge of $39 covers all financing applications.
4. Industry Specific Solutions
Certain industries lend themselves well to special financing solutions. If you'd like to find out which financing solution is popular in your industry, a good place to start is by asking other small business owners in your industry.
Care Credit is a customer financing firm specifically designed for medical practices. Patients can complete a short application for credit online, on a mobile device, or in your office, and will receive an instant credit decision. After subtracting a small fee for itself, CareCredit sends you the patient's payment within two business days. CareCredit also handles billing and collections, reducing administrative burdens on medical offices.
Another company called SmartPay offers customer financing for sellers of electronic devices. Customers can get approved instantly for loans of up to $2,000 that are paid back over 6-24 months. Customers can save money on fees by choosing an early payback option.
How to Choose a Customer Financing Company
The above list of companies should help you get started, but there are many more options if you're a small business owner who wants to offer customer financing. Here are a few questions you should ask to make sure you select a provider that's suitable for your business:
Will I receive 100 % of the payment up front?

If there's a fee, will it be taken out of the purchase or collected up front? Is there some other payment structure?

Do you require minimums or long-term contracts? (if the answer to this yes, the company may not be very small business friendly)

How can a customer apply for financing? Do they apply directly and/or can I apply on their behalf?

Are electronic applications accepted?

What rates will you charge my customers?

What credit box customers will you work with? Will you work with subprime customers?

Can I offer promotional incentives to customers, such as 0 % interest for 12 months?

How many small businesses have you worked with before?

Have you worked with small businesses in my industry before?
The answers to these questions will help guide your decisions. For example, if you cater to a wealthy clientele, it may not matter to you if the financing firm doesn't work with low credit borrowers. If, on the other hand, you serve a wide cross section of customers, credit box may be an important factor.
Similarly, the way in which applications are accepted is important. For a medical practice, having the customer apply directly for financing from their own smartphone might make sense. If you have an upscale jewelry shop, on the other hand, you will likely want to have the ability to submit applications on behalf of customers.
How to Reap the Benefits of Offering Customer Financing
Increased sales and customer loyalty are the main benefits of offering customer financing. Once you begin offering consumer financing, here are a few steps you should take to make the most of it.
1. Advertise It!
If your customers don't know that you're offering financing, they won't be able to take advantage of it, and you'll lose out.  Research shows that 68 percent of purchasing decisions are unplanned. Putting prominent signage about financing options in your store windows, on the sales floor, and at the point of sale can convert a browser into a buyer. You should especially emphasize if you're offering a promotion, such as 0 % interest for 12 months.
In addition, you should put banners on your website if you're offering credit to online shoppers. PayPal Credit and Auctus Rebus help customers design and choose web banners.
2. Change your price tags.
Your ultimate goal is to show the customer that your good or service fits their budget. In addition to having the full price of an item on the price tag, such as $1,000, show the lowest installment payment on the price tag (e.g. payments as low as $30/month). That way, your customers can see just how affordable the financing can be.
3. Train your staff.
Your employees are your biggest partner in promoting financing. Your employees should be trained in how to initiate the topic with customers, how to submit an application for approval, and how to answer customer questions and concerns. When choosing a company to work with for customer financing, make sure that the application process is convenient both for your customers and employees.
Bottom Line
In today's economic climate, many customers aren't able to qualify for conventional credit products and may need some help to make purchases. That's where you come in. Small business owners sometimes see their sales double or even triple after offering customer financing. The companies mentioned in this article can help you offer financing for your customers for free or a low cost.